Calling all old-school vinyl nuts, digital download devotees, or lossless audio purists. Boutique-y Records is now open for business, presenting all the hottest independent releases from the world of whisky and rum.
Music is a great connector. It doesn't just stand on its own two feet as an art form, it weaves its way into every crevice of culture and life, soundtracking events and moments. Booze and music, for example, go way back, and basing a range of booze on music isn't anything new because of this. But it is an enduring match all the same.
This is why That Boutique-y Whisky Company and That Boutique-y Rum Company have chosen this theme for its new collection, Boutique-y Records, donning the hat of an independent record label/store. A series of thirteen expressions, eight whiskies and five rums, steps away from previous focuses of styles, production methods and geographic areas to tread new ground.
From the whisky side of things, this is expressed by creating a link between the spirit and the formats of music that have brought the sound into life, reflected in an art style that covers old-school vinyl pressings to homemade mix-tapes, and modern digital streaming. Meanwhile, sister company That Boutique-y Rum selected spirits based on different genres of music, from funk to classic rock, and heavy soca, with rums from Barbados, Colombia, and more, enticing new drinkers to whole worlds they may not have experienced before. 
Boutique-y Records labels artists Emily Chapelle and Jim'll Paint do their customary job of bringing it all magnificently to life, while the launch is being marked with events at The Last Word in Edinburgh tonight and at Fam and Burlock in London on 7 June, if you're up for a good laugh and a drink soundtracked by great music. Right, let's pop into That Boutique-y Records already!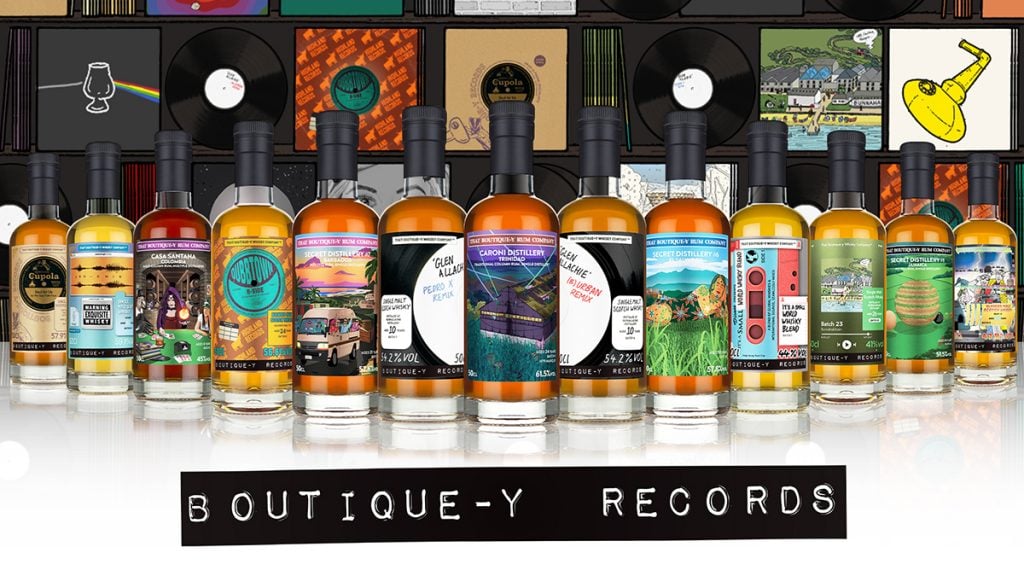 Welcome to That Boutique-y Records
The Records line up from Boutique-y Whisky includes the following: Ledaig 19 Year Old; Dailuaine 6 Year Old; Glenallachie 10 Year Old – Batch 6; Glenallachie 10 Year Old – Batch 7; Blended Malt #1 24 Year Old, Bunnahabhain 26 Year Old; Islay #3 13 Year Old,  and It's a Small World Whisky Blend 6 Year Old. 
I've managed to nab some samples of most of the above, but those I haven't tasted I'll give you a quick breakdown of here. There's just 115 bottles of the Bunnahabhain, which I'm told by Boutique-y Dave is every bit as exquisite as you'd expect and features a low-fi theme paired with its low ABV. The Islay #3 single malt, meanwhile, has a good lick of Oloroso cask maturation that plays beautifully with all that smoke and sea, and as the distillery can't be named it calls to mind the pirated and distorted sounds you'll recall if you've ever downloaded a bad Limewire file. 
As for the It's A Small World Whisky Blend, it was created by Boutique-y's Head of Whisky Sam Simmons using peachy 6-year-old Welsh single malt as the star malt, illuminated by 8-year-old Irish single grain and 8-year-old Scottish single grain. Alongside these three signature whiskies is a 13-year-old Irish grain that has been matured in red wine casks, and two 'top dressing' malts with a 28-year-old Irish malt, and a 10-year-old Swiss malt. To add further interest, this blend has been married in an ex-Haitian rum cask. The flavour inspiration was childhood sweetshops, so its musical match calls to mind the 'Disnae' old book-on-tapes that would invite you audibly to turn the page.
As for Boutique-y Rum, I'll take you through a 6-year-old rum from Casa Santana and a 24-year-old rum from the legendary Caroni. The rest of the range contains three mysterious treatures: Secret Distillery #1 6 Year Old, Secret Distillery #6 13 Year Old, and Secret Distillery #7 21 Year Old. They are from Jamaica, El Salvador, and Barbados respectively, but we can't say exactly from where. Taste them (and do some basic research tbh) and all secrets will be revealed… 
 So gather round, grab a dram, and stick on a tune.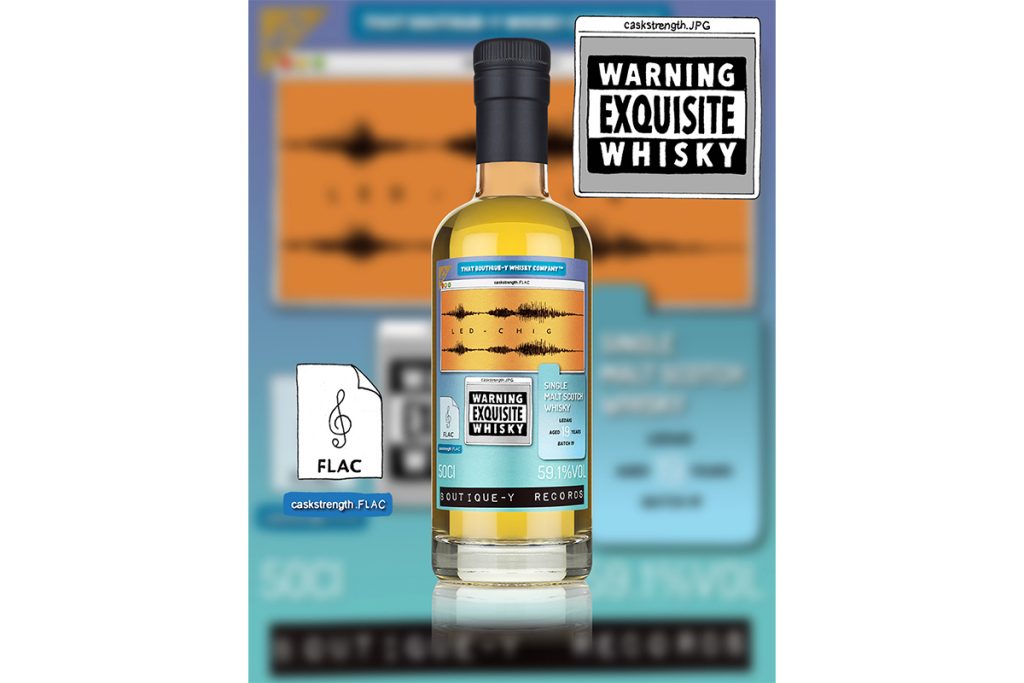 From the Isle of Mull's Tobermory distillery comes the tough to pronounce Ledaig (it's led-chigg, essentially. Gaelic is fun). The nineteenth batch of 19-year-old single was distilled in December 1997 and matured in a single Sherry butt before being bottled at a natural cask strength 59.1% ABV, and there's just 450 bottles priced at £119.95. Its music association calls to mind the full force of FLAC files, a searing contrast to the compressed files streaming platforms use today, which surrender quality and fidelity for convenience. As this Ledaig is presented in its original, unadulterated format, it seemed an appropriate choice. 
Nose: Beachside bonfire smoke drifts through everything here: brown bread, brown sugar, brown wood… Ok, I'll stop. The wood is damp, all jokes aside, and there's hints of sweet spice, dried fruit, and rich marmalade too.
Palate: Oily and charred, the palate has orange boiled sweets, cashew nuts, caramel, and some peppery spices, as well as touches of dry grass and salty bacon. 
Finish: Brine and a little white chocolate remain among the embers of that bonfire. 
Overall: Ledaig might be an often mispronounced distillery name, but nothing's been lost in translation here. Coastal, smoky, and filled with rich fruit, this is the kind of dram enthusiasts will adore.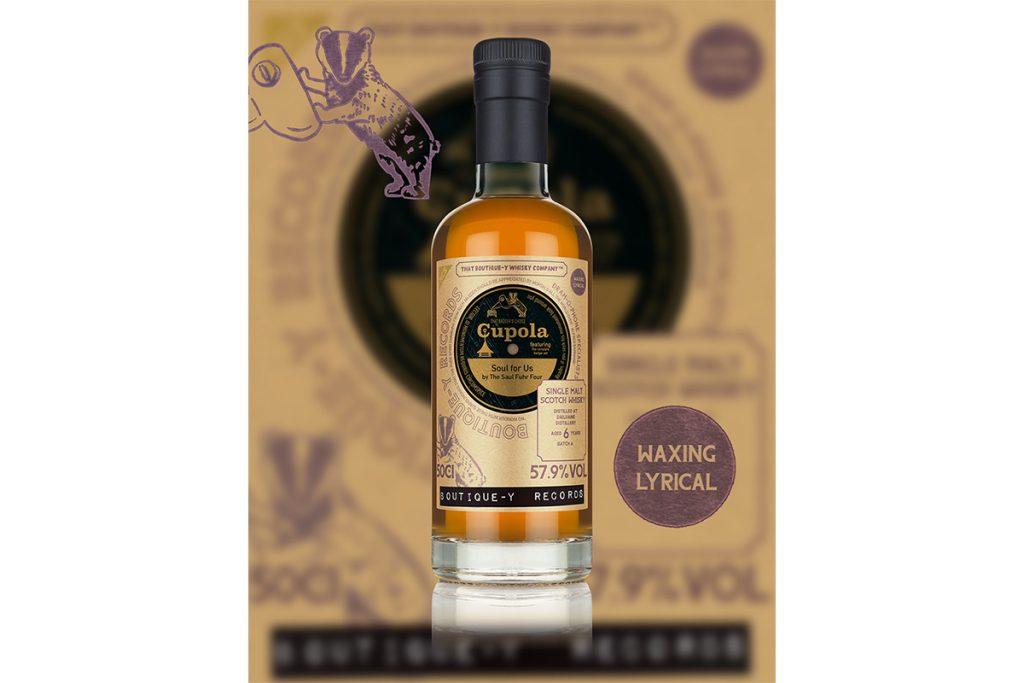 This little beauty from Dailuaine was distilled in June 2015 and matured in a single Sherry hogshead until it was bottled at a cask strength 57.9% ABV. There's just 300 bottles at a very reasonable £44.95, so this may not stick around long. Dailuaine is one of those cult hero distilleries, rarely seen as a single malt bottling except in Diageo's Flora & Fauna series or when independent bottlers do their thing. Long fermentation, rapid distillation and the use of stainless steel in the condensers to cut down on copper interaction create a heavy, meaty spirit that I'm a big fan of personally. Its short and sweet style calls to mind an old LP single, so that's what is on the bottle.
Nose: A bold, fruity, and malty nose contains aromas of toasted hot cross buns, stewed dark fruits, a little nutmeg, and some beeswax. Then it keeps going: caramelised banana, mocha, orange peel, and orchard fruit. There's probably more here but I'm having too much fun to keep writing notes. soz.
Palate: A silky, slick texture carries Demerara sugar, vanilla, apples, and ginger nut biscuits. There's some marmalade, black tea, salted caramel, and a bit of mustiness throughout that's joined by just a hint of cured meat. 
Finish: Sweet baking spice and a little more coffee remain. 
Overview: Ooh I like this. It's been bottled in the right era, maybe a little too early as it's a touch brash, but there's so much personality and diversity in this that I couldn't care less, frankly. If you've not had the pleasure of Dailuaine, it's time to get introduced.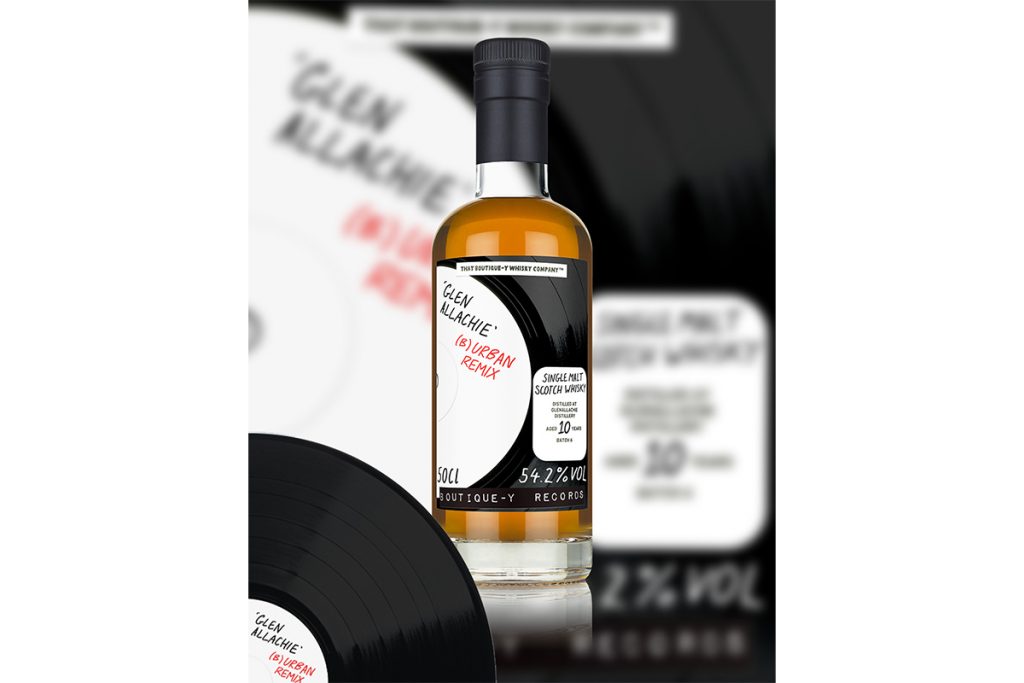 The first of a pair of 10 Year Old Glenallachies, finished in a different cask to what it was originally filled into. Hence the theme of this record is remixes. Much in the same way they reimagine a song, these are two spirits redefined by being filled into two barrel types. The label takes on the exclusive white label remixes, with puns on the DJ's name (it's (B)Urban if you can't read it from here). 
Nose: Green apples, brioche, sherbet lemons, and freshly cut grass leads with a little peppery spice underneath. Throughout there's hints of vanilla fudge, Pinot Grigio, and orange air freshener.
Palate: A silky, unctuous mouthfeel carries notes of caramel, garden herbs, apricot, and hazelnut. Hints of buttery cookies and sweet pear are there in the mid-palate, as well as a little strawberry and oaky vanilla.
Finish: The fruit becomes a little more tropical in a satisfying finish. 
Overview: This first of the pair was finished in an ex-Makers Mark bourbon cask, and it's a fine choice. This is a fresh, fragrant expression that stands out from a lot of GlenAllachie whisky which is now used to demonstrate that Billy Walker knows his way around some exotic casks. The ex-bourbon cask here preserves more distillery character, and it's a cracking little dram for it.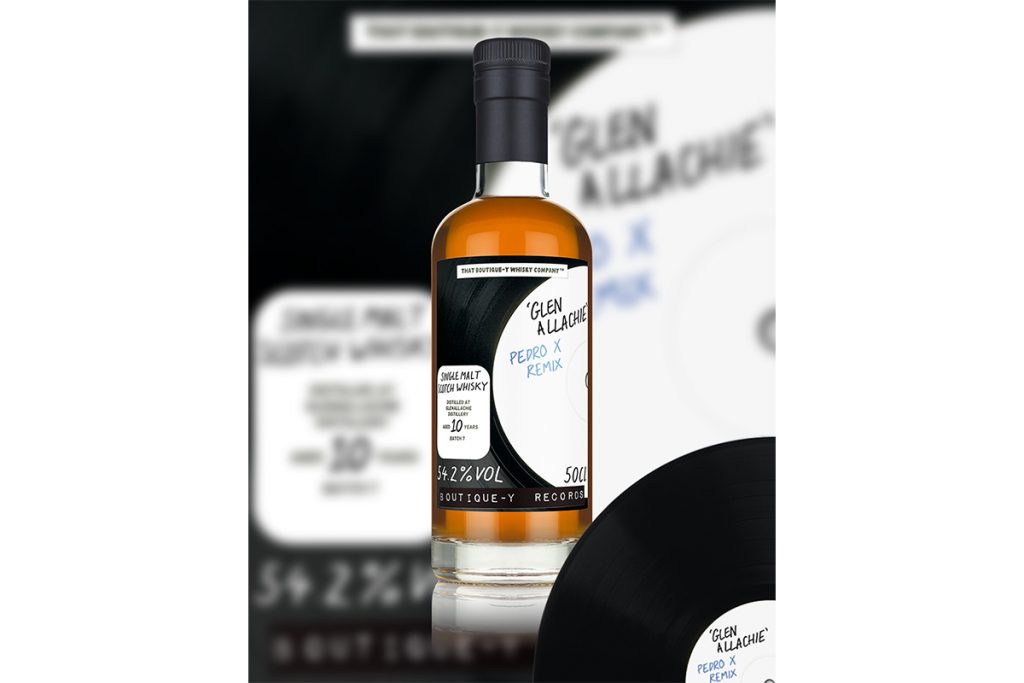 Batch 7 meanwhile pops that tasty GlenAllachie single malt in Pedro Ximenez sherry quarter casks (hence the DJ's name being Pedro X). Both of these whiskies are bottled at 54.2% ABV and priced at £59.95, with an outturn of 418 bottles and 233 bottles respectively. 
Nose: Woof, there's that PX influence. Cherries, berries, dates, and chocolate – all dark and gooey. There's some coffee and nuts for afters. 
Palate: More nutty, chocolatey goodness rides an oily delivery along with all the dried fruit and sweet spice you're expecting from this cask finish. There are tropical fruit elements in the background keeping things interesting though.
Finish: A little menthol element lingers among warming spices.
Overview: Not my favourite of the two GlenAllachies, it's a relatively straightforward sherry-soaked treat, but it's obviously a cracking cask as the flavours here are precise and tasty and mingle well together. Sh-sh-sh-sh-sherry bomb!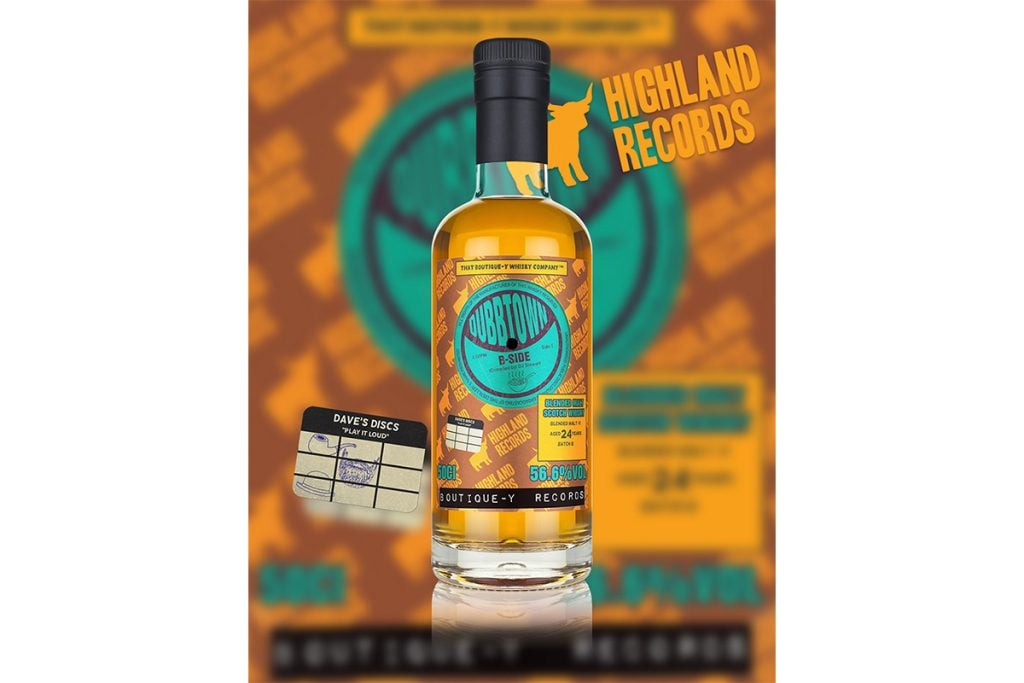 There's a few restrictions on what we can and can't say about this one, so Boutique-y Whisky has naturally had some pun-based fun with it. The brand reveals this 'teaspooned' whisky (not a SWA recognised term, hence being labelled as a Blended Mal) is from the heart of Dubbtown, Speyside, crafted by 'DJ Stewart'. There are lots of geeky references throughout, including the 45 rpm note and the chosen musical connection of a 'B-side'. A reference perhaps to 'Burnside', one that whisky lovers will no doubt decipher… What we can say is that it was bottled at 56.6% ABV, that there's 285 bottles of it, and you can get one for £134.95.
Nose: An array of delicate and balanced aromas patiently waft out of this one, notably floral vanilla crisp cooking apple, toast, golden syrup, and blueberries. There's a hint of white pepper as well as some lightly herbal and citric elements throughout.
Palate: Honey roasted nuts, rich oak, sweet cereal and a little vanilla are joined in a smooth palate by ginger, fudge, and a little rhubarb. There's some slight astringency in the backdrop and a touch of fennel too.
Finish: Drifts away with more syrupy fruits. 
Overall: A blend curated by a master of their craft, no doubt, and one that demonstrates they can be more than just the go-to spirit to slug into a mixing glass.

Molasses distilled on a continuous column still from Colombia and other Caribbean locations come together under the Casa Santana name here, which matured its various spirits using the Cuban Maestro Ronero approach of creating and blending bases at its facility in Barranquilla. Batch 2 is a six-year-old bottling presented at 45% ABV to ensure it can be enjoyed both neat and mixed, while the label from Jim'll Paint It has a little fun with a certain rock star that shares the rum's name, with a glut of album references dotted around. There's also a condor, a Sorceress, and Jenny Ghosh, our former Boutique-y brand manager (if you're reading, hi Jenny!). What does it all mean? That's for you to figure out. 
Nose: Through salted caramel, vanilla, golden syrup, and cacao powder comes dried mango, desiccated coconut, zesty clementine, and a handful of raspberries and raisins.
Palate: There's some tannic woodiness here and full-bodied notes of dark chocolate, nutmeg, hazelnuts, and coffee beans. Blackcurrants, cherries, and a hint of liquorice are present underneath.
Finish: Black tea, oily walnuts, and ginger.
Overall: It's a slick, sweet blend that's been beautifully composed and has all the classic tropical fruit, toffee-vanilla cask influence, and aromatic spice you expect from a good rum. Should mix well, this one.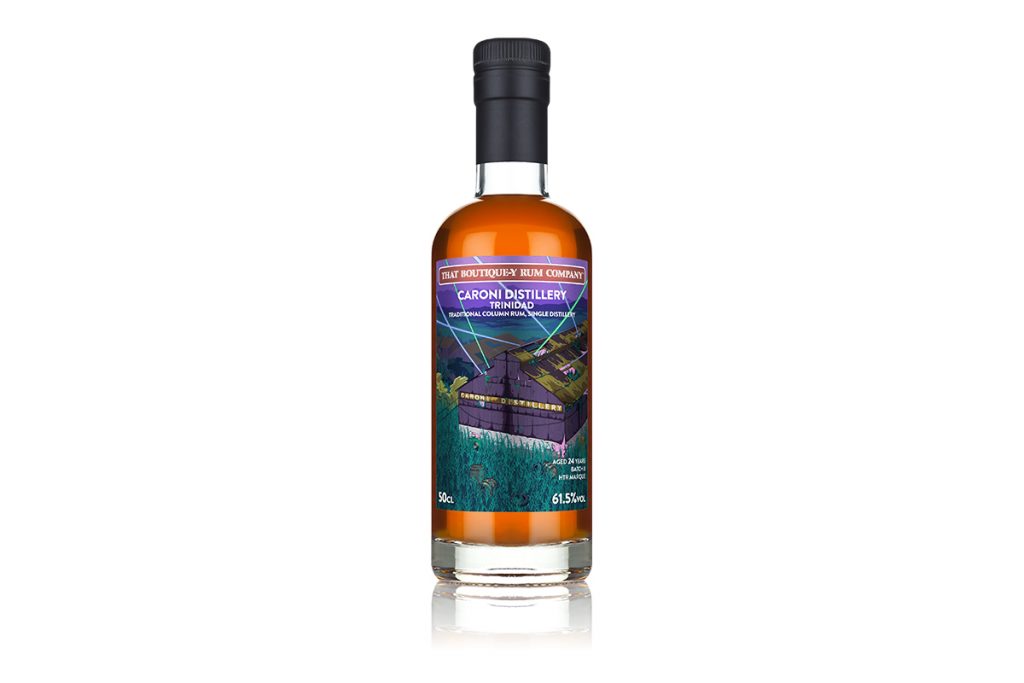 The famed Caroni Distillery closed in 2002 but remaining stocks like this preserve the divisive but precious 'heavy' rum production in Trinidad. Distilled in 1997 and shipped to the UK circa 2009, this traditional column still rum was refilled into recycled rum casks in 2017. Don't be fooled by its distillation style, though, this has all the full-bodied flavour of a pot still spirit. The label shows a run-down, abandoned maturation warehouse that's naturally the perfect place for a rave… 
Nose: It's a shotgun shot of a nose with warm rubber, tar and some medical smoke bolting right out of the gate and coating apricot, figs, red wine, gamey meat, and savoury nuts. Layers of rich molasses and bitter liquorice reside in the backdrop with a little linseed oil, black tea, and oily walnuts.
Palate: Rich and rewarding, with a drenching of thick caramel joined by a tropical fruit salad, cinnamon, lime peel, and a dousing of that classic Caroni petrol note. Coffee, tobacco, chocolate orange, brown sugar, burnt herbs, earthy smoke, and the kind of luxurious vanilla you get from old wheated bourbon… You could spend a fortnight just picking out flavours here.
Finish: Warming and graciously long with dark fruit, pencil shavings, black pepper, and vanilla.
Overall: An intense, earthy superstar of a rum with some truly wonderful cask influence. This is the kind of rum that will convert serious whisky and brandy drinkers.