Bewildered by all that choice when buying booze? Why not ask the experts? We've picked our top staff favourites, perfect for a home bar including Redbreast 12 Year Old, Cointreau, and many many more.
You know who loves the world of booze? We do, of course. So it's only natural that we have a few opinions and have narrowed down some choice favourites over the years. Now we have rounded up some of those beloved bottles right here, including the likes of Tanqueray No. Ten, Dos Hombres Mezcal, Ardbeg 10 Year Old, Project #173 Black Cherry Rum, and Hennessy XO. We also thought you might want to know why we like certain bottles so much, so we asked staff members to explain their choices. And so here are some of our personal choices for the home bar, from Tequila, Irish whiskey, gin, and more.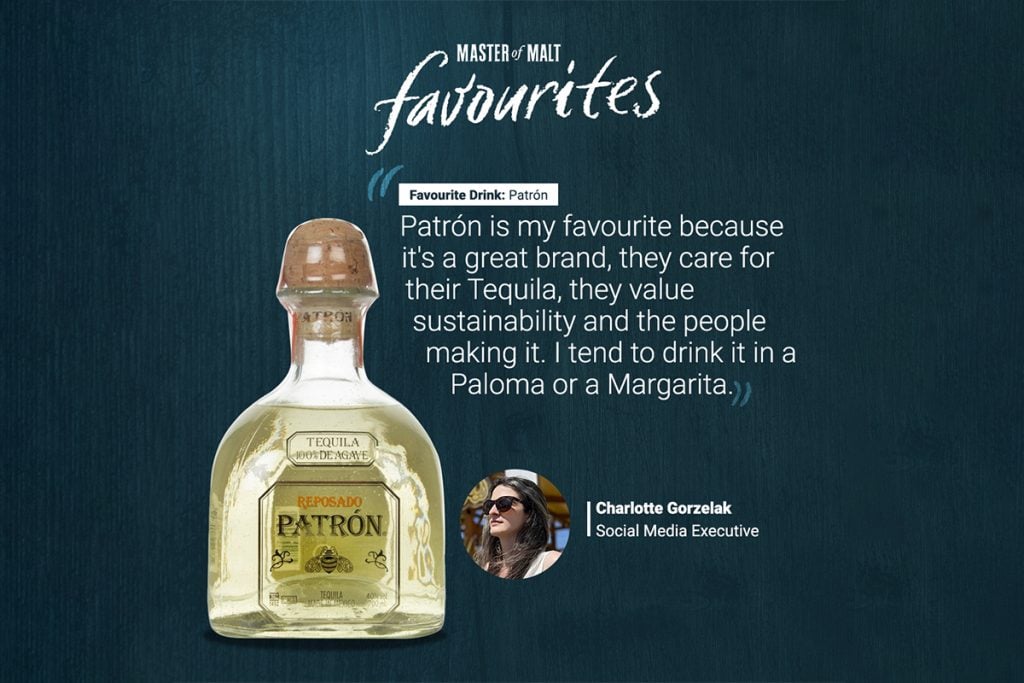 Charlotte Gorzelak, social media executive
Their fave: Tequila – Patrón Reposado
Why it's their fave: Officially, because it's a great brand, they care for their Tequila, sustainability and the people making it. Unofficially, cus I was at a festival and all we drank were Patron Palomas and it made for some really happy memories
How do you drink it? Paloma or a Margarita, not straight. Do not shot this.
Why do you think this bottle would be a must-have for a home bar? Looks good, has a cool stopper, and the taste makes a great Paloma.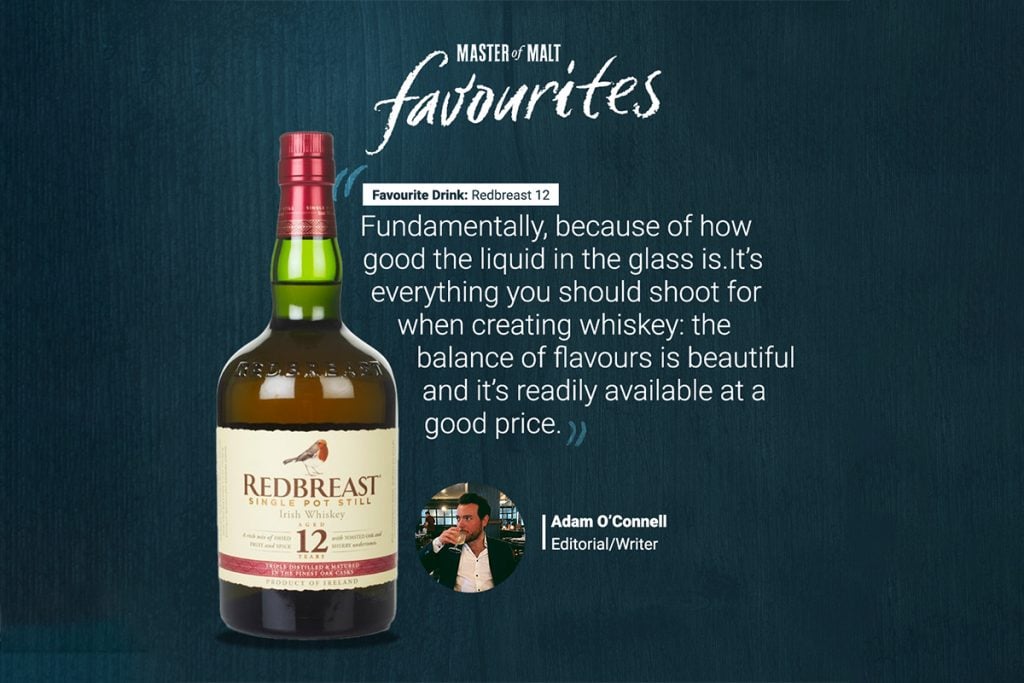 Adam O'Connell, writer
Their fave: Irish whiskey – Redbreast 12 Year Old
Why it's their fave: Fundamentally, because of how good the liquid in the glass is. Which is very. With a Redbreast-soaked cherry on top. It's probably the whiskey I keep coming back to the most. It's the whiskey I recommend when people are looking for gift ideas. It's the dram I share with friends who are interested in exploring the world of whiskey. I can't think of a less divisive brand. Say the name 'Redbreast' in a room full of whiskey lovers, and every single one would react positively. It's hard not to appreciate a whiskey that ticks all the boxes.
How do you drink it? Neat. It doesn't need anything else. Although Homeboy does a great cocktail called the Taoiseach that pairs it with Martini Rosso, triple sec, pomegranate syrup, orange bitters, and Angostura Bitters that's amazing.
Why do you think this bottle would be a must-have for a home bar? It's everything you should shoot for when creating whiskey: the balance of flavours is beautiful and it's readily available at a good price so you can regularly restock your supply or not feel guilty having a play with it. Of course, somebody delightfully handsome and talented said all this and more on our blog for St. Patrick's Day this year.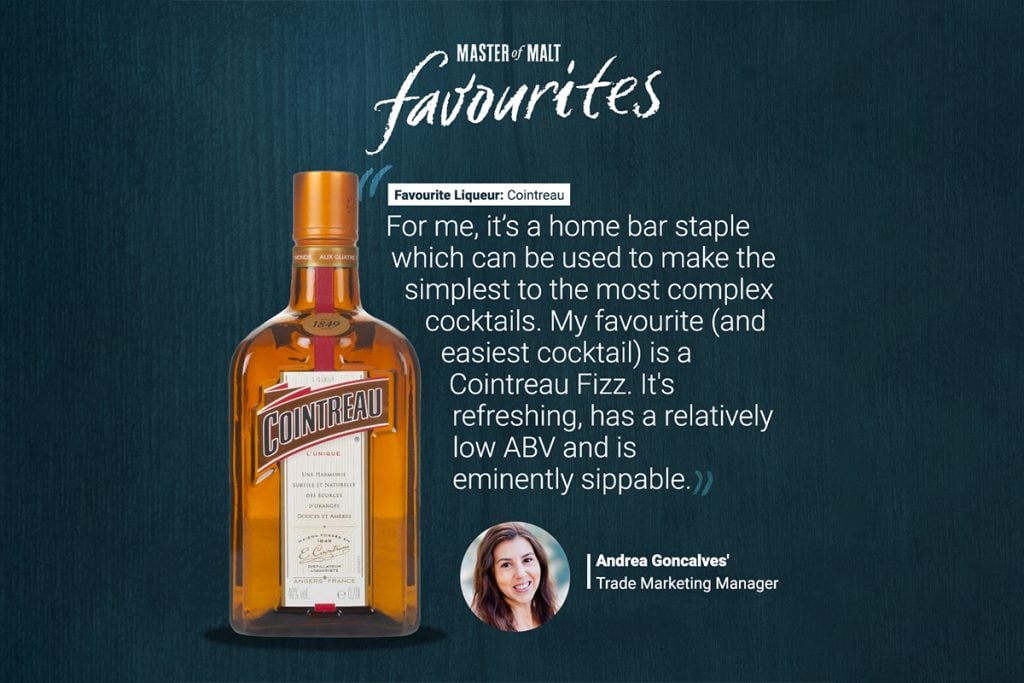 Andrea Goncalves, trade marketing manager 
Their fave: Liqueur – Cointreau
Why it's their fave: This brand has been around since 1849 but has managed to reinvent itself and stay relevant – making use of bright bold colours and having a playful tone in their adverts and social media. It tastes and smells delicious and is 100% natural, what's not to love?
How do you drink it? My favourite (and easiest cocktail) is a Cointreau Fizz. It combines 50ml Cointreau, 15ml fresh lime juice, and 50ml soda water, while you can slice up oranges to garnish. It is designed to show off the key ingredient (orange liqueur), rather than blend it with other strong-flavoured spirits. It's refreshing, has a relatively low ABV and is eminently sippable. I also love it in a Margarita!
Why do you think this bottle would be a must-have for a home bar? Cointreau's iconic square bottle can be found in virtually any bar, and for me, it's a home bar staple which can be used to make the simplest to the most complex cocktails (as the versatile orange-flavoured liqueur is a key ingredient in Margaritas, Cosmopolitans, Sidecars, Mai Tais and many more cocktail staples)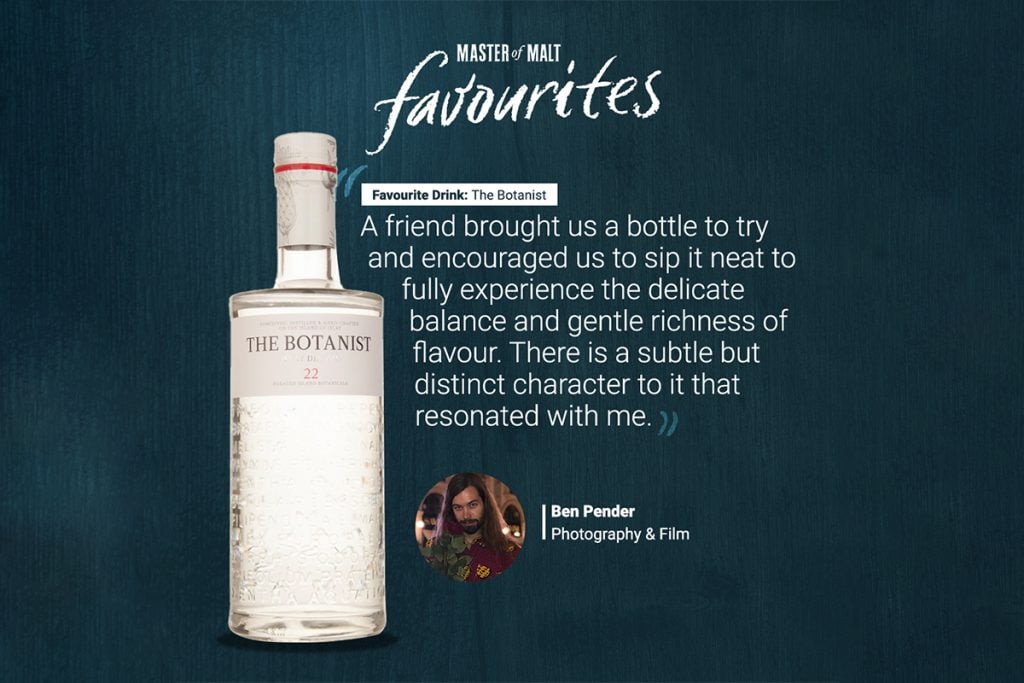 Ben Pender, photography and film (star)
Their fave: Gin – The Botanist
Why it's their fave: The Botanist has been my favourite gin since I was about old enough to drink. A family friend of mine, who was a wine and spirit buyer in New York, had flown over to Islay on business to try Bruichladdich's wonderful spirits. They brought us a bottle back to try and encouraged us to sip it neat to fully experience the delicate balance and gentle richness of flavour. I remember my palate being opened up for the first time to the possibility that gin deserved much more respect than it otherwise got. There is a subtle but distinct character to it that resonated with me. I also love the new updated packaging with the embossed botanicals on the glass and have actually cut many a bottle into a water drinking vessel.
How do you drink it? Nothing beats a simple G&T, I like to go for a double measure and Indian tonic water, with a few cracks of black pepper over the top, and if I'm feeling extra fancy, a slice of ginger and even some ginger syrup. It's also wonderful as a Gin Martini (make mine filthy, and always stirred if you're nasty). Although, I would happily sip this gin neat for a shorter drink and I have to say it makes a mean Negroni (though we all know who the star of that show is)
Why do you think this bottle would be a must-have for a home bar? If you have a home bar, it would be rude not to have a gin in there. The bottle is stylish and classic, and the drink itself elevates the gin right where it needs to be. No more no less. It offers an elevated sense of luxury without breaking the bank. Yes, there are cheaper gins out there you may want to have just in case, but in my opinion, it's not worth spending any more on a gin than this, as only 1 in 100 guests are going to notice the difference.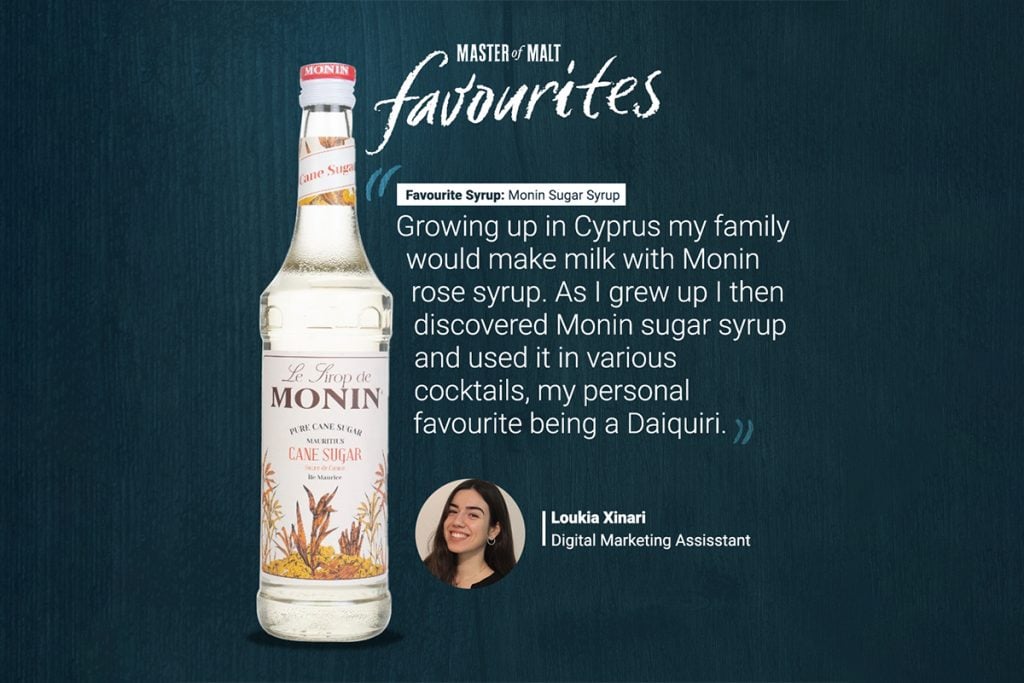 Loukia Xinari, digital marketing assistant
Their fave: Syrup – Monin Pur Sucre de Canne Syrup
Why it's their fave: To be honest, I like Monin as a brand. I've known it and used it when I was in Cyprus as well as my family really uses it. I even love having milk with Monin Rose Syrup when I was a child. Then I learned I could add some alcohol in there and things changed  Monin Sugar Syrup is my favourite cause it's quite neutral, you can add it to so many cocktails, even in your food! and the brand itself as I said I guess is more of an emotional connection.
How do you drink it? Since I love rum cocktails I might use it to do a Daiquiri or maybe experiment a bit with lime, Monin sugar syrup and rum.
Why do you think this bottle would be a must-have for a home bar? I meaaaan, must-have for the home bar because you can use it for so many cocktails I think!