This month we're celebrating Cognac, Armagnac, Calvados and brandy in all it's forms. So for our Cocktail of the Week, we're shaking up a simple combination of Remy Martin Cognac, Cointreau, and lemon juice, it is, of course, the Sidecar!
Cas Oh in his Co Specs cocktail book calls the Sidecar "the pre-eminent Cognac cocktail." And who are we to argue with a Fortnum & Mason food and drink writing award winner? What I love about his book is it's not only a great guide to making drinks, it tells you how cocktail writers from the past make theirs, before giving his definitive take on things. It's 100 cocktail books in one, and so it's quickly proving my starting point when I'm researching a drink, like the Sidecar.
The history of the Sidecar
The Sidecar is thought to have been invented in 1921 so celebrates its 100th anniversary this year. It first appeared in print in 1922, mentioned in both Robert Vermiere's Cocktails: How to Mix Them and the ABC of Mixing Cocktails by Harry MacLehone of Harry's Bar in Paris Fame. Both attribute it to Pat McGarry at Buck's Club in London who also created the Buck's Fizz. Incidentally, Buck's was the model for Drones, Bertie Wooster's riotous club in the P.G. Wodehouse's novels. Along with the Brandy & Soda, the Sidecar seems to me to be about the most Woosterish cocktail out there. 
I'd always assumed the name came from a motorbike's sidecar but according to Dale Degroff it comes from bartender slang for any leftovers from making a cocktail which might be served in a shot glass alongside the drink – a sidecar. Degroff, a legendary New York bartender, is also known as the King of Cocktails so that's someone else we're not going to argue with. 
Part of the Sour family
The Sidecar is essentially a Brandy Sour that gets its sweetening element from triple sec orange liqueur which has to be the most misnamed liquor as it's not dry (sec) at all, it's very sweet.  You could make it with Grand Marnier, which is made with Cognac, for that double Cognac hit. But we're keeping things classic with Cointreau.
As with many of the simplest cocktails, there's much disagreement as to the correct proportions to use. Some early recipes call for equal parts brandy, lemon juice, and Cointreau which is going to give you a very sweet n' sour experience. Harry Craddock in The Savoy Cocktail Book calls for a 3:1:1 ratio, which is the one Oh plumps for. Whereas David Embury in The Fine Art of Mixing Drinks goes for 8:2:1, the same as a Daiquiri. I'm using a 3:2:1 ratio but crucially, I'm not frosting the glass with sugar so even with the extra Cointreau it's not going to be too sweet. 
Then it's just a question of which Cognac to use. Obviously, you're not going to use your finest vintage Grand Champagne but you do want quality as it's the principal ingredient. I'm a big fan of the Remy Martin 1738 Accord Royal – a rich, smooth, and full-bodied Cognac that really over-delivers for its price tag. It's a great all-rounder, complex enough to sip on its own and beefy enough to mix with lemon juice and Cointreau without getting lost.
Right, let's get shaking!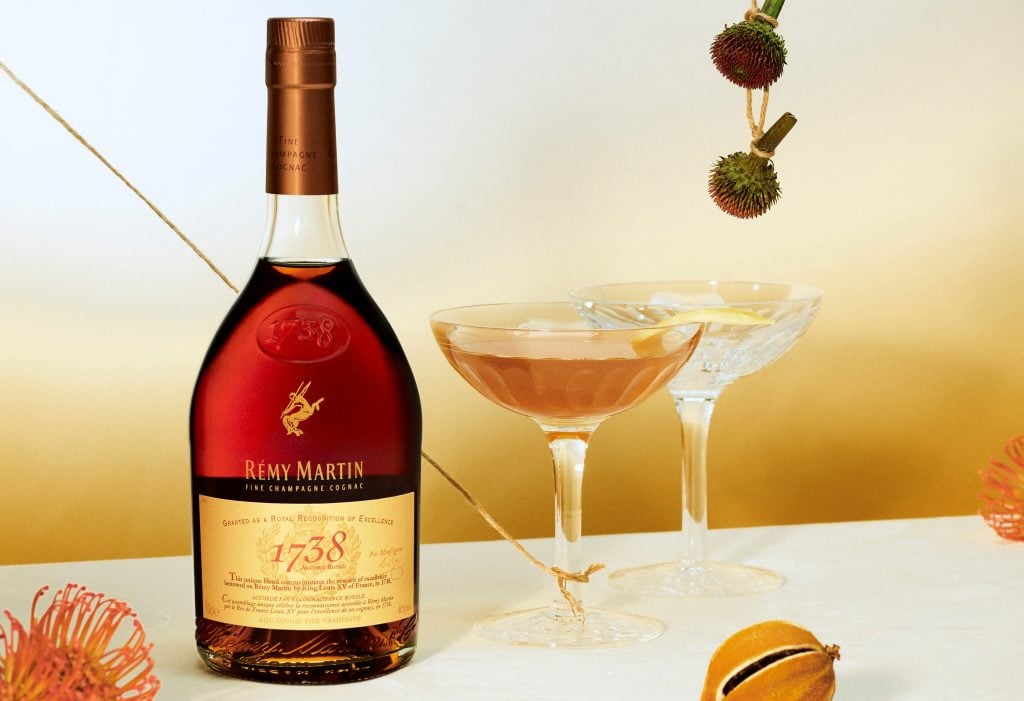 How to make a Sidecar
30ml of Rémy Martin 1738 Accord Royal
20ml of Cointreau
10ml of fresh lemon juice
Add all the ingredients to a shaker filled with ice. Give it a good shake, then strain into a coupe glass and garnish with an orange peel for a rich flavour or lemon peel for freshness.