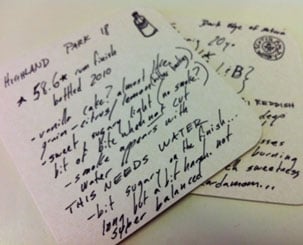 Whisky – there's a lot of it, and it can be hard navigating a tasty and satisfying way through the amazing choices on offer.
What you need is a guide, and who better than your good self to help you discover the drams you'll love…with a little help from the chaps at Master of Malt of course.
Tasting is the key to this delightful conundrum, and here we'll take you through the basic techniques used to goad your senses into fully appreciating a fine whisky tasting session.
But first, notes! Notes are all-important. You might think you'll remember that simply splendid Royal Brackla you had in 2006 bottled by… er… damn! But, as you can see, this is unlikely.
So it's vital you write everything down – all the details about the bottling you can find, and a set of tasting notes to go with them. Have a look at Ardbeg Uigeadail to see how we organise ours.
First things first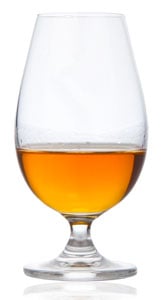 You'll need whisky. There is no better, and more cost-effective, way to quickly expand your knowledge than exploring our selection of drams, either picking ones you fancy from our substantial list or opting for a whisky tasting set, which comes complete with notes from our own experts.
You'll also need the right whisky glassware. You know that obviously, but wait! There's an industry standard shape found at whisky tastings the world over, glasses specifically designed to capture the congeners and direct them towards your expectant nose.
Shaped like an elongated sherry glass with a stubby stem, it allows you to swirl, sniff and sniff again without covering your compatriots in whisky. We even have our very own version of the classic whisky tasting glass, as well the alternative Riedal whisky tasting glass.
So you have a glass, a selection of drams and your wits about you. What next?
Appearance – it's not everything but it's worth noting none the less. What does it look like? Quick tip: don't write 'whisky'. You'll sound like a buffoon.
Think of easily recognisable objects from the world around you – golds, ambers, yellows, the sun-burnished skin of a ripe peach… These can be evocative, even poetic: 'The flaxen-blonde hair of the girl who ignored me in lower sixth,' or 'the sun-bathed bark of an English oak on an October afternoon' are simply more compelling than 'yellow gold'. Have fun; exercise that literary wit you've been hiding since those angst-riddled poems you wrote about that flaxen-haired girl so long ago.
Ahem. Where were we?
The nose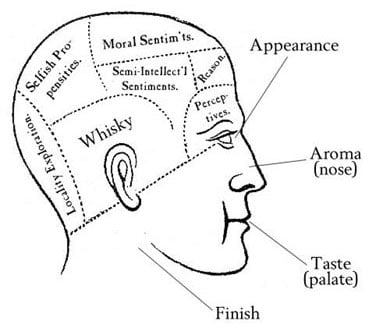 Ah yes, the nose. This is perhaps the most important part of assessing a whisky. Most drams will reveal more to your olfactory system than to your palate; in fact, as most experts will say, tasting is simply to confirm what your nose has already told you.
But what does it tell you? First, give the whisky a swirl to release the aromas then carefully bring it to your nose. Be warned however that the olfactory system is highly delicate, so don't shove your nose into anything before checking the abv. Those cask-strength beasties may singe your sinuses (figuratively at least) so go easy. And sniff.
Search your mind for nostalgia! Smells are often linked to memories: grandfather's desk (leather, wood, age, mustiness), Christmas with the family (Christmas cake, dried fruits, sultanas, port), a hayloft in summer (dried grass, wood), a barbecue on the beach (salt, smoke, seaweed, cricket). Everyone will have their own memories, thus everyone will find their own descriptive flights of fancy.
The palate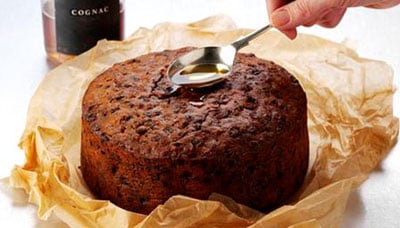 Now, to the tasting part of your whiskey tasting. As well as confirming or disabusing those impressions gleaned by the nose, pay attention to the feel of the whisky in your mouth, or mouthfeel if you will. Is it soft and rolling or hot and immediate? Is it drying (tannins) or refreshing and lively? You should also pick up any sweetness, or lack of, in the whisky, as well as those other basic flavours courtesy of the tongue. Your palate will also tell you how the whisky is structured. Is there a definite beginning, middle and end to this story? When are different tastes introduced? And does it have a satisfying conclusion?
After swallowing the whisky, what are you left with? This, unsurprisingly, is the finish. Is it short, medium or long? Dry or smooth? Are there new flavours to be found now things have quietened down a bit?
Water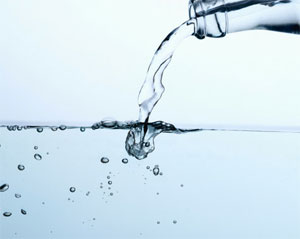 And now, it's time to do it all again, but this time, add some water! Whether you normally take your whisky with water is of course down to personal taste, but when tasting whisky, adding a drop or two of H2O is simply a way of gleaning more information. Water opens up a whisky, revealing the intricate workings of a dram's flavour, helping you identify the constituent parts more easily. And remember that sniffing and sipping a few high abv whiskies will quickly numb your nose and your palate, so bear this in mind when undertaking a serious tasting session.
How much water to add depends on personal preference, and of course the abv of the dram you have in front of you. Interestingly, John Glaser, of Compass Box fame, tells us many master blenders dilute to just 20% when crafting their products.
Last, but perhaps most importantly, shared whisky tasting is the best way of eliciting every last drop of satisfaction from a fine dram. Get your friends round, go to a whisky bar, or even swap notes on the internet, but whatever you do, take and compare your impressions with friends. So there you have it. A guide to tasting like the professionals. Enjoy!