Somebody brilliantly beardy, omniscient, and partial to a dram has returned like a boomerang made out of tinsel and tangible joy. Yes, #WhiskySanta returns with more than £500,000-worth of delicious whisky, gin, rum and more to give away!
Ho ho ho! Hello again, my friends! I'm back to bring you another sleigh-full of boozy goodies right up to the big day. That's an awful lot of festive delight, but in your currency, I'm told it's equivalent to over £500,000 worth of your favourite spirits!
Yep, the reindeer have perfected their barrel rolls, and I've officially hit play on my work boom box so I can once again listen to I Wish It Could Be Christmas Everyday by Wizzard, all day, every day right up until midday Christmas Eve when my shift at MoM Towers will end for another year. So about 16,472 times, in case you were wondering. It helps focus my supernatural gift-giving abilities, plus it's an ice-cold jam. Now, on to the gifting!
'How does this #WhiskySanta thing work?!' you're thinking. (Omniscience innit, a blessing and a curse.)
Well there a couple of ways, and it's really very simple…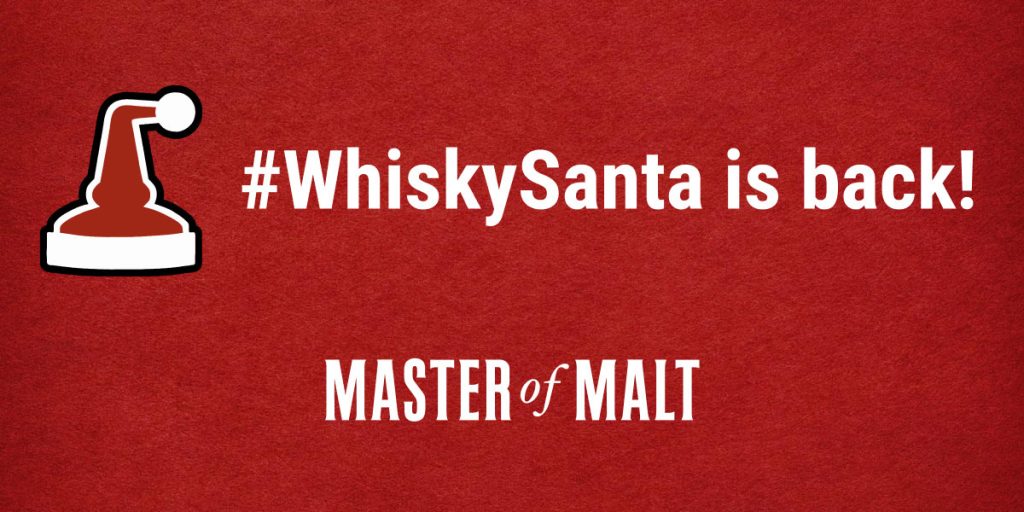 Place an order!
Once again, I have access to the Master of Malt checkout so I can give away tens of thousands of free gifts in lucky orders right up until Christmas Eve! Picture it, you're picking up a nice bottle of Christmas Cake & Dark Chocolate & Medjool Dates & Cinnamon 8 Year Old single malt. You hit 'Complete Order' and… wait, what's this? A little note from yours truly on the Order Confirmation page (like the one below) offering you something extra for free!
Whether it's treats such as 30ml drams, 50ml miniatures, or Master of Malt Gift Vouchers up to £50 – I'll even be picking up the tab for entire free orders! – I really do love giving a little extra at this time of year. It's a bit like when you folk leave out a little sherry and a mince pie for me.
You will need to click the 'Yes please!' button to accept the gift. You can, of course, choose not to accept the gift by clicking the 'No thanks' button, and your gift will go to someone else. I truly cannot understand why anyone would do that, to be honest, but then I also hear that some people don't even like mince pies?!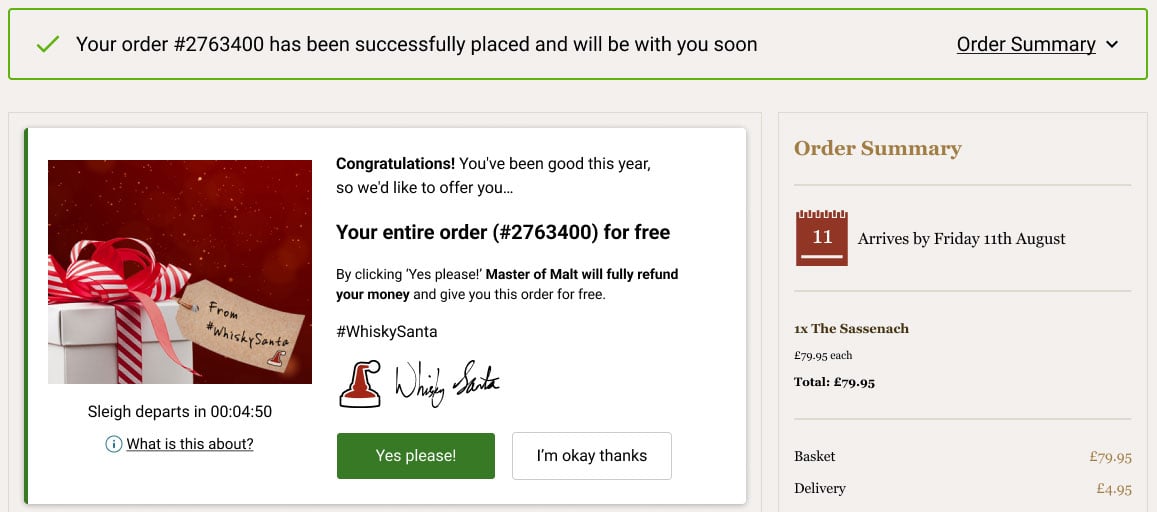 Make a wish on social media!
I'll also be granting wishes made through a strange and terrifying magic that you call 'the social media' every single day from now until Christmas Eve and, if you do the below, you may just find your wish comes true!
Have a browse of the Master of Malt website and their 15,000 or so in-stock treats, and when you see a something you love, hit one of the handy little 'Wish' buttons. You can then follow the links to place your own special Christmas wish on Twitter or Facebook using the #WhiskySanta hashtag.
You can also make wishes on Instagram too! Check out Master of Malt's Instagram Stories for some inspiration to screenshot either to your feed (using the #WhiskySanta hashtag), or your own Stories (being sure to tag @MasterofMalt).
Finally, I've been told to remind you to make sure your profiles and any posts you make are 'Public', or my friends at MoM won't be able to see them.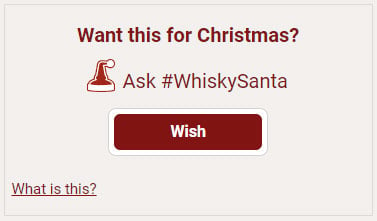 There's also the not-so-small matter of Super Wishes! Additional opportunities to get your hands on some incredible bottles that I give you a heads up to wish for specifically…
UPDATE: my third Super Wish of 2022 is a Glenfiddich 40 Year Old – Rare Collection (Release Number 17), worth almost £3,500! One lucky person who wishes for this stunning bottle between now and the end of Thu 1 Dec will find that their Christmas wish comes true later this week!
Well that's my next two months sorted. Let's get started!
#WhiskySanta
18+. #WhiskySanta 2022 will run from 11:15 1 Nov to 11:59 24 Dec. Like most things – even really, really cool festive things – there are some T&Cs, which you can find just below:

Gift Update
I've already given away thousands of free gifts with lucky Master of Malt orders, including full refunds for a whole bunch of lucky folk!
And, of course, I've been granting wishes too…
@DavidBircham received a bottle of Tamdhu 15 Year Old!
cocktail_caz received a Faustino Rioja Red Wine Experience!
Dundee Rum Club received a bottle Port Morant 25 Year Old 1990 Oloroso Sherry Cask Finish (Bristol Spirits)!
@sss_opus received a Gin Advent Calendar – Premium Edition!
@MJRodden received a bottle of Deanston 13 Year Old 2008 (cask 900078) – Cask Strength Collection (Signatory)!
Joanne Forbes received a bottle of Lind & Lime Gin!
Marcin Garniec received a bottle of Balvenie 17 Year Old – The Week of Peat!
@julianvallis received a bottle of Banks 5 Island Rum!
Steven Bolton received a bottle of Glenfarclas 25 Year Old!
Nicky Batchelor received a bottle of Lagavulin 16 Year Old!
@leejay2876 received a bottle of Speyburn 18 Year Old!
Myles Campbell received a bottle of Highland Park Triskelion!
Angela Squire received a bottle of Dingle Single Malt!
@Lewjamew received a bottle of Black & Gold 11 Year Old Bourbon Whiskey!
Olivia Kirby received a 1.5L Magnum of Veuve Clicquot Brut Yellow Label!
Derek Page received a bottle of Tomatin 14 Year Old Port Wood Finish!
@sirdeco received a bottle of Green Spot 10 Year Old 2010 (cask 363130) Vinsanto Single Cask (Master of Malt)!
izzyjen86 received a bottle of Duppy Share XO!
Elizabeth Vardy received a 1.5L Magnum of Rumbullion!
@WhiskyMike78 received a bottle of Dailuaine 16 Year Old – Flora and Fauna!
Iain Bruce received a bottle of Tobermory 21 Year Old 1994 (Master of Malt)!
@JonStone0 received a bottle of Yamazaki 12 Year Old!
robaspray received a Scotch Whisky Advent Calendar!
Nikki Hayes received a bottle of Edradour Whisky Cream Liqueur!
@whiskygirl6 received a bottle of GlenAllachie 10 Year Old Cask Strength (Batch 8)!
funkychap_ received a bottle of Smokehead Unfiltered!
Sarah Paragreen received a bottle of Rammstein Pink Gin!
@MarcosWhiskies received a Glenfiddich Tasting Collection!
_cazibabyontherum_ received a Dunderhead Rum!
Jade Clarke received a Gin Advent Calendar – Premium Edition!
@sleepawaytheday received a bottle of Bathtub Gin – Grapefruit & Rosemary!
teaandsympatico received a bottle of Martell Cordon Bleu!
Leah Finch received a Ardbeg Monsters of Smoke Gift Set (3 x 200ml)!
@Barney_Tabasco received a Japanese Whisky Advent Calendar!
whisky_and_wonder received a bottle of Hendrick's Amazonia Gin!
Duncan Sharples received a bottle of Benriach The Smoky Twelve!
@lgreen received a bottle of Bunnahabhain 12 Year Old Cask Strength – 2022 Edition!
the.whisky.dad received a bottle of Glen Moray 15 Year Old – Elgin Heritage!
Sam Macaree received a bottle of Appleton Estate 12 Year Old Rare Casks!
@Dark_Lord_Meh received a bottle of Slipknot No.9 Whiskey!
thedrambarron received a bottle of Timorous Beastie!
Chris McCann received a bottle of Colonel EH Taylor Small Batch!
@jcarlyon received a Bourbon & American Whiskey Advent Calendar!
ginandthetravellingtonic received a bottle of Three Wrens Apple Crumble Gin!
Zig Boult received a bottle of The Sassenach Blended Scotch Whisky!
@Whiskyviewer received a bottle of Woodford Reserve Double Oaked!
benjipjoe received a bottle of Four Roses Small Batch Select!
Kevin Bryant received a bottle of Bunnahabhain 18 Year Old!
@petedrinks received a bottle of Frysk Hynder Port Cask!
cocktailsbycassian received a bottle of Bowmore 15 Year Old!
Caz O'Hare received a bottle of Project #173 Banana Rum!
@Timkeremezo received a bottle of Glencadam 29 Year Old 1991 (cask 3252) – Connoisseurs Choice (Gordon & MacPhail)!
thejuniperpixie received a bottle of Pothecary Gin!
Sara Hilll received a bottle of Fallen Angel Rum!
@Dark_Twinkle received a bottle of Rammstein Rum – Islay Whisky Cask Finish!
tf_photographs received a bottle of El Dorado 15 Year Old!
Ben Kirkland received a bottle of Glenmorangie Barrel Select Release 13 Year Old Cognac Cask Finish!
@pavementoyster received a bottle of Heaven's Door Straight Rye!
whisky.chris received a bottle of Aberfeldy 12 Year Old!
Chris Lawlor received a bottle of Stone Gaze Black Raspberry Vodka!
@DavidEvans1805 received a bottle of Lindores Abbey The Casks of Lindores – Sherry Butts!
rhiwaxrhi received a bottle of Mortlach 16 Year Old!
Laura Rangeley received a bottle of Seaweed & Aeons & Digging & Fire & Sherry Casks & Cask Strength 10 Year Old (Batch 03)!
@DrMantisSR received a bottle of House of Rum Diablo Spiced Rum!
gintogetherstaytogether received a bottle of Mermaid Pink Gin!
Mick Jones received a bottle of Christmas Cake & Dark Chocolate & Medjool Dates & Cinnamon 8 Year Old!
@OldManStares received a bottle of Glen Elgin 16 Year Old 2006 Single Cask (Master of Malt)!
the_gin_cabinet received a bottle of Kyrö Pink Gin!
Matt Horsham received a bottle of Port Charlotte 10 Year Old!
@TomasJGibson received a bottle of Talisker Storm!
whiskybuddies7 received a bottle of Tomintoul with a Peaty Tang!
Phil Ingham received a bottle of Laphroaig 10 Year Old Sherry Oak Finish!
@devonshrviolet received a bottle of Timorous Beastie 20 Year Old!
conannicholas received a bottle of Graham's 20 Year Old Tawny Port!
Carl Bates received a Drinkworks Home Bar Bundle!
@GascoyneNick received a bottle of Tobermory 21 Year Old 1994 (Master of Malt)!
kensington_rose__ received a bottle of The Sexton Single Malt!
Paul Reade received a bottle of Teeling Blackpitts Peated Single Malt!
@sarah_hardwick received a bottle of Bruichladdich 10 Year Old 2012 Bere Barley!
laird_howard received a bottle of Bruichladdich 10 Year Old 2012 Bere Barley! (Popular choice!)
Karl Glenn received a bottle of Invergordon 42 Year Old 1973 (Master of Malt)!
And Super Wishes!
@RadicalAdam received a crystal decanter of Woodford Reserve Baccarat Edition worth over £1,300!
@APolarView received a bottle of Bunnahabhain 40 Year old worth over £1,800!
thehonestmumreviews received a bottle of Singleton of Glen Ord 39 Year Old worth £2,250!