In the news this week we've got the world's largest bottle of Scotch whisky, the "world's first asparagus vodka", and a possible definition for American single malt. It's all in the Nightcap: 6 May edition. 
We're off the back of another long weekend and hope you're feeling nice and refreshed. This particular writer was attending the Spirit of Speyside Festival, and so I'm reinvigorated rather than rested. But even after a weekend of lovely whisky, I've still got room for a bit of boozy dessert in the form of The Nightcap. Presumably, you do too, which is why you're here. Let's get to it! 
The blog this week featured a fantastic beginners guide to Sake by the oracle himself, Richard Legg, an exploration of what makes Balblair whisky unique, and got our hands on Glen Scotia's Campbeltown Malts Festival Release 2022. It was also Mexican week here at Master of Malt as we marked Cinco de Mayo by breaking down the difference between Tequila and mezcal, provided some top recommendations, and made the Tequila Sunrise.
But we're not done yet. It's The Nightcap: 6 May edition!
World's largest bottle of Scotch whisky to go under the hammer
Silly season is in full swing with news that the world's largest bottle of whisky is due to shatter records at auction. Regular readers of The Nightcap might recall The Intrepid (which refers to eleven of the world's leading explorers) back in September 2021, and its whopping 5ft 11 size. Holding 311 litres of 1989 Macallan single malt, it overtakes the previous record holders, The Famous Grouse, by 83 litres. Its size has been verified by the Guinness World Records and is the equivalent of 444 standard bottles. When Duncan Taylor bottled it last year it took more than an hour to fill. Edinburgh auctioneers Lyon & Turnbull will put it on sale on May 25 and expect to receive more than £1.5 million, a new record. Auctioneer Colin Fraser said bidders will have the chance to buy "a piece of Scotch whisky history," while Charles MacLean provided some tasting notes to give the eventual winner an idea of what they're buying (assuming they open it, which they obviously won't). He says the whisky is full of "baked apple… supported by pear in syrup and a suggestion of flaked almond". He adds that it has a "smooth texture, and a sweet overall taste with some white pepper in the lengthy, warming finish and a suggestion of French apple tart". A shame he didn't add "swanky" at the end. 
Midleton Very Rare releases 47 year old whiskey
Midleton Distillery has unveiled the third expression in its Midleton Very Rare Silent Distillery collection ­­– a 47-year-old whiskey priced at $51,000. We were fortunate enough to taste the first expression in the range, a 45-year-old single malt unveiled in February 2020, which was then followed by a 46-year-old bottling last year. The plan is for there to be another three whiskies to follow every year until 2025, with each expression ranging in age from 45 to 50 years making it Ireland's oldest whiskey collection. Chapter Three in the collection is a 47-year-old single pot still Irish whiskey matured in two casks, ex-sherry butt and ex-bourbon barrel, and is said to have notes of forest fruits, sugar-glazed cherries, muscovado sugar, dark roasted coffee with crushed pistachio and hazelnut. The latest bottling is inspired by fire, dating back to 1854 when the largest pot still in the world was assembled at the Old Midleton Distillery and managed by 'fire men' who controlled the temperature. The wooden cabinet the Waterford Crystal the decanter is housed in has markings of the flames that once warmed the old pot still. There are just 97 bottles of whiskey available, so it's almost certainly another whiskey none of us will ever taste. Oh well.
Industry groups demand definition for American single malt
Two trade groups have come together to call on the Alcohol and Tobacco Tax and Trade Bureau (TTB) to establish a standard for American single malt whiskey. The Distilled Spirits Council of the US (Discus) and the American Single Malt Whiskey Commission (ASMWC) have urged the government body to set a new standard, stating the growing category has reached a critical moment as more distillers than ever are labelling their products with this term while there are no formal requirements. The TTB was due to publish a definition for the category in December 2021, the ASMWC said in September after it and Discus submitted official comments to them in June 2019 in support of setting a standard for US-made single malt whiskey as part of TTB's 2018 plan to modernise the labelling and advertising regulations for alcohol. Following the proposal, TTB added a rule-making for American single malts on its semi-annual regulatory agenda in 2021 but it has yet to issue the notice of the proposed rule. The definition put forth by the ASMWC states that American single malts must be made from 100% malted barley, distilled entirely at one distillery, mashed, distilled and matured in the US, matured in oak casks of no more than 700 litres, distilled to no more than 80% ABV, and bottled at 40% ABV or more. Taking more than a leaf from Scotch single malt, and why not? It works for them. We'll keep you updated with any developments in this story.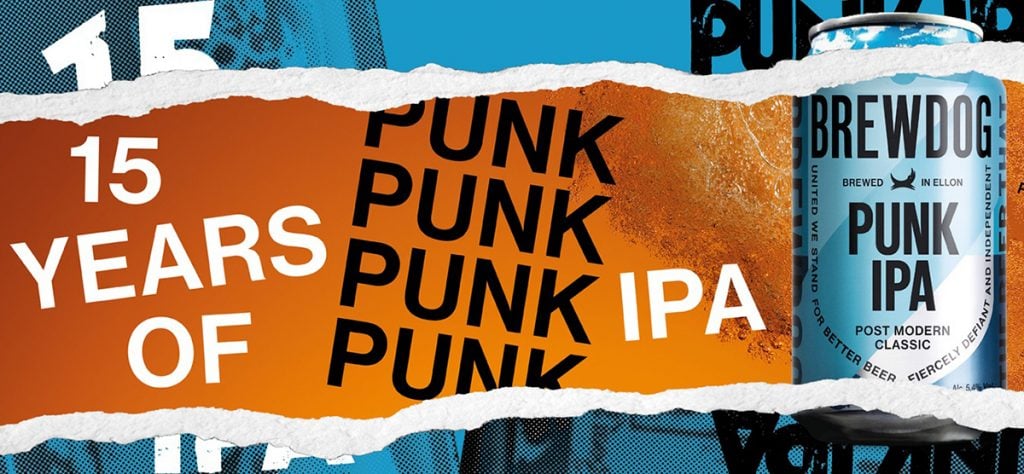 Brewdog creates the Bluedog Blueprint
Brewdog is doing some pr damage limitation marking its 15th anniversary as a business by launching The BrewDog Blueprint – a brand new business model defined by a couple of significant initiatives. One is the Hop Stock Employee Ownership Programme, in which 5% of the company previously belonging to James Watt worth just under £100m will be distributed among salaried team members. "This means BrewDog will be more than 25% owned by the people who matter most to us – our incredible team and you, our Equity Punk community, who have been with us every step of the way on this crazy ride," he says. Based on current headcount and valuation, the shares each salaried team member will receive are worth around £120,000. The other initiative is the Bars 50% Profit Share programme, described by the brand as being a pioneering new business model for hospitality. "Our BrewDog Bars now share 50% of their profits evenly with the fantastic people who work in them. By sharing 50% of profits with our crew, we're setting the bar higher for hospitality workers everywhere, and democratising the benefits of working for a successful business in our industry," Watt explains. These are big moves, and we're intrigued to see what kind of impact they have. To learn more about the Bluedog Blueprint, head here.
Glengoyne reveals final expression in the Legacy Series
The award-winning Legacy Series is sadly coming to a close, but before Glengoyne launches its third, and final, expression. The collection, which was made to tell the stories of people who have shaped the distillery over the last two centuries, concludes with  Glengoyne Legacy Series: Chapter Three,  created in honour of Sir Arthur John Tedder. Sir Tedder, a resident at the Customs House at the distillery between 1889 and 1893 (a beautiful two-story building that is now used for malt intake,) is said to have pioneered an 'unhurried' approach to whisky making, shaping the whisky as it's known today. A worthy man to salute. Chapter Three was bottled un-chill-filtered at 48% ABV, and is said to deliver a pleasant waft of creamy vanilla, followed by spicy cinnamon aromas and notes of mixed berries, cutting through an indulgent base of apple strudel and juicy pears. Sounds delightful. Good thing it will be here at MoM Towers before you know it…
Heineken to invest £42 million in UK pubs
Heineken is doing its good deed for the week and reaping some top publicity by injecting £42 million in pubs across the UK. The Dutch beer brand is supporting the hospitality industry as part of a plan to upgrade Heineken's Star Pubs & Bars estate. The investment, which will focus on high street pubs serving residential neighbourhoods as well as suburban venues, follows one during the Covid-19 pandemic which focused on the refurbishment of Heineken pubs. Combined, Heineken has now invested £115 million since the beginning of the pandemic, with a total of 660 pubs (more than a quarter of its Star Pubs & Bars business) being upgraded in this latest wave of investment. The group will focus on upgrading outdoor seating areas to mean rising demand for alfresco drinking and dining, while 137 venues will receive a makeover costing a minimum of £125,000. Arguably the best news is that a total of 700 new jobs will be created as a result of the investment, the firm has said. We welcome all the investment the industry can get at the moment, so kudos to Heineken. 
World Aperitivo Day to debut on 26 May
We don't ever need an excuse to champion the delights of an aperitivo, or frankly think there's much room left in the calendar for anything else to claim a day, but the humble Italian treat is getting one regardless. A global celebration of the Italian tradition of pre-meal drink has been marked in the calendar for Thursday 26 May, aiming to share a proud cultural touchstone with the world. An online campaign (under #WorldAperitivoDay) will be run in conjunction with a live event in Milan where the 'Manifesto of the Aperitivo' will be presented to the world. The document, developed by "leading drinks experts" (nobody asked us, but whatever), will define the original Italian aperitivo, and offer commandments concerning what sets the aperitivo apart from the apéritif. The critical factor? It can only be called an aperitivo if at least half of it has been made in Italy. Too right. Plenty of room for international influence and experimentation there, but if there's one thing you don't mess with it's Italian recipes. They tend to have thoughts on the matter. The full criteria will be shared on social media to the @aperitivofestival page. Does anyone else really fancy an aperitivo now? We're not waiting three weeks, if you don't mind.
Portobello Road Distillery creates flavoured vodka range
Portobello Road Distillery has been busy in the world of vodka recently, which we predict will only flourish as taste, provenance, and heritage become more a focus for the category. The former is being ramped up in the Notting Hill-based brand's latest collection, which is made up of vodkas created using natural ingredients. Eschewing the typical focus of purity, instead character takes centre stage in bottles distilled from 3kg of British potatoes, which create a rich texture enhanced by flavours such as Toasted Coffee Bean, Golden Madagascan Vanilla Vodka, Calabrian Bergamot Citrus, and – in a world first – Asparagus. The latter is the more recent creation, following an original range designed to amplify the nation's favourite cocktails including the Espresso Martini, the Cosmopolitan & Porn Star Martini. The distillery intends to release the vodka annually, just after the  start of asparagus season, using asparagus grown on Portwood Farm in Norfolk. The vegetable is steeped for 24 hours in British Potato Vodka before being bottled in a limited run of 600 bottles each time. All the bottles will be available soon from our virtual shelves, and having tried the original base Potato Vodka and the Toasted Coffee Bean edition, we can understand why flavoured vodka sales are up 128% in two years. We'll reserve judgement on the Asparagus edition for now, however… 
And finally… American brewery creates 'Putin is a d****head' beer 
When Pravda launched its #BrewforUkraine campaign on the 8 March with a live-streamed brewing session watched by more than 140 breweries, it open-sourced its recipes so that brewers from around the world could make a brew to help raise money for the country. Naturally, a 'Putin is a d****head' beer has now emerged. Hot on the heels of an Australian collaboration that led to Puck Futin, a beer created to raise money for humanitarian aid and refugees fleeing the war, this new beer mocking Russia's leader has been created by the Ornery Beer Company in the US. The brewery has done 3,000 brews using Pravda Brewery's original labels in order to raise funds for the relief effort in Ukraine. "It's obviously not a very flattering caricature of Putin…" Ornery Beer Company CEO Randy Barnett said. "Everyone loves this! Obviously, the whole world is uniting around Ukraine and the brewing community is a big community, they want to always be looking to help, we're a very charitable group."