This week we're visiting a Highland distillery with an unmistakable tropical fruit flavour, Balblair. But why does it taste like this and where does the flavour come from? We take a closer look at the DNA of Balblair. 
One of the things that whisky lovers like to discuss over a dram or two is where the flavour in the glass comes from. It depends on who you talk to. Richard Paterson from Dalmore says 80% of the flavour comes from the cask, whereas Mark Reynier from Waterford says it's all about the barley and where it's grown. At Glenmorangie, they'll tell you about their tall giraffe-esque stills which contribute towards a fruity new make. Other distilleries will make much of their water source. 
The DNA of Balblair
At Balblair the distillery's signature tropical fruit character is noticeable at the fermentation stage. Whereas most wash tastes a bit like a not very nice Belgian beer, the washbacks at Balblair are heady with the smell of pineapples and mangoes. That exotic fruit carries right through the distillery's range from the Um Bongo-esque (tropical fruit drink popular with British schoolchildren in the 1980s) flavours of the 12 year old, to the almost Jamaican rum funk of the 25 year old. Balblair is tropical fruit city.
We were shown around the distillery by John MacDonald who has been running the place for nearly 16 years. His tweeds are in marked contrast to most distillery manager's corporate polo shirts and gilets, and give him the air of a local laird rather than the employee of a multinational corporation. He began his career at nearby Glenmorangie as a warehouseman, and worked his way up to mashman, still room assistant and eventually manager. In 2006, he joined Balblair which he described as "the finest distillery on planet earth". 
How a distillery should look
It's hard not to agree with him. It's no wonder that Ken Loach picked Balblair as the location for his whisky film The Angel's Share. Apparently, he scouted dozens of locations before finding the right one: "this is what I imagined our distillery to look like," he said, according to MacDonald. 
The distillery dates back to 1790 when it was founded by John Ross making it the oldest working distillery in the Highlands. The Ross family are still involved with the distillery. Balblair means 'land of the fertile plain', or, perhaps 'battlefield'. Despite its age, most of the distillery is much younger as it was entirely rebuilt in 1894, and then refitted in the 1960s with steam-heated stills installed. Like Pulteney which we looked at last month, it's part of the Thai-owned Inver House group. 
There's a small museum onsite with various distillery memorabilia including peat cutting equipment from way back which brought back some bad memories for MacDonald. "I hate these tools with a passion!" he said. "Reminds me of holidays going back to Harris and digging peat. Back breaking, smelly dirty work, and midges!"
The standard kit
Then it was on with a tour of the distillery. We started at a Porteus mill, apparently the oldest piece of working equipment in the distillery, and it never breaks down. They use Concerto and Laureate barley. Mashing takes place in a stainless steel semi lauter tun. They use three different water temperatures, and take everything slow, according to MacDonald, to produce a very bright clear wort which will produce that fruity wash.
They have six Oregon pine washbacks with 19,000-litre capacity each. Fermentation is pretty brisk, around 60 hours with a distillers yeast. MacDonald said that if he had a time machine he would love to do a 90 hour ferment.
Picturesque but scruffy
There are two rather squat stills so the spirit doesn't get much copper contact. It had worm tubs in the past but in the 1970s owners Hiram Walker changed them over to shell and tube condensers that sit outside the building looking rather scruffy and incongruous. Balblair is like that, a mixture of the picturesque and the purely functional. You can see why Loach thought it perfect for his film. Those dumpy stills mean that there's weight behind the fruitiness, which really seems to come out with age. 
Maturation is largely in American oak, 95% of production, with the rest in sherry casks. Most of it is aged onsite in eight dunnage warehouses though there is some stored in Airdrie at the bottling plant. Until recently, Balblair bottling were vintage releases but it switched to a more conventional age statement system in 2019. 
Tasting the Balblair range
After our tour with MacDonald, we sat down for a boisterous evening tasting the entire range. I've picked out some highlights below. But the DNA of Balblair was apparent in everything we tasted distinctly. There's no mucking about with wacky casks or any of that nonsense. It's all about that great tropical fruit, tempered by time, accentuated by sweet American oak, and seasoned with a little sherry. Classic Highland single malts.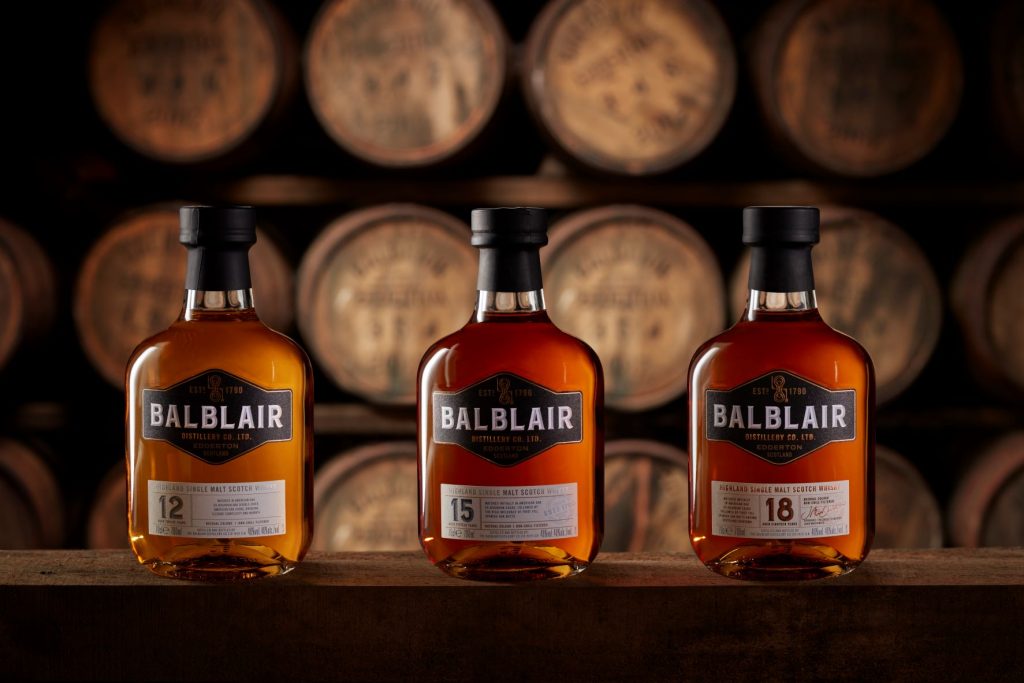 100% American oak, bottled at 46% ABV, Macdonald described this as the first whisky he can really put his name to as he saw it through from mashing to bottling.
Nose: That tropical fruit, like Um Bongo, pineapples, and peaches. Touch of honey.
Palate: Clean and fresh, tropical fruit, naturally. Not quite the taste sensation you might expect from the nose but a good, well-balanced malt.
Finish: That honeycomb note persists.
Matured in ex-bourbon casks before being moved over to first-fill Spanish oak butts. 46% ABV.
Nose: Creamy, with oaky vanilla notes and a lovely mixture of fresh and dried stone fruit.
Palate: Creamy and full with honey and ginger, peppery with peachy fruit.
Finish: Long and fruity with walnuts and dates. 
Mainly refill American oak with some Spanish sherry casks. Bottled at 46% ABV
Nose: Vanilla, chocolate, dried apricot with some Cognac-like rancio notes, plus mango
Palate: Rich and full-bodied with toffee, and chocolate, dried fruit but also fresh mangoes, lemons, and a floral lift.
Finish: Baking spices and walnuts.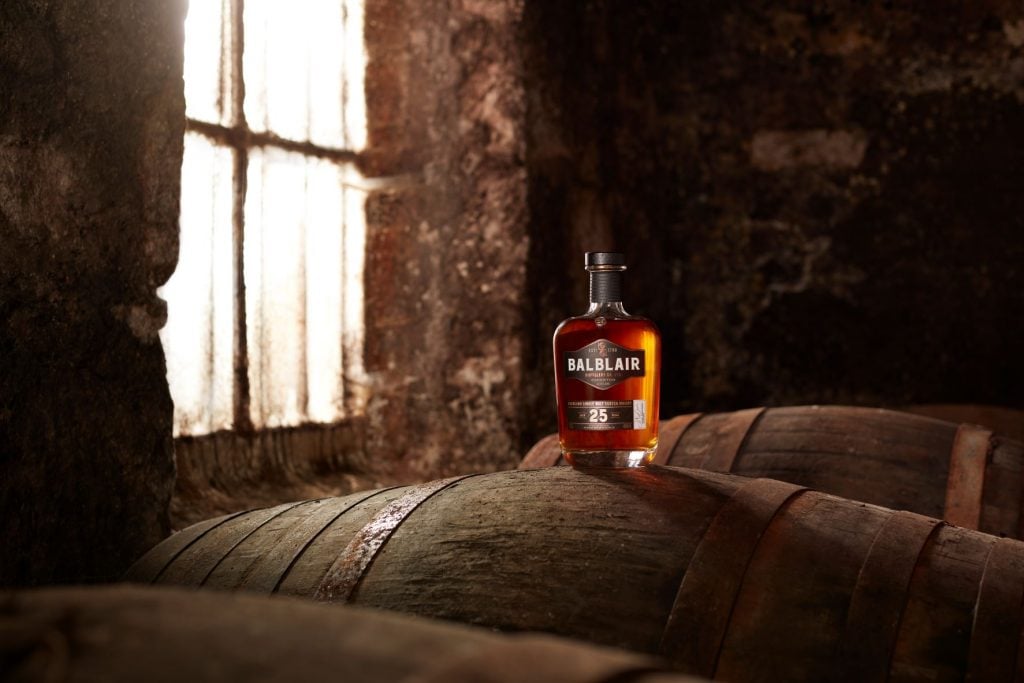 Matured in American oak bourbon casks, before it was then transferred for a second ageing period in Spanish oak butts. 46% ABV
Nose: A mighty nose, indeed. Something like overripe pineapple and mango with apricots, honey, and earthy woody notes.
Palate: Big and peppery, orange peel, chocolate and, yes you've guessed it, tropical fruit.
Finish: Sensationally long. Like a cross between an old Armagnac and high ester Jamaican rum.