The first week of October is almost Oct-OVER. Sorry. That was terrible. Sorry. Anyway, here's The Nightcap, lots of booze news to be had.
As it turns out, October is cold. It's almost like there's some type of scientific reason to do with how planets move and where stars are, all of which contribute to making the start of October startlingly chilly… Either way, the work week for a lot of folks is drawing to a close, so it's time to grab a warming tipple and dig into our weekly round-up of news from the drinks world – The Nightcap!
Firstly, here's what's been happening here on the MoM blog. Annie explored the wild world of Futurist cocktails, then dropped some knowledge on Cognac. Sam took a peek at the new home of Hendrick's Gin. Henry chatted with Santa Teresa's CEO Alberto Vollmer, tasted the new Ardbeg Twenty-Something and found out more about the upcoming Game of Thrones and Johnnie Walker whisky.
And so, on to the news!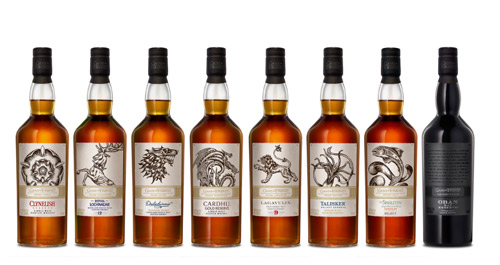 More whisky is coming…
More Game of Thrones whiskies!
We were still reeling from the magnificence of the White Walker by Johnnie Walker whisky bottle with its very scary looking Walking Man, when we learned that the Game of Thrones single malts were released. Each malt is linked with one of the warring clans of the HBO series. Lagavulin is Lannister (probably because they both begin with L) and the Stark Winter's Frost whisky comes from Dalwhinnie (because "it's cold and remote much like Winterfell" according to Dan Sandborn from Diageo). Talisker join up with House Greyjoy (because they're both by the sea), House Baratheon have a Royal Lochnagar's 12-year-old, House Tyrell are Clynelish, Tully are Glendullan (just because), House Targaryen is represented by Cardhu and the fearsome Night's Watch are represented by a special Oban in a black bottle. These are all limited editions and likely to be highly collectable. Anyway, enough whisky, what Games of Thrones fans really want is the sixth book to be finished.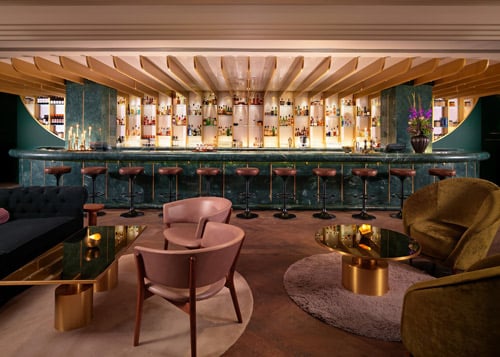 We'll miss Dandelyan
Bye bye, Dandelyan – World's Best Bar!
It was a bittersweet week for fans of renowned London watering hole Dandelyan. On Tuesday, the chap behind the bar and all-round cocktail genius Ryan Chetiyawardana (aka, Mr Lyan) posted on Instagram that after four years it was time to "kill" the bar, perhaps best known for its incredible menus curated around the idea of modern botany. "There's so much I think we can do, and so much we want to challenge, discuss and create in this industry that, like with White Lyan [another former – and also award winning! – bar from Chetiyawardana], it makes sense to burn it down, start afresh, and rise again as something brighter, shinier and more fitting of where we're (all) now at," he wrote. And that is indeed the plan – amid much wailing, cocktail fans can be comforted with the news that the folks behind Dandelyan are keeping the space and something new will be revealed at some point. That's not the only sweet ending though. During London Cocktail Week, Dandelyan was again named World's Best Bar by the 50 Best Bars team. Best bar in the whole freakin' world! Again!!! Congrats to all involved. Dandelyan will sure be missed, but we can't wait to see what Mr Lyan and co. do next.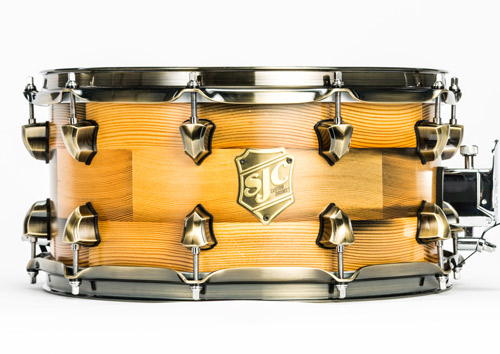 A snare drum made from Balvenie staves!
The Balvenie announces Crafted Collection
The Balvenie Single Malt Scotch Whisky, the Council of Fashion Designers of America Foundation and luxury retailer Todd Snyder have collaborated to debut the first-ever Crafted Collection. It's a curated series of handcrafted, limited edition items made from barrel staves from The Balvenie Distillery in Dufftown, Scotland. The range will be available for purchase at Todd Snyder's New York flagship store on the corner of Madison Square Park from October 1st through November 30th, and at their website through the end of the year. The offerings are as follows: Balvenie snare drums made from fir timbers handcrafted by Louie Scalzo of SJC Drums; Balvenie barrels transformed into bar carts by Mats Christéen of Foundrywood; Balvenie wood charcuterie boards infused with Balvenie-scented essential oils from Dylan Mellinger of Black Fox Furniture; luxury men's leather dress shoes with Balvenie wood heel from Raul Ojeda of LA-based Willie's Shoe Service and Don Ville and a bespoke experience, which includes a domestic round-trip flight to Los Angeles, exclusive fitting for a custom pair of Balvenie-heeled, leather dress shoes complete with a Balvenie tasting experience at Raul's studio, and a two-night stay in a five-star hotel. The Balvenie Brand Director, Greg Levine, said. "Each handcrafted piece of this limited collection represents the marriage of art, luxury and craft that The Balvenie has embodied for over 125 years."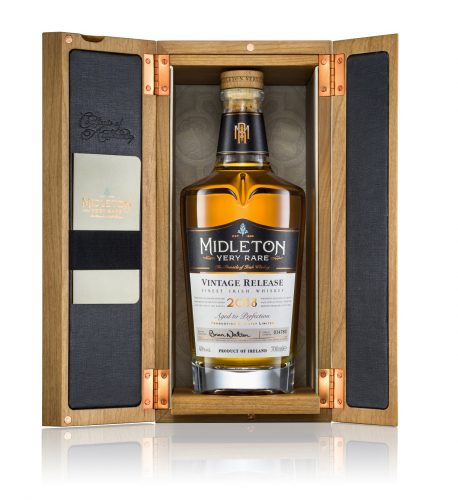 The Midleton Very Rare 2018
Irish Distillers unveil the 2018 vintage of Midleton Very Rare
A week of superb releases also features a special Irish whiskey, Midleton Very Rare 2018. It's the 35th edition in a renowned, collectable range that was first launched in 1984. The 2018 vintage of Midleton Very Rare was crafted at the Midleton distillery by master distiller Brian Nation from a blend of rare, hand-selected single pot still and single grain Irish whiskeys. Each cask was matured exclusively in lightly-charred ex-bourbon American oak barrels for between 12 and 28 years. The 2018 edition was bottled at 40% ABV and is available globally from this month at the RRP of €180. Brian Nation, Master Distiller at Midleton Distillery, commented: "We set aside very small amounts of particularly fine single pot still and single grain distillates each year so that the Midleton Very Rare legacy can continue. This practice has been going on for over 40 years and today we are the proud custodians of the exceptional distillates with a duty of care to ensure that future generations are able to enjoy the pinnacle of Irish whiskey as we do today."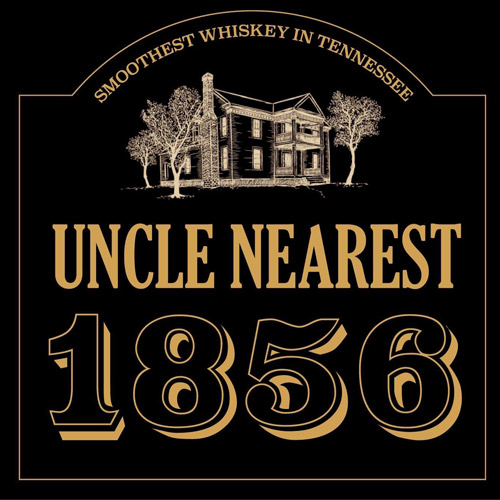 Uncle Nearest 1856
Uncle Nearest single barrel collaboration with British Bourbon Society
This week, American whiskey brand Uncle Nearest unveiled an 11 year old single barrel whiskey, Nathan Green 1870, bottled in collaboration with the British Bourbon Society – and then it swiftly sold out! The brand chose the UK as the place to launch this limited edition whiskey, with its Uncle Nearest 1856 whiskey also being used at London's Booking Office bar as part of London Cocktail Week (which is still going on until Sunday, by the way…). Uncle Nearest takes inspiration from Nathan "Nearest" Green, the first African-American master distiller on record in the US. It doesn't just provide everyone with tasty whiskey, by the way. The brand also provides funding to the Nearest Green Foundation, a nonprofit organisation dedicated to preserving Nathan Green's legacy and to ensure it doesn't get forgotten once more.
Chivas launches its oldest whisky ever: The Icon
A blend of two enormous, historical institutions sees Chivas celebrate its continued relationship with Manchester United FC as its Official Spirits Partnership through the unveiling of a stunning new whisky: The Icon 50th Anniversary Limited Edition. This is first in a series that marks Manchester United's European Cup victory in 1968 with four limited edition bottlings, to represent each of the goals scored by Manchester United that night at Wembley Stadium. The Icon is said to have notes of honey, vanilla and dark chocolate, balanced by subtle hazelnut influences. It's presented in a hand-blown crystal decanter created by expert craftsmen at Dartington Crystal, while the packaging is decorated with a bespoke metal plaque, enshrining the 1968 victory to the bottle's crest. The first bottle will be gifted to a lucky fan, so be sure to keep an eye on Manchester United social platforms for further details on how to enter. Sandy Hyslop, Chivas Brothers director of blending, commented: "At Chivas we believe that blended is better – in life, football and Scotch – so we wanted to use our vast expertise to craft a truly unique blend that embodies the values of a truly unique team. Ever since Chivas' founding brothers, James and John, first perfected the art of blending, Chivas has never released a whisky more than 30 years old – this limited edition 50 years old blend really is an iconic piece of history."

Suntory Haku
Suntory launches Haku Vodka
Suntory, Japan's largest distiller, has just announced the arrival of a new premium vodka called Haku (not to be confused with Haiku, which is a very short poem). The word Haku means 'white', and it's derived from the word for white rice, 'Hakumai'. This is fitting as the new vodka is distilled from 100% Japanese rice. The process begins with white rice fermented with koji rice, which is then fermented twice in pot stills. The spirit is then filtered through bamboo charcoal to ensure a sweet, mild flavour. Sounds like liquid poetry. The only drawback is that for the moment it's only available in the US. Let's hope they decide to ship some over to Europe soon.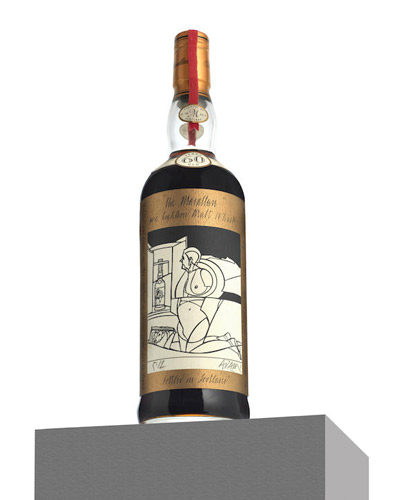 More pricey Macallan at auction
Macallan breaks world record for most expensive bottle… Again
On the 3rd October, a bottle of whisky sold at Bonhams in Edinburgh for a record-breaking £848,000. To put that in perspective, with that kind of money you could buy over two million packets of Frazzles. As you've probably already guessed, the bottle in question is a Macallan. Not just any Macallan though, it's a 60 year old whisky, from a limited edition of 12 with a label designed by painter Valerio Adami. It was distilled in 1926, bottled in 1986 and bought from the distillery by the vendor in 1994 for an undisclosed sum. Martin Green from Bonhams said, "The Macallan 1926 60-year-old has been described as the Holy Grail of whisky. Its exceptional rarity and quality puts it in a league of its own, and the world's most serious whisky collectors will wait patiently for many years for a bottle to come on to the market." Nobody is quite sure how many of these bottles still exist. One is thought to have been destroyed in the 2011 Japanese earthquake and there are rumours that another has been drunk (drinking whisky? Whatever next?). So the Edinburgh Macallan is very rare indeed, but we have just learned that an even rarer Macallan is going under the hammer at Christie's in London on the 28th and 29th November. It's from the same year but the bottle was painted by artist Michael Dillon, and it's unique. Watch this space for how much it goes for. Likely to be a lot of Frazzles.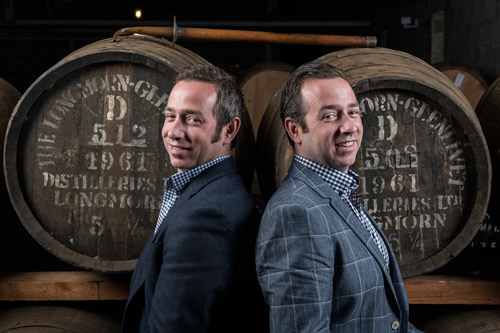 Stuart and Richard Urquhart!
Gordon & MacPhail unveils oldest Longmorn single malts
More very expensive whisky news as Gordon & MacPhail announces the launch of two super rare Longmorn whiskies. The pair were selected by another great pair, identical twins Stuart and Richard Urquhart, from stock laid down by their grandfather George Urquhart in 1961. Both whiskies were aged in in first fill Sherry hogsheads but Richard Urquhart's choice was matured in European oak and bottled at 45%, whereas Stuart Urquhart's came from American oak and bottled at 40.8%. 97 pairs are available presented in twin hand-blown decanters with a book by renowned rare whisky expert, Jonny McCormick. Professor David Purdie, an expert in (human) twins, has worked with Gordon & MacPhail on this special release. He commented, "it is remarkable to observe how the identical spirit filled into the casks all those years ago has been altered by the natural environment of the casks themselves – one crafted from European oak and the other from American oak. Just like twins who start life at the same time and place, each whisky has then been shaped and developed by a multitude of separate factors to create these subtle differences." And the price for this alcoholic lesson in nature vs. nurture? £30,000 or 75,000 packets of Frazzles (please note: packets of Frazzles are not legal tender).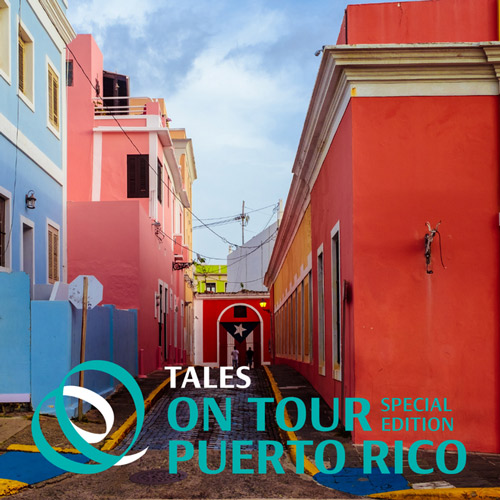 Tales on Tour is heading to Puerto Rico
And the next Tales on Tour spot is… Puerto Rico!
Ready the boarding pass, folks – the destination for the annual Tales of the Cocktail spin-off Tales on Tour has been announced, and it's none other than Puerto Rico! On Tuesday, the organisers of the world's biggest bartender event revealed that the event was heading to the island 'in an effort to help the territory rebuild' after the devastation wrought by 2017's Hurricane Maria 'through supporting the region's spirits community and hospitality industry'. "As New Orleanians, we live in a city rebuilt on hospitality in the wake of a natural disaster," said Gary Solomon, Jr., co-chair of the board of directors of Tales of the Cocktail Foundation. "New Orleans' culinary scene was instrumental in New Orleans' long road to rebuilding and financial recovery. That shared sentiment really drew us to help a sister city through a genuine lens of hospitality." The four-day festival will be held from 10 – 13 March 2019 in Old San Juan, with Hotel El Convento serving as the host hotel. Interested? Keep an eye on the Tales of the Cocktail site for more deets in the coming weeks!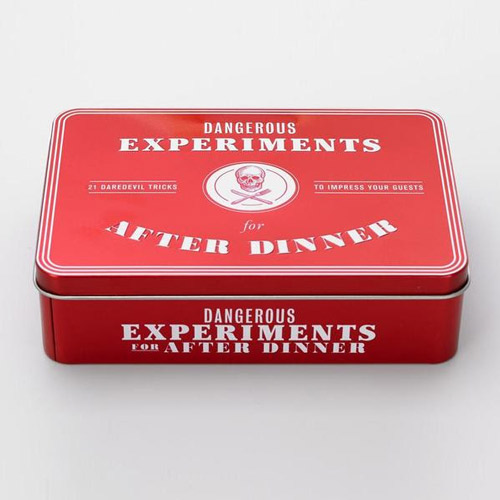 For when Boggle just doesn't cut the mustard
And finally… DANGER
If you're looking for something fun to do after dinner but you're bored with charades and not ready to get involved with the local swinging scene, then Dangerous Experiments for After Dinner is for you. It consists of a box of cards, snazzily produced by Pentagram and top graphic designer Angus Hyland, and on each card is a different challenge for your guests to perform. These range from mildly dangerous (opening a bottle of champagne with a sword), miraculous (turn water into whisky) to the the sort of thing I've always wanted to do after a long dinner – the tablecloth trick. There are 21 different challenges which should keep your guests amused for a good couple of hours. Then if they still won't leave, turn the lights on really bright, cut off wine supplies and suggest that it time to talk about Jesus.