Santa Teresa 1796 isn't just one of the world's classiest rums but the distillery in Venezuela also runs an inspiring program to help gang members give up a life of crime. CEO Alberto Vollmer was in London last week talking rum, rehabilitation and rugby.
"Yes, things are as bad as you hear, in some ways they are worse", Vollmer was candid about the current crisis in Venezuela. The country's deterioration means that Santa Teresa has had to find new markets for their rum. Their premium label, 1796, is now distributed globally by Bacardi, hence why I was talking to Vollmer in the splendour of the Rosewood Hotel in London. "As a Venezuelan brand to be in this room, in a city like London, is extraordinary", he said.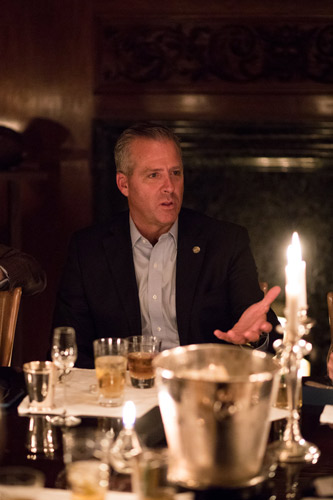 Alberto Vollmer!
Rum
1796 was the year the Santa Teresa estate received a Royal Warrant from the King of Spain, but the Spanish side of the family have been in the country much longer – since the 16th century. The Vollmers, originally from Hamburg, arrived in the 19th century and brought over Cognac-style pot stills to produce rum. The family launched their first commercial rum in 1911.
Their part of Venezuela, Aragua, with its damp equatorial climate is perfect for growing sugarcane. The estate produces about 10% of their needs and the rest is bought in from local plantations. Santa Teresa produces a Ron Claro, a Gran Reserva, and a orange-infused rum which is a bit like Grand Marnier, but 1796 is the only one it exports. The flagship rum has an elaborate production process where rums of different characters and ages are blended into a harmonious whole.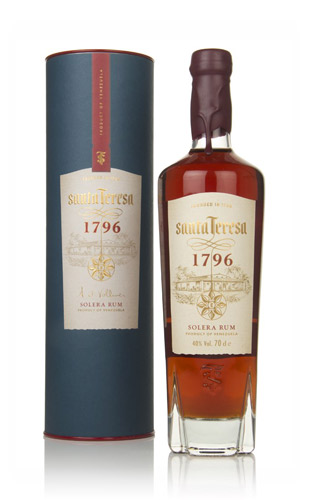 Santa Teresa 1796 – available on masterofmalt.com
Starting with the raw materials, they ferment some of the molasses in a batch method which takes between 24-29 hours and some using a continuous method which takes around 50 hours. The wash is then distilled one of three ways: double-distillation in a pot still as with a single malt whisky, or two different column distillations – one that produces a light, clean spirit and one that produces a heavier product.
These three eaux-de-vie are aged separately in a mixture of European and American oak hogsheads, and then blended in a solera. The first Santa Teresa solera was started in 1992 with rums dating back to the 1950s. "We have more than 30 soleras", Vollmer told me. The result is rich and incredibly smooth with notes of walnut and tobacco. It's less sweet than some other Venezuelan rums, more like a Cognac, which makes it very popular behind the bar.
Cocktails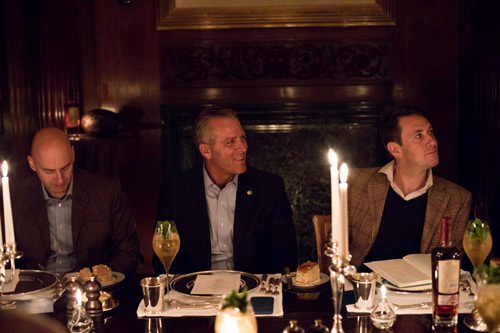 Those apertifi before us were marvellous
At the Rosewood, we had dinner paired with a series of cocktails from some of Britain's top bartenders. As an apertifi Alex Lawrence from Dandelyan made a spritz with fresh basil which brought out a grassy note in the rum. Greg Almeida from Scarfes bar in the Rosewood created a cocktail called 'Sense of Place' with mead and hops, which we drank with a langoustine arepa (a traditional Venezuelan pancake, though the one served at the Rosewood was apparently not very authentico). Marcis Dzelzainis from Quo Vadis offered us a highball with verjus and sandalwood soda alongside beef fillet and black bean cassoulet. And finally Max Venning from Three Sheets served the rum with ice and a choice of different flavoured waters (hibiscus, sandalwood, or orange) to make an Old-Fashioned-style drink which was served with a chocolate tart. Over the course of the meal, 1796 proved itself amazingly adaptable; it shone in all the disparate cocktails but was also excellent sipped neat without ice.
Rugby
After dinner conversation returned to problems with the country, but Vollmer insisted: "I am optimistic. In the last 20 years we have made enormous mistakes, I hope we learn the lessons. I hope we will make the right decisions that will help out ordinary Venezuelans." Santa Maria is committed to making a difference. The company has an enlightened approach to worker relations. The management open up the books to ordinary employees to show "we're not rich people exploiting you", as Vollmer puts it, and they send union leaders on trips to Chile to see the product on sale so that they "buy into our vision".
But what they do to help stop gang violence is quite extraordinary. It began back in 2003, when gang members invaded the Santa Teresa estate. They were caught and handed over to the police but the family realised that the police would probably kill the men, so they bribed the police to hand the criminals back. Vollmer then decided to give the men jobs on the estate. Everyone thought he was crazy but the gang members thrived and asked if other members could join.
This led to Project Alcatraz which involves teaching prisoners rugby. Alberto picked up a love for the game when he was in France. He told me that it teaches the former gangsters "respect, teamwork, and humility". Over 15 years they have helped over 2,000 people. Homicides in their region are down from an estimated 170 per 100,000 to 12 (for comparison London has 1.4 murders per 100,000).
Alberto Vollmer explains Project Alcatraz
The leader of the gang that first invaded their estate, Jose Gregorio Rodriguez, aka El Gordo (the fat one), told Vollmer, "I used to rule by fear, now I rule by example". He is now coach of the rugby team and his son plays professionally in Uruguay. And the son's name, Wilkinson.