The Italian Futurist movement laid the foundations of what became the pioneering cocktail industry we know and love today – and yet very little is known about its provocative, theatrical and intentionally bizarre polibibite, or 'multi drinks'. Here, aperitif and sparkling wine producer Cocchi reveals six Futurist cocktail recipes for the avant-garde home bartender…
From 1909 to 1944, Futurists used art, performance, architecture, fashion, film, literature and gastronomy to declare their manifesto. The movement sought to reject traditional Italian culture and embrace the dynamic, modern world through all social, political and artistic means possible. Pasta was out; Diabolical Roses (deep-fried red rose heads in full bloom) were in.
The foundation of Futurist polibibite is an element of surprise. But look beyond the egg yolk garnishes, anchovy-stuffed communion wafers and boiling Barolo wine, and you'll find the madness has meaning. Futurist cocktails prepare the drinker for whatever activity is due to take place afterwards. The more testing the task, the more alcohol and flavourings they feature.
A few relate to getting a good night's kip, in varying degrees – the pace in letto, or 'peace in bed', the presto in letto, 'quick to bed', and the guerra in letto, which means 'war in bed'. Ahem. The snebbianti, meanwhile, is intended as a 'fog lifter', while inventinas encourages innovative and provocative ideas.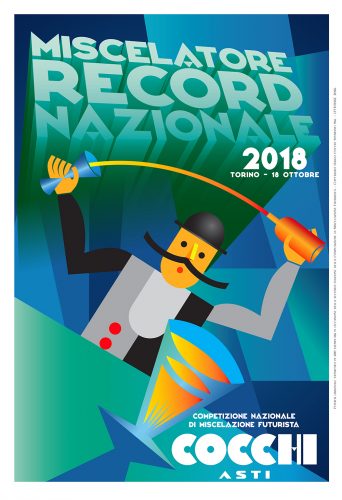 Someone just told this chap the meaning behind "guerra in letto"
Futurists' unusual recipes are decorated with Italian spirits and home infusions, and the measurements intentionally omitted. With each mistake, another cocktail is invented – a variation that may potentially be better than the last (perhaps unsurprisingly, none of the creators were actually bartenders; they were often artists and poets).
The Futurists were big into sensory stimulation, and often made their polibibite into an immersive experience, pairing the drinks with coloured lighting and strange perfumes. Guests might be instructed to touch textures like sandpaper and silk, or listen to someone bang a gong as they sipped.
"The decorations and combinations were invented to create surprise and astonishment, sentiments until then unknown in the world of drinking, marked only by certainty and calm" according to Futurist Mixology, written by barman and expert Fulvio Piccinino for Cocchi.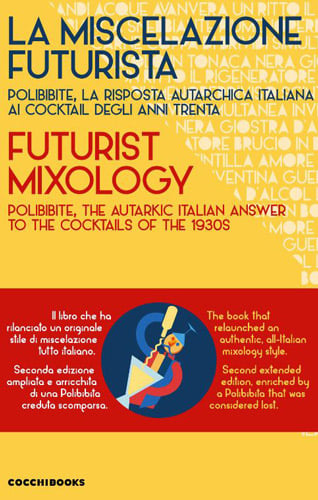 Futurist Mixology by Fulvio Piccinino
"Stunning decorations of chocolate, cheese, wafers, anchovies, stuffed dates, candied chestnuts and hard boiled egg yolks took the place of the classic orange peel, cocktail olives and onions then used by barmen. The aim was to create what was to all effects a temporary work of art that could arouse excitement and comment."
We've picked out six Futurist cocktail recipes for the eccentric home bartender that exists deep inside. If you're brave enough to give any of them a crack, let us know in the comments below…
Avanvera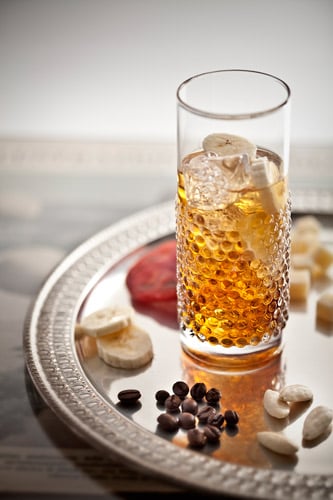 Historic recipe:
Vermouth, Cognac, Strega
Garnish:
Banana slices
Suggested quantities:
30ml
Cocchi Storico Vermouth di Torino
, 30ml Italian brandy, 2 teaspoons Strega
Method:
The drink is made directly in the glass, a low tumbler, with ice cubes. About five slices of banana – and a stick to pick them up with – are placed inside.
They say:
Avanvera is an absolutely balanced and brilliant
polibibita
drunk as an aperitif. This innovative structure predated by many decades the concept of the food-cocktail combination. A small shiny aluminium plate should be used to present the
polibibita
, which is served with almonds, roasted coffee beans, sliced banana, tomato, Parmesan cheese, and anchovy fillets.
Brucioinbocca
Historic recipe:
wisky (written with the Italian spelling), Strega, alchermes, vermouth, milk, honey, sour cherries, peppercorns
Suggested quantities:
40ml blended whisky, 2 teaspoons Strega, 2 teaspoons alchermes (liqueur made with nutmeg, vanilla and cloves), 2 teaspoons
Cocchi Storico Vermouth di Torino
, 30ml whipped cream, 1 tablespoon honey, 3 sour cherries without stones, 6 peppercorns
Method:
Fill the sour cherries with peppercorns and place them in the bottom of the glass. Chill the whisky in a mixing glass and pour it over the cherries. Add a layer of whipped cream and honey using the back of a spoon. Combine Strega, alchermes, and Cocchi Storico Vermouth di Torino in a mixing glass, and chill the mixture. Then, add it to the glass by pouring it over the back of a spoon. A thickening agent may be added to the cream and honey if needed.
They say:
Brucioinbocca ('Fire in the Mouth') is an histrionic
polibibita
that is difficult to make because of the reversal of the pousse-café concept. Barosi does not catalogue the drink, but the presence of herbs could put it in the
guerra in letto
category. The
polibibita
works on the typically Futurist sweet-spicy pairing.
Diavolo in Tonaca Nera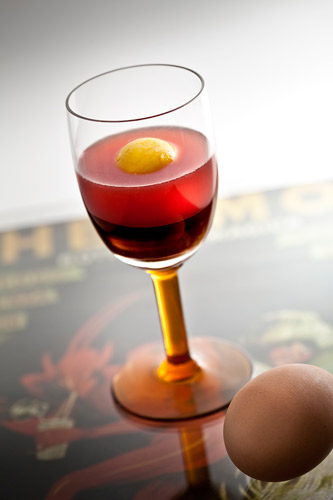 Historic recipe:
2/4 orange juice, 1/4 grappa, 1/4 liquid chocolate, 1 hard boiled egg yolk
Suggested quantities:
80ml orange juice, 40ml
Nardini Riserva grappa
, 40ml liquid dark chocolate (70% cocoa), 1 hard boiled egg yolk
Method:
Melt and temper the dark chocolate before pouring it into the glass. Combine the grappa and orange juice in a mixing glass. Chill the mixture and pour it slowly into the glass, then add the egg yolk.
They say:
A decidedly striking mix, starting with the name Diavolo in Tonaca Nera ('Devil in Black Habit'). On the basis of the energy contents and the name, it make be likened to the
guerra in letto
. The service is completed with a saucer holding a teaspoon. The
polibibita
should be savoured in small spoonfuls: a piece of the egg yolk is picked up and chocolate wiped from the side of the glass as the same time as taking a small quantity of juice and grappa to accompany the morsel. The contrast of the acidity and sweetness of the juice with the bitterness of the chocolate, lightened by the egg yolk, creates an original combination.
Giostra D'Alcol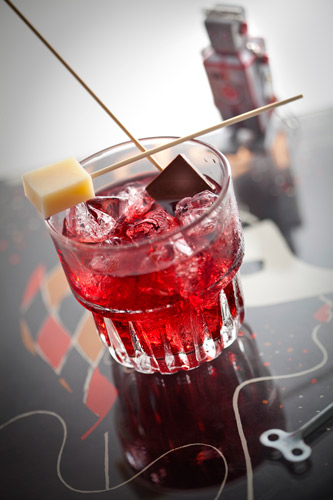 Historic recipe:
2/4 Barbera, 1/4 Campari, 1/4 cedrata, 1 square of cheese, 1 square of tempered dark chocolate
Suggested quantities:
60ml Barbera d'Asti DOCG, 30ml
Campari
, 30ml cedrata (a lemon soda drink), 1 square of cheese, 1 square of tempered dark chocolate
Method:
Combine the ingredients in a glass over ice and garnish.
They say:
Despite the name – 'Alcoholic Carousel' – it is a balanced mix with good olfactory characteristics, and is actually not very strong. It remains the only example in the world of a cocktail containing Barbera. It was officially presented at the International Colonial Exhibition in Paris in 1931, and drunk under a spectral green light after a gong had been struck. Although the cheese remains a unique touch of eccentricity, the chocolate eaten after drinking the liquid is absolutely delicious.
Il Rigeneratore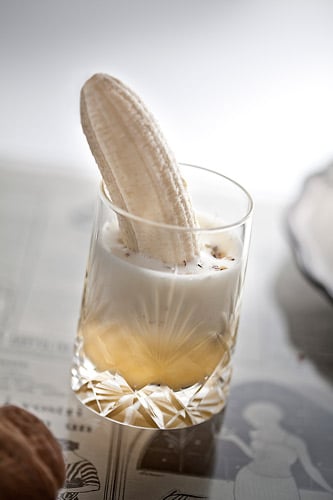 Historic recipe:
1 egg yolk, half a glass of Asti Spumante, 3 roasted walnuts, 3 teaspoons sugar, 1 banana
Suggested quantities:
1 egg yolk, 100ml Moscato d'Asti DOCG, 3 roasted walnuts, 3 teaspoons sugar, 1 banana
Method:
Beat the egg and sugar in a bowl for around five minutes or until mixture becomes white-ish. Then, blend the mixture with three roasted walnuts until small pieces remain. Combine in a mixing glass with ice cubes and the Moscato. Place the mixture into the glass and garnish with the peeled banana. Yes, it's meant to look like that.
They say:
This mixture Il Rigeneratore ('The Regenerator') is actually listed as a cooking recipe, but the use of Asti Spumante allows it to be classified as a drink. It is an original and dynamic mix that modifies one of the great classics of Piedmontese cuisine, zabaglione*. The result is a regenerating recipe, presumably for use after sexual efforts, and so can also be included in the
guerra in letto
category.
Un Ritto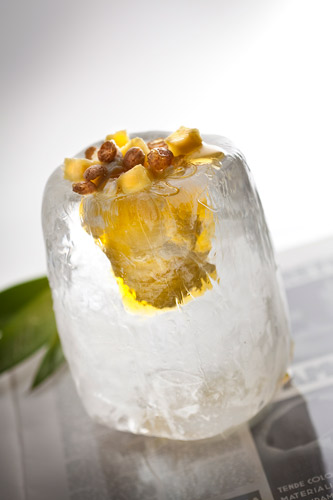 Historic recipe:
1 scoop of plain ice cream, pineapple pieces, vermouth, menta glaciale, Nocciolini di Chivasso biscuits
Suggested quantities:
1 scoop of plain ice cream, 4 ripe pineapple pieces, 50ml white
Cocchi Americano
, 2 teaspoons menta glaciale (mint liqueur), 10 Nocciolini di Chivasso biscuits
Method:
Place the ice cream, pineapple pieces and Nocciolini di Chivasso biscuits inside the ice cylinder, then top it up with the vermouth and mint liqueur mixture. The outside edge of the glass should be spread with honey to increase its energising function.
They say:
This vitalising
polibibita
, belonging to the
guerra in letto
category, is a type of Caruso energised with ice cream and pineapple. The Futurists were undoubtedly precursors of fashions, as shown by the original recipe that calls for a cylinder of hollowed-out ice in place of a glass.
*A classic Italian dessert made with egg yolks, caster sugar and wine.