It's all well and good drinking it, but how much do you really know about France's beloved grape-based spirit? Here, David Boileau, Cognac ambassador for the Bureau National Interprofessionnel du Cognac (BNIC), details eight Cognac facts that every spirits geek should know…
You know that all Cognac is brandy, but not all brandy is Cognac. You're aware it's aged in oak barrels. You've heard that terroir is a thing that producers care about. But is there a gap in your otherwise flawless eaux-de-vie expertise, perhaps one you're unaware of?
We'll share a simple one. That distilling doesn't immediately turn wine into Cognac might not surprise you. Indeed, distilling turns wine into eaux-de-vie*. But did you know that ageing isn't responsible for the name change either?
In fact, you could age an eaux-de-vie for 10,000 years, and it would still be just that. Eaux-de-vie is only recognised as Cognac when they're blended together (so long as they're over two years old, that is).
You knew that already, huh? Alright, it's time to get technical. Charge your glass with the region's finest and arm yourself with more Cognac factoids that you could shake un baton at…
1. Cognac is 10 times more expensive to produce than whisky…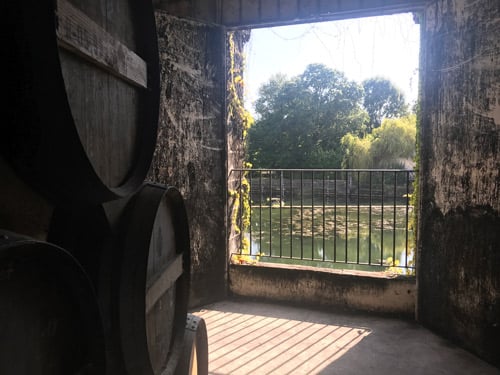 It's not just because the views are nice
…And 15 times more expensive than vodka. "It's expensive because the raw material is more expensive, we need grapes from a specific area," explains Boileau. The production process adds to the cost – Cognac must be distilled twice in copper stills – as does the ageing process. "It's at least two years, but for many eaux-de-vie it's much longer," he says.
2. It was distilled in the Middle Ages "by foreigners, for foreigners"
Before Dutch settlers arrived in France in the 16th century, the country had "never distilled wine before," says Boileau. "Without English people, we wouldn't have sent so much of it around the world. VS, or Very Special, is not French. VSOP stands for Very Superior Old Pale, because the first bottle was sent outside France." Turns out, French people don't really dig it. Historically, the region has never sold more than 50% of its production to France. Today, the category is 98% exports. Cognac was traditionally enjoyed as a digestif, but today only three glasses in 10 are drunk this way – most are served in cocktails.
3. The industry can be split into two: winegrowers and merchants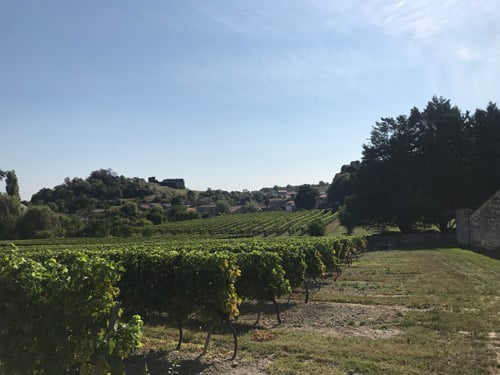 The views are very nice though…
There are 4,300 winegrowers, and they own 99% of the vineyards. "Their job is to cultivate the vineyard and create the wine. Some of them have boilers, and they can distil their own wine," explains Boileau. Only 300 of the winegrowers bottle their own Cognac, and it makes up less than 1% of the category's global sales each year. Instead, they have contracts with the 275 merchants to whom they sell white eaux-de-vie. Boileau estimates that vineyards owned by bigger houses, like Martell and Remy Martin, are only big enough to supply around 3% of their requirements – and usually, they tend to be for research purposes – so their relationship with countryside winegrowers is an important one. The BNIC is the bridge that brings both parties together to "defend and promote" Cognac.
4. Traditionally, Cognac was made with two key grape varieties…
…Neither of which was the 'ugni blanc' that is grown today. Colombard and folle blanche made up the eaux-de-vie of yesteryear – up until the phylloxera crisis, which started in 1875. To save the grapes, growers crossed American with French grapes to create a hybrid variety, with mixed results. "After 20 years, when they decided to replant again, they started with a French variety, ugni blanc, grafted onto American rootstocks to make it resistant [to the insects], and more able produce a good distilling wine," says Boileau. Today, 98% of the grapes grown in the 75,000 hectare Cognac region are ugni blanc.
5. Don't even think about ageing it in a second-hand spirits barrel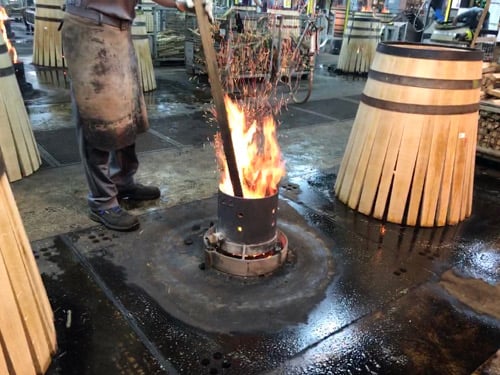 New barrels, please
Curious about ageing your eaux-de-vie in an ex-Islay whisky cask, or a former Dominican rum barrel? Go ahead – but you can't call it Cognac. "We lose the Cognac appellation if we do that," Boileau explains. While fresh oak is 99% of the ageing process, "if you respect the law you can test something different – finishing in Sauternes casks, for example or oloroso casks," he says. "You can do that because the base is wine".
6. Nine litres of wine = 1 litre of eaux-de-vie at 70% ABV
As you can imagine, producing that much wine takes a whole lot of grapes – and vine planting is controlled at a maximum of 3000 per hectare. Growers aren't allowed to add sulphur to preserve the wine, because they can't distil it, so they need a high level of acidity – which means less sugar in the grape. Machine harvesting is used in pretty much every vineyard. These machines work faster than people so grapes can be picked quickly before acidity levels drop (it's also cheaper than manual harvesting).
7. Distilling must end by the 31 March every year
Cognac's distillation season lasts from October 1 through March 31. Producers can't start distilling until they've harvested all their grapes (from around mid-September onwards), crushed and fermented them, and made them into wine. As such, they tend to start distilling around the beginning of November, or just before. Since Cognac can't be made using wine containing added sulfites, which help retain freshness, the springtime curfew ensures the quality.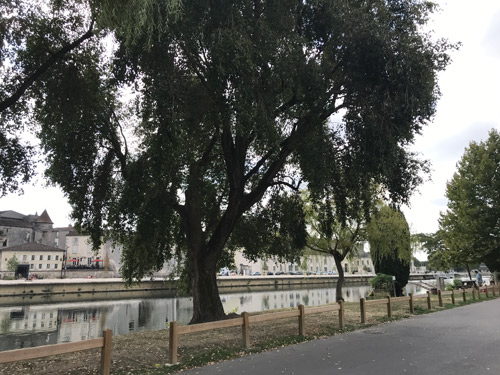 Views of the River Charente in Cognac: also nice
8. Part of the Cognac character can be attributed to 'lees'
You might know a little about lees, the dead part of the yeast that occurs as a by-product of the fermentation process. When filtering the wine prior to distilling, some producers keep a little of the lees sediment in the mix, while others opt for complete filtration and produce a clear wine. The decision really depends on the style of Cognac they want to create. "Lees is not so easy to distill, but it brings a lot of aromas," says Boileau. "Many of the distillers put lees on the Grande Champagne and the Petit Champagne, but not in Fins Bois. Without lees, you keep freshness, and the taste evolves quickly."
*If you want to be super specific, the first distillation turns wine into brouillis, the second produces eaux-de-vie.