Brendan McCarron, head of maturing stock at the Glenmorangie Company, explains why you have to be a bit mad to enjoy Ardbeg new make, and gives us a preview of the new 22 Year Old limited edition, distilled when "the bulldozers were at the gates."
It might surprise you to learn that Brendan McCarron is not a fan of Ardbeg new make – "Scandinavian whisky fans say they love it but I'm not sure I believe them." He came up with some unflattering comparisons such as "warm beer drunk out of a can". But what the new make has is "potential".
McCarron was explaining how Ardbeg ages to prepare us for a taste of the new 22 Year Old, the latest in their imaginatively-titled Twenty Something series of releases. McCarron told "that was the working title and it just sort of stuck." The 22 follows on from a 21 and a 23 year old. There will be another release next year, too.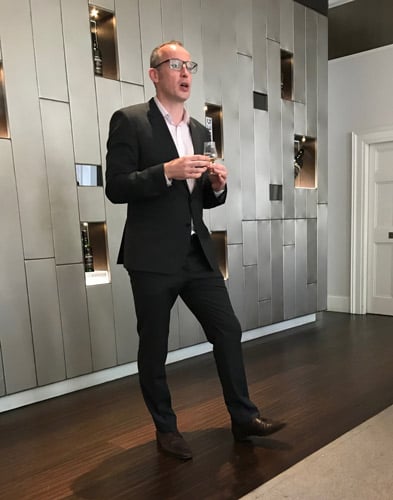 Brendan McCarron!
After the new make (which, call me an old Norwegian headbanger, I quite enjoyed), we moved on to the classic 10 Year Old. According to McCarron, Ardbeg starts to change very quickly, the metallic notes disappear after two years but that bacon (Frazzles to be precise) and TCP peatiness was still going strong in the 10 Year Old. However, after further maturation, the smoke starts to fade. McCarron explained how people tell him that in the past Ardbeg was less heavily peated, when it is, in fact, just the effects of ageing: "the smoke hangs about for 10 to 15 years, then in old Ardbeg the smoke plays second fiddle and the fruit goes through the roof".
We moved on to the 22 Year Old which was distilled in 1996 "as the bulldozers were at the gates." McCarron quickly added that he was being metaphorical but the distillery really was under threat of demolition: "all the equipment was falling apart and very little whisky was being made." According to Mickey Heads, Ardbeg Distillery Manager, the 22 Year Old is "created with spirit from the retired still which now stands in the distillery courtyard".
The distillery was saved and completely refurbished in 1998 following its acquisition by Glenmorangie, so this 22 Year Old release was one of the last spirits distilled using all the old equipment. It's aged in ex-bourbon casks, with McCarron mentioning "There's no sherry, we wanted to make a classic Ardbeg". As predicted, the fruit really had gone through the roof. It smelt of lime cordial with orange marmalade, pastry and, yes, some smoke underneath it all. On the palate the TCP element had disappeared, replaced with charcoal, boasting a texture that is round and sweet. Initially it's fiery and peppery, but a drop of water brings out the fruit. It's a whisky to linger over.
Ardbeg Twenty Something 22 Year Old up close
The 22 Year Old will only be available through the Ardbeg website and production is limited to 200 cases of 12. McCarron told me that they'd like to do a permanent older statement but they just don't have the stock. You'll have to move fast with this one, even at £440 a bottle.