The working week is coming to a close, as is September as a whole, which means it's right about time for another edition of The Nightcap!
Friday has rolled around once again, bringing the weekend into view! If you've finished up your work week and are preparing for a Saturday filled with plans and the like, do so with a brain full of knowledge about the world of drinks, harvested from a brand-spanking-new volume of The Nightcap.
As ever, let's kick off with a gander at the goings-on here on the MoM Blog. Henry put together a handy survival guide for getting through whisky shows without getting all tired and emotional. Adam had a look at the 36(!) brand new Master of Malt Single Cask Series bottlings we launched on Monday. Annie's Piedmont excursion continued with a look at Barolo Chinato, and she also found out what 23 people managed to spend almost €300k between them on in less than three hours at this year's La Part des Anges Cognac auction. Oh, and then there's that thing where we won another bloomin' trophy at the eCommerce Awards!!!
Onwards to the booze news!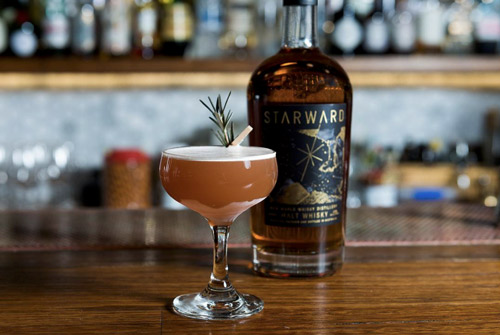 Note the tiny clothes peg
Starward Whisky puts on the ultimate dinner party with Michelin-starred chef
You may have noticed that whisky has branched out from its pipe and slippers image in recent years, and nobody has done more to change perceptions than Starward from Australia. Now, next month it is putting on a series of dinners in Shoreditch with Michelin starred-chef Andrew Wandless inspired by the 5 boroughs of Melbourne. Each dish will be be paired with a different cocktail made with Starward Solera and Starward Wine Cask whiskies. Tickets are on sale now for £65 which for the quality of the food and the whisky is a steal. But with all the excitement about whisky and food matching don't forget that on a cold winter night, there's nothing better than a fire, a dram, and an old tweed jacket with a faithful spaniel at your feet. Not all cliches are bad.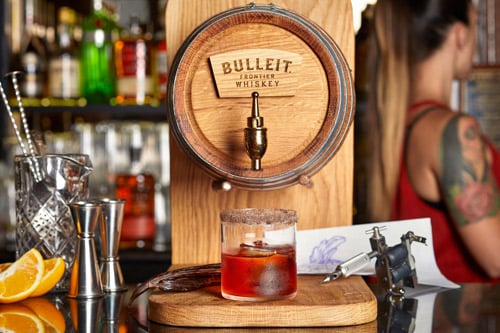 The Ye Olde Fashioned
Bulleit bourbon launches tattoo parlour without tattoos
When is a tattoo parlour not a tattoo parlour? When it's Lady A's Bulleit Cocktail and Tattoo Parlour, which opened on the 24th September. Taking place at Lady Abercorn's Pub and Kitchen in the Andaz Hotel in London, it's a collaboration between Bulleit Bourbon and tattoo artist Sophie Mo. There will be amusingly-named cocktails such as the Chai This At Home, made with Bulleit Bourbon, chai tea, winter spice, hemp milk, vanilla drops and maple & black walnut bitters, and snacks including smoked haddock Scotch eggs served with horseradish crème fraiche. The pub will be decorated with tattoo flags and features a 'magic mirror' which superimposes tattoo images on your body. All great fun, but what you can't get at Lady A's Bulleit Cocktail and Tattoo Parlour is an actual tattoo. Very sensible, of course, what with all that booze around, but surely a tattoo parlour without tattoos is just a parlour?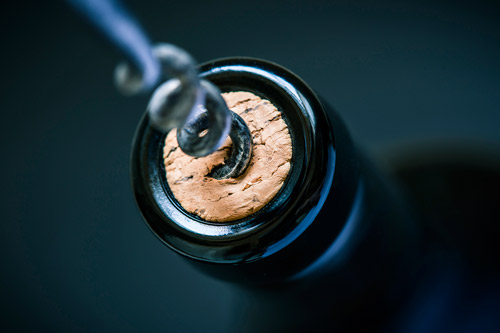 Sorry, folks…
Wine getting more expensive, again
Some good news just in from the WSTA about wine prices. Only joking! It's the WSTA, it's always bad news. Their latest report shows that wine is getting more expensive. The average price of a bottle of wine has risen by 30p since the referendum and the resulting drop in value of the pound against the euro. It's not all about Brexit, though. 2017 was a terrible vintage all over Europe, with frost and hale in much of France, Italy and Spain, so less wine was produced. This price rise is, however, a drop in the ocean compared with the duty we pay on wine – £2.16 on every bottle plus 20% VAT on top of that. The WSTA are calling for the Chancellor, Philip Hammond, not to raise duty in line with inflation in this November's Budget. Come on Phil, we're struggling here!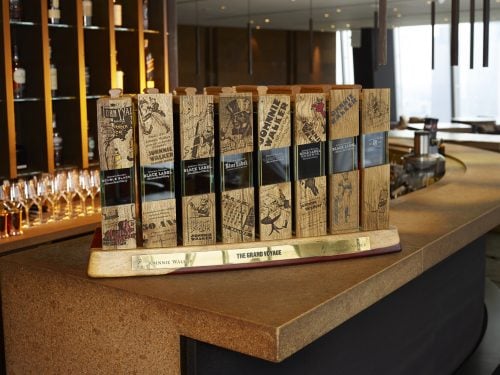 The Grand Voyage vessel in all its glory
The Johnnie Walker Grand Voyage launched at Oblix East
World-renowned blended Scotch brand Johnnie Walker has teamed up with the Oblix East restaurant on the 32nd floor of The Shard to launch The Johnnie Walker Grand Voyage experience. Hosted by one of Oblix's senior bartenders, voyagers will enjoy pairings of Johnnie Walker whiskies and cocktails with small plates of food, reflecting the globe-trotting journey that Johnnie Walker has made over the years. The centrepiece of the experience is a wooden vessel housing eight tanks of Johnnie Walker blends – the wood for this vessel has been infused via a reverse barrel process to give each part a different aroma from around the world, including exotic spices, citrus, tobacco and more.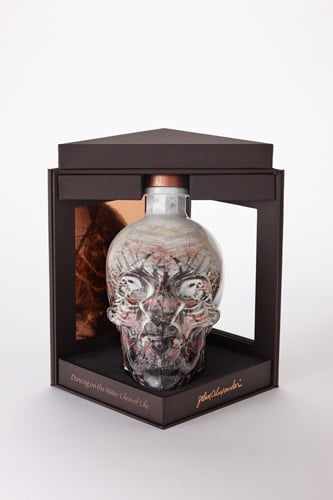 A new, limited edition release from Crystal Head
Crystal Head launches John Alexander Artist Series bottle
Top notch Canadian vodka brand Crystal Head has somehow made its skull-shaped bottle look even cooler with the release of the Crystal Head John Alexander Artist Series edition. This limited edition bottling features artwork created by American artist and co-founder of Crystal Head (along with the Dan Aykroyd), John Alexander. The oil on canvas painting 'Dancing on the Water Lilies of Life' is replicated on the bottle, baked into the glass by craftsmen in Milan. It's worth mentioning again that they've made a bottle that's already shaped like a bloomin' skull look even more rad.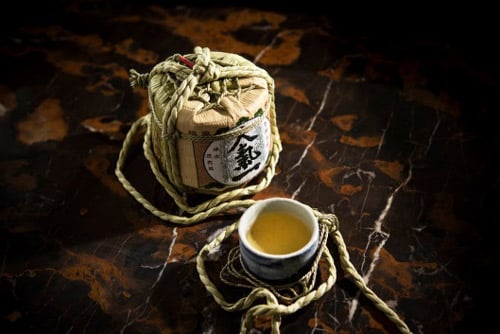 GŎNG definitely know how to present a cocktail
GŎNG launches new "A Miscellany of Inventions" menu
The highest bar in London (and Western Europe for that matter), GŎNG Bar at the Shard London, along with Head Bartender Christian Maspes, have concocted an ingenious new cocktail menu inspired by some of the greatest inventions of all time. "A Miscellany of Inventions" explores creations which have brought about dramatic changes in multiple sectors, transforming the way we live and impacting society. Ranging from Cola to the Chopper, the bicycle to the barcode, this intuitive new menu covers a range of creative and delightful flavours and designs. Much like the innovators they're paying homage to, Christian Maspes and his talented team have painstakingly trialled, tested and designed 15 cocktails (including 3 mocktails) spanning across five sectors. They have even engineered special processes to create unique and exciting flavours such as separating the Ginjo Sake from the Taru barrel and infusing it with Mastiha crystals(!). And of course, who doesn't want to sip a cocktail from a hot air balloon while enjoying panoramic views of London? Count us in!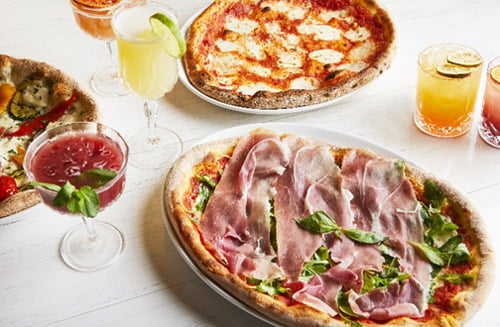 Great, now all I can think about it pizza
Obicà announce authentic Pizza and Cocktail Tuesdays
There are only two universal, wholly accepted facts. One is that everyone loves pizza. The other is that cocktails are awesome. Obicà, the world's first mozzarella bar, has recognised these truths and has announced that it will pair a menu of unique, premium pizza with bespoke Il Bar di Obicà cocktails for £18 every Tuesday. Stick that in your stuffed crust and eat it (after half an hour of letting it cool, of course). The attempt to bring a taste of modern Italy to London this autumn will be available to customers from 5pm until Tuesday 13th November 2018 at its restaurants in South Kensington, Poland St and St Paul's. The deal will run alongside the exclusive Mercato di Obicà menu, which celebrates October's seasonal ingredients, Pumpkin and Provolone del Monaco. So, if a night of traditional Italian recipes, which are prepared "in sight" and handmade to a high-quality standard, and terrific serves such as the My-Nhattan, the Cool Fashioned and the Italian Gin Sour sounds like your kind of thing (it does, who are you kidding?) make sure to book a table ASAP.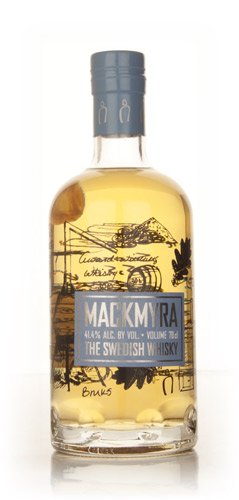 Mackmyra Brukswhisky
Mackmyra launches sales in the UK
Swedish single malt whisky distillers Mackmyra has started putting plans into action to make "…Europe the company's domestic market." It recently launched sales in the UK, with locally recruited employees gleefully showing off the entire Mackmyra portfolio to British consumers. Launched in 1999, Mackmyra has long been a distillery at the forefront of our minds when it comes to whisky produced outside of the familiar Scotland, Ireland, America and Japan. With this decisive push from the Swedish distillers, we can only hope this means we'll be more likely to see its excellent whiskies on shelves and and back-bars around the country much more frequently!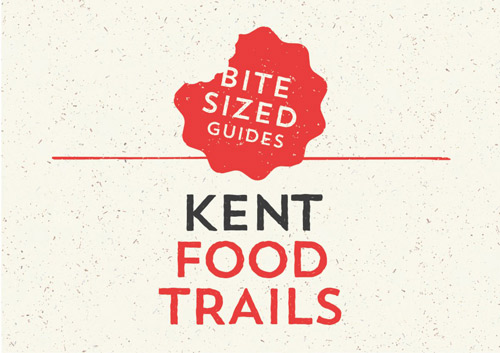 Food trails, in Kent!
Kent launches the first Kent Food Trail: Vineyards and Wines
Produced in Kent, the organisation dedicated to promoting Kent's thriving food and drink scene, has announced that it will launch the first installment of its Kent Food Trails project on its new website on the 1st of October to much excitement. Why? Because the first trail is all about fantastic Kentish vineyards and wines, hence the name of the trail, Vineyards and Wines! The county's increasing number of foodies and, err…, whatever the drink equivalent of that is, are sure to enjoy the growing number of cellar doors, tours, tastings and grape-infused dining experiences you can find all over Kent. Produced in Kent will help those who take part by providing an overview of the subject with plenty of facts, historical snippets, nutritional information, harvest, varieties and stunning photography, as well as more specific details on walking trails, maps, tasting rooms, places to stay, bars and restaurants. Produced in Kent manager Stephanie Durling says, "there are already over 50 vineyards in Kent with more cropping up all the time. Right now the enthusiasm and interest in English wine is riding higher than ever and Kent has the perfect blend of soils, climate and passion. We want to inspire visitors and locals alike with Kent's amazing food and drink".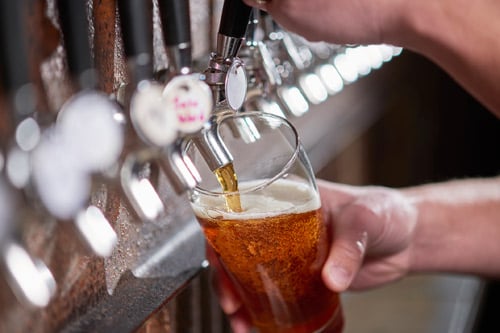 And lastly…
BrewDog cancels promotion with US brewery offering free drinks to Trump supporters
This week BrewDog called off an upcoming series of events with Atlanta's Scofflaw Brewing Co., following a press release from UK-based agency Frank PR. The controversial press release claimed people could receive a Scofflaw beer at one of BrewDog's bars completely free of charge – as long as you were a supporter of the American president Donald Trump. BrewDog quickly responded to this matter on Twitter with the following statement: "The Scofflaw release was announced without our knowledge or consent. We are in no way aligned with their position and we will of course be cancelling all the events and sending all of the beer back. We care about beer and people. Not hate." Scofflaw has has also distanced itself from the promotion, tweeting: "We did not approve or release said message and we are working with our PR firm @WelcomeToFrank to fix this error. This post was done on our behalf without our consent or knowledge." Frank PR has since addressed the situation, tweeting: "On 27th Sept, a statement was released to media by an individual employee of Frank without Scofflaw's approval. The reputation of our client is of utmost importance and we are taking this matter seriously. The employee has been suspended while an investigation takes place."