We headed up to London last night for the 2018 eCommerce Awards, and came back with the Best Food & Drink eCommerce trophy in our mitts!
For the third year in a row, we've donned our finest, most snappiest garb and headed for the annual eCommerce Awards in London, once again taking place at the London Marriott Hotel Grosvenor Square. The evening was hosted by actual wizard Ben Hanlin, so we thought we'd be lucky to escape without being turned into (finely-dressed) frogs. However, we did make it out without being transmogrified, and we made it out with a bloomin' trophy in our hands – the Best Food & Drink eCommerce trophy to be exact!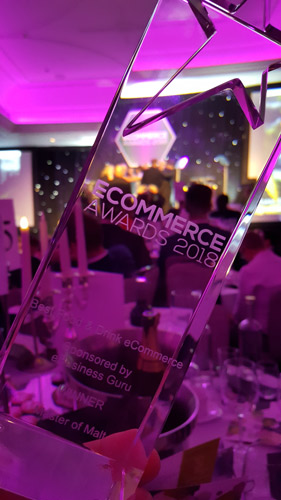 Master of Malt
Best Food & Drink eCommerce
eCommerce Awards 2018
The eCommerce Awards honour some of the biggest names in online retail as a whole – not simply in the world of booze. We're always extremely proud to be recognised among these huge brands, as it means the things we're keen about achieving are the things people want to see. It's this, of course, that drives us to keep doing said things better – which we're more than happy to do. As ever, we're exceptionally grateful to all of you wonderful folks that have been cheering us on and helping us to improve over the years. We're beyond excited to continue impressing you all.