This year's La Part des Anges Cognac auction raised a record-breaking €291,500 for charity. A phenomenal amount, you'll agree. But what, exactly, did buyers splash their cash on? We've compiled a list of the top 10 most expensive bottles – along with a few hypothetical 'alternatives' for those who missed out…
A total of 22 bottlings from houses large and small went under the hammer at this year's La Part des Anges charity auction – hosted, as ever, by the Bureau National Interprofessionnel du Cognac (BNIC) – along with a 'digital art' lot composed of the evening's social media happenings.
We were extended an invitation to the bash, which took place at the spectacular Hotel Chais Monnet. The brand new luxury hotel is located in the historic centre of Cognac, just a stone's throw from the house of Martell and its unquestionably fancy new bar, Indigo*.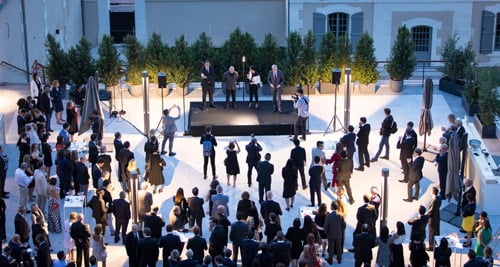 La Part des Anges gets under way
The €291,500 raised will benefit Cuisine Mode d'Emploi, a culinary arts training centre for disadvantaged youths and former inmates by Michelin-starred French chef Thierry Marx, as well as Association Fraineau, which helps young people with mild and moderate disabilities.
So, how did 23 people manage to spend almost €300k between them in less than three hours? You'll find the top 10 highest-selling lots below, along with a few hypothetical alternative suggestions. De rien…
L'Empriente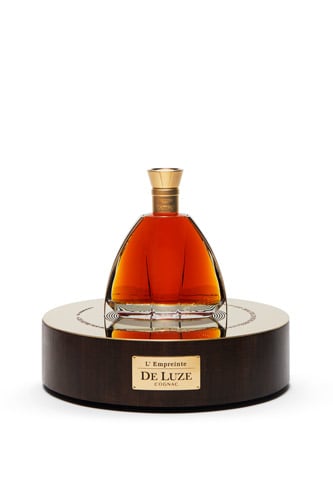 House: Cognac De Luze – Maison Boinaud
Sold for: €10,000
You could buy: 1,283 bags of cheese on toast-flavoured popcorn
The rings surrounding the bottle of this Fine Champagne bottling represents the way each generation of the Boinaud family has made its mark, by "cultivating the vines, distilling the wines, ageing its Cognacs and gaining recognition". Unfortunately someone bought it for €10,000, so you're stuck with the flavoured popcorn.
The Delamain 1968 – 50 ans d'âge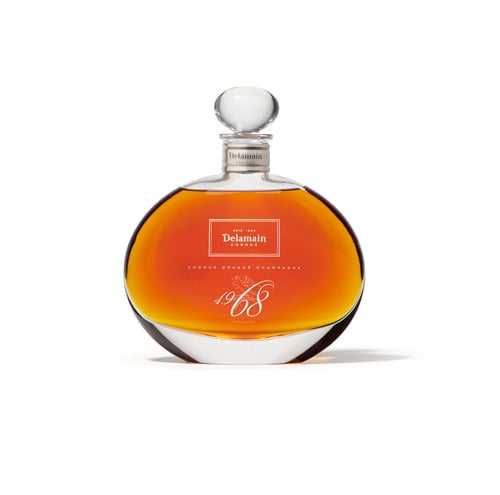 House: Delamain & Co
Sold for: €13,000
You could buy: 120 bottles of Delamain Pale and Dry XO
First up, this rather lovely looking 50 year old 1968 bottling from Delamain's dedicated vintage cellar. If you're curious, given tasting notes include orange, candied fruits and a spiced, soft leather finish. Delamain also threw in a private tour, lunch with one of the house's family members, and a tasting of vintage Cognacs from the aforementioned cellar.
Hine duo de Cognac Millésime 1995 Grande Champagne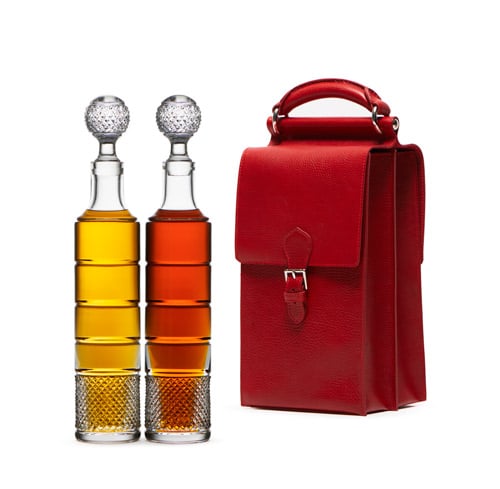 House: Hine
Sold for: €14,000
You could buy: 346 bottles of H by Hine VSOP
These two Cognacs both hail from the 1995 harvest, but they matured hundreds miles apart. One remained nestled in Jarnac, the other across the Channel in damp Bristol cellars, thanks to Hine's status as the sole Cognac supplier to our fabulous Queen. The buyer will be treated to a private tasting in Hine's Chai des Millésimes, and will also have the opportunity to remove the seals of an Early Landed vintage cask fresh from the UK.
Le Temps Suspendu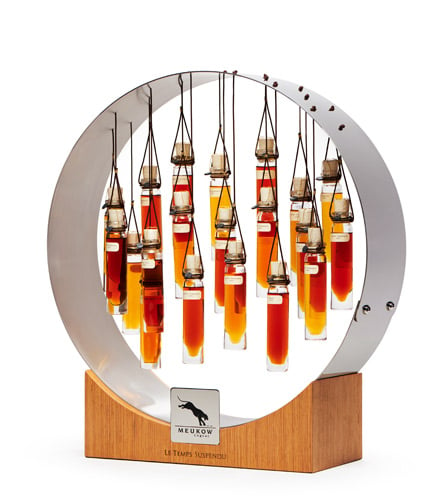 House: Cognac Meukow
Sold for: €14,000
You could buy: 1,045 cat face flannels
You're looking at an artistic array of ten crus and vintages, selected by Meukow cellar master Anne Sarteaux. The 50ml glass tubes contain two of each of the following Cognacs: Borderies 2007, Grande Champagne 2007, Grande Champagne 2005, Petite Champagne 1988, Petite Champagne 1978, Bons Bois 1976, Grande Champagne 1965, Fins Bois 1964, Cognac 1914, and Grande Champagne 1900.
L'Essence – Extrait No. 8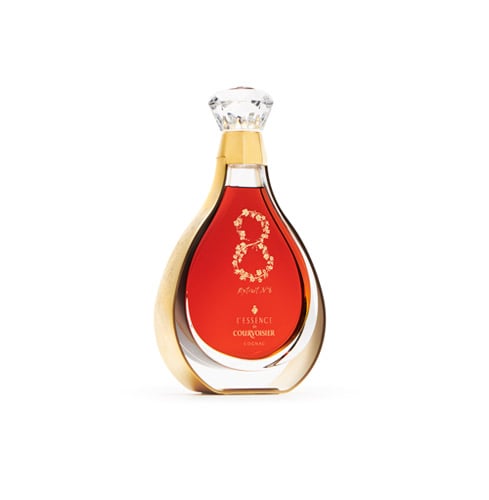 House: Courvoisier
Sold for: €16,000
You could buy: 621 bottles of Courvoisier VS
Not only does this Courvoisier bottling contain some rather old liquid from the smallest and most sought-after growing area of the Cognac region – Borderies – it comes with a super immersive two-day experience. The lucky buyer (on our table, no less!) will visit the Courvoisier chateau, wood-splitting area, cooperage, distillery, ageing cellars *and* paradise cellars, where they'll dine with master blender Patrice Pinet. Phew.
Hymne au Voyage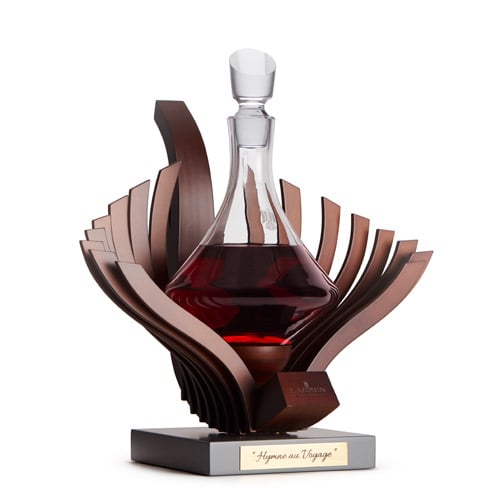 House: La Maison Larsen
Sold for: €20,000
You could buy: 75 bottles of Larsen Cognac that date back to the 1980s
Eaux-de-vie from Larsen's paradise cellars? Check. Game of Thrones-style presentation box? Check. Helicopter transfer to a tasting at Fort Boyard? Check. Oh, and the liquid was distilled by Jean Larsen, the second generation of the family. No biggie.
Edition Particulière No. 5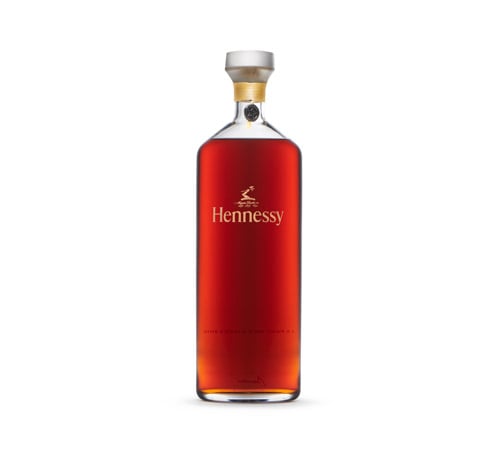 House: Jas Hennessy & Co
Sold for: €30,000
You could buy: 203 bottles of Hennessy XO
Eighth generation master blender Renaud Fillioux de Gironde delved deep into his family's precious stocks for his first rare Cognac creation for Maison Hennessy. The result? Edition Particulière No.5, a blend of eaux-de-vie sourced from the demijohns of the Founder's Cellar. Oh, and the opportunity to visit the secluded subterranean spot for real.
L'Expression des Terroirs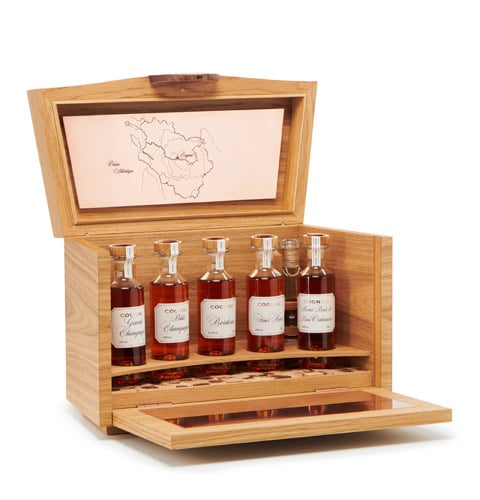 House: Union Générale des Viticulteurs Cognac
Sold for: €32,000
You could buy: 1,600 pairs of Street Fighter socks
This is the second lot ever entered by the winegrower's union, otherwise known as the UGVC. It appointed an independent Cognac expert to sniff out five bottlings across Grande Champagne, Petite Champagne, Borderies, Fins Bois and Bois to express the diversity of the terroir in each area. Each eaux-de-vie has been aged for a minimum of 47 years, and is presented in a rather slick-looking treasure chest.
Carte Blanche à Baptiste Loiseau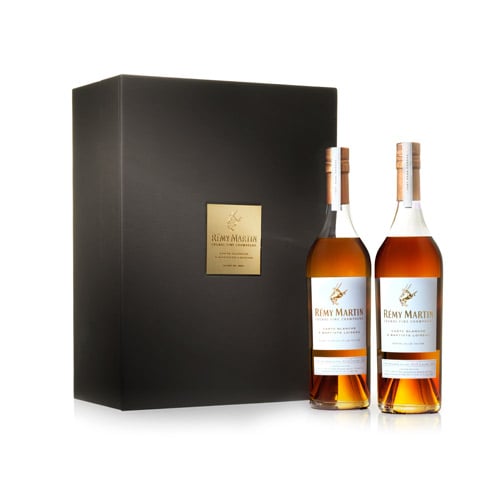 House: E. Remy Martin & Co
Sold for: €34,000
You could buy: 514 bottles of Rémy Martin Prime Cellar Selection No. 16
This is what happens when you give cellar master Baptiste Loiseau carte blanche (literally) to create a limited edition bottling. He creates two. The first blend, Gensac-la-Pallue Cellar Edition, has been aged for at least 20 years, and offers notes of lilac, incense, black tea and intense leather. The second, Merpins Cellar Edition, is packed with cinnamon and mirabelle plum, and its youngest eaux-de-vie is 27 years old. The buyer will also get to talk terroir with Loiseau as part of a tailor-made experience.
Savoir-Faire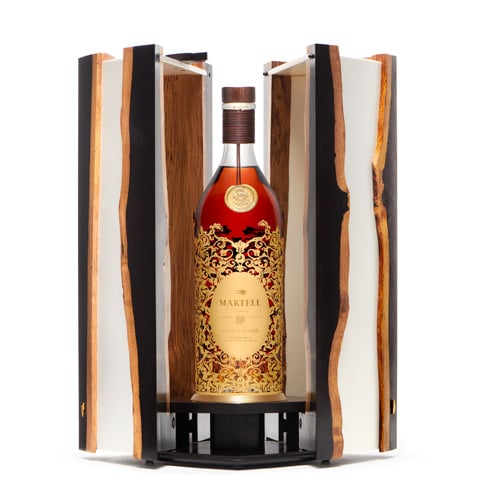 House: Martell
Sold for: €35,000
You could buy: 716 bottles of Martell Blue Swift
Savoir-Faire is a selection of decades-old Borderies eaux-de-vie selected from the Jean Martell cellar by the House's five master blenders, and expertly blended by cellar master Christophe Valtaud. That would be cool enough on its own, but the winning buyer has also scored an exclusive tasting with Valtaud, during which they'll create their own bespoke blend from those five same eaux-de-vie. Plus dinner and a night at the historic Château de Chanteloup.
*We absolutely did drop by for an aperitif. And it was delicious.