Where better to enjoy a glass of Cognac than in actual Cognac? Well, Martell has upped the ante – and opened a smart rooftop bar not only in Cognac but at the top of the Gâtebourse Tower with panoramic views of the city and the Charente River. We're revising our summer travel plans with haste…
If Cognac is your tipple of choice, you'll be particularly excited by this development in the city that gives the spirit its name. Indigo by Martell is the newest rooftop bar in town – and we've already added it to our watering hole bucket list. It only kicked off proceedings last week!

Open from 5:30pm to 1am Monday to Saturday and noon to 10pm on Sundays, Indigo by Martell is perched on top of the Gâtebourse Tower (which also houses Fondation d'entreprise Martell) and is designed to offer a "convivial atmosphere conducive to sharing a drink".
And on the menu? Head bartender Maxime Le Gal (formerly of Parisian favourite Little Red Door) has put together a classic offering – think: Highballs, Collins (Collinses?), Juleps, Smashes, Sours and Crustas – along with the signature Martell Blue Swift serve, made with buckwheat syrup, blackberry and lemon. A huge range of Martell Cognacs are available, including Blue Swift itself (aged in ex-bourbon casks), plus an enormous range of Punches. There are even gin and rum options, just in case (whisper it) Cognac isn't your thing. Light bites are also A Thing, and a sensible accompaniment to all that booze.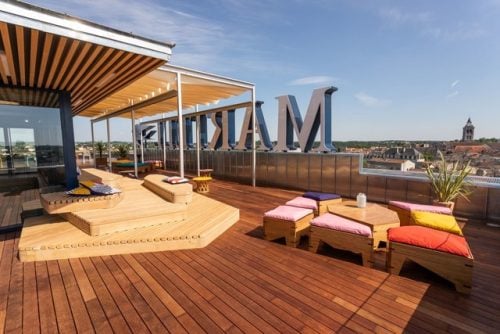 Cognac's newest Cognac spot
The 420 sqm (really rather sizeable) space was brought to life by French interior design studio Prémices and Co, with input from cabinetmakers and designers Atelier W110, Christophe Bret and Thierry Drevelle. The use of wood stands out, along with other natural and recycled materials.
Sound like your sort of spot? Yup we thought so. But we'll need to collectively move quickly: Indigo by Martell is only open until 30 September. Time to fish out that passport!