New distilleries on the horizon, new head bartenders at the ready and new record-breaking gins ahoy – The Nightcap keeps you stocked up on the newest in new this week.
It's been a week since the last Nightcap update, which can only mean one thing… Well, honestly, it could mean a lot of things. However, only one of those things is important for this compulsory blog preamble – it's time for another edition of The Nightcap.
Before we dig into this week's news, here's what's been going on at MoM Towers. Annie explored a whole host of rhum agricole in celebration of Rum Month, and found out about the latest innovation in sustainable spirits. Adam did his best Meg Mystic impression and considered what booze trends will kick off in 2019. Henry got on a boat, not simply because boats are rad, but because there was very exciting Starward whisky on the boat. Kristy gave us yet another reason to want to visit Cognac, and now she's flown off to Scotland to have a nosey around GlenDronach, BenRiach and Glenglassaugh (check out our Facebook and Instagram stories for more on this). Sam is writing these preamble words right now. Hi. On with the news!
Penderyn eyes up new production site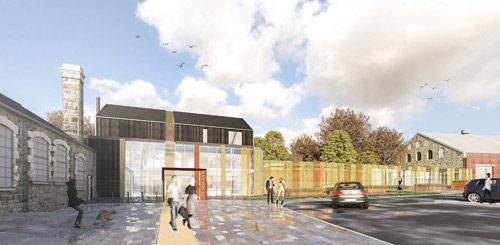 The future of Penderyn
Exciting news for lovers of whisky and all things Welsh: Penderyn, the whisky and gin-maker situated in the foothills of the Brecon Beacons National Park, has exciting expansion plans afoot. Back in April, the distillery added detail to plans first released in 2016 for a new production site in Swansea [pictured] – expect a fancy new visitor centre, barrel store and bar – but this week confirmed to us that a venture into North Wales is also on the cards. "We can confirm that Penderyn hopes to open a new distillery in Llandudno," Jon Tregenna, Penderyn's media manager said. "No site has been announced as yet and we will continue our conversations with Conwy County Borough Council and a range of other stakeholders as we refine our plans. We hope to be in a position to make an announcement on our exciting new developments in the autumn." We can't wait to hear more!
Fire at Long Pond rum distillery in Jamaica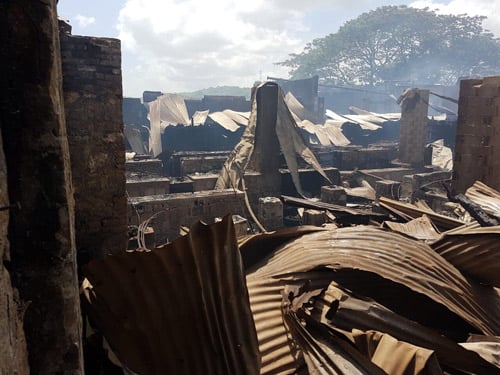 Luckily no one was hurt in the blaze
Sad news for rum lovers has just arrived. A fire broke out earlier this week at the Long Pond distillery in Jamaica. The fire which started in the cane fields has now been brought under control but not before over 65,000 litres of fresh rum went up in flames. The distillery, jointly owned by the Maison Ferrand Cognac, the Jamaican Government and Demerara Distillers, is the home of Plantation Xaymaca Special Dry rum and Plantation Jamaican Vintage rum. It could have been much worse, nobody was harmed in the fire, the stills were not damaged and no aged rum was affected by the fire so the rum destroyed can be quickly replaced. Winston Harrison, CEO of National Rums of Jamaica, said "we are all committed for Long Pond to distil again this one of a kind rum as soon as possible" Hurrah! Rum punches to all the brave firefighters involved.
Label 5 gets 'street' with graffiti masterclasses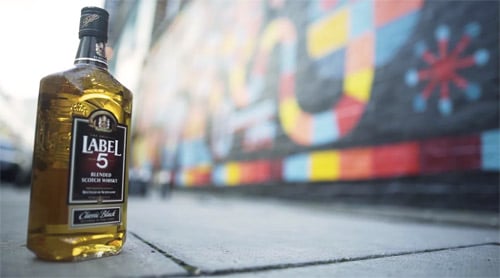 Turns out that Banksy was just a sentient stack of Label 5 bottles in a person suit all along
Fancied yourself as a bit of a street artist? Blended Scotch whisky brand Label 5 is encouraging people to try their hand at a bit of graffiti through a series of masterclasses, kicking off with an event in London today [20 July]. The brand has recruited the Graffiti Kings folks to help – the world-renowned collective that trained the Suicide Squad cast, so it should be pretty cool. The activity is part of a wider 'Power of 5' street art initiative, a tour taking in five cities and showcasing leading creatives in each location. Oh, and there are cocktails, too. Just to make it all even more up our 'street'…
Woodford Reserve kicks off scholarship fund for talented bartenders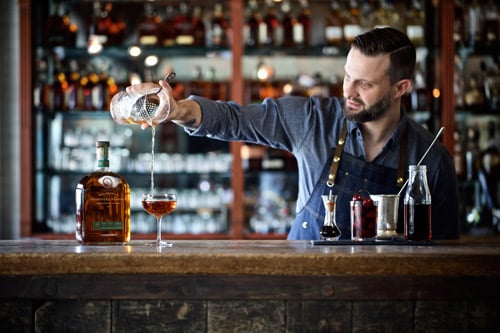 Pouring drinks from a great height may or may not be on the curriculum
Brown-Forman-owned bourbon brand Woodford Reserve has put its money where its mouth is in terms of developing new bartender talent by setting up a scholarship with the James Beard Foundation, a US-based culinary arts educator. The Woodford Reserve Beverage Studies Scholarship is for applicants already enrolled, or planning to enroll, onto a beverage, wine, viticulture or oenology course. The brand is also sponsoring the Outstanding Bar Programme, which recognises talent across the sector. "Woodford Reserve and the James Beard Foundation share a dedication to flavour, and this partnership will showcase our shared passions," said Mark Bacon, Woodford Reserve senior vice president and global brand director. "Our bourbon was founded on flavour – and it's a commitment we take seriously." Scholarship applications open on 1 April 2019.
Havana Club reinvents cocktail ordering with connected glass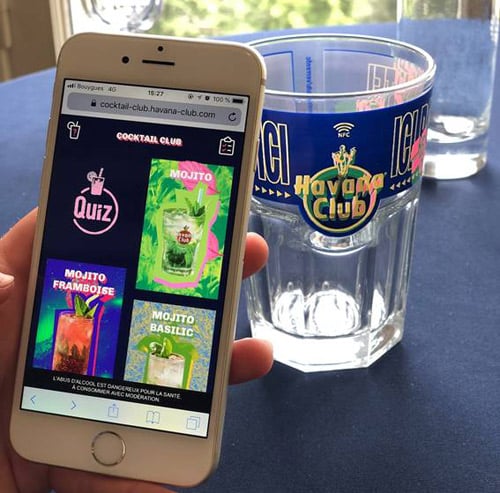 The future is now, folks
We love cocktails here at MoM Towers. But we are occasionally prone to impatience, and waiting to be served in bar can properly kill that cocktail love. And it turns out we're not alone: according to Pernod Ricard, one in three customers will give up if a wait exceeds 10 minutes. So when Havana Club announced it had come up with a solution this week, we were all ears. What is this wonder, we were you exclaim?! Behold, the connected glass. It's fitted with a NFC chip, which means you can order a cocktail in a bar via a mobile and a web app, and pay for it in just three clicks. Then, as if my magic, the cocktail will come to the table, or you can be alerted that it's ready for collection. The at-home version even comes with a whole haul of cocktail recipes. "I am proud to be able to launch this project which aims to create new habits among consumers to bring cocktails to their homes," said Pierre-Yves Calloc'h, Pernod Ricard global digital acceleration director. Hopefully the glass could automatically order you another cocktail, too…
Monkey Shoulder's largest US activation keeping rolling on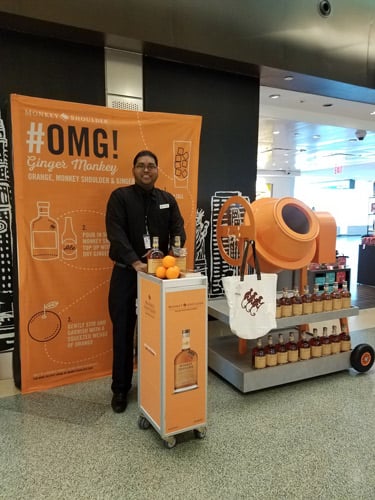 What? You don't have a cement mixer in your home-bar kit? Pfft!
As if carting around a cocktail shaker the size of two glued-together Morris Minors wasn't enough, Monkey Shoulder keeps doing big things. This time, the brand has set up shop in New York's John F. Kennedy International Airport for a large-scale activation which includes (of all things) a bright orange cement mixer. Because, y'know, Monkey Shoulder is fab for mixing cocktails. Not simply a great excuse to show off some brightly-coloured building supplies, a Monkey Shoulder promoter is on hand to whip up and explain how to make a pair of tasty drinks – the OMG and the Lazy Old Fashioned.
Lifetime achievement for The Glenlivet master distiller, Alan Winchester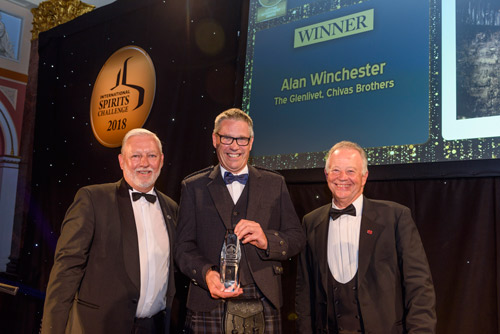 Alan Winchester!
If you've got a glass to hand, raise it high for Alan Winchester, because The Glenlivet master distiller has been bestowed the International Spirits Challenge 2018 Lifetime Achievement Award! With 40 years of industry experience, starting as a distillery tour guide, Alan Winchester has been a constant within the whisky world, and this award is most definitely well deserved. Here's to many more years!
Talisker's 'Race to Skye' bartender competition returns for 2018
Nope, no idea how they've done that
The 'Race to Skye' bartender challenge is back and the level of competition is Skye-high (apologies). Seven finalists are set compete against each other on the 13th – 15th August in a finale on the brand's iconic homeland, the Isle of Skye, that will test each bartender's skill, adaptability and knowledge of Talisker and the whisky category, their skills and adaptability. The challenge? To create a cocktail that evokes the spirit of Talisker's Made by the Sea campaign, which celebrates the single malt's homeland and unique heritage. The prize? The honorary title of Talisker Brand Ambassador and a chance to work with the brand over the next year, gaining exposure, building their network and telling the brand's story. The seven finalists that will go through to the final for the 'Race to Skye' bartender competition are as follows:

Elysa McGuire – Epicurus: Death & Taxes, Leeds
Alex Francis – Devil's Darling, London
Mike Pendergast – East London Liquor Company, London
Adam Day – Peggy's, Manchester
Liam Grogan – Kelvingrove Café, Glasgow
Stefanie Anderson – Bon Vivant, Edinburgh
Miran Chauhan – Buck & Birch, Edinburgh
Stephen Martin, Diageo Reserve Whisky Ambassador commented: "The level of talent at this year's Race to Skye regional finals was extremely high. Each competitor brought the Isle of Skye to us in their own unique way through technique, story and flavour. I can't wait to see what the GB Final has in store!''
Isle of Raasay Distillery barley variety trials 2: Mo' barley, mo' provenance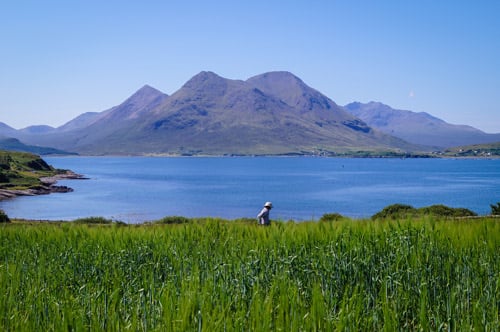 If the resulting whisky is as beautiful as that view, they're on to a winner
Excellent news for all of us whisky geeks comes from Isle of Raasay Distillery this week, as they announced plans to follow a successful barley variety trial on the island in 2017 with a second trial! The distillery will welcome anyone interested in learning more about the barley trial on Thursday 2nd August 2018 for presentations exploring progress of the barley trial as it seeks to determine which varieties grow and ripen on the island. The first barley trial on Raasay commenced in April 2017, with five varieties of barley: Concerto (the commercial variety) Tartan, Bere, Iskria and Kannas. The latter three ripened successfully and were dried and malted in June and July 2018 with a small amount of Raasay peat used during this malting process. The 2017 trial revealed that current commercial barley varieties grow but do not ripen on Raasay. This is due to a much shorter growing season owing to the high rainfall level in March, April and September on the island. So, for the 2018 trial, Raasay Distillery will cultivate four new varieties: Iskria, Golden Promise, Annel and Brage, in hopes to identify one suitable variety to grow on Raasay in the future to create at least one batch of Raasay Scotch per year that uses all-local ingredients. Best of luck guys!
A New Head Bartender at the American Bar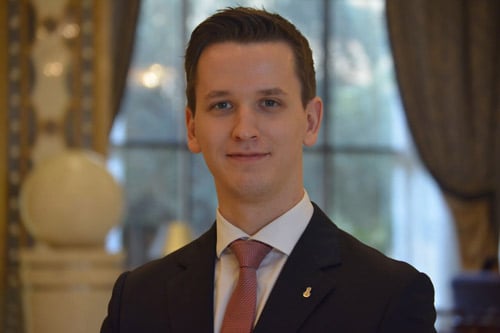 Maxim Schulte!
There have only been ten head bartenders at the American Bar at the Savoy in London since it opened its doors in 1903. Probably the most notable being Harry Craddock who reigned from 1920 to 1938 when he collected the recipes that would go into the legendary Savoy Cocktail Book. From the 20th August, there will be an eleventh, Maxim Schulte, a 29 year old German who has worked all over the world including Head Bartender at the Ritz Carlton in Macau which was named as one of Asia's 50 best bars in 2018. The departing head, Erik Lorincz, said in a recent interview with Kanpai! magazine: "Once you become head bartender at the Savoy, you will always be head bartender at the Savoy." Let's hope for Maxim's sake he didn't mean it literally.
Swedish distillery launches world's strongest gin… Again
Keep away from naked flames
And finally for those who like a punchy G&T, a Swedish distillery has launched a gin called Strane Ultra Uncut weighing in at 82.5%. That's not proof, that's by volume. Yikes! It's previous strongest gin, Strane Uncut, a mere stripling at 76%, had been beaten in strength by competitors from Denmark and South Africa so this new gin is, according to a spokesman, "a deliberate attempt to push the boundaries of gin distilling to the extreme, as far as intensity of flavour and strength goes…" Having tried the previous ultra strong product from the Smögen Distillery, we can tell you that while it needs to be approached with respect, it is actually quite delicious. For those of a less adventurous disposition, Smogen produce more modest gins such as the Strane Navy Strength at 57.1% and the Strane Merchant Strength at a near Seedlip strength of 47.4%.