When the worlds of coffee and booze pool their resources, incredible things happen. Discarded Sweet Cascada Vermouth, infused with the fruit of the coffee berry, is the latest innovation in sustainable spirits. Here's what you need to know…
Hands up if you're on first-name terms with your local barista? You're not alone. A whopping 2.25 billion cups of this glorious black nectar are consumed across the globe every single day, fuelling workouts, business meetings and catch-ups with friends.
Like any other commodity, coffee has its own unique waste problem. Imagine a soft, ripe cherry: our beloved coffee beans are essentially the stone inside. After the bean is extracted, what becomes of this rich, fruity flesh? It's discarded. Billions of tonnes of it each year.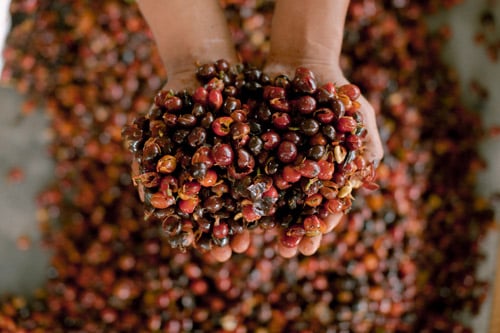 So, out the window with this stuff then, yes…? No!
When it comes to sustainability, the conversation usually starts at using grounds as compost and ends at recycling the paper cup. When a barista friend of Joe Petch, global brand ambassador for Monkey Shoulder, gave him some cascara to experiment with, he saw potential beyond the bean.
Inspired by the burgeoning craft vermouth scene – and the merging of coffee and cocktail culture – Petch set about brewing and extracting the fruit and blending the tincture with a variety of vermouths.
"Discarded is a mixture of ideas from industry trends I'd identified while observing cocktail bars and bartender culture around the world – the explosion of smaller vermouth producers stealing market share from the big traditional brands, a more discerning coffee drinker, the emergence of 'coffee shop bars' and the hugely positive move towards sustainability," he explains.
You'd have to be living under a rock to miss the drinks industry's green efforts. Behind the bar, there's a trend for closed-loop cocktails and paper straws; distilleries are using renewable energy and making packaging adjustments. Discarded aims to channel both avenues.
"Our message is to drink responsibly and reuse creatively, explains Tom Stannard, global marketing manager, innovation at William Grant & Sons. "We're going to be championing the discarded as much as we can from the ingredients, to the way we operate."
And what about the wider industry? How can everyone, from producers to bartenders to drinkers, help build a genuinely more sustainable drinks industry?
"Removing single use plastics, recycling, sourcing locally and avoiding waste that can't be recycled are the most simple steps," says Petch. "Every little thing helps in the long run. You don't have to have a carbon neutral bar – but wouldn't that be a great achievement?"
Discarded by name, discarded by nature
Discarded Sweet Cascara Vermouth
To make Discarded, cascara is steeped with alcohol to produce an extract, which is then blended into the base of a fortified wine from Montesa, Spain and rounded off with a few select botanicals including wormwood and cinnamon.
The first batch was made using cascara sourced from William Grant's existing ingredient supplier – the same one that provides the botanicals for Hendrick's Gin – but the team has since been busy setting up a single estate partnership with an independent coffee grower in Guatemala.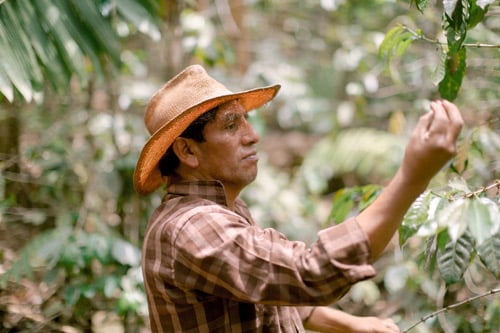 It's hard work, for sure
The discarded ethos extends beyond cascara. The fortified wine that forms the base of the vermouth is sourced from William Grant's whisky arm (the family-owned business is the proud producer of Glenfiddich, Balvenie, Grant's, and Tullamore D.E.W., to name but a few).
"We have lots of casks that need maintenance when they're not filled with whisky," explains Stannard. "The fortified wine is used to season and maintain the empty cask."
"That in itself has a natural cycle, which tends to be between sort of two to four years. It's then sold on to other distilleries or wine vinegar producers. Some distilleries destroy it, because there's no use for it. And so what we've decided to do is use it as for the wine base of the vermouth."
Clever stuff. The resulting liquid is described as "deep, rich and aromatic with an easy natural warmth". On the palate, the taste is "full and sweet" the fruity notes merging with the characteristic bitter notes of vermouth that "dominate the clean, lingering finish".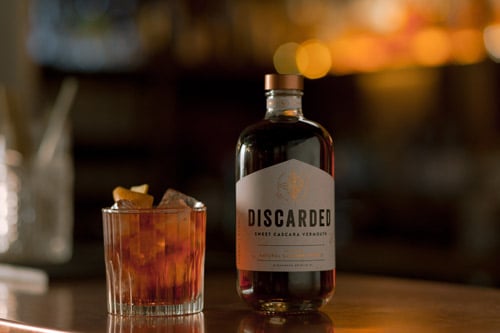 The Discardier
Can we expect any other similar sustainability-focused innovations in the pipeline, I ask Stannard. "Our ambition is to test the proposition as much as the liquid," he replies.
"If people are really excited about the discarded nature of ingredients, the narrative around sustainability and creative reuse, then there might be an opportunity for another expression or a range of expressions. There's nothing specific in the pipeline, but I'm hopeful that the ethos behind Discarded goes beyond just a sweet vermouth."