What happens to whisky when it's aged not in a warehouse but on the front of an enormous cruise liner as it sails around the world? We join Starward founder David Vitale for the first taste of an expression that has undergone just that…
It's not every day that you're invited on board the MS Queen Elizabeth, a 294-metre long ocean liner in the Cunard fleet. Sadly we were at Southampton Docks with a lovely view of Ikea instead of heading off on a cruise around the Caribbean. And it was drizzling. But we weren't there for the views or the weather; we were there to try some whisky – and Starward whisky at that!

All aboard!
On the train journey to Southampton from Waterloo, David Vitale, founder of Australian whisky brand Starward, told us about a very special barrel that had been loaded on the ship in Sydney Harbour on 20 February. "Since then it has gone to Japan and China and slowly over to England where it landed on 13 July. It sits on deck exposed to the sun and rain. Every day they hose it down with seawater." The idea was to mimic the kind of weathering that barrels of rum or Madeira would have received in the past. "I'll let you in on a secret. I'm a closet rum drinker," Vitale confided in me.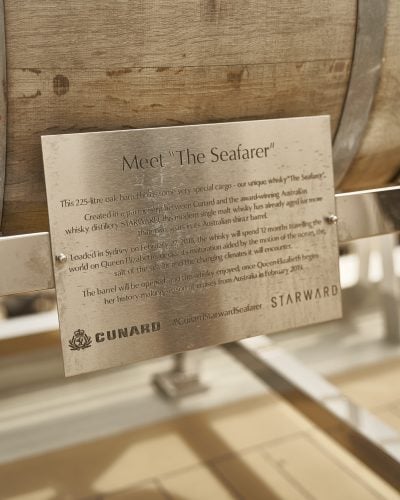 Behold 'the Seafarer'
The barrel is made of French oak that would have contained some beefy South Australian shiraz. As soon as the wine was emptied, it was filled with spirit made from 100% malted Australian barley. Vitale joked that it's "more Australian than Scotch is Scottish." It was aged for two and a half years in Melbourne before setting off on its voyage. And the Seafarer – as it's been dubbed – had arrived in Southampton, ready to be tasted.
Vitale was like a kid in a sweetshop, full of excitement to try the contents. Once on board we were greeted by an officer in a smart white naval uniform and Vitale told me a little bit more about the idea behind the Seafarer project. "Cunard approached us. Next year they are spending a record number of days in Australian waters and as part of this they want to give visitors a bit more of an Australian experience."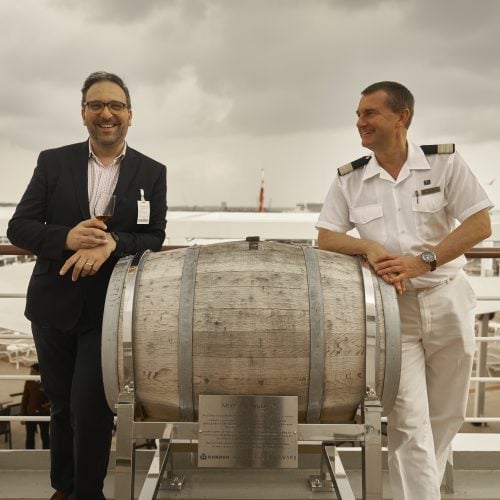 Hello, sailor!
First we take Manhattan…
Starward launched in Britain in 2016. The brand is part of the Distill Ventures portfolio, which means it has the might of Diageo behind it. "We are aligned in what we believe the vision for Starward can be because no amount of money to change that view is worth it," Vitale explained to me a bit about the relationship. "My vision is one that all the investors not just Diageo agree with."
"They have an insight into how difficult it is to build a new brand in the US, even for Diageo," he continued. In the new year, Vitale will be moving with his family to Seattle to concentrate on breaking the US and introducing Starward in major cities. He's got his eye out for new markets where "whisk(e)y is in growth, that have a strong food culture, and an affinity for Australian wine. A large expat Aussie community is also nice to have." Team Starward is taking it slowly, one market at a time, and so far the brand is only available in Australia, the US and Britain, and on board Cunard ships.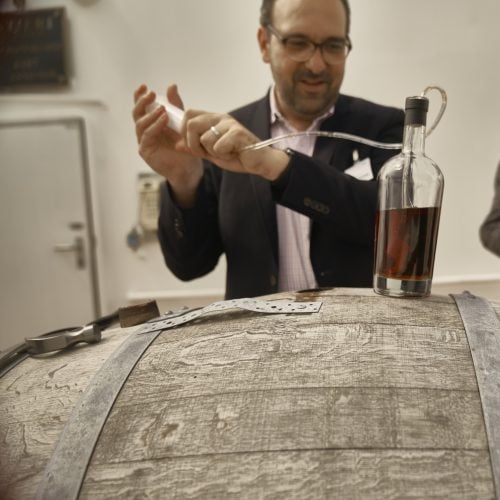 The moment of truth
That's all fascinating but how does it taste?
We were led up to the half deck and there was the barrel, looking rather weathered from the voyage. Vitale opened the bung, took a sniff and an enormous beatific smile spread across his face. He invited us all to put our noses in. It smelled marvellous. Vitale drew some out. The whisky was a bright reddish copper colour. And it tasted good too, with a strong red wine character and nutty like a tawny port.
We tried it alongside Starward's conventionally-aged red wine cask whisky and the ship-aged one was "both more intense and mellower", as Vitale put it. He explained to me a little about what the whisky had been through. "It's like being in a moving microwave on the half deck of the Queen Elizabeth; it's not just time, there's evaporative losses and chemical changes."
Note: beatific smile
Ok sold! Where can I buy a bottle?
Well the simple answer is, you can't. When the ship returns to Australia, the whisky will be bottled with some to be served at the distillery, some sent off to Cunard and the rest will be auctioned off for charities, including one that helps disadvantaged communities become involved in the hospitality industry, and Pink Boots, which encourages women in brewing, wine making and distilling. As Vitale put it: "We need to do good with this, it's not just great PR."
Vitale was so pleased with how the barrel tasted that it might become a regular thing. There are other exciting projects in the pipeline, including a collaboration with a British brewer and a new Starward whisky launching at the end of the year which I am not allowed to tell you too much about. Meanwhile here are two that you can try now: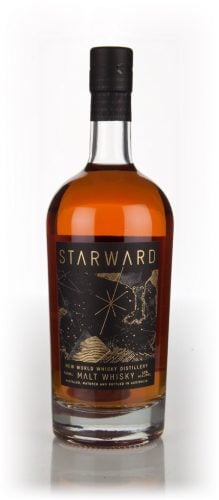 Starward New World Single Malt (£50.74)
Starward New World Single Malt
Aged in apera (essentially Australian sherry) barrels, this is sweet and spicy. It tastes to me somewhere between a Scotch and a bourbon. It's amazingly adaptable, makes a superb Old Fashioned or just drink it neat with a little ice.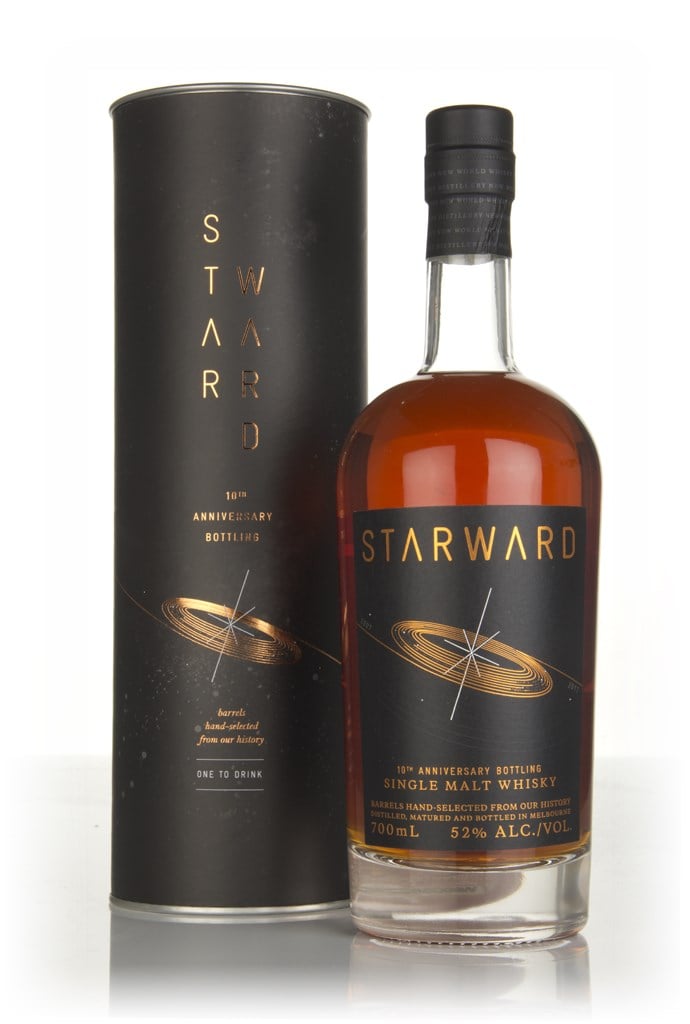 Starward 10th Anniversary
Starward 10th Anniversary (£79.80)
The big brother to the New World Single Malt, aged in a variety of barrels including apera and shiraz for approximately five years and bottled at 52%. There's honeycomb, leather and some wood tannin. A more serious expression but still with a great sense of fun.