Friday the 13th is unlucky for some, but not here at MoM Towers. We've got a treat of a Nightcap coming your way to round off the week!
As usual, it's been a busy seven days in Drinks Land. Over on the blog this week we've brought you news of Jameson's record-breaking year, a tour of English gin distilleries, and what could be the world's largest Japanese whisky tasting. Plus, we announced the winner of our Esker Honey Spiced Gin 'catshun competishunzz' – congrats to our victor and six runners-up!
Now, before we proceed further, gather those diaries. An important date is approaching. This Sunday is 15 April, which the mathematicians among us will know is the 105th day of the year. This just so happens to coincide with Glenfarclas 105 Day! Check out the blog on Sunday for a very special offer to mark the day.
Noted the date? Good. Let's continue with this week's retrospective on all things drinks…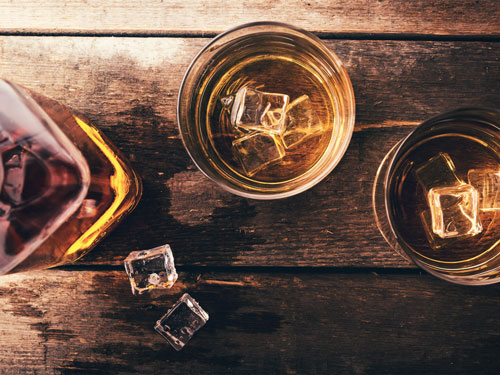 A bigger dispute than ice or no ice
Bourbon embroiled in US-China trade war
The news (outside booze) is not much fun right now. As such, one could be forgiven for taking a bit of a head-in-the-sand approach. But word that bourbon had got caught up in the simmering trade row between the US and China caused us to prick up our ears this week. We are not diplomats so will refrain from weighing in on the dispute, except to note that China has proposed a 25% tariff on bourbon imports and that the good people of China deserve their bourbon. Sort it out, politico types.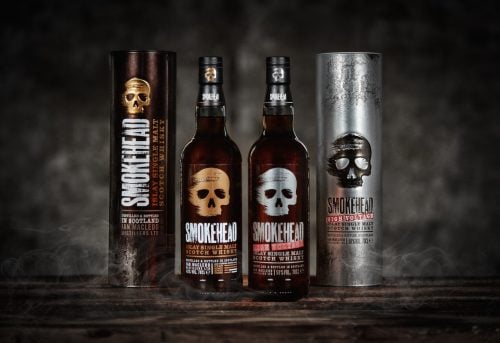 Siblings. Smoky, scary siblings…
Ian Macleod gives Smokehead a shiny new look
Independent distiller, blender and bottler Ian Macleod got all creative this week, unveiling not only a new look for its Islay whisky range Smokehead, but also a new expression: Smokehead High Voltage, said to be "louder, bolder and more intense than getting put in a headlock by an angry roadie". We're not 100% sure how that translates into tasting notes, but we are assured the 58% ABV expression is for the "adventurous" whisky drinker. And the all-important new look? Think a dominant skull motif with smoke blowing through. We get what they're going for. We ought to have this in shortly, so keep the eyes in your own skull peeled.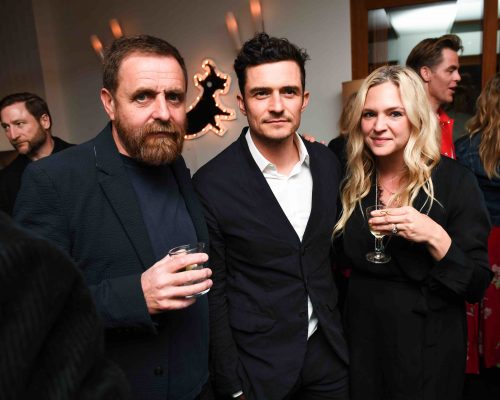 Will they be taking the vodka to Isengard?
Black Cow Vodka hosts posh dinner for Legolas
One for the foodies now – Black Cow Vodka (yep, the one made from milk) has kicked off a new string of events in partnership with chef and food writer, Mark Hix. Catchily named The Edible Land And Seascapes Series, the initiative got under way this week in Malibu, California, and the stars were out in force for the occasion. Orlando Bloom (forever an elf of the Woodland Realm), Christina Hendricks, Chris Pine and Ridley Scott were among the guests who savoured four courses, all pared with cocktails by Kim Stodel, bar director at Providence in Los Angeles. Black Cow founder Paul Archard was there too, leading salon-like discussions on food in the 21st century, ocean conservation and ethical farming. High brow, and tasty.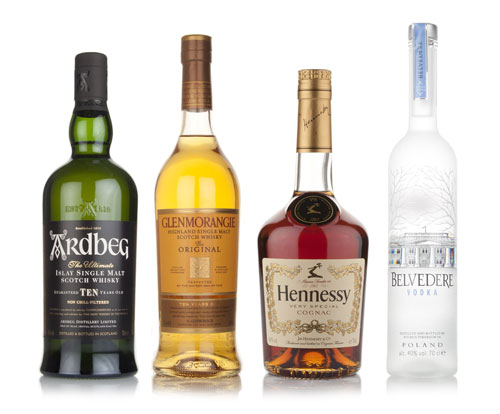 Ardbeg 10yo, Glemmorange 10yo, Hennessey VS and Belvedere
Ardbeg, Glenmorangie, Hennessey and Belvedere-maker sees sales climb
Moët Hennessy Louis Vuitton, parent company of Ardbeg and Glenmorangie Scotch whiskies, Belvedere vodka and Hennessy Cognac (and many a lavish handbag) disclosed its first quarter sales results this week. So far, so corporate. But the wines and spirits sector saw +10% revenue growth, which means things are going really rather well. While details are lacking, Hennessy seemed to outperform the bunch, with the volumes climbing 5%. Where's it all going? China and the US. Perhaps their leaders can bond over a Cognac and sort out that aforementioned bourbon problem…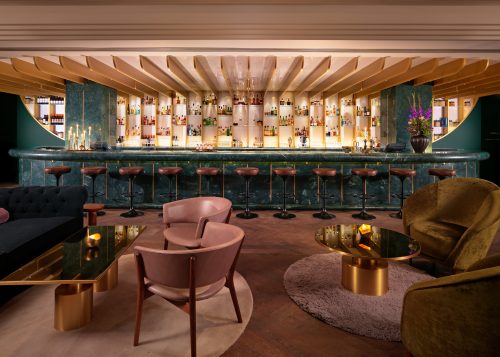 Dandelyan in all its shiny glory
Dandelyan announces World Botany Series collab
In ridiculously exciting news set to thrill any cocktail geek, Dandelyan (yes, Ryan Chetiyawardana's establishment of World's Best Cocktail Bar fame) is launching a series of collaborations under the World Botany Series title. What does this actually mean? From May, Dandelyan will welcome a steady stream of world-renowned bar teams through its doors, with the aim of merging ideas, techniques and ingredients from all over the globe. Getting things under way in May will be a team from Svartklubbe, the cocktail pop-up from critically acclaimed Swedish resto Faviken, followed in July by a group from LA bar The Walker Inn, and in October by bartenders from Charles H at the Four Seasons in Seoul. Incredible scenes (and cocktails) are to follow – check out what happens when the team from Mexico's Limantour Licoreria visited Dandelyan last October.
No image for
this next one
because
EWWWW
Ultra-runner donates toes for a cocktail garnish
WARNING: Do not read on or watch the video included if you are eating or are of a nervous disposition. Pulled yourself together? Good. Let's continue… Now. In a move which is surely NOT recommended, a man recently took part in the Yukon Arctic Ultra, a horrendous 100- or 300-mile race through the actual Arctic in Canada. For one chap, it all proved too much for his toes. Three of them, to be precise. Off they came due to severe frostbite. Why is this grim tale of amputation in The Nightcap? Because the owner of the toes donated them to a cocktail bar in Yukon TO BE USED AS A GARNISH IN ITS SOUR TOE COCKTAIL. Don't believe us? Want to see grim footage of the aforementioned toes and cocktails? United News International has documented the whole tale, which you can watch on YouTube right here. We'll say it once again, though – don't watch if you're eating.
On that note, I feel we best depart. Enjoy your weekend, don't forget Glenfarclas 105 Day and remember: one man's disaster is another's delicious drink…