World-renowned bars Dandelyan and Licorería Limantour have joined forces for a collaborative cocktail menu that defies nature just in time for Halloween.
Pickling, curing, and mummifying are the order of the day at London bar Dandelyan this Halloween – but its Death Defying Drinks menu, created in collaboration with Mexico City's Licorería Limantour, proves that preservation leads to more than just deep, dark flavours.
Botanical exploration has been the driving force behind the cocktail programme at Dandelyan for some time – its current menu, The Vices of Botany, delves into the fundamentals of plant-based science and the role it has played in human vice – and, naturally, playing with the parameters of nature's intentions is a key part of this approach.
Armed with all manner of Mexican heritage staples – mamey fruit, worm salt, nopal (a type of cacti), azafron (Mexican saffron) and chipotle chillis, just to name a few – Licorería Limantour bar manager Jose Luis Leon Martinez and his team hightailed it over to London to curate a six-drink strong Halloween cocktail menu like no other.
For Dandelyan owner Ryan Chetiyawardana (also of cocktail bar Super Lyan and sustainable restaurant Cub) the death-defying concept is not only about preserving ingredients beyond their usual lifespan, but also examining "how flavours transform, and how you can capture them".
"If you look at something like chilli, when it's fresh it's got a very different profile compared to when its ground, smoked or dried" he continues. "Preservation styles don't need to be about just darker flavours. It's actually quite a light and bright menu."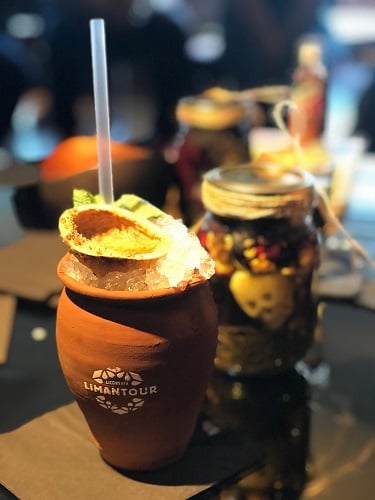 A zombified Boilermaker in cocktail form
Undead Boilermaker
What's in it?
Mummified copita, spiced mezcal, mint, pineapple, Olmecas Altos Tequila, lemon, worms
Why?
The Boilermaker serve – a beer and a shot – resonates all around the world, and this particular version combines "punchy, robust" Mexican flavours with "lighter, fresher" notes. "When you sip the mezcal you're going to get a big salty, savoury hit and then you're going to clean the palette again by going back and forth," explains Dandelyan's head bartender, Alex Lawrence. "Really this is the story of what we're doing here, we're bringing flavours, cultures and two bars together in drink format."
Curado Gibson
What's in it?
Beefeater London Garden gin, "ceviche" vermouth
Why?
The idea behind this drink was to create a Latin American riff on a Gibson Martini. "With this one we just wanted to play with pickling, curing, preserving, these are things that we do in both cultures," says Lawrence. "The most culturally applicable one is ceviche, so we've taken lime, onion, chillis, things like that and cooked it through the vermouth". The result? "It lingers in a really nice savoury way, the same way as it would if you had olives or onions with your Martini."
Annatto 75
What's in it?
Chivas 18, mezcal, tepache, annatto seed, lemon, Champagne
Why?
It's a twist on a French 75, with the gin subbed out for Scotch whisky. This is balanced out with an annatto tincture, says Lawrence, "so you have this incredible aromatic lift for a very dry style of drink". The tepache, or fermented pineapple juice, is tempered with "a tiny bit of mezcal" to deliver "an unbelievably complex Champagne cocktail".
Bandera
What's in it?
British "citrus", Olmeca Altos Tequila, sangrita
Why?
Inspired by the colours of the Mexican flag, this drink is served in three separate shot glasses and consists of Tequila (white), fresh lime juice (green), and sangrita. However, "citrus is so different here than it is in Mexico," explains Lawrence. "There it's sweet and aromatic, here it's dry and sour, so we've used British apple juice to make it slightly softer". T0 create the sangrita, the team added tamarind oil and chipotle to their Bloody Mary.
Nopal Sour
What's in it?
Olmeca Altos Tequila, Vida Mezcal, Mexican-spiced honey cactus, lime
Why?
Imagine the film Inception but as a cocktail – Nopal Sour is inspired by a drink called Man On Fire at Dandelyan's sister venue Super Lyan, which itself is a take on classic Scotch whisky-based Penicillin. Using the bar's tried and tested combination of Tequila, mezcal, honey and chilli, Lawrence and co "juiced the cactus and lengthened it with honey" to create "a really fresh green Sour".
Mole Milk Punch
What's in it?
Beefeater London Garden gin, mole cacao, split cream, citrus
Why?
"This is pretty special," says Lawrence. To create the punch, the team infused gin with spices and citrus, and cooked off the mole (a Mexican sauce made up of fruit, chili, nuts and spices) with crème de cacao. They combined the two with milk, let the milk split, and then strained it off to create a clear liquid.
Sounds seriously good, right? The Dandelyan and Licorería Limantour collaboration is the second in the London bar's World Botany Series, which brings bartenders from overseas bring native ingredients from their respective country to create often unorthodox (but always delicious) serves.
"The wonderful thing about food and drink is that it gives you real opportunity to delve into a culture," explains Chetiyawardana. "It's really fun to have the guys here to bring these ingredients to life, and it's allowed us to create drinks that marry these two worlds together."
The Death Defying Drinks menu, created by Dandelyan and Licorería Limantour, is available at Dandelyan until 31 October – to make a reservation call the bar on +44 (0) 20 3747 1063.