We asked you to flex your funny bones for a chance to win Esker Spirits' final bottle of limited edition Esker Honey Spiced Gin – and we've got our winner!
After sifting through the copious comedic captions catapulted our way, the MoM Towers Comedy Judges have come to a decision about who should win the coveted bottle of Esker Honey Spiced Gin, as well as the six runners-up that will be receiving a dram of the aforementioned gin.
The funny thing about humour is that it's subjective. The captions we received spanned all types of comedy, including puns, pop-culture references, dad jokes, general internet meme gubbins, one-liners, inventive acronyms and some of the filthiest quips we've heard in quite a while. Honestly, a few of you need to get your mind out of the gutter. That said, no matter how subjective humour is, the MoM Towers Comedy Judges were in agreement that our winner rightfully deserved to win the prize – and that winner is Patience Armstrong!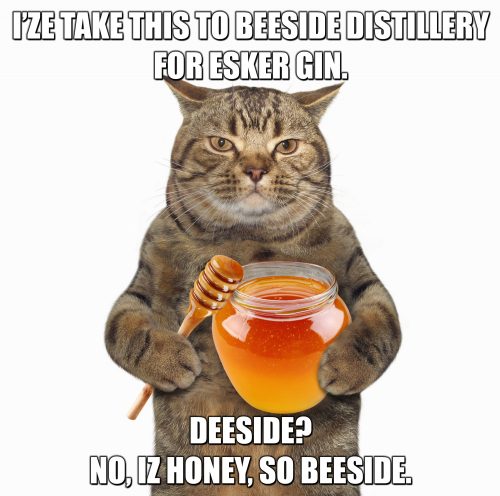 Questionable spelling of cats off of the interweb ✓
Perfectly captured attitude of interweb cats toward hoomans ✓
Can has delightful wordplay? ✓
We have ourselves a winner!
Congratulations Patience, you've won the bottle of Esker Honey Spiced Gin, as well as bragging rights that you can turn a potentially threatening photo of a cat holding a jar of honey into a source of mirth rather than fear of ending up covered in scratches and bees.
The MoM Comedy Judges also picked out six runners-up, and each of them have won a free dram of Esker Honey Spiced Gin. Read on and cackle to your heart's content.
Cat warns of 'Esker'eme consequences for wannabe honey thieves.
– Jonathan Keyworth
Most cats preferred cream, but Eric was dairy intolerant.
– Charlie Hooson
The cat was plotting revenge as the Owl had stolen all of the Gin and gone off in the pea-green boat.
– David Johns
No honey, no party.
– Matteo Boldreghini
Want my honey punk? Meet meowt side.
– Jon Eardley
Have you seen Eeyore anywhere? I promised I'd stick his tail back on with a smackerel of my honey.
– Dark Lord Meh [!]
Congratulations, folks! You have spread a wave of chuckles, giggles and guffaws through MoM Towers. For this, we are thankful. Good job.
For the rest of you lovely people, if you can't wait until Esker add this honeyed number to their core range later in the year, we do have a tiny number of drams now available over on the Esker Honey Spiced Gin page.