Make this the most holly, jolly Christmas ever with this sensationally seasonal selection of spirits!
Christmas is perhaps the best time of year to enjoy a well-earned tipple. It's the perfect way to wash down all the fabulous festive food you'll stuff yourself silly with and helps you to relax, wind down and take your mind off the ongoing game of charades/horde of children running amok/rubbish Christmas TV schedule. It makes an ideal gift too. Maybe you know a special someone who deserves to be spoiled this year with a great bottle of booze?
Whatever you're looking for, you'll find all manner of boozy delights to suit all tastes here, each appropriately seasonal and utterly delicious!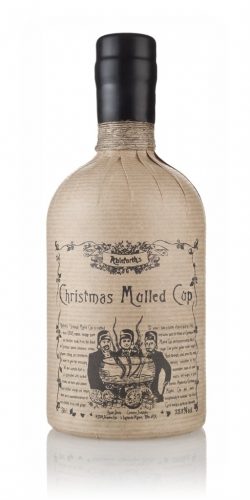 Christmas Mulled Cup
Christmas Mulled Cup Liqueur
Ableforth's has pretty much bottled Christmas with the Christmas Mulled Cup Liqueur, which was designed primarily as a solution for simplifying the creation of mulled wine. However, it's also a potent Christmas-fyier (yes this is a real word) that can transform any number of cocktails into festive fancies. The Christmas Mulled Cup Liqueur was crafted from a combination of VSOP Cognac, Fine Vintage Port, tinctures made from festive spices, and cold-distilled orange and lemon peels and fresh root ginger in wheat spirit.
Seasonal Serve: Ableforth's Mulled Wine The genius of this bottling is that it makes mulled wine easier than ever! To create Ableforth's Mulled Wine, simply mix 75ml of Christmas Mulled Cup, 1 bottle of good, fruity red wine and 60g granulated sugar. Gently heat it, serve and try not to look too smug about much how much you've nailed it.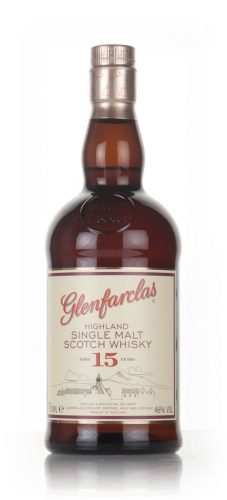 Glenfarclas 15 year old
Glenfarclas 15 year Old
An all-time great, Glenfarclas 15 Year Old is a consummate example of how sherry casks can be used to great effect. This dram is very much the embodiment of Christmas with plenty of winter spice and fruity sherry. This stunner is sure to make the whisky-fanatic in your life very happy.
Seasonal serve: Festive Old Fashioned
Making great use of this sublime dram is this Christmassy take on what is perhaps the quintessential whisky cocktail. To create, start by muddling 3 cranberries and an orange wedge in a glass. Add 50ml of Glenfarclas 15 year Old and 25ml of cranberry simple syrup, then top with 2 dashes of Angostura Bitters and stir. Add ice (cut it into a festive shape if you're the creative type) and if desired, you can rim the glass with white sugar to make it look like snow or frost. I tried it and it just looked like sugar on the rim of a glass, to be honest…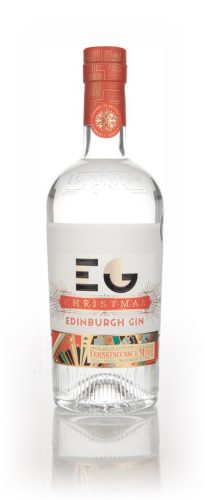 Edinburgh Christmas Gin
Edinburgh Christmas Gin
Edinburgh Gin is one of the many gin brands that embraced the festive spirit by creating a Christmas bottling, and this edition is one of the best around. Edinburgh Christmas Gin is teaming with yuletide warmth and character thanks to its unique blend of seasonal botanicals, which happily includes frankincense and myrrh.
Seasonal serve: Winter Berries G&T
The stalwart that is the G&T is refreshing and rewarding all year round, as this fab winter berries edition proves. To make, simply fill a glass with ice, add 50ml of Edinburgh Christmas Gin, top with 150ml of tonic and drop a few fresh blackberries into the glass to garnish. Simple and seasonal. Hurrah!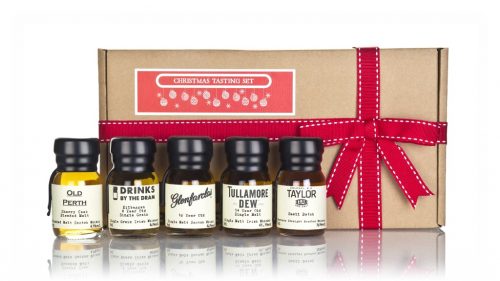 Christmas Tasting Set (2018 Edition)
Christmas Tasting Set (2018 Edition)
The ideal gift for your whisky-mad loved ones, the Drinks by the Dram Christmas Tasting Set features five different 30ml wax-sealed drams of the good stuff in fine, festive form (check out that jolly little bow!). Whether they'll appreciate a dram of something dreamy to conclude a cracking Christmas dinner or a tipple after all the hustle and bustle of the day has concluded, this Tasting Set will do the job for you this Christmas.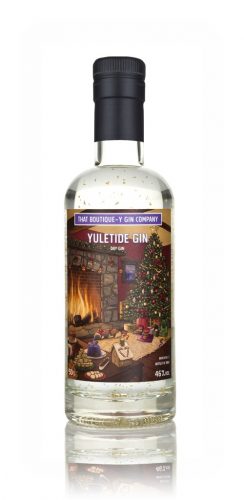 Yuletide Gin (That Boutique-y Gin Company)
Yuletide Gin (That Boutique-y Gin Company)
That Boutique-y Gin Company must have stuck on a Christmas playlist, worn some Santa hats and decked the halls when they made this gin because it's so fabulously festive! How many gins can boast a botanical selection that includes gold, frankincense, myrrh, Christmas tree needles and even an entire gingerbread house? This gin is even packed with gold flakes so that you can shake it and turn it into a brilliantly boozy snow globe!
Seasonal serve: White Christmas Negroni
Put a seasonal spin on this festive favourite by pouring 25ml of Yuletide Gin, 25ml of Ferdinand's Saar White Vermouth and 25ml of Luxardo Bitter Branco over ice. Stir to chill and garnish with clove studded orange wedge. Belt out the Christmas tunes as you serve this to your slightly overwhelmed loved ones!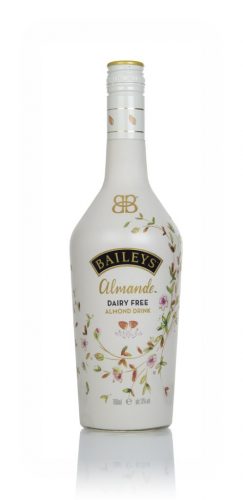 Baileys Almande
Baileys Almande
This edition of Baileys Irish Cream liqueur is a dairy-free variation, which means this Christmas everyone can enjoy its classic taste. Almond milk and a touch of vanilla are the secrets that make this delight accessible to all.
Seasonal serve: Winter Snowflake
Seasonal, sweet and creamy, the Winter Snowflake is a cracking Christmas cocktail. It's super easy to make as well. Begin by adding 1 tablespoon of white chocolate chips, 1 tablespoon of caramel sauce, 1 teaspoon of vanilla extract, 1/2 cup of non-dairy milk and 50ml of Baileys Almande together in a microwave-safe mug or glass. Heat in the microwave until piping hot (60-90 seconds should do), remove and stir to make sure the chocolate and caramel had thoroughly melted. Top with whipped cream and a dash cinnamon and enjoy!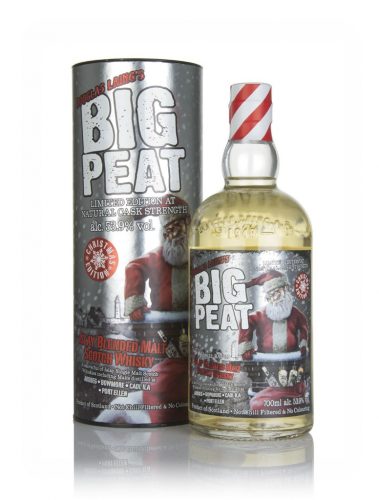 Big Peat at Christmas
Big Peat at Christmas
This cask strength, limited edition release from Glasgow-based independent bottlers Douglas Laing comes with all the festive trimmings. It's got Christmas in the title and features Santa on the label art (well, Big Peat dressed as him, who's unsurprisingly got a bit stuck in a chimney – he's no #WhiskySanta). Seasonal bottlings of this popular Islay-whisky-based blended malt are now something of an annual tradition. If you're looking for a gift for fans of smoky drams, then this beauty is surely a must!
Smouldering Serve: Hot Toddy
The hot toddy is the classic winter warmer and you'll make a seasonal sensation if you craft one with this smoky dram. Start by bringing ¾ cup of water to simmer in a kettle or saucepan and then pour into a mug. Add 45ml of Big Peat at Christmas, 2 teaspoons honey (maple syrup works as a vegan alternative) and 2 teaspoons of lemon juice to the mug. Stir until the honey has disappeared into the hot water (you can add more honey or lemon juice to taste). Garnish with a lemon rind and cinnamon stick. Sink into a comfy chair around the people you love, and embrace/ignore them while you enjoy your well-earned treat!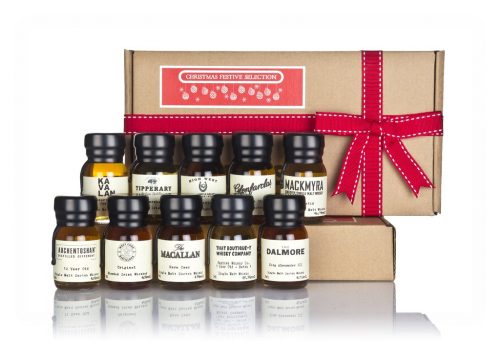 Christmas Festive Selection (2018 Edition)
Christmas Festive Selection (2018 Edition)
You can never spoil the wonderful whisky lover in your life too much (particularly if they've been good this year), a fact that Drinks by the Dram clearly seem to understand. That's why it created this superb Christmas Festive Selection, which contains ten different 30ml drams of excellent whisky, neatly packaged and ready to wrap!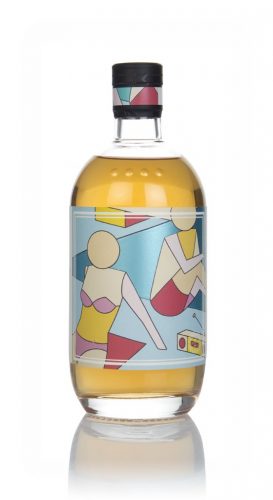 Four Pillars Australian Christmas Gin 2018
Four Pillars Australian Christmas Gin 2018
An Australian Christmas Gin from the fabulous Four Pillars! This jolly gin was made with distilled Christmas puddings, which sounds absolutely amazing, as well as juniper, angelica, coriander, star anise and cinnamon. But the festive fun didn't stop there. Four Pillars then combined this gin with another gin that was matured in Scotch whisky barrels that were previously used to age Muscat wine for 80 years. Finally, a bit of Muscat that was rested in Pedro Ximénez casks was added to bring some additional richness. This is sure to impress your guests/loved ones/rivals and would make a fine gift for gin fans.
Seasonal serve: St. Nick Negroni
Another ideal winter warmer with a seasonal twist. To make the St. Nick Negroni just add 25ml of Four Pillars Australian Christmas Gin, 25ml of Campari Bitters and 25ml of Martini Rosso together in a cocktail shaker. Shake well with cracked ice, then strain into a chilled cocktail glass and garnish with a twist of orange peel. Serve with mince pies to what I can only presume would be a standing ovation. That pairing really deserves one.
We hope you've enjoyed this round-up of most marvellous Christmas gifts. Don't forget everyone that #WhiskySanta is still giving away £250,000-worth of the finest spirits to all you lovely drinks fans, so get wishing!