This week we're celebrating all things Japanese at Master of Malt. To kick things off, we talk to James Bowker, Suntory UK brand ambassador, about Shinjiro Torii the founder of Suntory Spirits and the philosophy behind Toki Whisky, Haku Vodka and Roku Gin.
Suntory's founder, Shinjiro Torii, "was the first person to start making Western style spirits in Japan," Bowker says, "and that didn't just come out of nowhere." Due to the isolationist foreign policies enforced during the Edo period – which ended a little over a decade before Torii was born – the island country had been almost entirely cut off from the rest of the world for more than 250 years, and the effects of this were felt long after Japan opened its borders.
Whisky comes to Japan
"Those 250 years coincided with the Industrial Revolution and the development of so many modern spirits we enjoy now; the invention of whisky, rum, gin and vodka," says Bowker. "There was a period between 1850 and the turn of the 20th century where lots of people in Japan were trying to recreate these spirits, in particular whisky. But no one knew how to make them. They were taking saké, shochu, and neutral spirits and infusing them with herbs and spices to try and capture the same flavours that you would find in Western booze."
By 1899, their efforts had captured the attention of Torii, then a pharmaceutical wholesaler, who identified an opportunity to quench Japan's thirst for Western spirits – around the same time as chemist Masataka Taketsuru, it should be noted, who went on to establish Nikka – by creating a style of spirit that complemented the country's palette. Ramen and sushi are far lighter and more delicate than heavier dishes common in Western cuisine, and his liquid reflected that.
"This also applies to drinks," says Bowker. "In Europe, our wines are big, bold and tannic if they're red, and big, bold and acidic if they're white. In Japan, they have sake. Think about tea – British tea tends to be far more bitter than the light green teas we see in Japan." Influenced by the atypical Japanese palate, Torii and Taketsuru created whiskies and spirits that "tend to be much lighter and more delicate," guided by three Japanese philosophies specifically.
It's all about balance
The first is In-Yo, which means balance. 'In' tends to refer to that which is gentle and tranquil and delicate, while 'Yo' refers to that which is exciting and vibrant and powerful, says Bowker. The two main religions in Japan are Buddhism and Shinto, "and in both of those faiths, the idea of balance is paramount," he explains. "You should be living a balanced life. All good things in the universe exist in balance. The universe is constantly divided in some light and dark, rich and poor, happy and sad, and all of these dichotomies must exist in balance."
The second is Kaizen, which means 'change for better'. "It's about finding the person who has truly mastered that skill," says Bowker, "getting a complete and thorough understanding of how to be the best of the best, and then asking yourself – only when you've mastered it – how can I take this further? How can I ensure that the next generation of craftsmen receives a better set of instructions than I have received?"
The third and final philosophy is Yūgen, which refers to a sense of indescribable beauty underlined by the ethos: show, don't tell. "When you see those incredible Japanese ink paintings, there'll often be sections that are obscured or faded or unclear," says Bowker. "The idea is that your brain will fill in the gaps… There's a big belief in the idea of show, don't tell. Don't give everything away at once, allow people to explore in their own time."
Japanese craftsmanship
The tradition of craftsmanship in Japan is called Kōgei, which translates as 'engineered art'. In order for a product to be officially recognised as craft, it must meet five government-mandated requirements: be practical enough for regular use, predominantly handmade, crafted using traditional techniques, crafted using traditional materials, and crafted at its place of origin.
For Suntory, the first and fifth elements came relatively easy – so long as they're reasonably priced, spirits are practical enough for regular use. And since Tokii's Yamazaki distillery was the first of malt whisky distillery in the country, he'd created the 'place of origin'. As for the other three?
"Firstly, we must begin with the perfect raw material," says Bowker. "Secondly, we should respect that perfect raw material – and that means using the best tools. The third is knowledge and technique; the mastery that comes from generations of master and apprentice applying Kaizen."
Let's take a look at how that approach plays out across Suntory's flagship spirits, Toki Whisky, Haku Vodka and Roku Gin: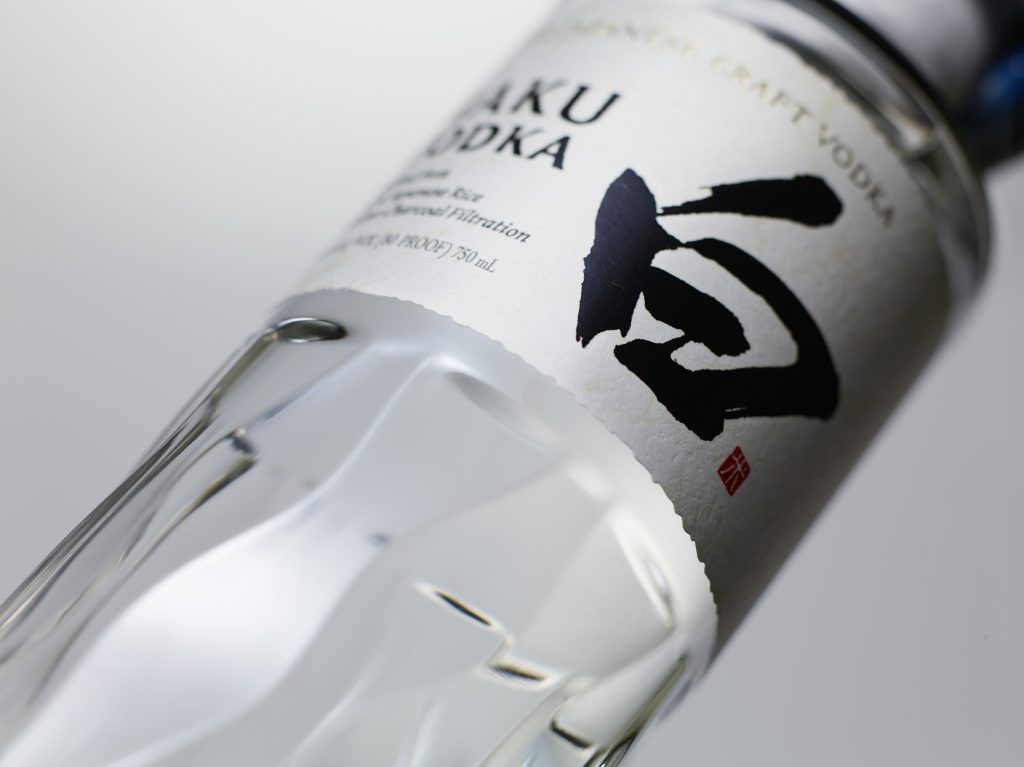 Haku is made using Japanese sushi rice (considered the purest form) which is polished until nearly half of the grain is gone, much like daiginjo sake, and then fermented with koji. It's distilled in a cube-shaped stainless steel shochu pot still – "a super old school distillation method in Japan, and a very rustic style of still," says Bowker – and then the batch is split into two. Half is sent to Osaka, where "it goes through a traditional vodka still, making a very pure, clean, delicate spirit," and the other half heads to Chita, to be redistilled in a bespoke column still, which has "four tiny columns" to create an "indulgent, rice-forward vodka". The two distillates are blended together, diluted with water and filtered through bamboo charcoal, and voila! Haku is complete.
Roku means 'six', after the six Japanese botanicals used in the recipe: sakura flower, sakura leaf, sencha tea, gyokuro tea, sanshō pepper, and yuzu peel. Each is picked, transported and distilled fresh in Osaka during its prescribed 'shun' season, where the botanical is thought to be at its peak. Depending on the botanical, this could be as little as two days. Suntory has four different copper pot stills for making gin, one of which is coated in stainless steel and fitted with a pump to create a specially-designed vacuum still. Each botanical is distilled in the optimum still and then Suntory's five blenders travel to Osaka to set about blending the various distillates into a London Dry-style gin called Suntory Pallet Gin; this is the basis for Roku gin.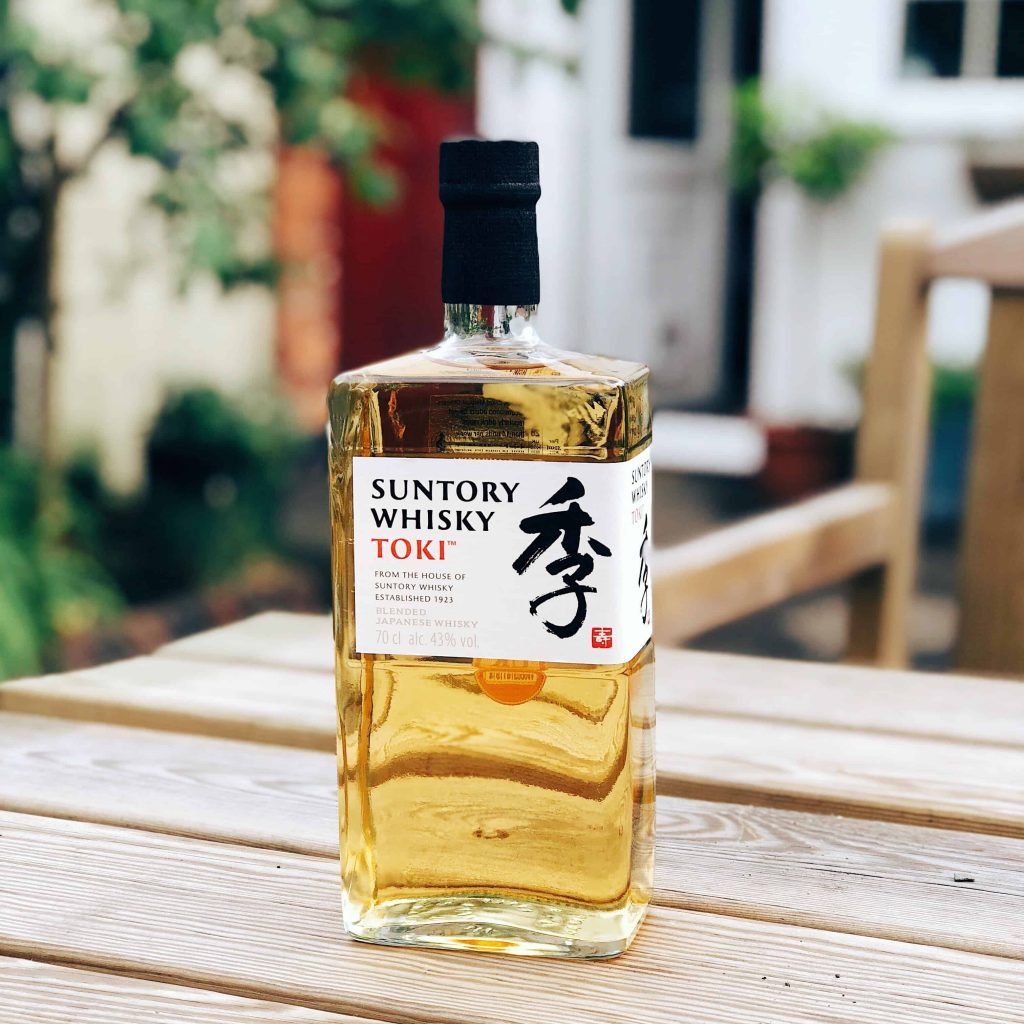 Toki means time in Japanese. A delicious light blend that was specifically created for making that most Japanese of cocktails, the Highball. It's a blend of Yamazaki, Hakushu and Chita, with the main components being Hakashu single malt and Chita grain whisky. Toki is all about fruitiness, sweetness and balance with none of the elements standing out prominently. The result is a subtle whisky with orchard fruits, herb-laden honey and a little mintiness on the nose. While in the mouth there's green apples with pink grapefruit and then richer notes of toasted almonds, vanilla, white pepper and ginger. It's an extremely versatile blend and a great introduction to the magic of Japanese whisky. Isn't it time you tried Toki?