Our friends at That Boutique-y Whisky Company have landed a stash that is sure to get whisky fans all excited. Eight casks from some of Australia's finest whisky distilleries, coming soon to Master of Malt. So, here's a little preview of TBWC Australian series whiskies.
There's been much excitement about Australian whisky ever since Sullivans Cove won the best single malt trophy at the World Whiskies Awards in 2014. The only problem was, according to Dave Worthington from That Boutique-y Whisky Company (TBWC), "people were talking about it, but nobody could find it." That's both the problem and the appeal of Australian whisky. Starward aside, it's made in tiny quantities and rarely makes its way to the UK. 
Australian whisky history
That is until now: TBWC is just about to list eight limited edition whiskies but before we dive in, Worthington gave me a bit of a history lesson. We highly recommend reading his blog post on the subject. In the 1930s, Australia had the fourth largest whisky industry in the world after Scotland, Ireland and Canada; America was still suffering under Prohibition. Australia certainly had all the ingredients with its British and Irish settlers, abundant wheat and barley, and strong wine industry to provide casks.
Distilleries included Melbourne's giant Corio Distillery, once the largest in the southern hemisphere. But in the 1980s, quality declined, and imported brands took over. Worthington suspects that nefarious actions by large multinationals were partly to blame. Corio closed in 1986 and Australian whisky was dead. 
The rebirth
Bill Lark, however, successfully lobbied to overturn a law forbidding the use of stills smaller than 1,000 gallons (4500 litres). In 1992, he set up Larks Distillery in Tasmania. Rather like Sipsmith for craft distilling in Britain, this opened the floodgates for other distillers including Sullivans Cove, and Hellyers Road in Tasmania; Bakery Hill Distillery in Victoria, and The Great Southern Distilling Company in Western Australia.
The result is one of the most creative whisky industries in the world helped by Australia's relaxed whisky laws. Producers, often working to a tiny scale, are experimenting with cereals, beer malts, yeasts and, of course, the richness of Australian wine casks. Most distilleries are also working in a climate substantially hotter than Scotland which speeds up ageing considerably.
Cask sniffer extraordinaire
So, to check out this burgeoning scene, TBWC sent intrepid cask sniffer Felix Dear over to find some whiskies. Despite not having much stock a lot of them had heard of Boutique-y and according to Worthington "were well up for taking part". For the Black Gate distillery, for example, TBWC has taken 4% of its entire annual production. 
These are all single cask whiskies bottled at high strength in 50cl bottles. Oh and the labels are full of in-jokes for the eagle-eyed. As they are such limited editions, I didn't get to try them all but the ones I did, the first three listed below with full tasting notes, were fascinating.
Here's what you can expect: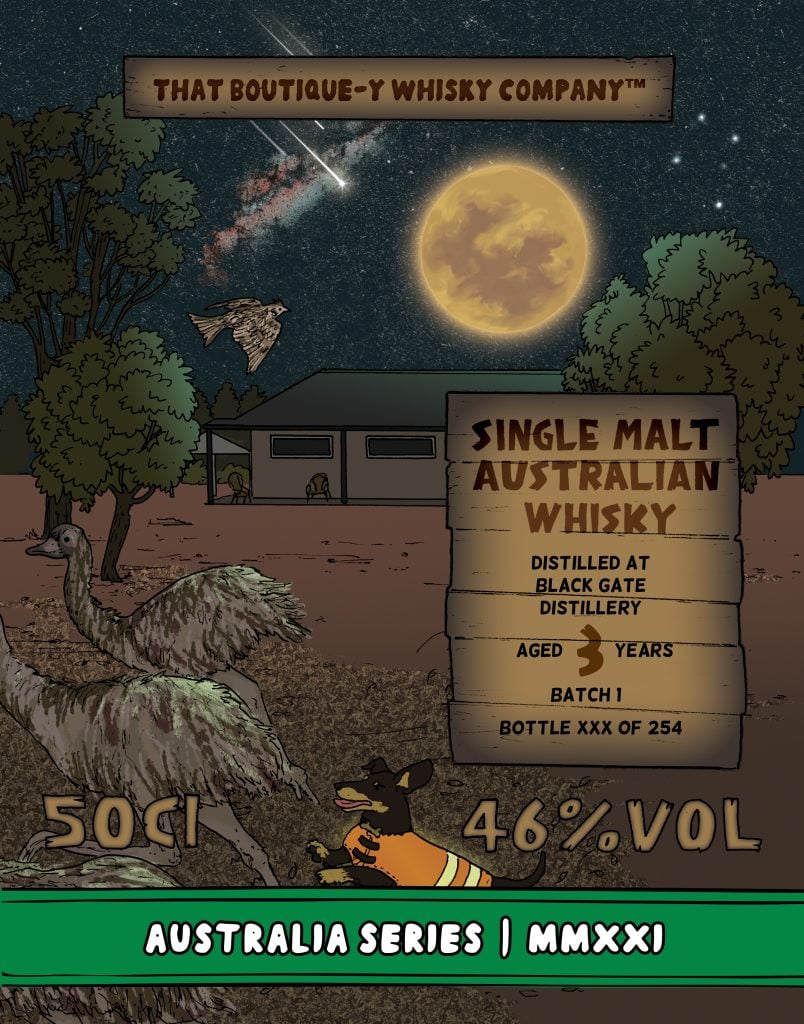 Run by husband and wife team Brian and Genise Hollingworth who established the distillery in New South Wales in 2009. They make just 3000 litres of whisky a year from two direct-fired stills of 300 and 630 litres. They describe themselves as a 'hot climate distillery' so things mature pretty quickly. 
Grain: single malt
Cask: ex-Apera (ie. Australian sherry-style wine)
ABV: 46%
Nose:  Lots of sweetness coming through on the nose, with burnt toffee, honey, and fruitcake. 
Palate: That lovely sweetness continues with salted caramel and dark chocolate, as well as aromatic spicy and floral notes, marzipan and black coffee.  
Finish: Thick, creamy, and nutty, with vanilla and spice lingering in the mouth.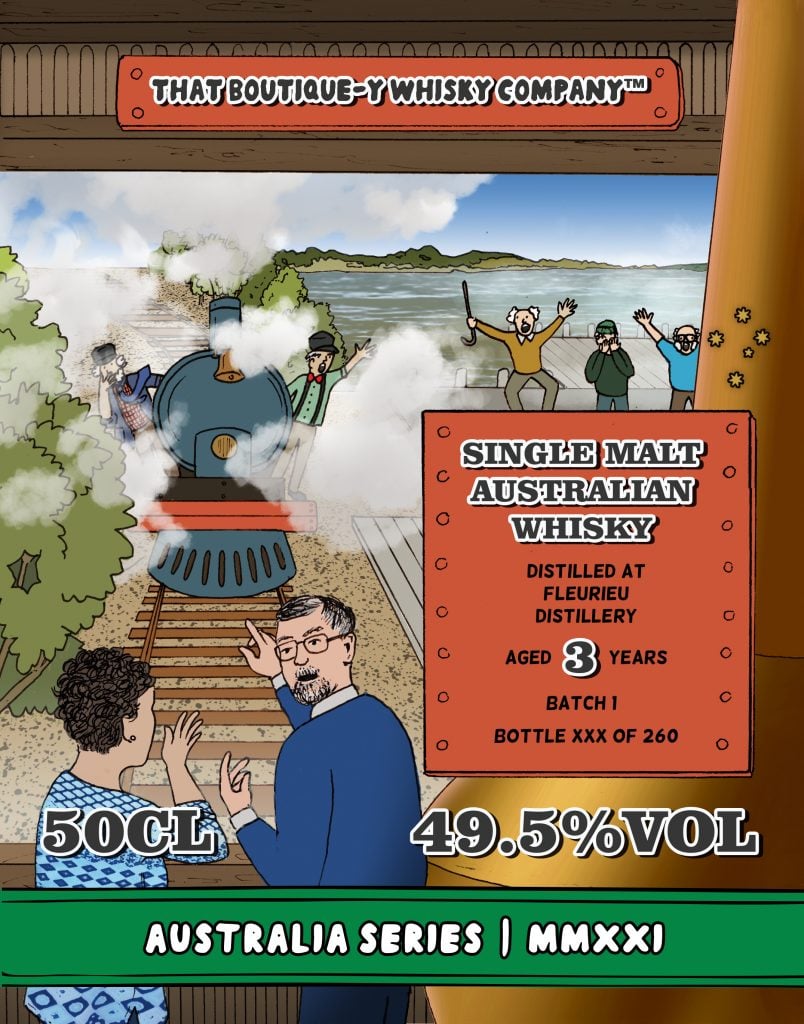 FYI, it's pronounced 'fleur e oo' not like the French wine. It's named after a peninsula in the heart of South Australian's wine country. According to founder and distillery Gareth Andrews: "The air is very humid, and we have a lower angel's share than other Australian distilleries." The stills are modelled on those at Caol Ila on Islay though much smaller.
Grain: single malt
Casks: ex-Apera
ABV: 49.5% 
Nose: There's a cheese rind note followed by some smoked bacon with gamey meaty notes. It's like ordering a platter in a wine bar. A drop of water brings out stone fruit and spicy ginger notes. 
Palate: Peppery and spicy, from the high alcohol, and then layers of sweetness, with honeycomb and caramel.
Finish: The spice persists with chilli and black pepper balanced by sweet chocolate and fudge.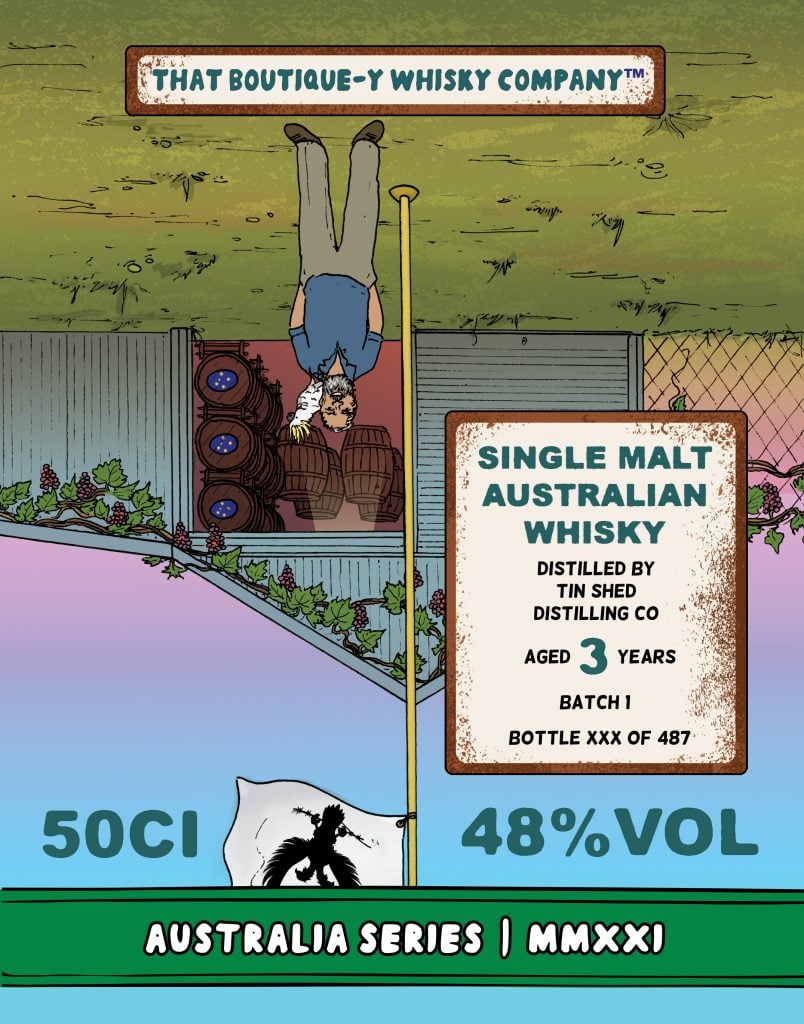 Another distillery located in South Australia's wine country. It's stills are electrically-heated, and short and fat which creates a heavy oily spirit. It was founded by Ian Schmidtt in 2013 and its whiskies are made using local barley as well as making use of the cask riches that can be found near Adelaide. Annual capacity is just 41,000 litres. 
Grain: single malt
Cask: tawny (Australian Port-styles wine) finished in Pinot Gris casks
ABV: 48%
Nose: This is all sweetness, it's like putting your nose in a packet of Crunchy Nut Cornflakes. Mmmmm, Crunchy Nut Cornflakes! There's also richer notes of maraschino cherries and dark chocolate.
Palate: There's a little tannic grip and then creamy, toasty, nutty notes like an old oxidised Tawny Port followed by popcorn with cardamom and chilli spice. 
Finish: That sweetness lingers with nutty toasty notes. This is hugely distinctive.
We also have: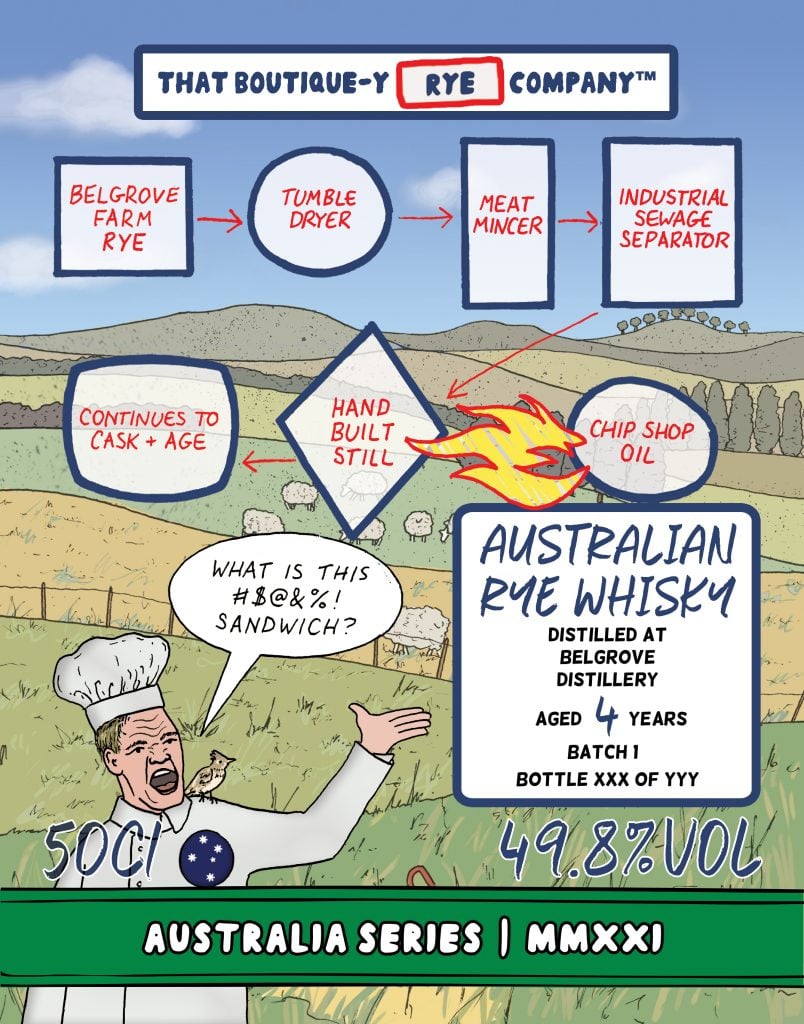 A tiny one man operation, the man in question is Peter Bignell, in Tasmania. The still is made from reclaimed copper from fallen power lines and the grain is malted in an old tumble dryer.
Grain: Rye
ABV: 49.8%
Cask: re-charred ex-Tasmanian whisky cask
Worthington writes: "You could be forgiven for thinking this was a Tequila/mezcal… I bloody love this oddity!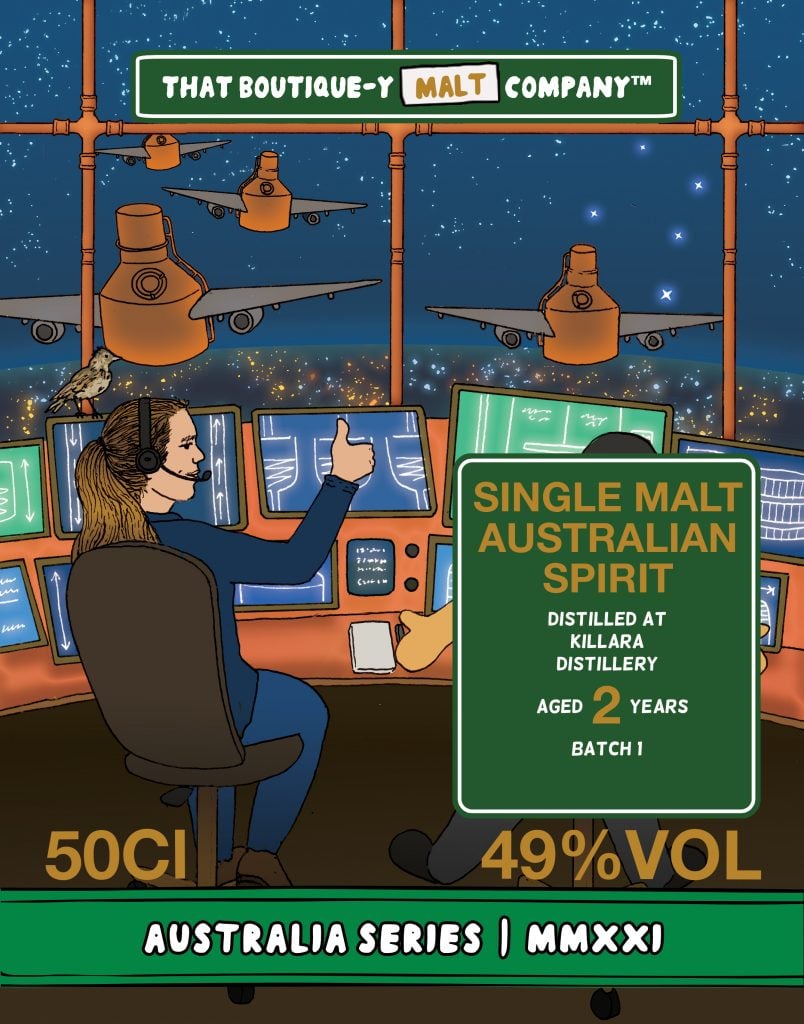 Made by Kristy Booth-Lark, daughter of Bill Lark and previous head distiller at Lark. This was distilled in her garage before her proper distillery was built. You'll notice the age, this is not technically a whisky by EU standards so isn't labelled as such.
Grain: single malt
Cask: Australian tawny
ABV: 49%
Worthington writes: "Reminds me of a Panettone cake dough with lots of sultanas."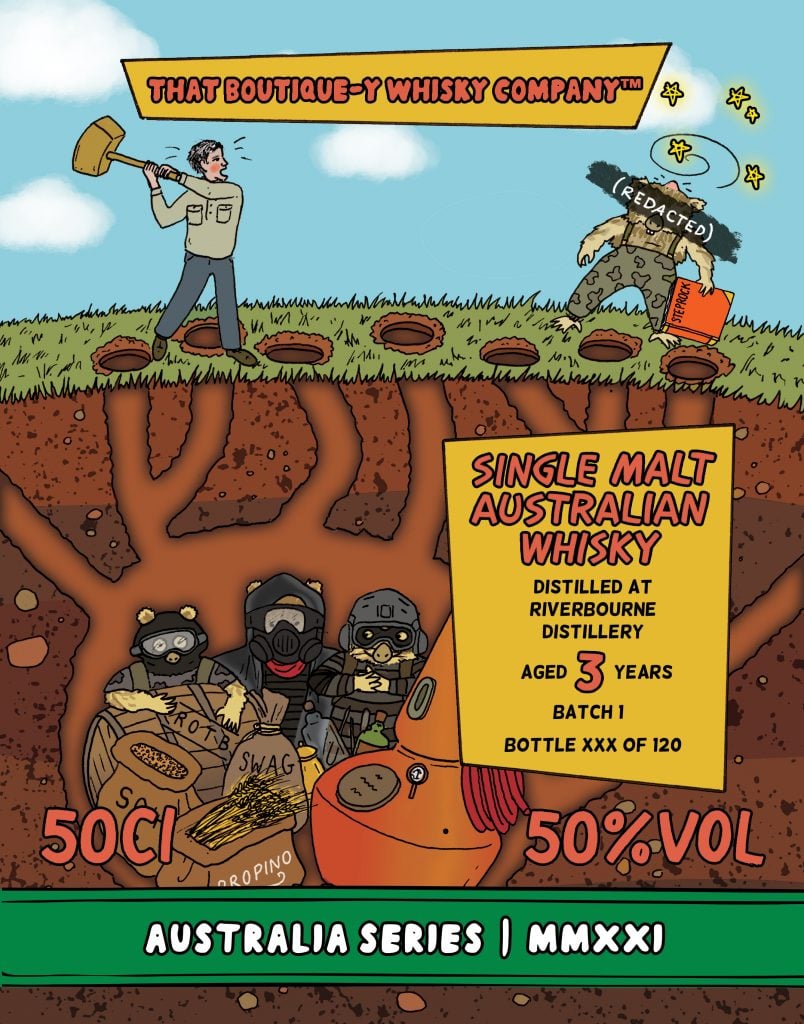 Founded by Martin Pym, this New South Wales distillery began distilling in 2016 after Pym was inspired by a trip to Tasmania.
Grain: Single malt
Cask: re-charred American & French oak
ABV: 50%
Worthington writes: "There's a herbal note to this with hints of rosemary and raspberry leaves."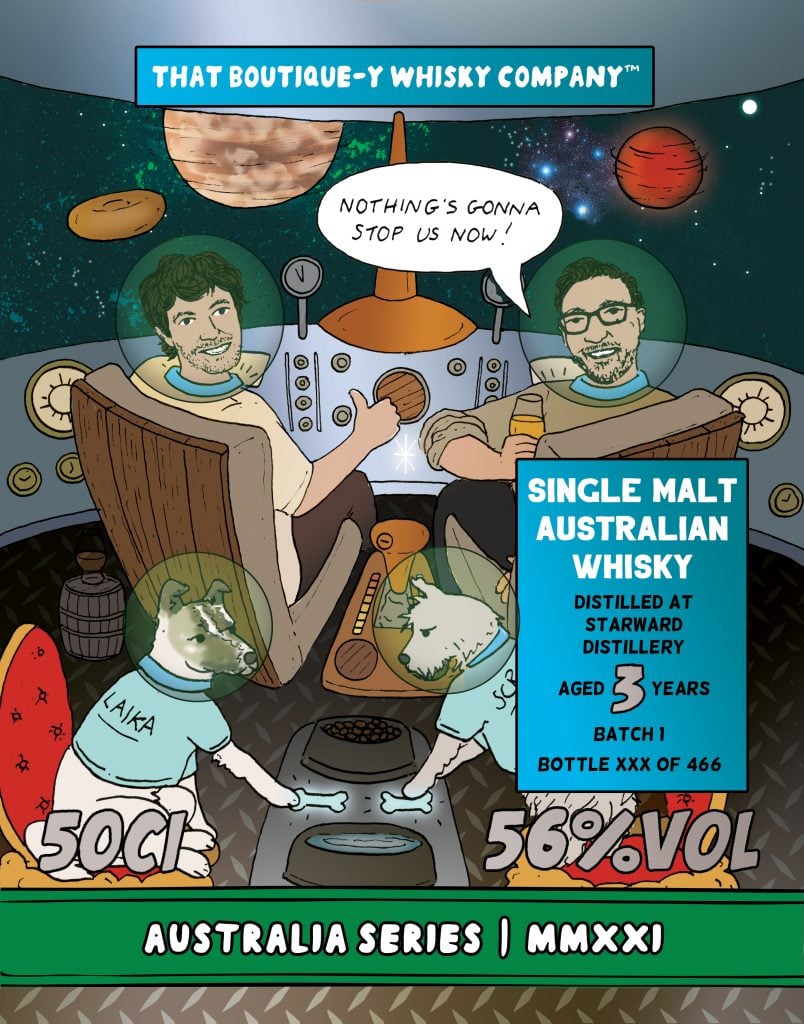 The big boys based in Melbourne, Starward needs no introduction to MoM customers. It was founded in 2013 and it's now probably the best-distributed Australian whisky in the world. The team are masters at using Australian wine casks to build flavour. This is a great chance to try Starward at cask strength.
Grain: single malt
Casks: re-charred ex-red wine
ABV: 56%
Worthington writes: "Cherry syrup gives way to softer red fruits…. Sweet and fruity, with a spicy finish."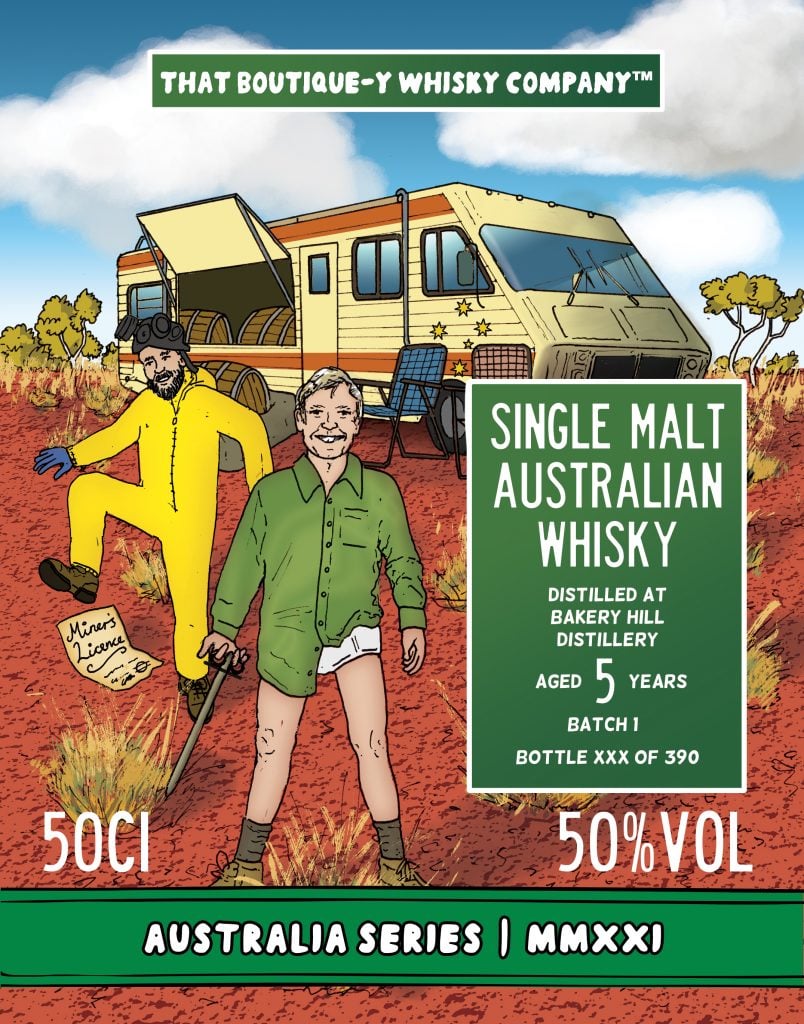 Bakery Hill is a father and son operation founded in 1999. This is a bit unusual as it uses Highland peated malt from Scotland.
Grain: single malt
Cask type: ex-bourbon
ABV: 50%
Worthington writes: "If I'd tasted this in a blind tasting I would have guessed a Ledaig, it has that herbal leathery peated Tobermory vibe to it."
The collection is now leave, click on links above or go to our Australian whisky page for more information.