Gone are the days where the word whisk(e)y solely referred to liquid produced in Scotland, Ireland, or America. Today, a fresh wave of whisky-makers across the globe, with their unique climates and natural resources, are offering malt fans a taste of regionality. David Vitale, founder of Australian whisky brand Starward, delves into the inner-workings of his distillery down-under…
When he founded Starward back in 2007, David Vitale penned the concept "a distinctly Australian whisky" in his notebook, and set out to define what that meant. Ultimately, he wanted a whisky that was "as distinctive as peat is to Islay whisky, in an approachable fashion".
"We could have gone down the wattle or eucalypt path, but it wouldn't have tasted all that great," muses Vitale, who earned his whisky stripes working for Bill Lark at Tasmania's Lark Distillery. "It had to be something that you could share with friends that wasn't going to be an acquired taste or something you cross off your bucket list and then move on.
"With hindsight it's bloody obvious that we should be using wine barrels to do that, but at the time it was a big leap of faith. If we could crack that nut, we'd have a whisky that's more Australian than Scotch is Scottish."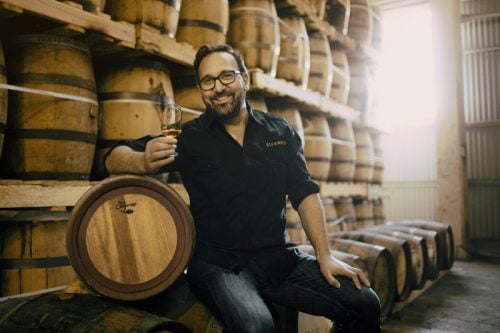 Starward founder David Vitale
Vitale set up shop in a former aircraft maintenance hangar in the state of Victoria, just outside of Melbourne – which is located is at the heart of about 95% of red wine production in Australia – before moving to new site in the capital city's Docklands Precinct in 2016. As a craft beer enthusiast and once dedicated homebrewer, Vitale appointed brewers from Melbourne's microbreweries to run the distillery's brewhouse.
"We have a brewhouse mindset," he explains. "What we do in the brewhouse is equally as important as what happens during the distillation and at the maturation stage. A lot of people just talk about wood policy; that's very important and certainly has a big impact on flavour – but we felt from very early on that innovating upstream was equally important as it was downstream."
To make the distillery's existing range of Starward Solera, Starward Wine Cask and Starward 10th Anniversary, the team begins by fermenting brewery-standard Australian malted barley with brewers' yeast at a high temperature. Until now, every Starward expression has been crafted from the same recipe. This year, Vitale reveals, the team is looking at distilling single estate barley from specific farms. Due to Melbourne's "four seasons in a day" climate, both the fermenters and the copper pot stills are jacketed to regulate the temperature.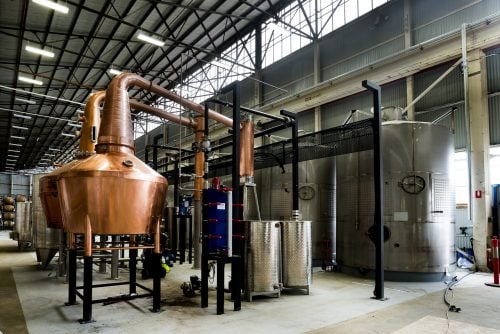 The Starward Distillery. Shiny.
"Having the neck adjustable with water means that we can effectively keep it at a constant reflux level, and that's really important because we want to keep consistency from batch to batch," Vitale says. "It also allows us to play, so when look at different mash bills and different malted barley strains, we can dial up the reflux if we want a lighter spirit or switch it off altogether to get more of that oily character coming through."
Starward's first creation was Starward Solera, which is solely matured in 40 to 50 year old Apera barrels (a fortified wine; Australia's answer to Spanish sherry) that have been re-coopered and re-toasted before being re-sized into 50 litre, 100 litre and 200 litre barrels. It's then vatted in a Solera tank – hence the name – and of this, around 30% is emptied for bottling.
"It means from batch to batch, 70% of the whisky that's in the bottle is exactly the same as the previous batch," confirms Vitale. "Romantically, it also means that every single barrel that we've ever emptied is in the batch that you're drinking. It might be in homeopathic quantities, but it's in that glass. I call it our million-dollar promise to consistency because there's a million dollars-worth of whisky in that vat that we don't touch."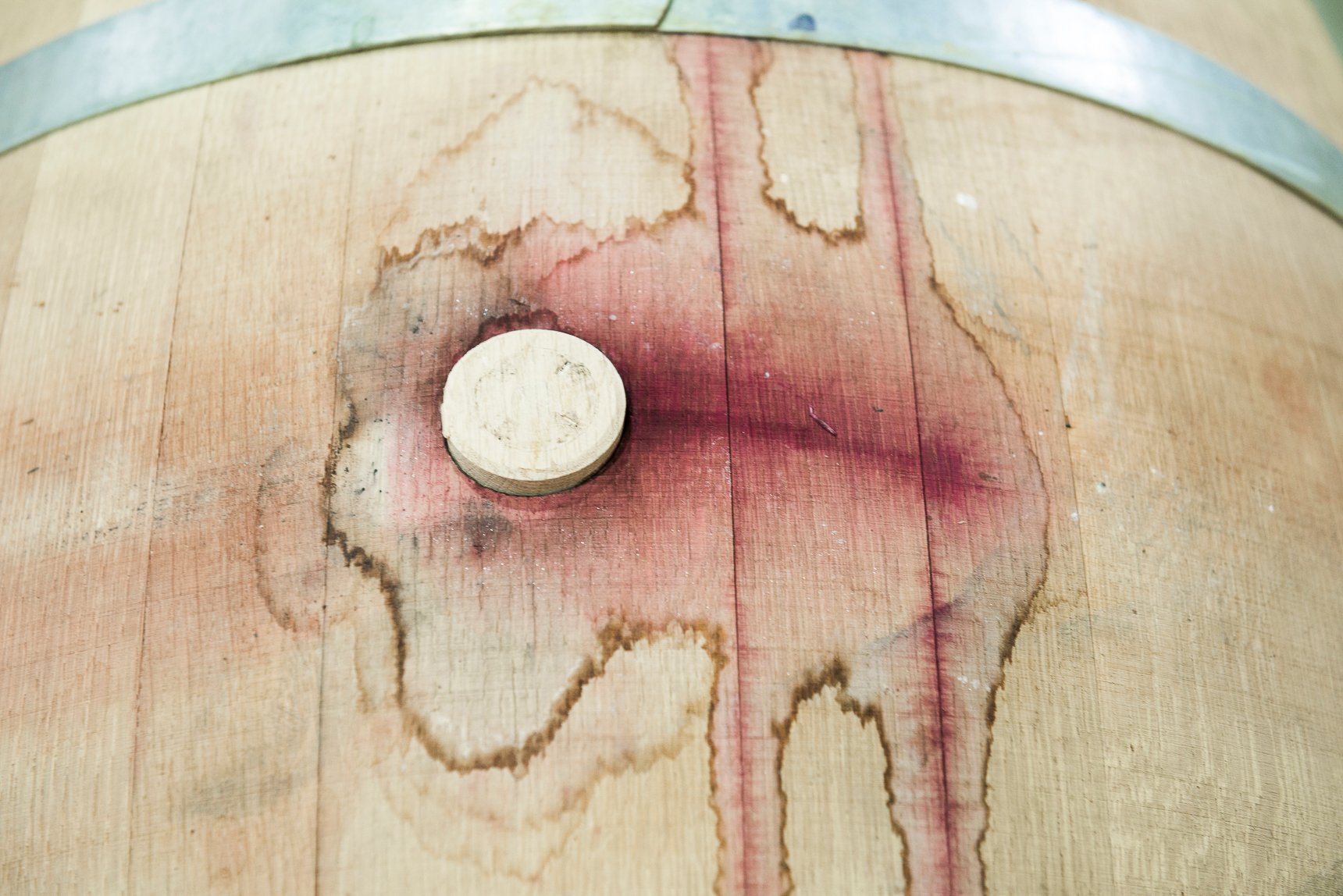 All about the vino
Starward Wine Cask followed; a malt spirit drawn from a selection of Australian red wine barrels that's not quite old enough to be called whisky. The distillery's close proximity to Australia's winemakers means it often receives the barrels used to aged its whisky within a day or two of them being emptied.
"The very first batch [of Starward Wine Cask] was aged almost exclusively in Yalumba Octave barrels, an amazing Shiraz wine," recalls Vitale. "The barrels were delivered to us overnight from the winery to the distillery: the wine came out Wednesday night, the new-made spirit went in on Thursday morning. You can't do that in many countries."
This uniquely speedy transition means no sulphur is used to preserve the barrel, and therefore, no charring is required to remove the sulphur. As well as adding flavour, Vitale says, the carbon produced in charring the cask also acts like a filter.
"As the whisky slowly expands and contracts it's taking that flavour from the barrel, but it's also removing some of the volatile characteristics from the spirit," he explains. "The quality of the barley and the fermentation process that we go through creates a clean spirit that doesn't need time and wood to polish up."
Just as well, really, since the country's incredibly varied climate heavily impacts the distillery's ability to keep whisky in barrels for long periods of time. In fact, Starward's casks lose around 5% per year to the angels. "The example I use is, if you're roasting a chicken and it's done in two hours, roasting it for ten hours doesn't make it a better chicken," asserts Vitale. "The same sort of thing applies here."
Starward 10th Anniversary
Which leads us on rather nicely to Starward 10th Anniversary. The age reference is not an age statement – whisky aged for 10 years in Melbourne would taste "terrible", says Vitale – rather the bottling was launched to commemorate a decade of whisky-making. The whisky made up of 28 barrels, and Vitale calls it the Starward Anthology, since all the cask types the distillery has ever used "are reflected in some form". At 52% abv, it's a little higher than its core peers.
Interestingly, as Starward's whisky ages in cask, the strength goes up over time – rather than down – due to the dry Australian climate. The water in the cask evaporates quicker than the alcohol, cranking up the abv. "Because of that we fill our whiskies into the barrel at 55% abv," explains Vitale. "It's not uncommon for them to go up to 61-62% over a period of time."
Wine casks aside, the team is currently ageing a small amount of whisky in ex-bourbon barrels as well as rum casks from Australian distillery Bundaberg. While Vitale says he would love to have a crack at smoky whisky, "you can't out-Laphroaig Laphroaig". That said, he is interested in getting hold of some peated casks, and has "a strong desire to get some [from] Kilchoman, I think it would be amazing". Scotch whisky cask-finished Australian single malt? We'd be down for that.