Midleton Very Rare 2017 launches in Ireland
The distillery also launches The Midleton Very Rare Cask Circle, its new cask ownership club
Jake tastes Midleton Very Rare from every decade, including some of these newly available whiskeys
Lots of Irish whiskey to talk about here, as well as a bit of a sign off from yours truly, but feel free to skip ahead to the 2017 release, or to find out about more the Cask Circle…
First off, a bit of housekeeping. Yes, I'm still alive! You'll no doubt have noticed a plethora of posts from our awesome new content team hitting the blog lately. It's a team made up of our new editor Kristiane Sherry, fellow new faces at MoM Towers Annie Hayes and Adam O'Connell, and the one and only Sam Smith (he of Tom Hanks' Big fandom and aversion to flying).
You'll notice that my name didn't feature on that there list. Ooh, mysterious. Suffice to say that I'm still busy doing all sorts at MoM Towers. Emphasis on the busy – that's how I'm keeping (especially with national present day fast approaching!*). I may chip in with very occasional blog posts going forward (so what's new, exactly?), but it does rather feel like a passing of the torch moment as I'm typing this. Fitting, then, that this is a post about Irish whiskey, which you may have noticed over the years is one of my favourite topics (see older posts such as Irish Whiskey – Everything You Need To Know! as well as the more recent Spotlight on… Redbreast and interview with Master Blender Billy Leighton).

My most recent trip to Midleton took place earlier this month and it was all to do with its most "exceptional" Irish blended whiskey. The stuff that's so good that the distillery (despite being home to a number of leading Irish whiskey brands, and in time-honoured George Foreman style) is so proud of, they put their name on it. And it's not just the bottles anymore, it's the casks too with the launch of Midleton Very Rare Cask Circle…
Midleton Very Rare
Initially a passion project of Master Distiller Barry Crockett, Midleton Very Rare was first released in 1984. Since 2014, the task of lovingly hand-selecting the ex-bourbon casks that make up each release has belonged to his successor Brian Nation, who speaks of how it's a "privilege" for him to "continue the legacy".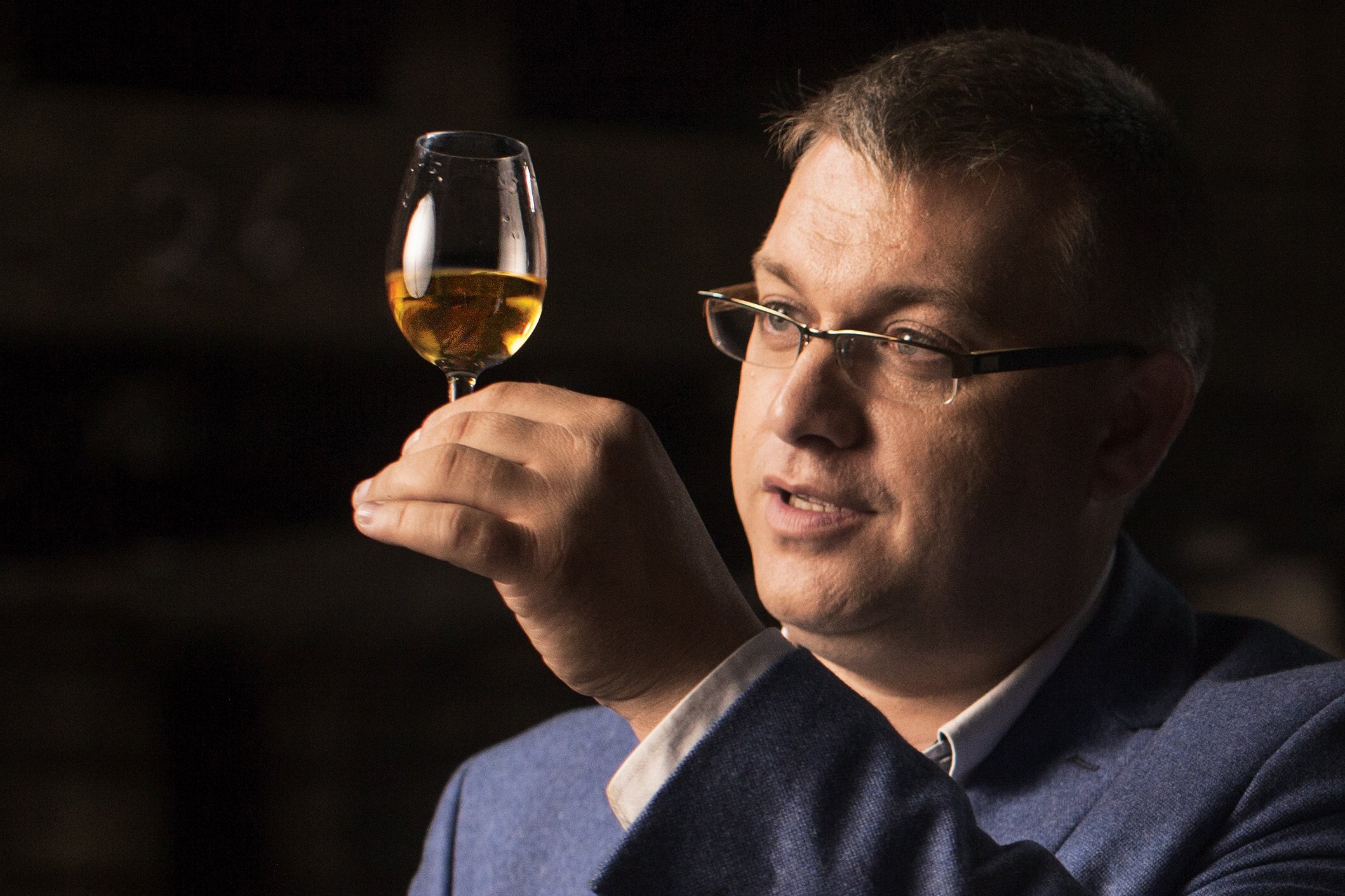 "Midleton Very Rare is rightfully regarded as the pinnacle of Irish whiskey with each vintage cherished by collectors and whisk(e)y enthusiasts all over the world."

– Master Distiller Brian Nation
To help us understand this legacy, the distillery laid on an extraordinary tasting that simply contained 'all of the whiskey'. A bottle of every single Midleton Very Rare release from 1984-2017 was taken from the archives and opened. Every. Single. One. (!)
Of course, it would have been impossible to taste them all (and still find the hotel) Rather we all had the opportunity to taste the 1984 release prior to tastings in small groups that covered further examples from each decade leading up to the latest edition. For our group this encompassed releases from 1988, 1993, 2003 and 2010, tasted with Master of Whiskey Science, David Quinn.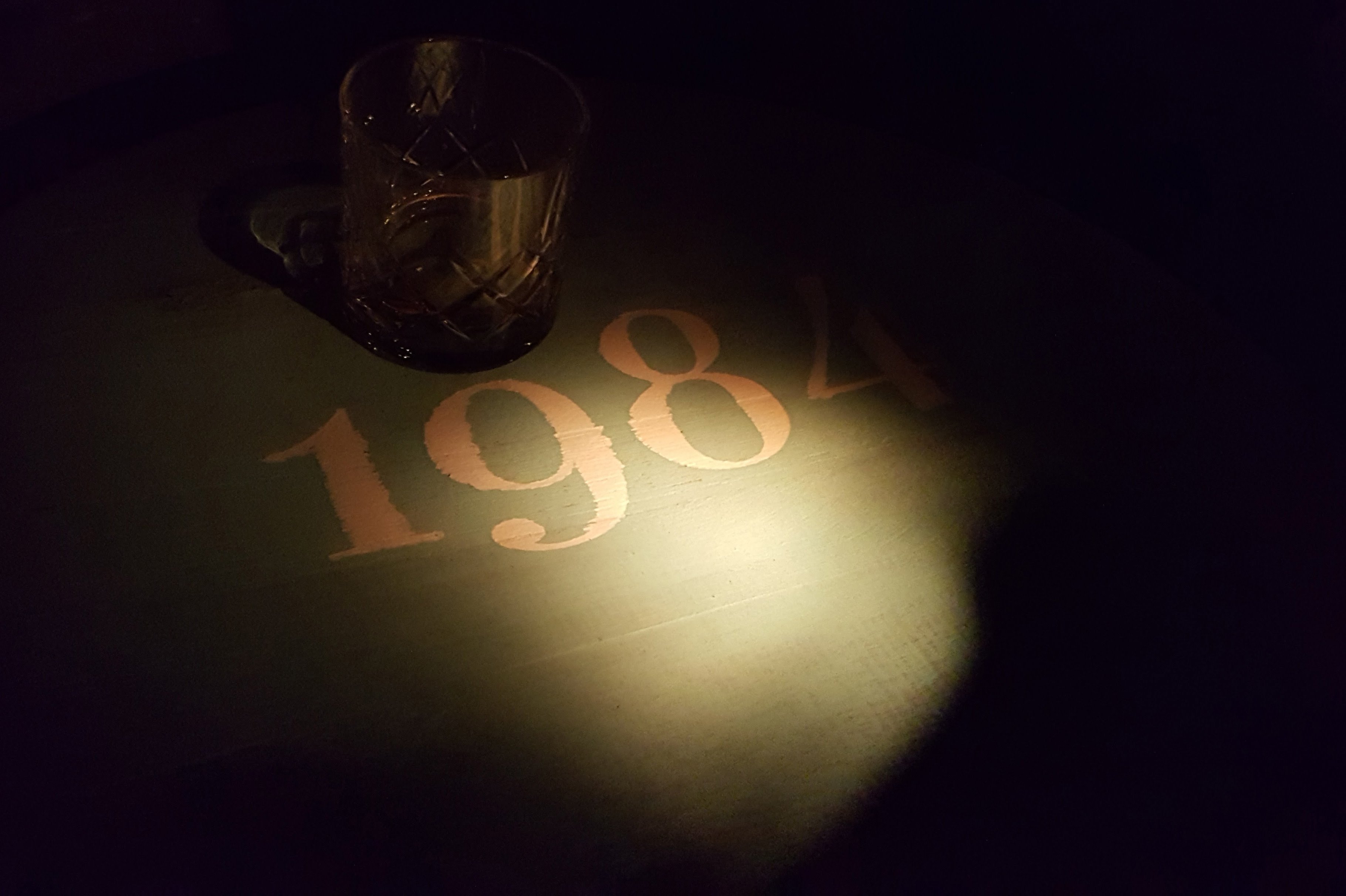 "Delicious Irish whiskey being raised to a human face each year – forever", as George Orwell never said
Midleton Very Rare 1984
Some cask char and vanilla off the bat, with honeyed prunes and melon. Certainly in the style we still know and love. Soft and fruity on the palate with touches of melba toast alongside more honeyed goodness. I was told that 32 casks were selected for this inaugural whiskey in the series.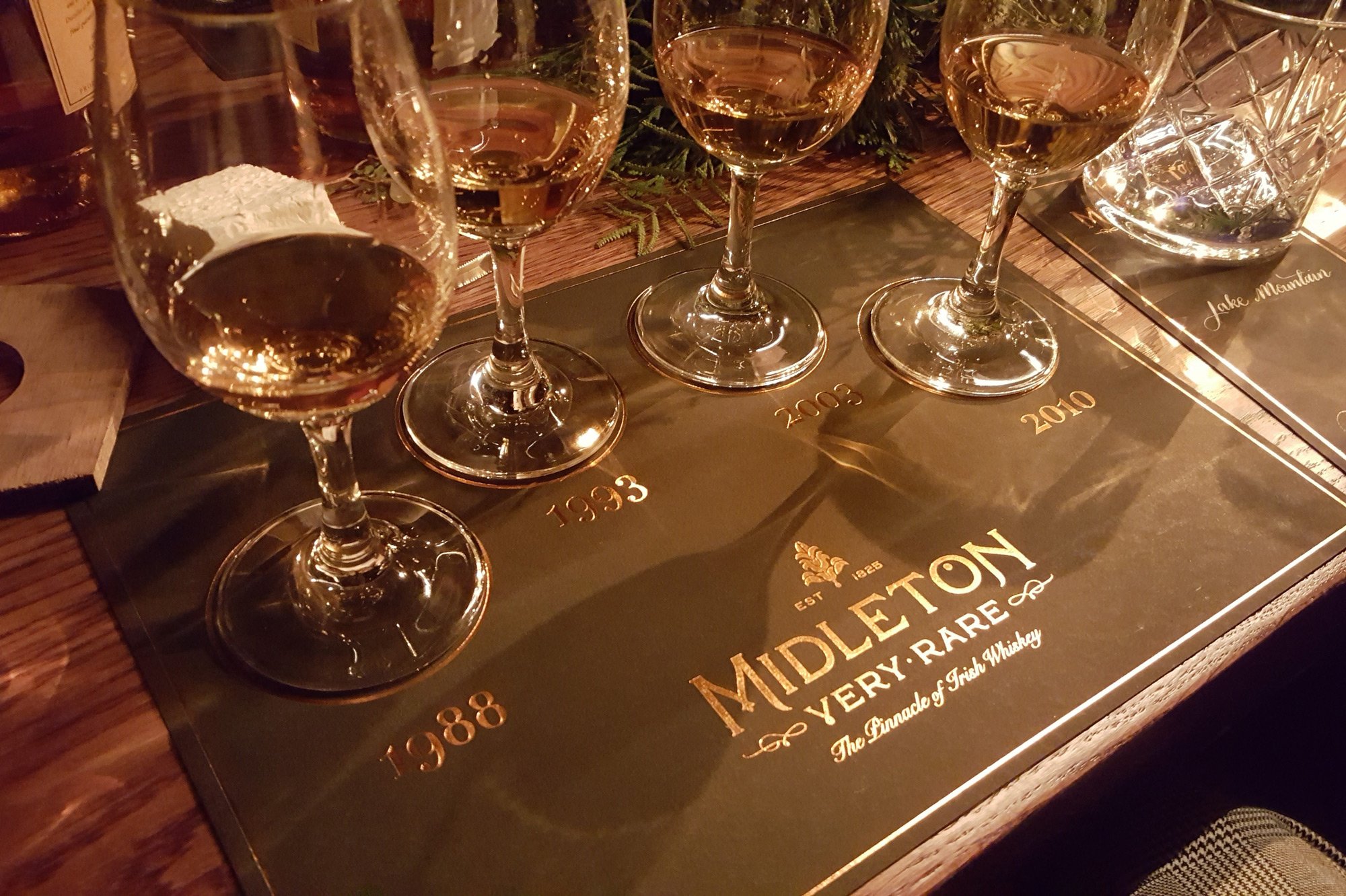 It's fair to say that we were spoilt
Midleton Very Rare 1988
A chance to taste the Midleton Very Rare release from the year I was born. Treats. As it happened, a fair amount of evaporation had taken place in the bottle from a poor seal on this particular bottle (these things happen) giving the whiskey a slight edge. Nonetheless, it opened up to reveal boiled sweet notes (think honey and lemon lozenges in this case), citrus, toffee pieces and some green apple and melon notes. It was a whiskey that caused much discussion – how much had it changed in the bottle? (For my money, quite a bit.) Would it have been markedly different from the '84 on release? Many in our group, including David Quinn himself, found themselves returning to this glass and finding new positives to enjoy after being unsure at first. By '88 we're still probably talking about 30-40 casks aged for around 10-14 years old. (As an aside piece of trivia, David Quinn told us that the 1989 release, whilst not in our tasting, was made using just 13 casks!)
Midleton Very Rare 1993
Throwing up fewer surprises, the 1993 release offered its own points of difference to the '84 and what you may think of as the style of recent releases. Think rich walnut and toffee at the core, supported by apple crumble and Armagnac-like notes of chilli and banana. The ages of the whiskeys used by this point in the '90s is probably something like 10-20 years, whilst the number of casks was also increasing, perhaps to 50-60 or so during this decade.
Midleton Very Rare 2003
We're into crème brûlée country now, with classic dried fruit notes, almond and again touches of melon (of the slightly tropical persuasion like the '84, as opposed to the more green notes of the '88 we tasted).
Midleton Very Rare 2010
Perhaps now around the 15-22 year old age range, over the last ten years the number of casks used has increased to 200 or so. That may seem like quite a lot, but when you consider that Midleton produces Jameson from a single site, has over 1.2 million casks maturing in their warehouses and that its new set of stills could take the capacity to over 80 million litres (that's grain as well as single pot still), 200 starts to seem like a tiny number. Less than 0.017% of casks are selected for Midleton Very Rare. The 2010 doesn't disappoint with notes of passionfruit, toffee once again, bakewell tarts, dried fruits and strawberry, clove, and earthy chocolate.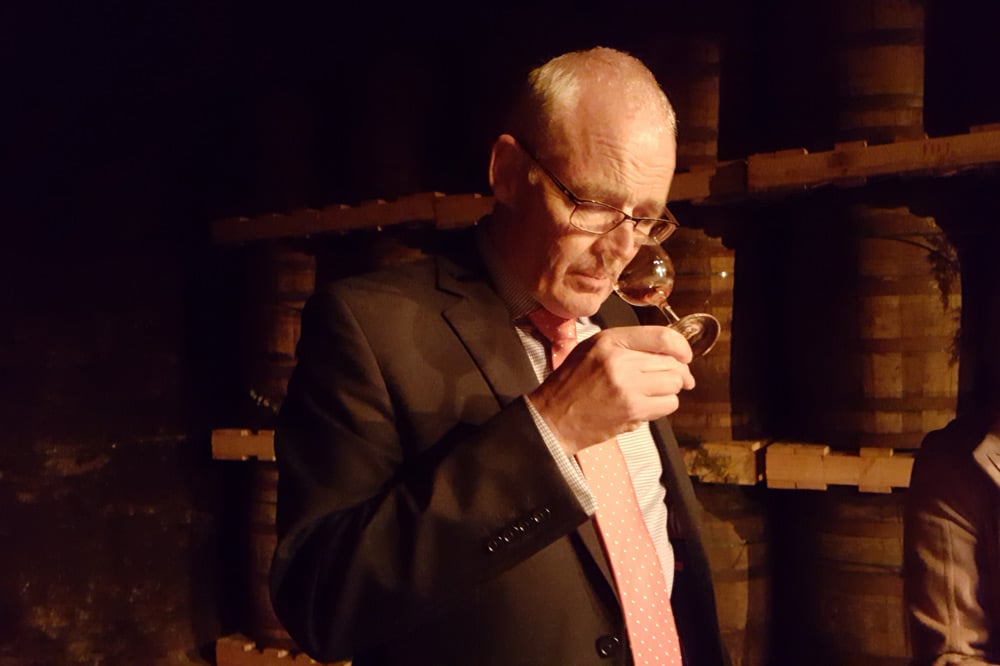 Master of Whiskey Science. Beat that for a job title.
The tasting naturally led to the latest release. The Very Rare packaging, having hardly changed over the years, has also had something of a "luxury" makeover as you can see below. [*BUT*, slightly bizarrely, in the UK this new packaging won't be rolled out until early 2018 with the old packaging set to be used until then.] The 2017 release is made up of whiskeys aged from 12 to 32 years old, including 32 year old grain and 20 year old single pot still.
Tasting Note for Midleton Very Rare 2017
Nose: Mandarin and nutmeg with baking notes from warm raisin scones and old fashioned heavy cake.
Palate: Spices to the fore, more nutmeg and cinnamon too. The expected dried fruit then emerges (but doesn't overpower) with orange peel, vanilla, baked pear and some fragrant apricot.
Finish: More savoury and quite dignified with touches of clove and green pepper.
Overall: Really bloody tasty.
Initially available in only a handful of markets, keep your eyes peeled for this delicious whiskey appearing on Master of Malt around April 2018 (if not sooner). The current RRP is €180.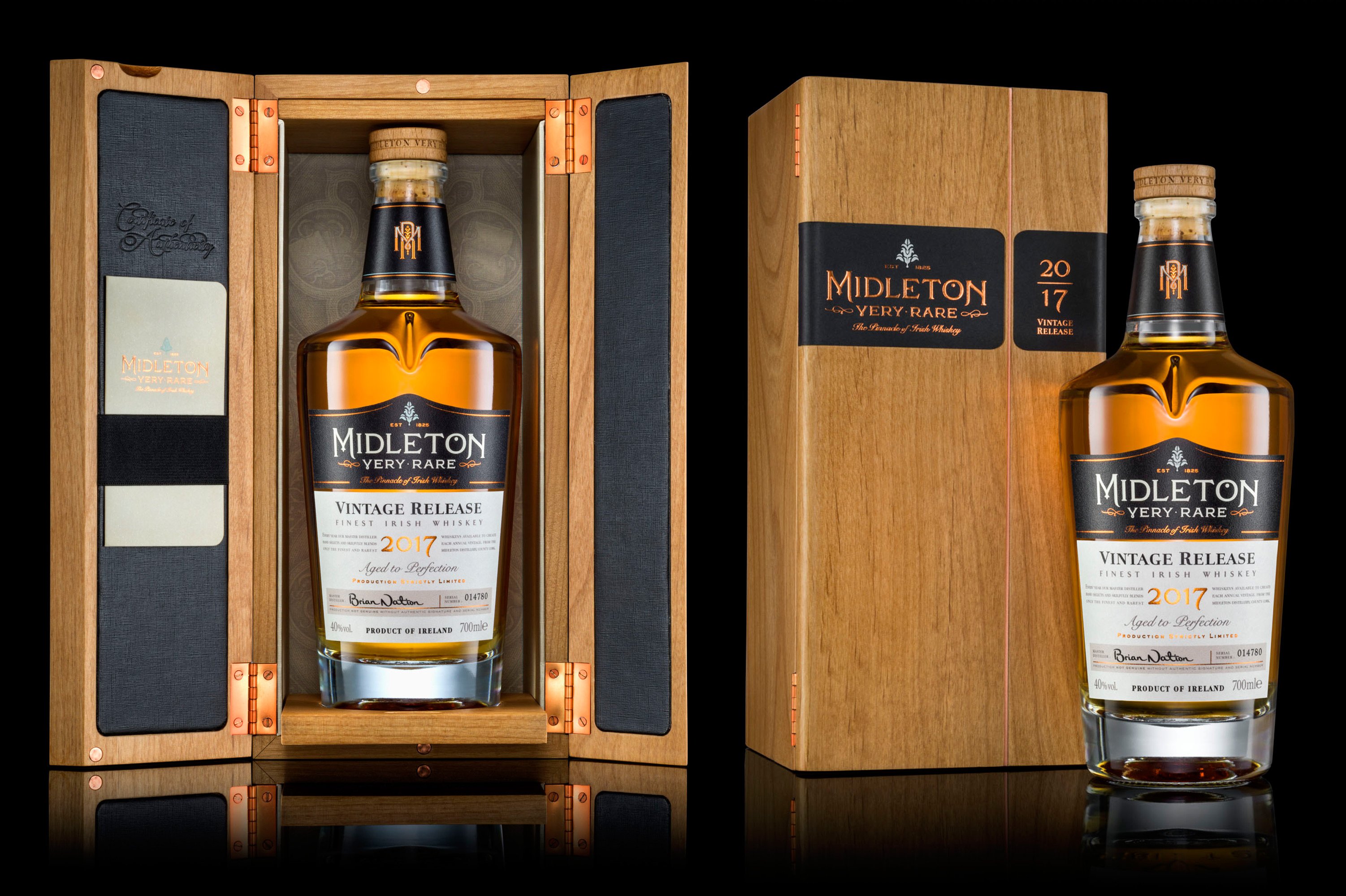 Shiny new packaging (click to enlarge)
Midleton Very Rare Cask Circle
The second launch of the evening was that of Midleton's new cask ownership club. That's right, the opportunity now exists to purchase your own cask of top quality Midleton whiskey! Buoyed by the continuing popularity and success of the category as a whole (see Adam's recent post on Irish whiskey shifting over 100 million bottles a year), Irish Distillers Chairman and CEO Jean-Christophe Coutures hopes the club will now herald "a new era for luxury Irish whiskey". As well as ex-bourbon, there are also sherry, Malaga, Port, rum and even Irish oak casks available across a range of ages and prices – something for everyone! This kind of tailored experience reminds us a little of the Glenfiddich Gallery, albeit for entire casks rather than bottles. Some of these casks can happily spend years more in the warehouse, some are ready to bottle, but ultimately the choice will rest with the owner – again, different strokes for different folks. This all comes with the ability to personalise your bottlings (you can decant as few as 12 at a time) and you're also able to consult Brain Nation for advice on when the best time to bottle may be.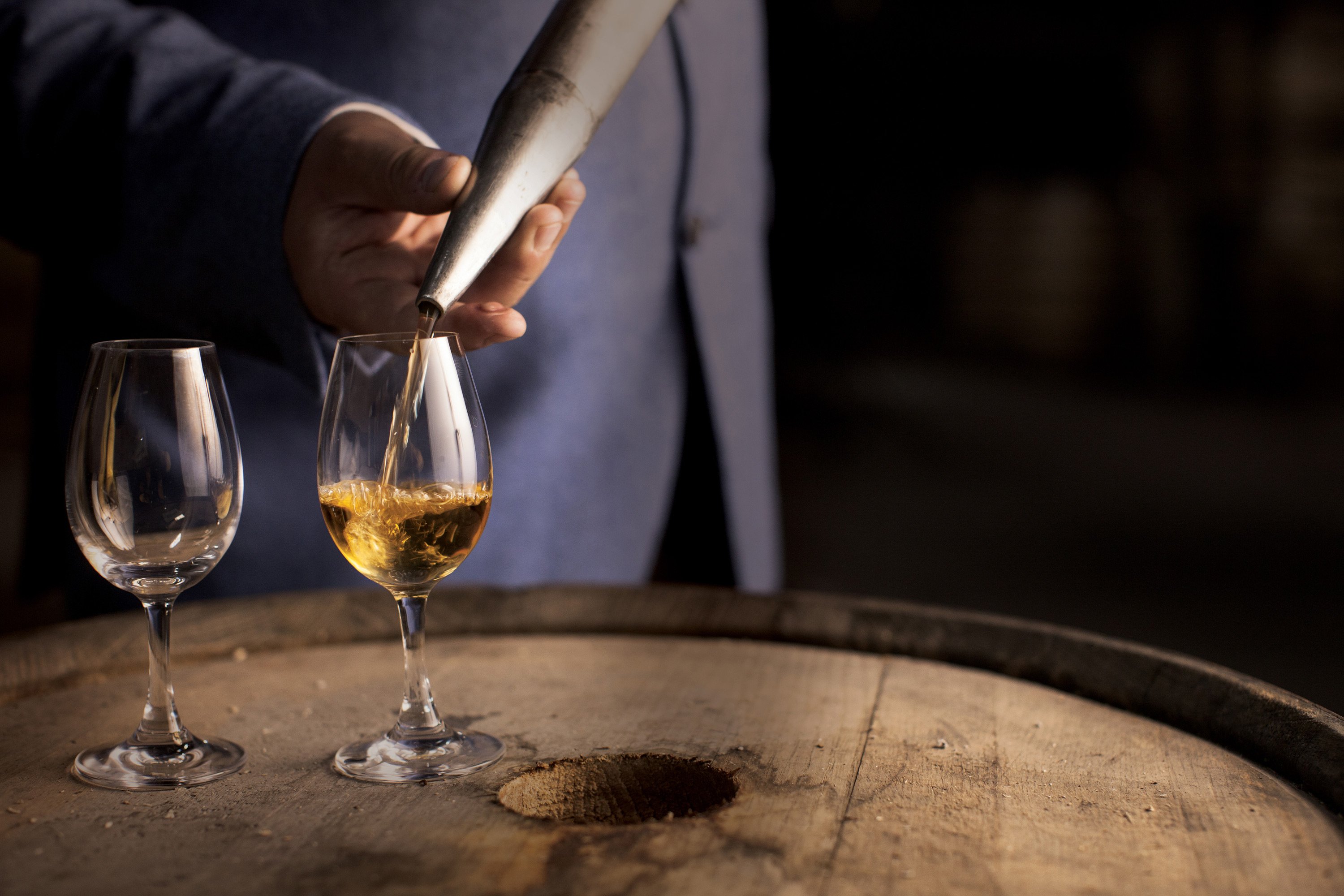 Brian Nation is on hand to assist cask owners
Unsurprisingly, you'll require deep pockets to own an entire cask of "the pinnacle of Irish whiskey". For full prices you'll need to become a member over on the Midleton Very Rare Cask Circle, and thereby gain access to the 'distillery concierge'. We can reveal, however, that a total of 30 casks have been made available with prices initially ranging between €75,000 and a punchy €450,000. Beyond most wallets, of course, but aimed at a market in which a 30 year old Macallan hogshead recently fetched an eye-watering £285,000 at auction. This isn't Macallan (a single malt Scotch whisky that regularly breaks records at auction), but these are hand-selected casks of guaranteed top quality single pot still and single grain Irish whiskey.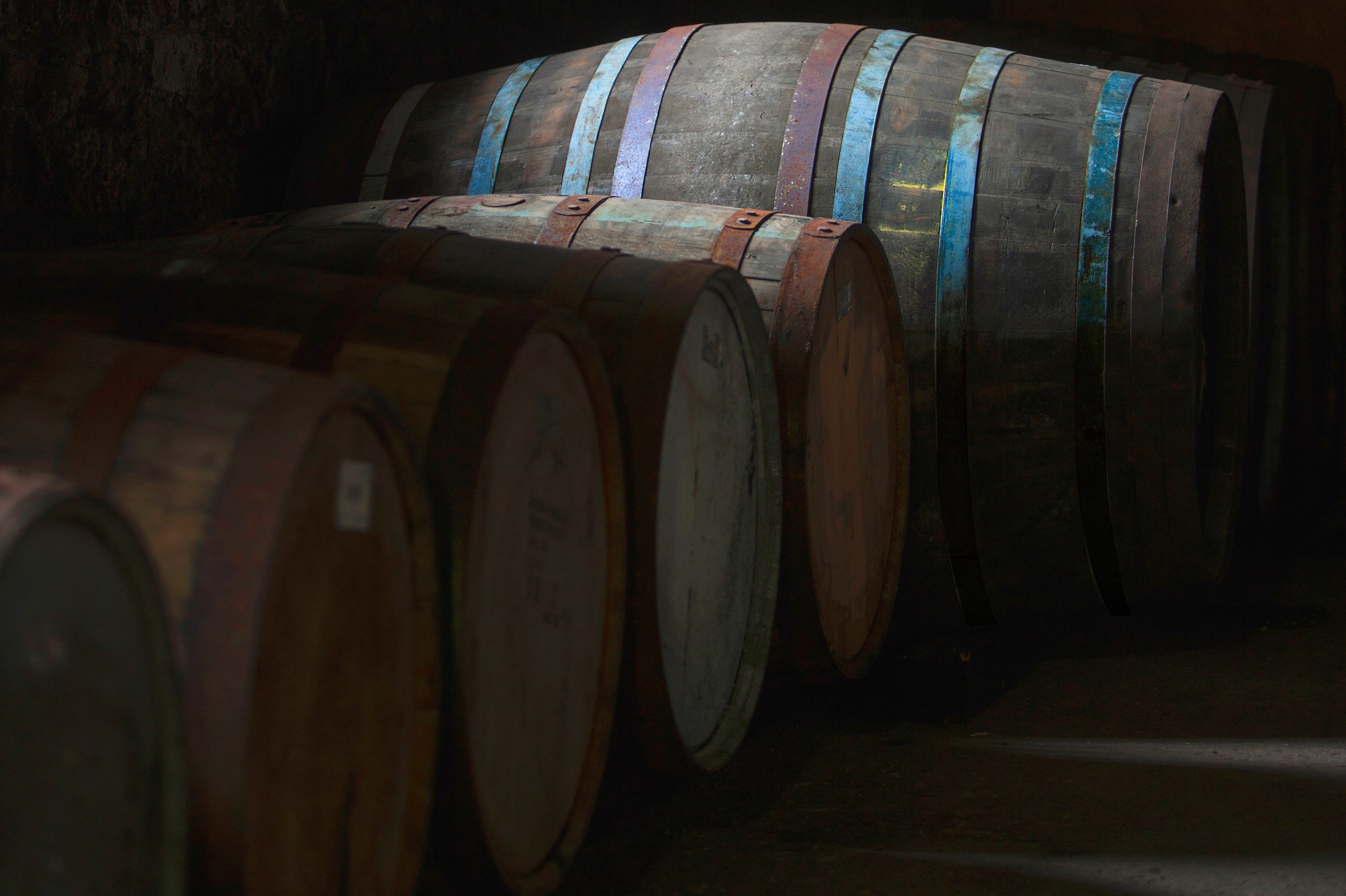 That exciting looking cask could be yours…
Provided with the chance to sample these whiskeys, I couldn't pass up the opportunity to taste a single pot still whiskey that was at least 32 years old…
Midleton Very Rare Cask Circle cask #25829 (single pot still – second-fill bourbon – distilled 1984)
A super fruity whiskey! Tropical fruits, overripe melon, fruit salad and Fruit Salad sweets! This continues with honey, some spice and a syrupy fruitiness akin to a well-aged Glenlivet. Tasty stuff indeed. The cask price was said to be €330,000, which means each bottle could cost you north of £2,000.
In terms of the other cask styles, whilst I wasn't able to taste the specific Cask Circle samples, I've tasted 19 year old single pot straight from a Port cask at Midleton previously and that was tremendous: "full of damson, butterscotch and Campino balanced with a spice edge, liquorice and hints of mint or tarragon."
So, Midleton Very Rare. Experience it yourself, from a bottle of sublime ex-bourbon matured Irish blended whiskey in shiny new packaging for £160-£180ish, right up to the ultimate personalised single cask ownership packages from tens to even hundreds of thousands of pounds!


Jake


* "It's not even Halloween yet Jake, shut up already!"