The world has got a taste for Irish whiskey! With 2016 sales soaring by 11.3%, we explore the state of the market, from the new distilleries, to who is actually drinking it all…
The Irish Spirits Association has issued the results of its first-ever market report. And it makes for very interesting reading. Even though alcohol consumption itself in Ireland has been steadily falling (take that, lazy stereotype) exports of Irish spirits are growing at an ever-increasing rate.
"This is the first-ever industry and market report issued by the Irish Spirits Association and it comes at a time when our sector is undergoing vibrant growth and has a lot to be proud of," said John Harte, chairman of the Irish Spirits Association. "Overall, the Irish spirits industry is delivering more exports, more jobs and unprecedented GDP growth. We are on target to exceed the Government's FoodWise 2025 targets."
As you can see from this empirical evidence, people are drinking Irish.
There's no place like home…
Irish people are not just spectators in the great Irish spirits revival. The report reveals that the majority of spirits consumed in Ireland were made there. Purchases in the off-trade made up two-thirds of all sales. The stats also show that 1.3 million people in the Republic of Ireland consumed a spirit drink in 2016 (welcome back, lazy stereotype). That's a lot of money us Irish are putting back into our own economy.
The strength of Irish agriculture has also been a key component of this story. Irish farmers sold 85,000 tonnes of Irish malted barley and 316 million litres of fresh cream to the Irish whisky industry in 2016. Sourced from 46,000, patriotic, green, white and gold dairy cows.
Despite this, over the past 10 years the overall consumption of spirits in Ireland has fallen by 19.2%. Is anyone keeping score with that lazy stereotype? Ireland's current success is ultimately due to the world's appetite for Irish-made spirit. A trend that seemingly shows no signs of dissipating…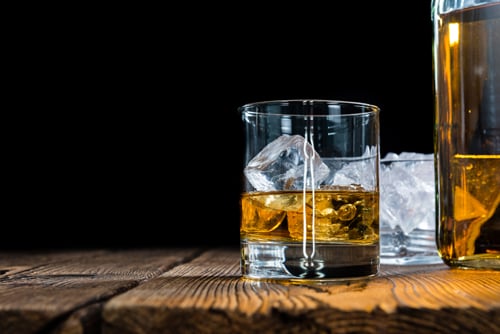 Irish spirits sales are booming
There's no place like abroad…
The Irish Spirits Association report revealed that, in 2016, the total value of Irish spirits exports increased by 6.1%. Gin is currently the spirit taking the Irish market by storm. It's the fastest-growing spirit category among Irish consumers, growing by 31.6% in 2016. Similar levels of growth are being reported for the first half of 2017. But it's the value of Irish whiskey exports to all international markets which remains unparalleled.
According to the report, sales of Ireland's GI spirits – Irish whiskey, Irish cream and poitín – totalled nearly 16 million cases (200 million bottles) globally in 2016. Irish cream had a torrid last decade, but 2016 saw a slight return to growth. Volumes increased to 7.241m in 2016, compared to 7.197 in 2015.
Global sales of Irish whiskey increased by 11.3% alone in 2016, reaching a huge 8.7 million cases, (that's more than 100 million bottles). Exports accounted for 8.2 million cases of that figure, itself an 11.8% annual increase. Premium Irish whiskey recorded growth of 135% in the last five years. And the combined value of sales of all premium, super- and ultra-premium Irish whiskey grew by a similar percentage, exceeding €330 million in 2016.
Gaining ground
Ireland, however, is not the current leaders of the whiskey export market. That distinction belongs to the United States. Its overseas case sales shot up more than 17.6% by 3.66 million. Yet Ireland placed second on this particular leader board, selling an extra 521,000 cases abroad – an improvement of 3.4%. They're closing in!
All jokes aside, this rate of total overall growth means Irish whiskey remains the world's fastest expanding spirits category. The current export target, set by The Irish Whiskey Association's 'Vision for Whiskey', is 12 million cases by the year 2020. But the current growth rates suggest it will comfortably exceed expectations.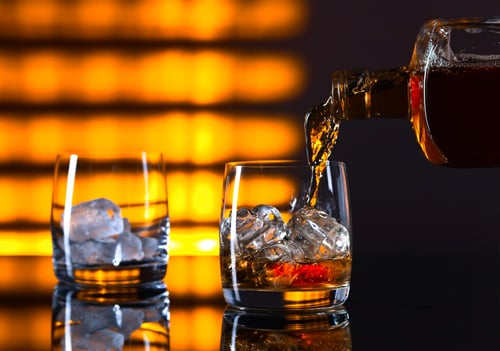 Pour another one, then…
Whiskey tourism is the best tourism
The Irish whiskey trade shows no signs of letting up. And the increase in the total number of distilleries in Ireland demonstrates this point. This is a key contributor to the industry's success. It not only expands the range and type of Irish whiskey available to the consumer. But simultaneously provided jobs, infrastructure and tourism potential.
It wasn't that long ago that Ireland had only four operational whiskey distilleries. Bushmills, Cooley, Kilbeggan and Midleton. Since then, 14 new distilleries have been built. Including the likes of Dingle, Blackwater, Teeling, Tullamore, Slane Castle and Rademon Estate. That takes the total number of operational distilleries throughout Ireland to 18. And plans are afoot for another 14.
Whisky-lovers have taken full advantage of the change in fortunes. In what will inevitably be termed at some point an 'Irish Holiday', whiskey distillery visitor centres in Ireland reported a total of 733,000 visitors in 2016. Up an incredible 12.2% from 2015. That's already the equivalent of one-sixth of the population. And The Irish Whiskey Tourism Strategy aims to grow this figure to 1.4 million by 2020.
Exciting times ahead for Irish whiskey…
With the fastest-growing spirit in the world, the future of Irish whiskey is looking very bright. The excitement is genuinely palpable. And the potential for new and current producers to implement change and produce a variety of volumes and styles is limitless. Ireland doesn't have the litany of established distilleries Scotch has. This means there is space – space to build, to innovate, and to enjoy!
William Lavelle summarises that the report "paints a bright picture of a dynamic industry with a vast economic footprint,". Adding, "the spirits sector is a major employer and a significant supporter of Irish farmers. It is an industry that can deliver even more exports, more jobs and more domestic sourcing if we're allowed".