No expense was spared for one Macallan super-fan, who recently smashed the world record for a cask sale at auction when they splashed out HK$2,928,000 (about £285,000) on a 30-year-old Sherry hogshead.
It is a truth universally acknowledged that a person in possession of a good fortune must be in want of… An entire Macallan cask? Not quite Jane Austen's vision for Pride and Prejudice – though a dram or two would perhaps have made the narrative a little more lively – but it was certainly the mantra of one wealthy Speyside Scotch whisky enthusiast earlier this month.
The record-breaking cask was filled on 13 April 1987 at what was then known as the Macallan Glenlivet Distillery. There it happily matured, fanned by doting warehouse workers and gathering gold-flecked dust. Or so you'd like to think if you're paying more than a quarter of a million pounds for it.
Still, for all that money at least said buyer has plenty of delicious whisky? Hmm, not so. According to Spink, the auction house responsible for the sale, the Macallan cask is "rather small" and will only decant 288 bottles – which also makes it the most expensive per-bottle barrel ever sold on the secondary market (working out at HK$10,166 each, or around £991, if you're interested).
Spink initially forecast the cask to sell for around the £224-233k mark according to Angie Ihlo Fung, resident auctioneer and whisky specialist, who added that the house is "most content" with the hammer price.
"It is very rare to see an aged Macallan Sherry cask," she said in a statement. "Never before has anything like that been offered to the public. As the action went on, we saw determination from buyers participating from different parts of the world, and it reached a price it certainly deserves."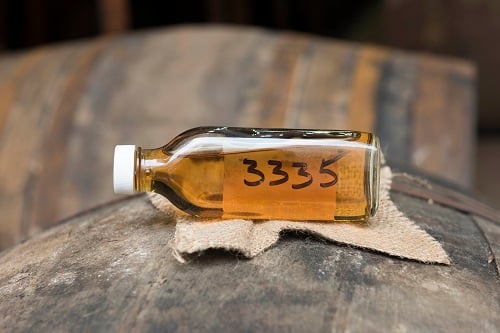 Is the cloth included?
Love it or loathe it, the secondary whisky market is rapidly appreciating in value. No longer content with simply buying a bottle and revelling in its glorious contents, shrewd business types look upon whisky as a collector's item, a profitable commodity, and a highly investable sector. (To the dismay of many a whisky fan when bottles get 'flipped' – but that's a discussion for another time…)
This is particularly true for The Macallan – in the UK alone, the brand now accounts for almost £300 out of every £1,000 spent at auction, according to analyst, broker and investment firm Rare Whisky 101. Yep, as you're all well aware, whisky is (figuratively) hot right now – the trouble is, there's plenty of people looking to buy the old and rare stuff, but, as time goes on, there's not a whole lot more old and rare whisky left to buy…
A growing number of distilleries have proffered a solution in the form of various buy-a-barrel schemes – filling fresh casks with lots of lovely new-make and flogging them to investors keen to nurture tomorrow's whisky while making a buck or two. Meanwhile, tech-savvy opportunists have tapped into the digital arena with booze-trading marketplaces, giving dedicated collectors a space to relentlessly share 'Looking for Pappy' posts.
Whichever way you look at it, second-hand whisky seems set to be a long-term money-maker for everyone involved. Perhaps someone should've forewarned Austen – though apparently brewing beer was more her vibe. When she wasn't penning classic novels, of course.