‐ Single pot still Irish whiskey is made using malted as well as unmalted barley (and up to 5% other unmalted cereals)

‐ The world's best-selling single pot still Irish whiskey, the award-winning, rich and creamy Redbreast 12 Year Old is available for reduced price of £35.99 until St. Patrick's Day!

‐ WIN two 70cl sample bottles of 16yo Redbreast drawn from a single Sherry cask selected by Master Blender Billy Leighton!

With St. Patrick's Day (17th March) just around the corner, we're looking at Redbreast Irish whiskey from the truly excellent Midleton distillery in Cork. To mark the occasion we're also reducing the price of delicious Redbreast 12 Year Old to £35.99 (down from £40) until the big day, which means there's literally no reason not to buy a bottle immediately! It's the best-selling single pot still Irish whiskey in the world and an absolute award magnet that's adored by critics, but there's more… Everyone who buys a bottle of Redbreast 12 Year Old from now until the end of St. Patrick's Day will be automagically entered into our draw to win 2x totally exclusive bottles (as in '2 of 2′) of 16 year old Redbreast drawn from a single Sherry cask selected by Irish Distillers' affable Master Blender Billy Leighton! (No purchase necessary – see Terms & Conditions below.)

UPDATE: Congratulations to Simon Bennett, who was our lucky winner! Enjoy your incredible Redbrest prize!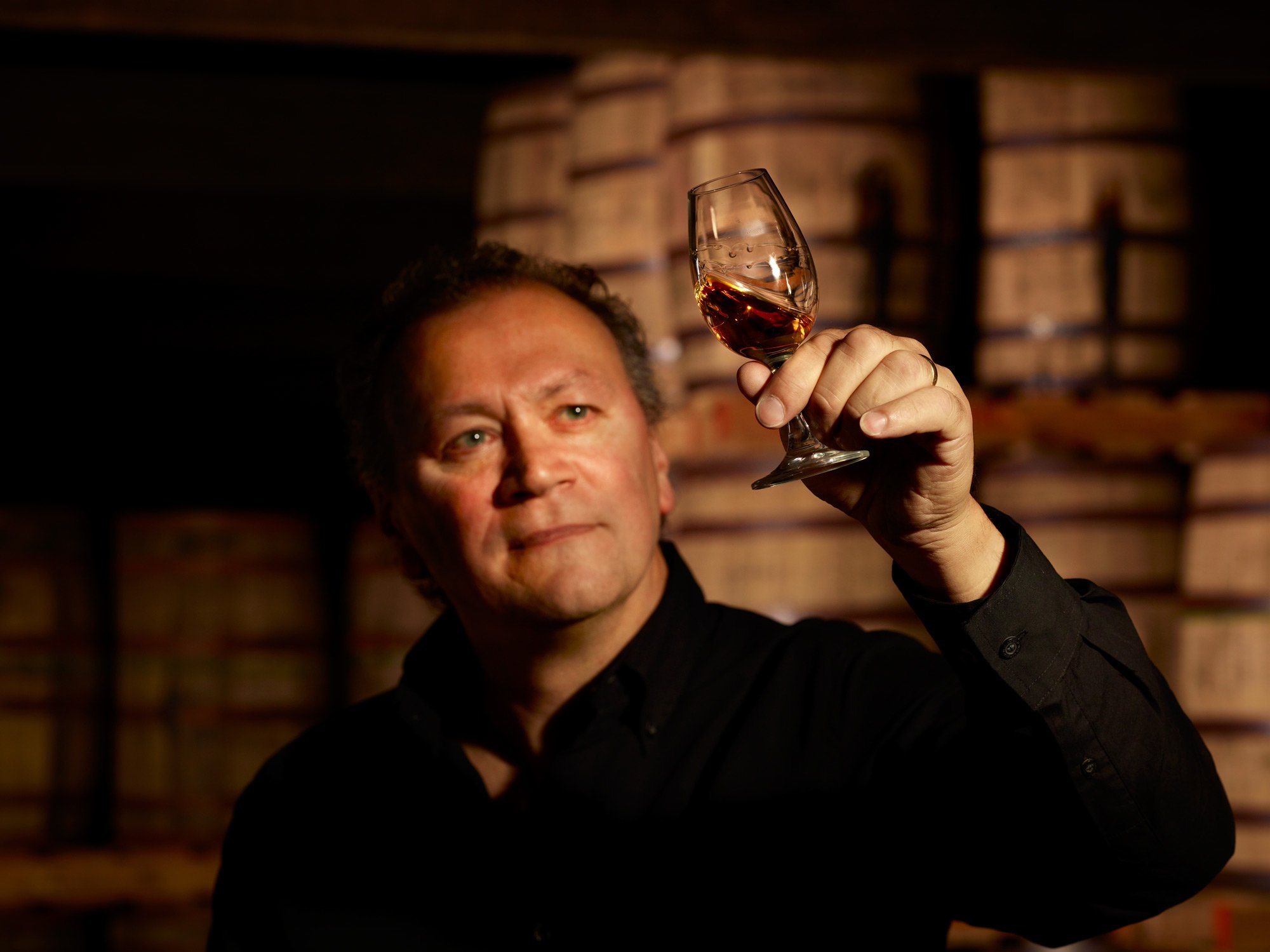 Master Blender Billy Leighton and the ruby nectar that is Redbreast Irish whiskey!
Our Competition Prize
The cask selected is #17126, a first-fill Sherry cask filled on 5th March 2001. We can also tell you that it's from warehouse M15A (bay no. 9) and despite qualifying for inclusion in Redbreast 15 Year Old, the rest of the cask is earmarked for use in the next batch of Redbreast 12 Year Old Cask Strength (an age statement only tells you the age of the youngest component when you're not talking about single casks, of course). This unique prize consists of two clear glass 70cl sample bottles – one to treasure for later and one to crack open and taste right away – that are strictly not for resale. For those who really know their Irish whiskey onions, the distillate used was the lighter style (a relative term) of pot still that's used in the creation of Redbreast. It's a truly incredible prize that has us all bristling with excitement here at MoM towers, but let's hear a little more from Billy Leighton himself about the whiskey in question…
"What I've done is looked at every aspect of what we're doing here, thinking where we are with stock that we're currently using in Redbreast and it immediately came to mind that we're in a particularly rich vein of Sherry casks going into the Redbreast 12 Year Old Cask Strength, so that was the first place I went to come up with a suitable cask. I had quite a few cask samples and I'd picked one out and got some other people look at them and they pretty much all come back to the same cask, which is a good sign!
It has a good Sherry influence while at the same time maintaining the distinctive Midleton style of pot-still spiciness, which is complementary to the contribution coming from the Sherry seasoning and also from the Spanish oak so there's a nice balance of flavours."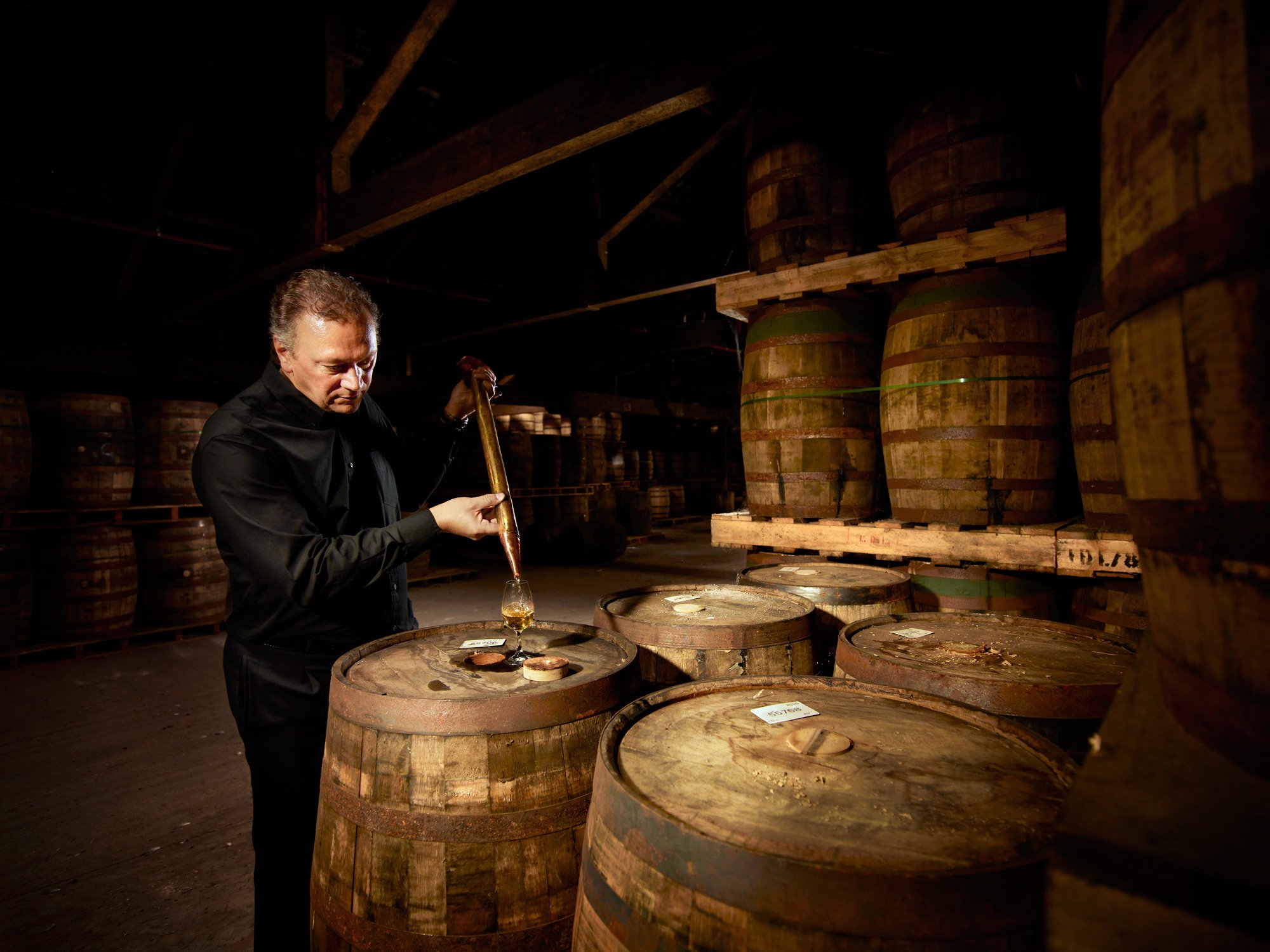 History of Redbreast Whiskey
The story begins in London shortly after the end of the Crimean War with Walter and Albert Gilbey beginning to import wines from South Africa. Didn't see that coming, did you? (Or perhaps you did – you're a knowledgeable bunch!) The endeavour was a great success and in 1857 W & A Gilbey was founded with basement cellars for their retail operation in Oxford Street. Branches in Edinburgh, Belfast and, crucially, Dublin would follow, with as many as 1,000 wine casks held in Dublin alone by the early 1860s. During the following decade their range of wines as well as spirits continued to grow, with over 300,000 gallons of whiskey held under bond by 1874 hailing from "the most celebrated Dublin Distilleries", especially John Jameson's Bow Street distillery.
In 1887 Gilbey's then released their first Irish whiskey that explicitly stated that it was "John Jameson & Son's" on the label, a 6 year old called Castle Grand Whiskey. The first whiskey actually labelled as "Redbreast" was Redbreast J.J. Liqueur Whiskey 12 Years Old (the J.J. standing for John Jameson, of course) in 1912. Described as "famous" from the outset, this is because it had almost certainly existed as John Jameson & Son's Castle JJ Liqueur Whiskey 12 Years Old since 1903.
The name Redbreast comes either from the reddish hue of the whiskey itself (from the Sherry casks used) or perhaps from the red seal on the shoulder or 'breast' of some of these early bottlings (itself probably a reflection of the whiskey inside). It's thought the name was originally coined by a Gilbey's chairman with a passion for birdwatching and other releases may have been known as "chaffinch" and "yellowhammer" at the time!
At some point Redbreast also earned the nickname 'the priest's tipple' or 'priest's bottle', understandably making its way into many a presbytery! By the 1960s around 18,000 litres of Redbreast was being bottled each year, but the once world-beating Irish whiskey category as a whole had fallen on difficult times for a variety of reasons too complex to do justice here (but covered more satisfactorily in my History of Irish Whiskey blog post from a couple of years back).
"Redbreast is a reflection of Irish whiskey as it used to be, and how it should be…"
With just five whiskey distilleries surviving through to the 1950s and '60s, the three in the Republic of Ireland (Dublin's Jameson and Powers as well as Cork Distilleries Co.) joined to form Irish Distillers in 1966 (Bushmills would go on to join in 1972 with their Coleraine distillery closing). Understandably during this period of crucial consolidation and rebuilding, they concentrated on building their own brands and stocks rather than supplying bonders or bottlers. No doubt aided by Redbreast's reputation, Gilbey's continued to be supplied right up until the summer of 1971, however, when Jameson's Bow Street distillery closed for good.
Thankfully, that's not the end of the story. The single pot still style of those "most celebrated Dublin Distilleries" continued to be produced by Irish Distillers at their shiny New Midleton distillery down in Cork, which opened in 1975. Gilbey's, meanwhile, would continue to bottle Redbreast using their dwindling stocks into the 1980s, the final bottlings dating from as late as 1985. (By this time some rather high proportions of much older whiskey were making it into a 12 year old!) Shortly afterwards, Irish Distillers purchased the much-loved brand and set about recreating this Irish classic. Redbreast 12 Year Old relaunched in 1991 to much rejoicing and rave reviews. As Michael Jackson said at the time "For some lovers of this style, Redbreast approaches perfection."
In 2005 (shortly after Billy Leighton became Master Blender) the rich Redbreast 15 Year Old joined the family, followed by the launch of the exquisite Redbreast 21 Year Old in 2013. The Sherry finished Lustau Edition was also released recently, and a Cask Strength 12 Year Old is a longstanding favourite released in batches.
Production of Redbreast Whiskey
Redbreast is a single pot still Irish whiskey, alternatively known as 'pure pot still' up until 2010, a style entirely unique to Ireland. The key difference between single pot still and single malt (both distilled in pot stills, of course) is the use of unmalted barley alongside malted barley, an Irish tradition that dates back to the 18th century following malt taxes imposed by the English. This unmalted barley provides spicier notes and a creamier texture to the spirit. Since the Irish Whiskey Association came into being in 2013 (much like with the long-established SWA in Scotland), rules around production have been formalised to a much greater degree. A pot still Irish whiskey has to be made with a mash of at least 30% unmalted barley as well as at least 30% malted barley as well as an optional up to 5% other unmalted cereals (having precedent with older whiskeys made with a small amount of oats, for example).
At Midleton, unmalted and malted barley are used at a ratio of around 60:40 with different distillate character (heavier/mid/lighter – all triple-distilled) achieved using different cut points. Classic Redbreast was matured in a combination of Sherry and bourbon casks (it's said Gilbey's used a ratio of 2:1 as a rule of thumb) and the same is true today aided by Irish Distillers excellent wood policy developed from the 1970s onwards with only the finest first-fill casks used for Redbreast. The Sherry butts that provide so much of Redbreast's rich colour and dried fruit notes are built to order at Antonio Paez Lobato cooperage in Jerez, filled with Oloroso and seasoned for a couple of years before being shipped to Ireland where 5th generation Master Cooper Ger Buckley is on hand to make any necessary repairs.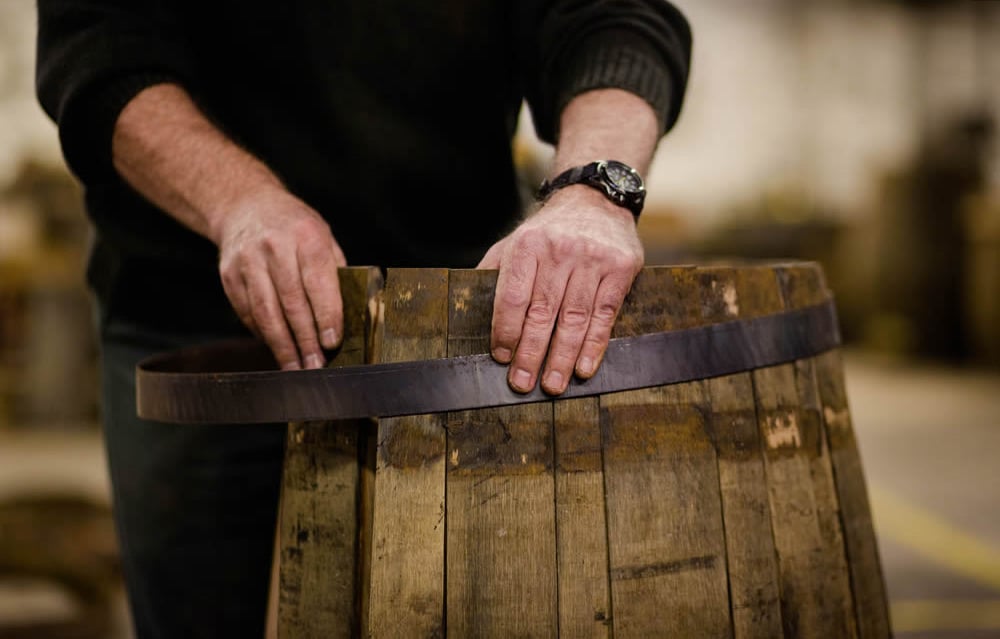 Master Cooper Ger Buckley learnt his craft from his father and uses tools passed down from his grandfather on a daily basis.
Redbreast 12 Year Old
The classic Redbreast 12 Year Old is the heart of the Redbreast family, and it's just £35.99 until St. Patrick's Day! You know what to do. You may even scoop our prize too!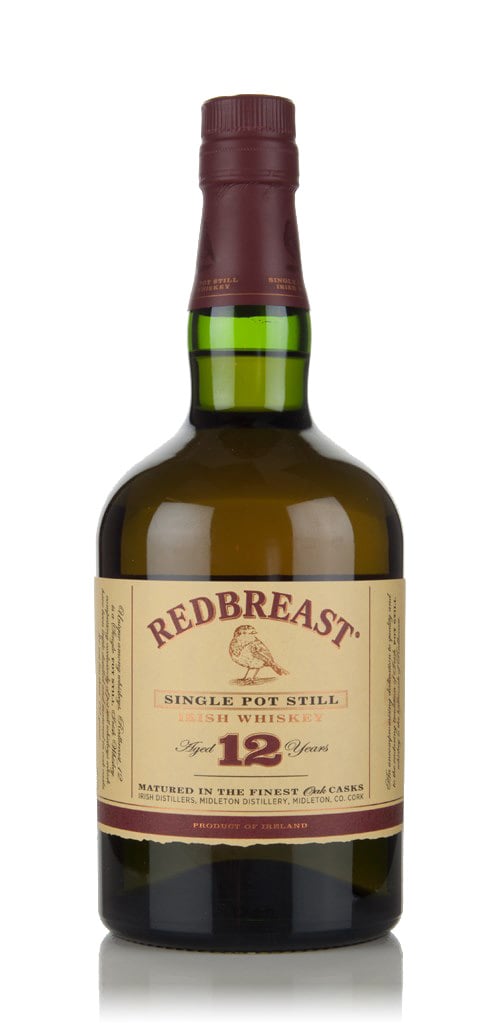 Tasting Note for Redbreast 12 Year Old
Nose: Nutty, rich and oily. There are notes of dried peels, ginger, linseed and cut fruits including a touch of melon.
Palate: Spicy with great body. Nuts and citrus (peel and juice) with hints of marzipan, dried fruits and a hint of Sherry. You turn it over in your mouth forever.
Finish: Long and creamy with custard and spice.

Enjoy and good luck!

Jake