Last week we headed to Johnnie Walker's impressive Princes Street attraction to enjoy the final Masters series bottling and salute master blender Dr. Jim Beveridge OBE who is retiring, leaving an industry that's now in a better place. 
The pandemic hasn't really slowed down the Striding Man. It's been all change at Johnnie Walker in recent times, opening its flagship Princes Street visitor attraction in Edinburgh this year and transforming the company's 12 distillery visitor experiences around Scotland as part of a £150 million investment programme. One unwelcome development, however, was the announcement that master blender Dr. Jim Beveridge OBE would be retiring on New Year's Day.
Only the sixth person in the company's long history to hold the position (John Walker himself was the first), his role was to oversee innovation and preserve liquid quality at the world's largest Scotch whisky brand. Beveridge began as an an analytical chemist in 1979 and he credits United Distillers (later Diageo) for the comprehensive education he received. He arrived at a time when the firm was investing in the science and technology of whisky‐making which helped established many of today's common blending practices. 
After 40 years in the business, in October 2019, Dr. Beveridge was presented with his OBE medal by the Queen during an investiture ceremony at Windsor Castle, in recognition of his remarkable career. I like to think Her Majesty remarked on how apt his name is. Regretfully I didn't ask him when I was lucky enough to pick his brain on a visit to Princes Street last week for the launch of Masters of Flavour and a celebration of his legacy.
The quiet innovator
If you're not as familiar with the man, then you'll certainly be familiar with the whisky. Over the years Dr. Beveridge has been responsible for the creation and/or management of Red Label, Black Label, Double Black, Green Label, Aged 18 Years and, a highlight for him, Blue Label. It's impressive how much he's been able to push the brand forward, giving the legacy that looms over him. When you work with Johnnie Walker, if you mess up you don't just let down the paying customer, but a couple of hundred years of history. No pressure there. Now factor in the unbelievable task of blending whisky of significant age. In Masters of Flavour, which we'll go into greater detail on in a moment, every whisky is at least 48 years old. Imagine getting that blend wrong? For Dr. Beveridge, he's typically calm in his response, saying he sees the privilege in working with whisky of great age and enjoys feeling the presence of those who came before.
It's not the most glamorous part of the job, but something he'll leave to his successor is a responsible framework for stock management. He says that at any one time, the blending team has hundreds of ongoing experiments. The scale of the brand means working with a vast range of distillates varying in age statement, style, and cost, which he has to juggle for the core range and new innovations. For Dr. Beveridge, the issue of stock management has a simple solution: whatever you do, flavour comes first. 
The master's legacy
This approach might explain why Dr. Beveridge has been able to keep pace with change without simply giving into trends. A restless pioneer who was never bothered by age statements or insisted on how his blends should be consumed, what excites him is the chemistry and technology that provides a framework for flavour. 
In keeping with Johnnie Walker's history as a popular brand, Beveridge has a knack for making whisky for people who aren't typical whisky fans. What stood out most at Princes Street, however, was the way everyone associated with the brand spoke about him. In fact, ask almost anyone in this industry about Dr. Beveridge and they'll light up, regarding him as a driving force behind the reevaluation of the reputation of blends and crediting him for some of whisky's most popular, enduring and important bottlings.
Yet despite all this, he remains the most modest of men. At the event, he thanked the writers in attendance for how we've helped shaped whisky (you're welcome) and demonstrates how he's willing to listen to consumers and whisky lovers for direction. He was also consistent in the homage he paid to the facilities, resources and, most importantly, the people he has around him. There are 14 members in the blending team, with incoming master blender Emma Walker among those who have benefited from his trusting, hands-off mentoring and lessons in quality control, consistency and innovation. You don't need to ask him what his legacy is as far as whisky goes, the spirit speaks for itself. But I got the sense that what he's most proud of are the people who will carry Johnnie Walker forward in his image.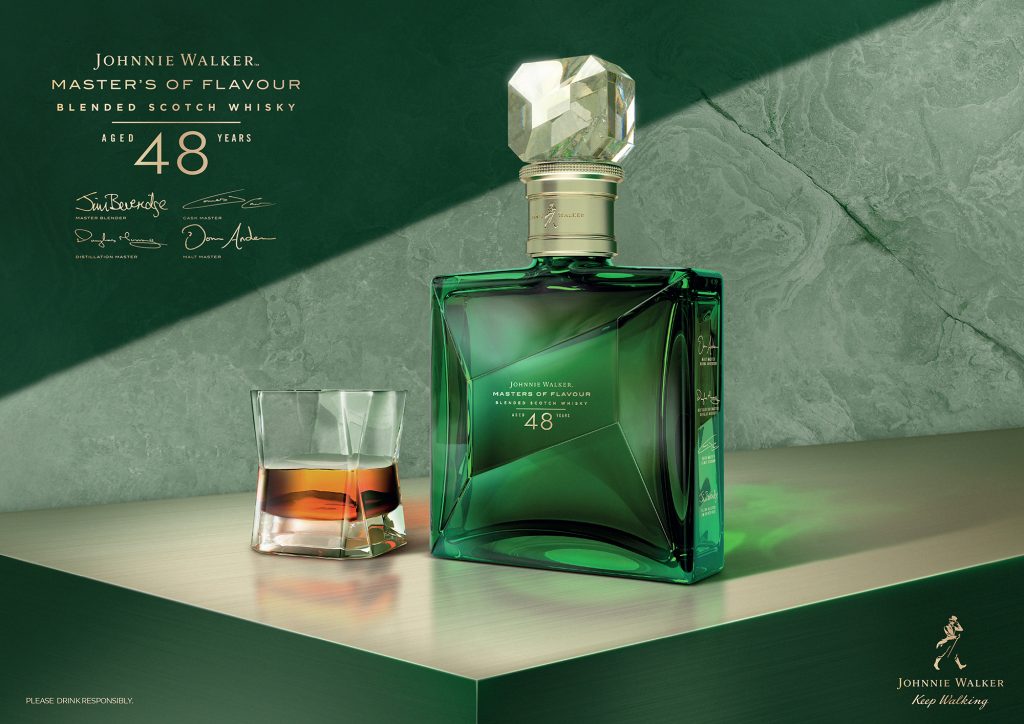 Johnnie Walker Masters of Flavour
Usually when you retire you get a gift, but Dr. Beveridge has been kind enough to leave us with a parting gift instead, the third and final whisky in the Johnnie Walker Masters series. Masters of Flavour is another extremely rare Scotch created by Beveridge in collaboration with distillation master Douglas Murray, cask master James Carson, and malt master Donna Anderson to make something that celebrates four of the main whisky-making processes: malting, distilling, maturation and blending. 
Every whisky in Johnnie Walker Masters Of Flavour was aged for at least 48 years, with spirit being drawn from ghost distilleries of Glyn Albyn, Port Dundas, Brora (now back) and Glenury Royal, as well as Cameronbridge, Blair Athol, and Dalwhinnie. It was bottled at an ABV of 41.8% and it will set you back 20,000 of your finest British pounds. I won't say it's worth it, because I can't even begin to conceive of spending that kind of money on anything (although if you do have the kind of walking around money, we will be getting some), but it is outstanding. 
There's a delightful aged grain sweetness at the core with rich malty qualities and abundance of bright tropical fruit offering tremendous contrast. It's so vibrant for a dram of its age and develops beautifully, with a matrix of flavours ebbing and flowing over time. Overall, it's an exercise of exceptional balance. Master of Balance would be as good as a title. As it would for Jim. Cheers to you. Here's a tasting note:
Nose: Ripe tropical fruit, subtle fireplace smoke and musky oak combine with an underlying grain sweetness (Scotch tablet, foam banana and creamy vanilla). There's also touches of darker fruits, marmalade on wholemeal toast, sea air and old books.
Palate: Rich and oily with exotic fruit and vanilla custard taking centre stage again, with stewed orchard fruit, butterscotch, an underlying herbaceousness, a little star anise, and warming oak in the backdrop.
Finish: A little ginger, black pepper, molasses, and mango.