It's (probably) the spookiest weekend of the year, but before you cover yourself in fake blood and wander around with a plastic hatchet "lodged" in your head, fill that noggin with news from The Nightcap.
Halloween is awkwardly on a Wednesday this year, meaning if you're not getting spooky on the actual day, you have to make a choice whether to celebrate it this weekend or next weekend. However, since there would be a clash with Bonfire Night (and no one wants to mix pretend spookiness with actual explosions), we expect many of you will be donning your costumes this weekend. Before you do so, we've got the low-down on this week's booze news all here in The Nightcap.
Here on the MoM Blog, Annie found out more about how Chilean Pisco gets made and took a look at another excellent Cognac producer – this time it was Merlet & Fils. Adam got in the spirit of the season with some super spooky Halloween spirits, then got to taste a 51 year old Craigellachie (and you could too!). Kristy headed up to London to see the launch of That Boutique-y Rum Company, and all nine bottlings from the launch are available on masterofmalt.com right now. Convenience at its finest.
And now, the news.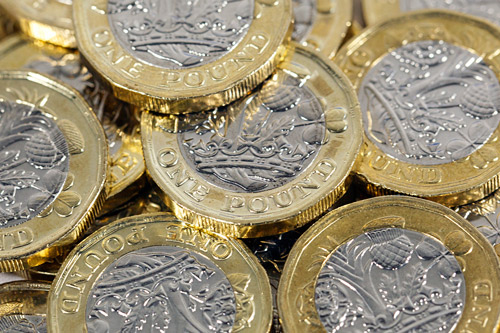 Will we be saving some of these?
Will the Chancellor raise duty on wine and spirits on Monday?
It's Budget day on Monday and Britain's drinkers are hoping that the Chancellor, Philip Hammond, will throw them a bone for a change. Britain is already one of the highest taxed nations in Europe when it comes to boozes. Duty on a bottle of whisky is £8.05 with 20% VAT on top of that. With the stakes that high, the WSTA (Wine & Spirit Trade Association) has provided a handy guide to what we are expecting. Alcohol duty is predicted to rise in line with RPI inflation, though in the March 2017 Budget it was raised more than that. So that's an extra 26p plus VAT on your whisky. It's a similar story with wine. Since 2010, wine duty has increased by 28%, adding 48p in duty to a bottle of still wine. The WSTA is calling for a duty freeze to help boost an industry which plays a huge role in the economy. According to the WSTA, between them, wine and spirits contributed nearly £17 billion in duty last year. Independent figures produced by EY Analytics show that a duty freeze will increase economic activity and leave the Treasury no worse off. So come on Phil, help the Great British Booze Business on Monday.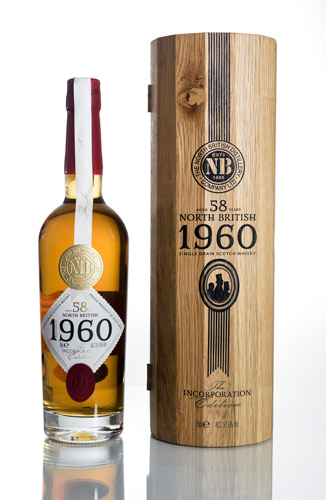 The very first distillery bottling of North British
North British Distillery releases first ever commercial bottling, distilled in 1960
Legendary grain distillery, the North British in Edinburgh has never released a commercial whisky, until now. As you might have guessed, it is a pretty special liquid. Distilled in 1960, it has been slumbering in a hogshead ever since. Released in conjunction with Scotch whisky specialist Douglas Laing & Co, it's called the "Incorporation Edition" to commemorate the day, 24th October 1885, when the distillery was founded by consortium of distillers (it is now owned jointly by Diageo and the Edrington Group). Only 222 bottles have been produced, each presented in a hand-made oak casket and priced at £1,700. Alan Kilpatrick, the distillery's managing director, commented: "As the eleventh managing director, it is my great honour and privilege to release this single cask, our first ever commercial bottling." Fred Laing, chairman at Douglas Laing, added: "As a family, we have long been single grain enthusiasts and as a business, we have equally been long term proponents of the single grain category – the fit is ideal."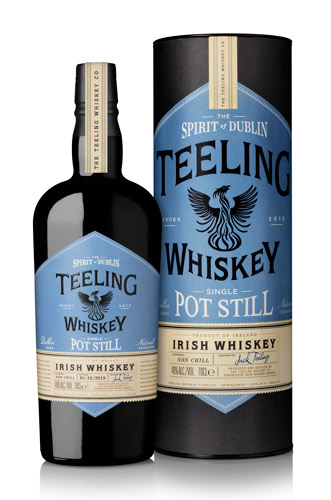 Teeling's first whiskey, and the first distilled in Dublin in a long while
Today is Teeling Day! The distillery's first single pot still whiskey is ready
BIG news for Irish whiskey fans. Teeling Whiskey has declared 'Dublin whiskey is reborn' with the release of Teeling Single Pot Still Irish Whiskey, the first commercial release from its distillery! It's a historic moment: the brand has done the sums and this is the first Dublin-distilled expression to hit the market in over 50 years. Cue much fanfare! Technically 100 bottles have already been snapped up in a September auction when bottle number 1 netted £10,000 for local charities. But in terms of bottles-on-shelf, this is the first release. And the team are EXCITED. "When the Teeling Whiskey Company was formed in 2012, my vision was to revive Irish whiskey distilling in Dublin and put our capital city back at the top table of whiskey producing areas in the world," said Jack Teeling, founder and managing director. "While we have achieved a lot over the subsequent six years, the release of our own Dublin distilled whiskey completes the revival of the craft of distilling in Dublin and hopefully draws us into a new renaissance for not only Teeling Whiskey but Dublin distilled Irish whiskey as a whole." What of the liquid itself? It was produced from a 50% malted, 50% unmalted barley mashbill, a recipe made famous by historical Dublin whiskey-makers. Distilled in 2015, the expression was matured in virgin oak, ex-bourbon and ex-wine casks, and bottled at 46% ABV for a "distinct" pot still flavour profile. Just 6,000 bottles have been released, priced at a tasty €55.00. Yes please.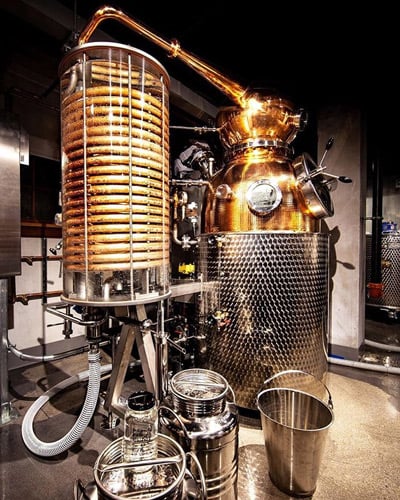 Moonshinin'
Criminal distillery opens in Las Vegas
Visitors to Las Vegas now have a new activity once they've seen David Copperfield, lost lots of money at the tables, and got married impulsively. Now they can visit the basement distillery in the Mob Museum. Yes, they have a mob museum in Las Vegas, and naturally it has a distillery in the basement. Tours cost $12 and last for 30 minutes. Visitors will learn about how the mob took over alcohol production and distribution during Prohibition, and permanently changed America's drinking culture. There's even have an onsite speakeasy in which you can try the distillery's 100% corn moonshine, vodka and Jamaica ginger infusion. Those looking for the authentic Prohibition experience, however, will be disappointed to learn that the moonshine won't kill you or make you go blind. Las Vegas has really lost its edge.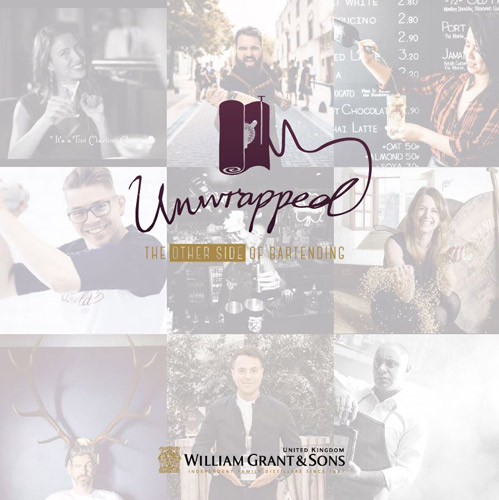 William grant's Unwrapped
Calling all bartenders! William Grant wants you for Unwrapped
Round of applause for William Grant, maker of Glenfiddich and Balvenie single malts, Hendrick's Gin and Reyka Vodka. No, not for its drinks-producing expertise (although we are super appreciative of that, obviously), but for its new bartender education programme 'Unwrapped – the other side of bartending'. Why the fanfare? Because this new scheme (only open to bartenders! Soz, everyone else) covers all manner of topics, from bar:ography (snapping those cocktails), gaining media coverage for your bar, boosting team morale, and figuring out how you can work at your most creative, all with a huge focus on mental health in partnership with industry charity The Benevolent and its #notalone campaign. It all kicks off this coming Monday (29 October) in Edinburgh, with a full-day programme followed by a bar takeover at The Voyage of the Buck to raise funds for SANE, a UK mental health charity. "Unwrapped is a great opportunity for all the brand ambassadors to share experiences and insights from the industry, as well as the passion we have for our brands," says Fabiano Latham, Reyka Vodka UK brand ambassador. "We want to create a benchmark for industry training programmes by delivering an engaging and interactive event where on-trade teams can come together and truly benefit in years to come." Want in? Email [email protected] or speak to one of William Grant's brand ambassadors.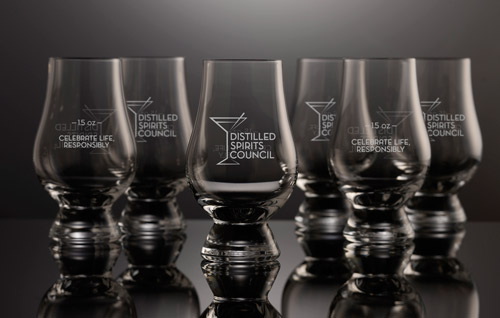 The official tasting class of the Distilled Spirits Council
Glencairn woos the Distilled Spirits Council of the United States
We are Glencairn glass fans here at MoM Towers. Many whisky types are. So it's always marv when we hear the folks behind the cleverly-formed drinking device are doing well. News reached us this week that the Distilled Spirits Council of the United States (v important trade group) has only gone and made Glencairn its official tasting glass provider! The first occasion for the glasses? The Council's Halloween media party. If anyone actually goes dressed as a Glencairn glass, we want pics, please. "We are delighted to have been chosen by such a prestigious and influential organisation within the US drinks industry as their official glassware partner," said Scott Davidson, new product development director at Glencairn. "Our design team has worked very closely with the Distilled Spirits Council to create a special version of our wee Glencairn glass for the occasion. We are excited to be able to showcase this to so many people within the spirits sector in the USA – one of our most important and expanding markets." Top work, folks!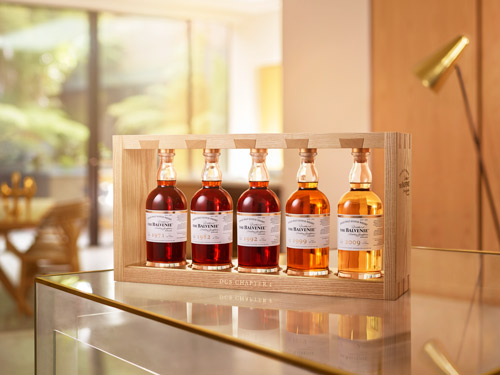 If we could figure out how to get the drooling emoji on the blog, you know we'd use it here
The Balvenie DCS Compendium Chapter Four is coming
'Expecting the Unexpected': that's the name of the penultimate instalment in The Balvenie's MEGA fancypants five-part Compendium of some of the flashiest whiskies in the distillery's stocks. In case you missed the memo, each 'chapter' comprises five expressions, accompanied by a book, documenting malt master David Stewart MBE's 56-year career in Scotch. In Stewart's own words, the whiskies in this collection comprise "highly unusual and unexpected characteristics that we wouldn't have thought possible from the type of oak they matured in and the maturation time they've been given". He continues: "It's incredibly exciting. Chapter Four gives us the opportunity to celebrate these twists and turns and allows us to release an extraordinary series of vintages, strides apart from our usual styles." The oldest is a 1971 expression matured in refill European oak oloroso butts, and apparently its off-the-chart richness led Stewart to think there had been a clerical error. But no! Then there's a 1982 oloroso sherry hogshead bursting with dark chocolate notes, an "experimental" 1992 bottling, a 1999 refill American oak hogshead with "vibrant" coconut notes, and a nine-year-old from a first-fill American oak barrel, which contains "distant smoke and peatiness" despite not being distilled during Peat Week. Intriguing stuff – and a collection that could be yours for a mere £29,000.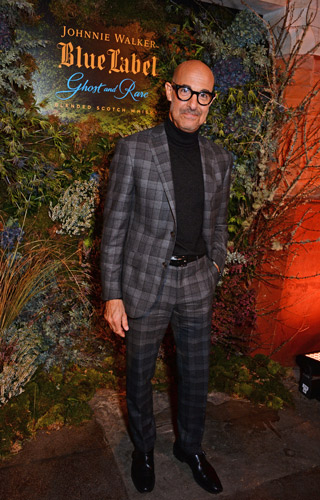 Stanley Tucci!
We checked out the Port Ellen Johnnie Walker and it was ace
Remember when we brought you news that Diageo was siphoning off some of its diminishing Port Ellen stocks for the second bottling of Johnnie Walker Blue Label Ghost and Rare? Yep, it's a thing. And this week, we got to taste it! A brief rewind: Blue Label Ghost and Rare is a new(ish) series of blended Scotch based around liquid from closed distilleries (i.e. 'ghost' – strong Halloween vibes). Alongside the Islay icon is liquid from two lost grain distilleries – Carsebridge (which closed its doors in 1983) and Caledonian (shut up shop in 1988). And when we tasted it (a joy!) those components really gave a velvety depth. Port Ellen might be the headline (we're here for that seaweedy bonfire smoke and cigar-like magic) but those grains really set it off. The whole experience was set in the atmospheric Welsh Chapel in central London, and to get in you had to walk through a mossy wonderland before scuttling across a pebble beach. Top marks for bringing the Islay alchemy to the city, Diageo folks. And then, if that wasn't enough of a bewitching experience, Stanley Tucci, off of actual Hollywood, recited a poem about Port Ellen, Borealis on the Bay, by Jon Plunkett. Rather marvellous all round.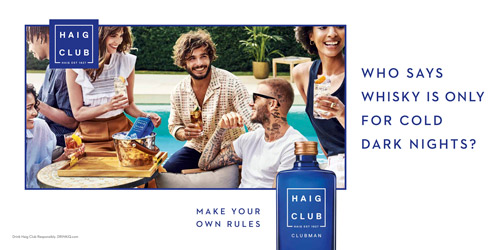 It's like they knew we were looking for an excuse to post another photo of David Beckham on the blog
Haig Club unveils new adverts – oh haiiii, Becks
We wouldn't usually feel the need to bring you news of new advertising campaigns (that's not really the point, right? You'll see them out in the wild anyway), but this one involves David Beckham, so please briefly indulge us. The campaign in question is Haig Club's Make Your Own Rules and it continues where last year's tellybox drive left off – essentially myth-busting a load of Scotch whisky preconceptions. Which we're definitely on board with. Shot by renowned New York fashion photographer Cass Bird, the three print ads carry the messaging 'Who says whisky is only for cold nights?', 'Who says you can't have whisky with a mixer?' and 'Who says whisky is for quiet nights in?' – all valid sentiments. "One of my favourite things about Haig Club is how it dares to be different," says Becks himself. "With this new campaign we wanted to encourage people to enjoy Scotch the way they want to." Who are we to disagree?!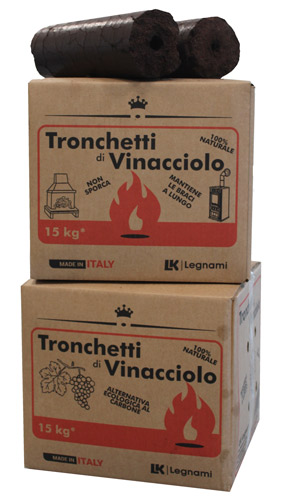 100% Naturale, whatever that means
And finally… Now you can heat your room with wine
There seems to be no end to the things that people are doing with wine: you can have a Cabernet Sauvignon body scrub or buy wine-scented candles. Some maniacs are even trying to drink the stuff. Now comes a new use for this versatile grape: heating your home. A company called Heat Hero Logs Direct are selling logs made in Italy from grape seeds leftover from wine and grappa production. Apparently they are easy to light, burn efficiently, and give off a nice smell. Though at £9.99 for nine, they aren't exactly cheap. The company describes them as "an ecological alternative to carbon" which is an odd way to describe them as grapes are mainly made from carbon. They probably mean an alternative to fossil fuels. Also oddly, they say that the logs will be "a great new talking point whenever guests arrive". Well maybe, but seeing as they look like dried dung, you will have to be really bored before bringing them up in conversation.