The evolution of family-owned Distillerie Merlet & Fils – trade eaux-de-vie supplier, world famous liqueurs producer, third-party distiller and own label extraordinaire – is unlike any other distillery in the Cognac industry. We took a tour with fifth generation family member, Luc Merlet…
"We are quite a diverse company," outlines Luc Merlet, as we wander around one of the company's warehouses. His father, Giles, founded the Merlet brand with the launch of his world-renowned fruit liqueur range in 1983, in response to the Cognac grape glut of the sixties and seventies – but the family has been distilling eaux-de-vie since 1850.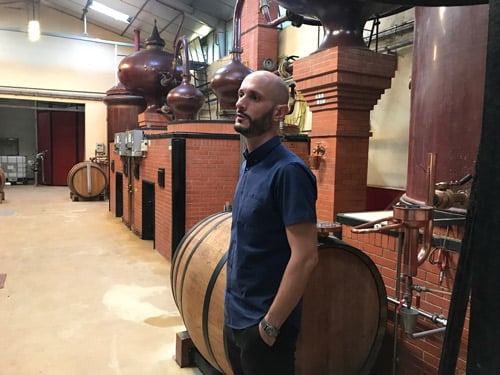 Luc Merlet!
"At that time we had just one still, two brothers started distilling their own harvest, and then they started distilling for others as well," says Merlet. "From the 20th century we started being exclusive to
Hennessy
. We diversified our activity in the seventies, making wine and grape juice. My father started to grow some blackcurrants at that time, and began making his own Creme de Cassis in the early eighties."
Things have changed markedly since then. The distillery has relocated from the quaint chateau in Saint Sauvant, which overlooks the family's vineyards (the chateau Luc, his brother, Pierre, and their father grew up in), to a larger site a few miles down the road. The entire operation, from wine production to ageing to vineyards to cellars, is spread across multiple locations.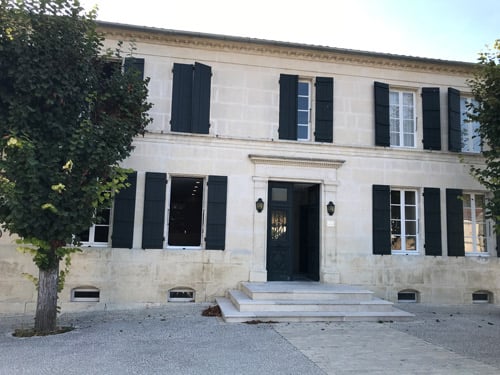 Distillerie Merlet & Fils HQ
Distillerie Merlet needs the extra space. Today, 50% of the business is made up of private label production, from vodka to rum, as well as bottling contracts. The company also owns Brazil-based cachaça distillery,
Maison Leblon
, which it bought back in 2008.
The Merlet liqueur range has grown vastly, both in terms of products and reach, to include flavours ranging from Crème de Mure to Sœurs Cerises, which is made using Cognac as a base spirit. The distillery still grows its own blackcurrants, and outsources the other fruits, such as peaches, raspberries, strawberries (as well as freshly ground coffee for Cognac Café).
The stills of Merlet
When the fruit arrives, it's weighed, crushed to make a puree, and blended with a mix of neutral spirit and water; around 2-4kg of fruits per litre of alcohol. The process of macerating fruits, adding sugar, and bottling the liqueur takes a minimum of two months, depending on the raw material.
"Very fragile fruit, like strawberries, takes two to three weeks," says Merlet. "blackcurrants or raspberries need around one month's maceration, and apricots or peaches can macerate for two or three months. At the end we strain the fruits, filter so we have an alcoholic infusion at about 25-30% ABV, and that's the base to make the liqueur."
When it comes to Cognac, today Distillerie Merlet supplies "several houses", including Martell and Otard, and the family keeps 10% of their distillate stocks for their own-label Cognac, which launched in 2010. "It's a good balance," adds Merlet.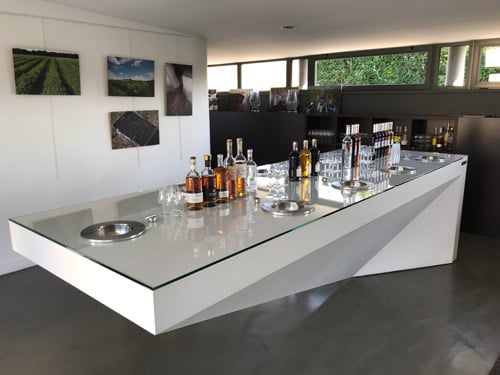 The Merlet tasting room with a table that looks impossible and floaty
"As much as we can grow Merlet as a Cognac brand we will do it, but it's step by step. Creating your own stock costs you money, and you need to build the stock, build the range of different products, build the sales as well."
Then there's the small matter of the harvest. This year, hailstone damage wreaked havoc across the region, leaving Distillerie Merlet with around one fifth of its usual harvest. Worse still, the late onset hot weather this summer means the grapes will have higher concentrations of sugar, which Merlet says is "not ideal for the quality" of the Cognac.
"Maybe we'll blend it younger," he says. "That's the good side of blending. This year you might make something that has more fruit in it, but something we cannot age for long. We can use it for young blends or blend it with older Cognacs to balance it."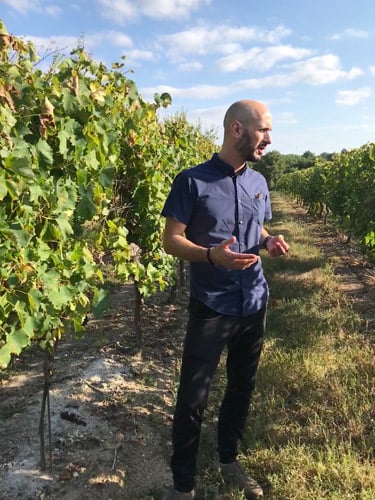 Luc Merlet out in the vineyards
To combat the shortage elsewhere, the team will tap into their 'climatic reserves'. "Every year you're allowed to put aside some unaged Cognac in a stainless steel tank, up to the maximum of about 70% of a harvest, so you can accumulate stocks that you can use in case of frost or hail," says Merlet. "This year we're going to use all of it."
When it comes to own label bottlings, the signature Merlet Cognac style is big on fruit and grapes. To achieve this modern and approachable flavour profile, the distillery uses fewer new barrels.
"Some of the more traditional houses prefer to have something rounder with more woody notes," explains Merlet. "This is not our style, we really like to showcase the fruit. If you want to make Cognac accessible for everyone, it has to be mainstream. For everyday drinking, you need to be able to mix it."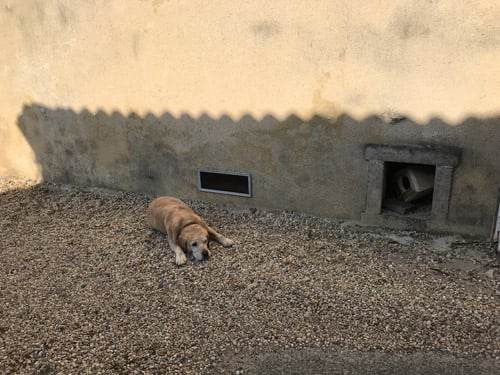 The Merlet family dog – Caramel