Busy few days? Pour yourself something special – The Nightcap is here, and it's a corker. This week, Hollywood hero Ryan Reynolds bought "the best tasting gin in the world", Aldi's animated carrot Kevin was forced to go teetotal, and Jose Cuervo appointed a 'salt sommelier' to source the ultimate variety for a cracking Margarita.
Before we start to unpack that bizarre bunch, it's time to reflect on blogs gone by. Earlier in the week, we detailed Ardbeg's plans to double its production capacity with a brand spanking new still house and two additional stills, and delved into the fortunes of the rum category following an inspiring discussion at the inaugural Think Rum event.
Esteemed London bar The Gibson beckoned us into the world of savoury gin with its new bottling, and you'll also find a lesson in Welsh whisky history and its recent renaissance ahead of St David's Day on Thursday 1 March. Outside of the blog, some surprising news surfaced…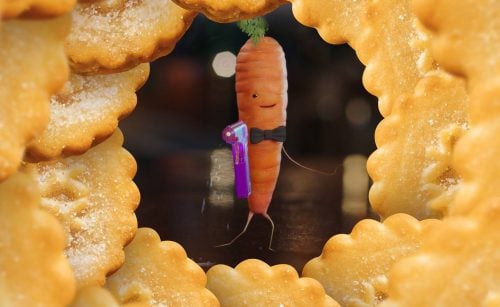 Kevin the Carrot dressed as James Bond for another ad. What a liability
Aldi in hot water over boozy cartoon carrot named Kevin
Supermarket chain Aldi was privy to a metaphorical wrist slapping this week over its latest Kevin the Carrot TV ad. The humorous skit featured a computer-generated carrot that told the camera, "I see dead parsnips" Sixth Sense-style. A voiceover makes the inevitable 'spirits' joke in a little rhyming ditty; bottles of booze are shown throughout. It ends with Kevin being frightened by another character dressed as a ghost. No harm done, right? Not quite. One viewer reckoned that this all felt a little bit… irresponsible (what with Kevin being a cartoon carrot n'all) and made a complaint to the Advertising Standards Authority, which wholeheartedly agreed and subsequently banned the ad. You can understand their point – the storytelling poem, the carrot's rather sweet, childlike voice (what a notion) and that pantomime ending don't exactly scream 'over 18'. Apparently Aldi's soft toy Kevins were all the rage at Christmas, too. Looks like this carrot is going sober.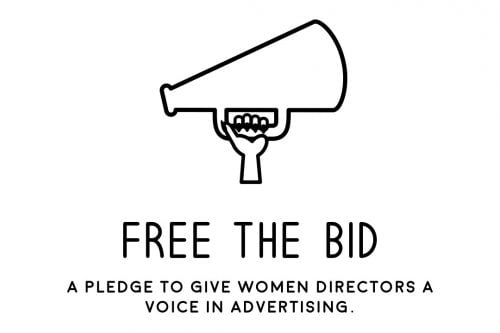 Diageo has backed the Free the Bid movement
Diageo advocates gender diversity in advertising with Free the Bid
Johnnie Walker and Smirnoff vodka owner Diageo is calling upon its ad agencies and content producers to put forward at least one female director as part of their creative bids after joining the Free the Bid initiative. The pledge, which launched in 2016, seeks to foster a more inclusive advertising industry, where shockingly less than 7% of directors are female, and just 9% of adverts are directed by women. "As advertisers we have the power to normalise gender equality by what we choose to show in our ads, and who we choose to produce them," said Syl Saller, Diageo's chief marketing officer. "The advertising industry is moving in the right direction to achieving greater gender diversity, but it must move quicker." Diageo's executive committee is 40% female, and its board will achieve gender parity in April 2018 with the appointment of Ursula Burns. This latest move reinforces that the business is not afraid to put its money where its mouth is. Alma Har'el, founder of Free The Bid, added: "Diageo and their creative agencies are about to discover the most untapped pool of creative talent in the ad industry – women directors. This is a big day for our Free The Bid family and all the women who are ready to be heard by a brand that is committed to actual change."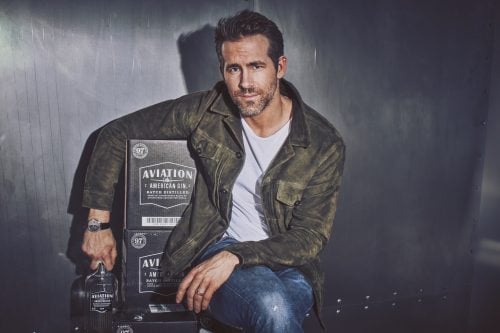 Is this picture everything you wanted it to be? We hope so
Ryan Reynolds splashes out on Aviation Gin
Actor, producer, writer and now… gin owner? Yep, Deadpool star Ryan Reynolds has acquired a controlling stake in Portland's Aviation Gin, which he reckons is "the best tasting gin in the world". No mincing around there, then. According to a press release, Reynolds will play an active role in the day-to-day business and oversee the brand's creative direction, though we're sure there'll be plenty of photo ops of him doing just that. "If you think all gin tastes the same, you'd be mistaken," said Reynolds, who apparently enjoys drinking Aviation on the rocks. "Aviation is in a completely different league and I couldn't be prouder to be a part of the company." The feeling appears to be mutual. Andrew T. Chrisomalis, CEO of distributor Davos Brands, is equally stoked to have Reynolds on board (I mean, who wouldn't be!?), since he "wholeheartedly embodies the authentic, original spirit of Aviation Gin".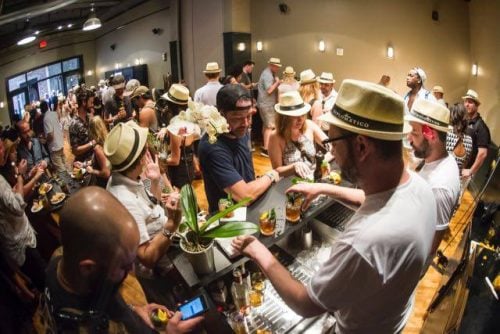 A snap from TOTC 2017 in New Orleans
New board assumes control of Tales of the Cocktail
After almost seven months of radio silence since Tales of the Cocktail (TOTC) founders Anne and Paul Tuennerman stepped down from their roles, the sale of the New Orleans-based festival has been finalised, and its new entrepreneur owners Gary Solomon Jr, head of the Solomon Group, and Neal Bodenheimer, co-owner of bar and restaurants Cure and Cane & Table, have assumed control. Solomon's family have led New Orleans' philanthropic community for more than 30 years, so they're well-placed to pitch in. With the help of new executive director Caroline Nabors Rosen (who has a wealth of experience in the not-for-profit sector), the duo will use their experience in event production and the cocktail industry to grow TOTC into a resource that directly benefits the spirits industry as well as their beloved city. They've already pledged to donate $250,000 to charitable causes that support the spirits community this year. Good on 'em.
Jose Cuervo appoints 'salt sommelier' for Margaritas
Salt Bae is so 2017 – this year, it's all about the salt sommelier. Introducing Max Venning, co-owner of Three Sheets in London's Dalston (a cracking bar if you're in town, FYI), who has been appointed by Jose Cuervo to source the ultimate salt pairing for that timeless Tequila classic the Margarita. Venning trekked to three renowned salt-producing locations in the UK (Anglesey, the Isle of Skye and Maldon) and created a bespoke Margarita based on the flavour profile of each salt variety. Check out his exploits in the video above.
That's it for today – happy Friday, Nightcappers!