Welcome to the world of savoury gin! Esteemed London bar The Gibson has partnered with Belgian spirits producer Copperhead to create a gin that'll shake up your Martinis, liven your tonics and spice up your life…
Even those with a fleeting interest in spirits will be aware of the sheer enormity of the gin category these days. Standing out in an era where there is a glut of juniper goodness has become increasingly difficult, and it really takes something quite special to make a lasting impression.
Copper-heading in a new direction
Up steps Marian Beke, head bartender at Islington bar The Gibson, who has partnered with Copperhead, the second oldest operational distillery in Belgium, to craft a creative new bottling. The Gibson has become a regular fixture in The World's 50 Best Bars poll, attracting fans of classic cocktails and experimental serves alike, while Copperhead has clocked up centuries of distilling experience and entered the gin market a few years ago with aplomb, boasting brilliant bottlings such as Copperhead Gin, Copperhead Black and Copperhead Barrel Aged Gin.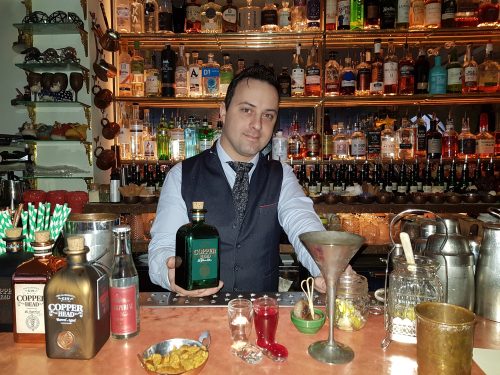 Marian Beke proudly presents the new bottling: Copperhead Gin The Gibson Edition
Their collaborative invention, Copperhead Gin The Gibson Edition, is best categorised as savoury gin, and is designed to complement the classic Gibson cocktail and its pickled onion garnish. It's an undeniably distinctive concept – though Beke is adamant he hasn't "created a style" – and one that is sure to forge its own path in a world filled with London Dry, Old Tom, flavoured or cask-aged editions.
The bottling takes its cues from history. Much like The Gibson bar itself, the new variant is inspired by the classic Gibson Martini. Its stylish dark green colour is a direct reference to the original Edwardian jaguar green tiling of the heritage-listed venue, which dates back to 1818.
The cocktail's exact origin is unknown, but it's thought that it was created in Players Club, New York City, after artist Charles Dana Gibson supposedly challenged bartender Charles Connelly to make a new variation on the classic Martini. His signature change was to replace the olive with a silver onion.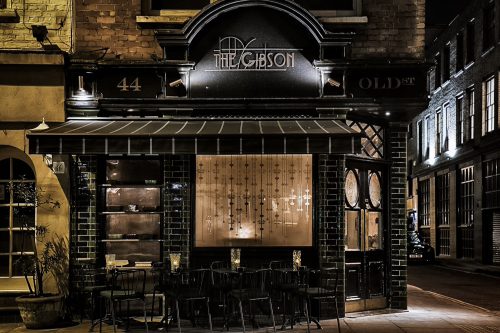 Reverential of the past and imperious in the present: The Gibson is one hell of a bar
A gin to truly savour
Since opening the bar, Beke has yearned for a gin that could properly complement the Gibson Martini. "We always had a dream that it would be nice one day to use our own gin, not just something that is only Gibson in name, but to actually create something that supports this savoury flavour", he says.
From there, the gin's recipe came together quite organically. "We used Copperhead [in the bar] for a couple of years, and I used to visit the distillery quite a lot, so we began to discuss a limited edition," he says. However, a one-off run seemed to Beke to be a shame; why work so hard and spend so much on something only to see it disappear a short while later?
This is how Copperhead Gin The Gibson Edition was conceived. A gin that wouldn't just carry the branding of Beke's bar, it would deliberately complement the Gibson Martini – a cocktail that he initially described as a "forgotten classic", which is now the bar's top-selling drink.
The Gibson Martini, made with Beke's gin, in all its gorgeous glory
Craft and collaboration: The gin comes to life
A concept is one thing however, actually creating a bespoke gin is another. Copperhead's core gin, which is made from five botanicals (juniper, coriander seed, cardamom, angelica and orange peel) forms the base. Beke then adds 14 of his own botanicals – mostly spices (some pickled!) including allspice, bay leaf, cassia, dill seeds, fennel, ginger, mace and pepper.
He worked tirelessly with the Belgian distillery to develop the recipe, and would regularly taste each batch of macerated botanicals separately for quality control. "You cannot distil all the botanicals in once batch, so balancing the recipe was a challenge," he reveals.
It was a challenge he was clearly prepared for, a point demonstrated by the bartender's thoughtful approach. Perhaps the most interesting aspect of this process was the inclusion of eight year old jenever. "When you put a lot of spice in a gin, the [flavours] can fight", says Beke – but he didn't want to use sugar as a sweetener so as to not step into Old Tom territory.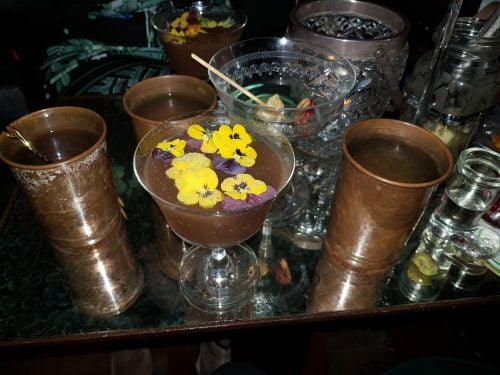 The Ward 8 was one of the many fascinating concoctions made with The Gibson's bespoke gin
Cocktails and canapés: The Gibson shines on launch night
Last week, we hightailed it to The Gibson to help Beke and co. celebrate the launch of their savoury delight. A raft of cocktails were on show, including the Some Moth Cocktail, (Copperhead Gibson Edition Gin, Macchia Bianco, Noilly Prat, preserved pink and green peppercorns with brine, salty mineral water and absinthe jelly), and the G & P (Copperhead Gibson Edition Gin and tonic. Garnished with a trio of house favourite pickles. Served with East Imperial Burma Tonic).
There was also the Ward 8 (Copperhead Gibson Edition, balsamic and red wine grenadine, bitter orange marmalade and fresh lemon. Garnished with a sour and smoky salt crust), the Gin & Brine (a frozen shot of Copperhead Gibson Edition served with a side of pink vegetable brine) and, of course, The Gibson Martini (Copperhead Gibson Edition Gin, pickled vermouth and orange bitters. Served with two types of onion).
Each cocktail proved to be distinctive, interesting and carefully constructed windows into Beke's mind and demonstrated the durability, versatility and profile of the gin. As you would expect, it is absolutely perfect for the Gibson Martini, and this was a particular highlight. However, its savoury twist left a lasting impression in each cocktail Beke served, and the appreciation of pickled ingredients shone brightest in the revamped G & P and fascinating Gin & Brine.
Tasting Copperhead Gin The Gibson Edition neat without an exceptional bartender putting his twist on it, however, was particularly revealing. As it happens, it's absolutely brilliant. "As a profile, it's very specific, it's very complex, but it's also very enjoyable," said Lennert Van der Cruyssen, Copperhead's sales and export manager, and he's absolutely right. I've included a MoM tasting note below so you can see what it's all about…
Copperhead Gin The Gibson Edition Tasting Note:
Nose: Sweet nutmeg, aromatic cinnamon and ginger lead, with prickles of peppery juniper. The gorgeous warming spices are confident and prominent, but leave enough room for a little orange blossom, which is evident among slight creamy aromas of angelica and vibrant hops. A herbaceous twinge lingers in the backdrop.
Palate: The juniper becomes deeper and earthier among aromatic fennel and a broad but crisp herbal bitterness. The palate continues the profile of the nose, with subtle sweet notes complementing the wonderful melange of bright and complex coriander, clove and cinnamon. The flavours combine expertly in an exceptionally viscous and savoury delivery.
Finish: Incredibly long and lingering, the rich and fragrant spices fizz away for literally minutes after the initial sip.
Overall: A singular and utterly enthralling mouthful — this is a savoury gin worth savouring!
Getting your hands on Copperhead Gin The Gibson Edition is not as complex as the gin. You lovely lot would be remiss to not try it in its rightful home, and all are welcome to visit The Gibson on Old Street. If you live further afield, it won't be too long before it features on the site of the Icons of Gin Online Retailer of the Year 2018… (That's us, if some reason that inference passed over any of your lovely heads).
"We had a chance to create a gin with someone who is really respected in the bar scene; a gin that stands out in the current market," said Van der Cruyssen, and it's hard to argue with that.