It's the last Friday before Christmas, which means the final edition of The Nightcap for 2017 is upon us. This week's bulletin features a historic bourbon revival, 47 million bottles of gin, and a Scotch whisky-spiked festive playlist for your listening pleasure.
Guys, we've only gone and bloody made it to the end of the year. This might only be the fifth edition of The Nightcap, but we've covered some titillating tidbits so far, ranging from the brilliant – distillery milestones, record-breaking spirits collections, captivating campaigns – to the bizarre (voice-activated bourbon-serving machine and futuristic 'turkey apocalypse' Christmas dinner, we're looking at you).
As the countdown to Christmas rumbled on this week, the wider blog brought you news of Campari's €52.5 million acquisition of Bisquit Dubouché et Cie, revealed how to #DrinkPositive this festive season with Diageo's help, and delved into the turbulent and transformative history of Venezuela's oldest rum distillery, Santa Teresa.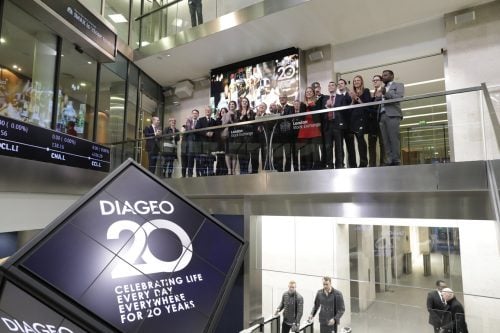 Diageo execs opening the market at the London Stock Exchange
Diageo celebrates its 20 year anniversary
On 17 December 1997 Grand Metropolitan plc and Guinness plc came together to form the international drinks powerhouse that is Diageo. To mark this rather impressive double-decade milestone, the drinks giant hosted a time capsule ceremony at Cardhu distillery in Scotland, the home of Johnnie Walker. Chief executive Ivan Menezes opened the market at the London Stock Exchange, accompanied by the company's Scotch whisky blenders and senior executives, while employees in Lagos, Nigeria and Sydney, Australia toasted the occasion with a dram of Johnnie Walker Black Label. Over the past 20 years, the company's share price has increased by a whopping 340%, so they're clearly doing something right.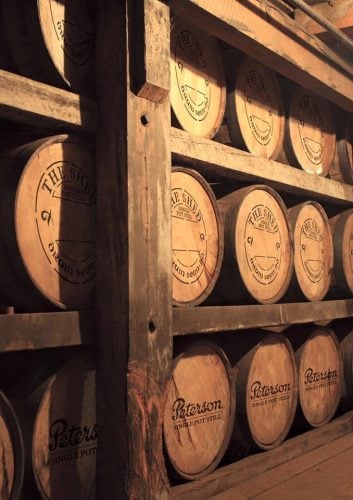 The Shed Distillery of PJ Rigney uncorked one of these beauties this week
Connacht's first distillery in 104 years unveils its first whiskey
The first whiskey to be produced in Connacht, Ireland for more than a century came of age this week at The Shed Distillery of PJ Rigney in Drumshanbo. After three long legally-required years, the cask was opened for a tasting on Thursday, but hold your horses – it ain't quite ready yet. After sampling the liquid, the bung was promptly popped back on, and the barrel stashed for another few years. They're opening a €1.5 million visitor centre next year, though, so you can go and have a poke around until it's up for grabs. And if you're really keen, you could nab a bottle of the distillery's Drumshanbo Gunpowder Irish Gin, made from the usual botanical suspects along with vapour-infused oriental lemon and lime, fresh grapefruit, and gunpowder tea.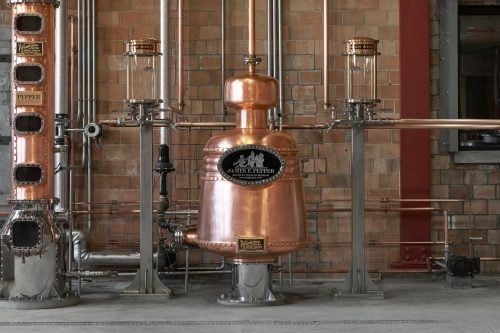 The copper stills at James E. Pepper Distillery
Historic James E. Pepper Distillery fills first bourbon barrel
This week Kentucky-based James E. Pepper Distillery fermented and distilled its first batch of bourbon whiskey for almost 60 years. The team fired up the distillery's delightful copper stills, made by Vendome Copper & Brass Works Inc. in Louisville, and followed the recipe that was last produced at the site to exact specifications. The original distillery was founded in 1879 by Colonel James E. Pepper, and it produced whiskey continuously until 1958, when it was shut down and left to fall into disrepair. Incidentally, Vendome also crafted a still for the distillery in 1934 – the year Prohibition was repealed in Kentucky. Pretty cool, huh.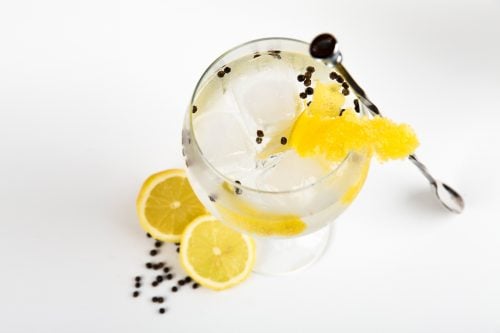 Brits drank the equivalent of 1.32 billion of these last year
Brits vote gin their favourite spirit and buy 47 million bottles of it in 12 months
In news that is shocking to absolutely no-one, a new YouGov poll has revealed that gin is now the UK's top tipple. In total, 29% of Brits voted it their favourite spirit this year, followed by whisky at 25%, and vodka at 23%. Collectively, UK imbibers sipped the equivalent of 1.32 billion G&Ts between September 2016 and September 2017, according to the Wine and Spirit Trade Association's latest market report, and bought seven million bottles more than the same period the previous year. In the last six years UK gin sales have doubled in value, with juniper fans spending £630m on the spirit in 2011 – compared to more than £1.2bn in 2016-17.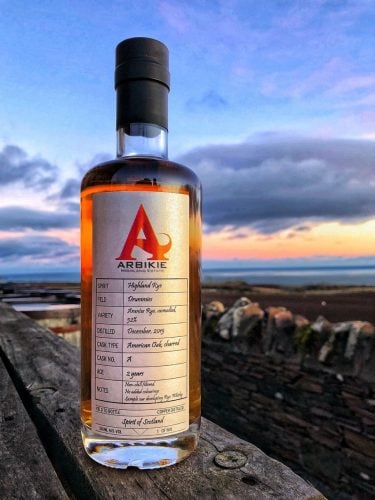 Arbikie's Highland Rye
Arbikie Highland Estate releases first rye whisky in Scotland for over a century
A mere two weeks after we brought you the news of InchDairnie's soon-to-be-released Scottish rye whisky Ryelaw, the folk at farm-to-bottle distiller Arbikie have bottled batch one of their pot distilled rye expression, Highland Rye. Arbikie has been growing a variety of different rye varieties on-site since 2014, and has produced two distinct bottlings for release. The first, a Scottish Rye Whisky, falls in line with The Scotch Whisky Regulations 2009, and is made up of more than 51% rye and Odyssey malted barley. The second is an 'American version' produced "in line with techniques typically used in North America". All proceeds from the initial release will be donated to the Euan Macdonald Foundation for Motor Neurone Disease.
We'll leave you with a parting gift from the folk at Orkney distillery Highland Park in the form of a rather festive Spotify playlist. Merry Christmas and a very happy New Year to one and all – we'll be back with the next edition of The Nightcap in 2018.