From 1 December onwards, it's a given that our plates are always full, and our glasses are rarely empty. Apparently it's not actually obligatory to enter the New Year feeling puffy and tired, so Diageo has consulted some of Instagram's finest for their tips on finessing the festive fun using #DrinkPositive.
'Tis the season… of excess. The 'eat, drink and be merry' ethos is synonymous with silly season, and we tend to collectively embrace it – packing our diaries with spirited plans, foregoing exercise in every possible form and chomping chocolate coins with reckless abandon.
A huge part of this is hosting events: inviting old friends over for drinks and nibbles, packing the cupboards with snacks in anticipation of guests 'popping by', and preparing the menu for an inevitable and all-compassing family meal. If you search 'Christmas' on Pinterest, there are thousands upon thousands of cocktail recipes, food pairings and dinner party drinks serves to pick from; many are boozy, all are indulgent.
Believe it or not, there are ways to have all of the Yuletide fun without a) going overboard, or b) feeling deprived. Having cottoned on to our penchant for drinking, hosting and Instagram filters, the folk at Diageo recruited some social media starlets to show us how to have a magical time without the regret come 1 January using the hashtag #DrinkPositive.
Chef Ian Haste, who is recognised for his focus on healthy, organic, and seasonal dishes, has curated the ultimate three course dinner with recommended cocktail serves, while US-based lifestyle Instagrammer Steven Onoja is sharing his top tips for "the ultimate balanced New Year's Eve" in New York, to name but two.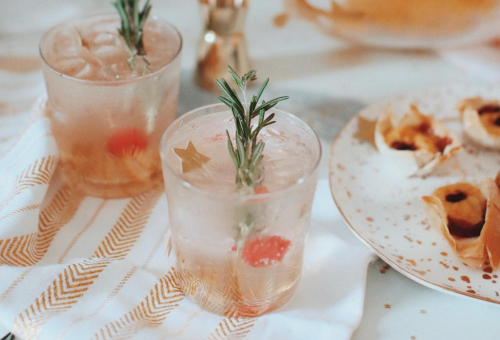 Kate La Vie's Tanqueray gin and ginger beer serve
Yup, from UK vlogger Kate La Vie, to US fashion queen Caitlyn Warakomski, each will put their stamp on the group's #DrinkPositive message by sharing how they plan to enjoy the next few weeks responsibly. Diageo's global brand ambassadors and World Class cocktail competition winners will also be backing the campaign with tips, tricks and general social media merriment.
"I'm thrilled to join the conversation about the positive role alcohol can play during festive celebrations," says Lauren Mote, Diageo's global cocktalian (yes, that's her job title. We're not jealous. Not at all…).
"For me, it's really important to provide people with practical advice about drinking responsibly, but in a way that feels inspiring and achievable. This year I'll be reminding people to put quality over quantity by serving drinks prepared ahead of time, using standard drink measures."
Interested? Keep an eye on Facebook, Twitter and Instagram for #DrinkPositive #NYE.