As Mr Kamm's Gin hits the shelves at MoM Towers, we find out all we can about the latest creation from the mind of Alex Kammerling, founder of Kamm & Sons. Up for discussion: why he swapped bitters for (juniper) berries, how bartending affected his process, and his thoughts on the ever-growing gin bubble…
Earlier this year a new gin hit the market. In this age of the modern gin-boom, it would have been understandable for this news not to have turned many heads. But Kamm & Sons is anything but ordinary and the recently released Mr Kamm's Gin represents an intriguing new expression.
How does one go from bartending and brand ambassadorial roles to creating an aperitif and now a gin? Alex Kammerling knows. Over his 22 years in the industry he's worked as a bartender at some of the finest establishments around, and has been involved in projects with likes of Bombay Sapphire, Campari and Grey Goose in various capacities. But now he is best known for the brand he created, Kamm & Sons. It's only previous release was the well-received Kamm & Sons British Aperitif, so a gin marks a new direction for the company.
It's a tough act to follow, but early signs suggest Mr Kamm's Gin is up to the task. Hard work and patience paid off for Kammerling, who took more than two years and 180 distillations to create a gin he was happy with. The final product is built around a barley base spirit and boasts a selection of 45 botanicals, including hibiscus, fresh grapefruit, orange and lemon peels, rosehip, apricot kernel, ginseng, blue butterfly pea and citra hops and it's been described as 'fruitier than your grandmother's jam cupboard'.
As World Gin Day approaches (Saturday 9th June), we thought it worth seeing what the Mr Kamm's Gin fuss is all about. Who better to ask the man himself…
Kammerling on the bar
MoM: Why was the first drink you created an apéritif?
Alex Kammerling: It came about when I was doing freelance stuff and working on various brands including Miller's. I was one of the first gin brand ambassadors, years ago when they first launched, and when I was there we came up with the Westbourne. I suggested we should try a stronger version because I believe gin's at its best when it's a bit stronger and so we sat down and we came up with the Westbourne Strength. At that point, I thought, 'OK, maybe I should start thinking about creating my own drink'.
I didn't immediately create a gin because at the time I had thought gin was done and that the gin bubble was going to burst pretty soon! But I could see the trend towards more bitter styles of drinks; things like Aperol and Campari and bitters in cocktails. So I thought of creating a kind of bitter that was inspired by English gin-making and by Italy as well. So that was the starting point.
How did you go from that stance to making gin?
Well, obviously my crystal ball wasn't working too well because my prediction of the gin bubble was wrong. The bubble has just got bigger and bigger and bigger, and it still might burst at some point but it just carries on. As there were loads of people bringing gins out I thought I'd give it a go and see if I could make one that was decent.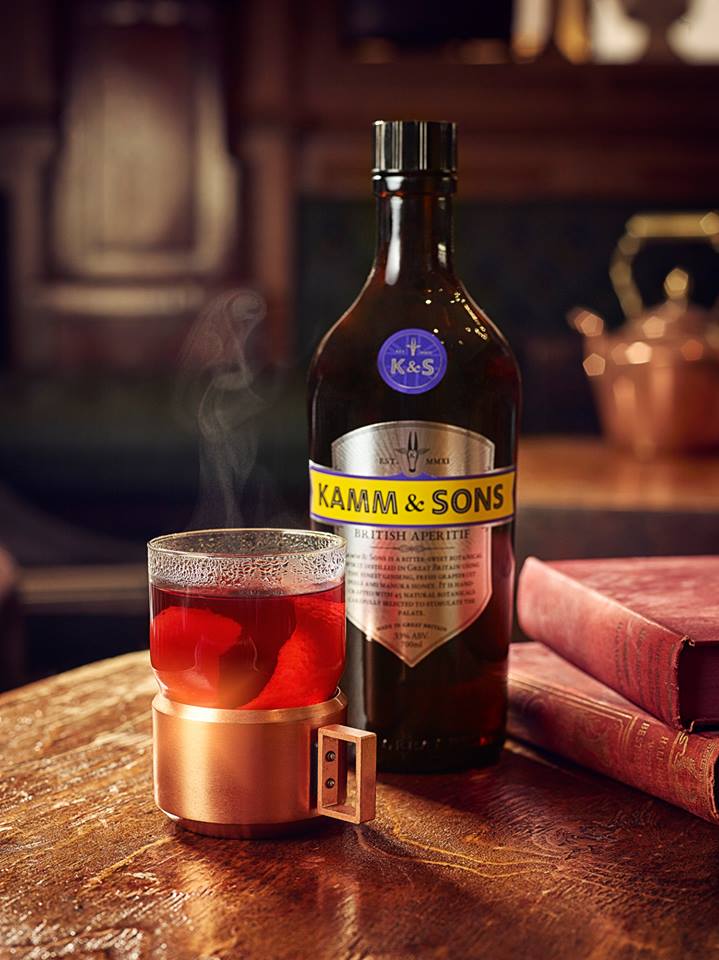 Kamm & Sons British Aperitif and a 'Hot Kammberry' (35ml Kamm & Sons; 15ml bourbon; 15ml maple syrup; 150ml cranberry juice and garnished with a lemon twist)
In terms of the process of creating the gin itself, I decided to use a lot of the same ingredients as Kamm & Sons but just in totally different proportions. So there is juniper in Kamm & Sons, but obviously just at a lower level, so I've raised the juniper levels up and put the other kind of classic gin botanicals like liquorice, angelica and coriander alongside the ginseng base and other herbs, leaves, fruits, flowers, nuts, berries, barks and seeds, etc.
What are the challenges of creating a gin compared to creating the bitter?
I actually thought it would be a fairly simple process but it was a real pain *laughs*. It was just so hard because there are so many great gins on the market and you want to stand out, but if you go too far away from that classic gin recipe then it's not gin anymore. So I struggled with how to make it the best gin that I can but also make it different. With bitters, the recipe can be more diverse. If you're looking at the range of bitters from Campari the flavour profiles are very different. But with gin, it's gin for a reason!
The benchmarks, of course, are Tanqueray, Beefeater and Plymouth; anything too far away from that and it doesn't become gin anymore. Gin, of course, has to taste of juniper and that's quite a hard balance to play because you're trying to differentiate but without going into gimmicky – and of course we've seen gimmicky. We've seen gin with loads of different added flavours, but I didn't want to go down that route.
Alex Kammerling: Kamm & Sons founder
I wanted to make a classic London dry but with a modern take. So I created a botanical recipe that would give the gin more body and character. Essentially, it's about trying to take the other elements – the floral, the citrus, the herby, the rooty, etc – and accentuate the key flavours of juniper. At the core of my gin are juniper, coriander, liquorice and angelica, and I've taken those four elements and exaggerated them through lots of extra bits and pieces. For example, coriander has got loads of linalool so it's quite citrusy, so I've added three types of fresh citrus in there to complement that. The juniper has this piney, lavender quality, so of course I've got lavender and I've got various barks in there to give the woodiness and the earthiness, and that goes very well with the liquorice. It's the same principles as making a cocktail; you're taking your base spirit and you're trying to accentuate the natural characteristics of your spirit.
As a former bartender you must always think about how those qualities will work in cocktails and serves, then?
Exactly. It was important that Mr. Kamm's Gin would be brilliant in tonics and brilliant in cocktails, particularly the classics. One of my favourites is the Last Word with Chartreuse, which just balances perfectly with the gin, or an Army & Navy with orgeat and verjuice works amazingly. A Negroni, or really anything that has a kind of herbal element, like amaros, vermouths and all those sorts of bitter, herbal liqueurs, work superbly well with it.
The process of creating the recipe took over two years and over 180 distillations. What was that like?
I was working out of an office at the end of my garden with just a desktop still and it was essentially a trial and error process, which wasn't easy because I'm a massive perfectionist! The trouble with making gin is that there are so many benchmarks, which wasn't necessarily the case with the apéritif as the recipes are quite different. I'm tough on myself and I didn't want to launch anything that I wasn't proud of.
Through this process of trial and error and I settled on using one-shot distillation. A lot of gins are made with concentrates these days, and I did try to make it from concentrates, as that would make it cheaper, actually! But I didn't want to cut any corners. It was the same thing with the barley base. I tried a lot of different spirits, including grape, rye, wheat and molasses, but I settled on the barley because it has got a really nice softness to it. It's a tiny bit sweeter and it's got a lovely mouthfeel. It's more expensive but, again, it's better quality and I didn't want to cut any corners.
Distillation now takes place in a hand-beaten copper still, which may be a basic alembic still but actually, it makes excellent gin. It's got a high surface area so you get good copper interaction and we wanted to start small. You could spend £200,000 on a German bespoke still, but the gin that comes off our copper still is equally good if not better, and it just goes to show that you can make really good gin from a very simple bit of kit.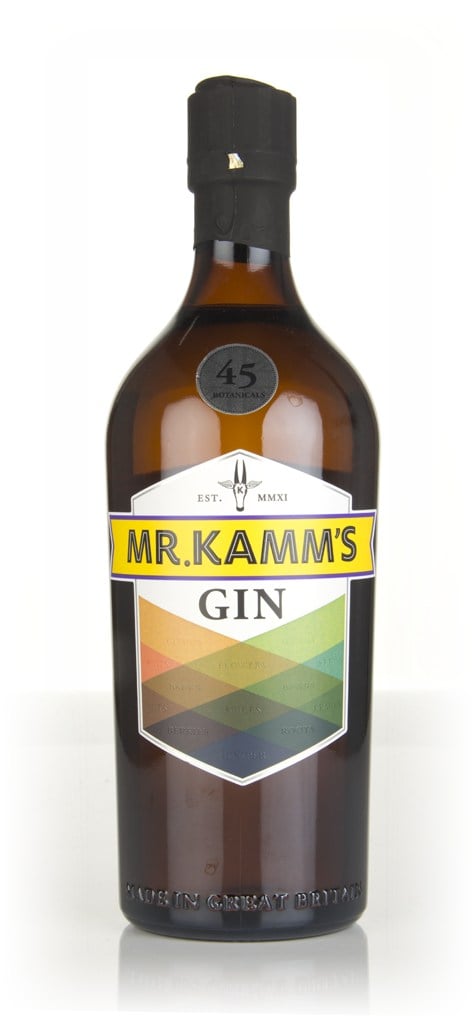 Mr. Kamm's Gin – the latest release from Kamm & Sons
At the moment you can produce about 80 bottles a day. Are there any plans to scale up?
If people like it! I've been in the industry for a while and I do think the gin bubble is going to burst at some point, but while it's still going I'm going to ride that wave. So if it's popular and we sell it then we'll scale up, for sure. We're not going to say there's a limit to the number of bottles we'll produce in a week – if there's demand, we'll make more.
Is the fact that Kamm & Sons is a London business important to you?
It's not that important for me, but consumers do like local products and the first thing people always ask about the gin is with regards to provenance; they want to know where is it from. From that perspective it's quite important to have a London story if you're selling it mainly in London and, although it's not essential, people really want to know where their gin's coming from these days.
It's amazing because everyone's got an opinion now on gin. People have done a lot of distillery visits and tours these days and are keen to buy a different gin every month, it seems. It's great that the consumer is more educated and aware.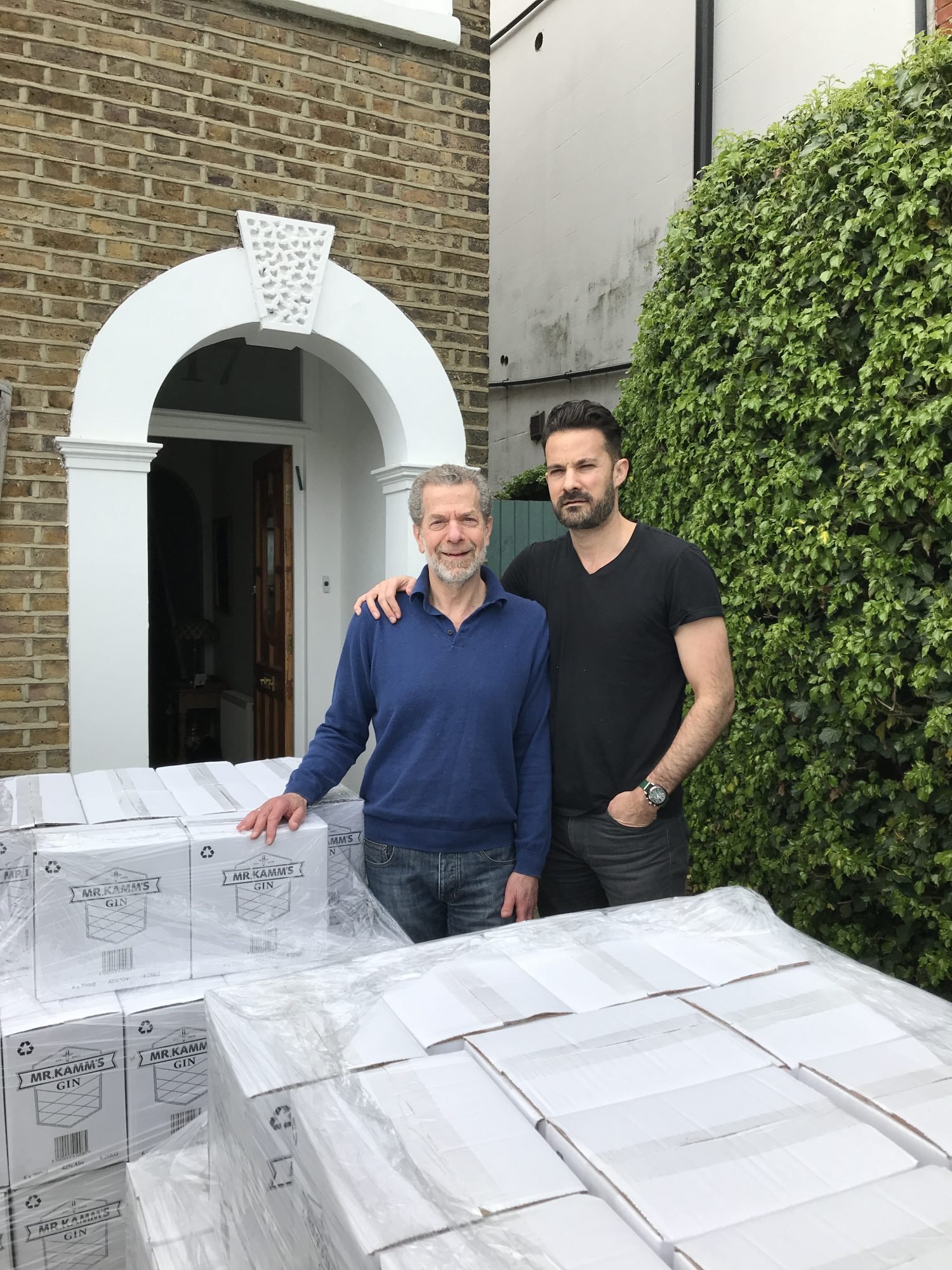 Kammerling and his dad
Is it important to you that it is a family business?
People definitely like the story. It's called Kamm & Sons for a reason because it was dedicated to my great-granddad, and my dad's on the board, my brother designed the bottle and my cousin did the website. I like that traditional family business model. In many places, in Italy for example, family businesses are more commonplace, but here they're not so much and it's a nice way to work!
The gin is being made in tiny batches at the end of my parents' garden. They know how to make gin and they're good with recipes and at the end of the day, gin's all about the recipe. My parents are quite happy to be involved in it, and it means that we're a bit closer, we see them more and we speak every day. I trust my parents and know that they do a great job.
What are the biggest challenges in the gin industry?
That's interesting. I'm fairly new to gin and, even though I've been in the booze game for a while, the gin market is quite new to me. In all honesty, the biggest challenge is that people like new gin, so what you find is that when a new gin comes on the market and starts being served in bars and restaurants they have a peak and then they peter off. For me, the challenge is going to be to retain that momentum. I've believe got a good gin that looks nice, tastes great and has got a story behind it but it's going to be very hard to keep that momentum when there are so many new products coming along, and the fact that people tend to like the newest thing.
Some of the feedback that I got when I was doing sampling was that a lot of people now try a different gin every time they buy a bottle, there's not a lot of loyalty from consumers. There are some people that just drink Bombay and there are some people that just drink Sipsmith, but, generally speaking, people like to mix it up a bit. That's the challenge, and I guess that's the reason why gin brands have their core brand and then they bring out new variants.
It's hard to know where the gin industry is going. As I said before, my crystal ball isn't brilliant because I thought ten years ago that the gin bubble would burst and that would be it. But it's still growing and it's now massive. I do think in general that it's amazing that gin is so great. The volumes are phenomenal.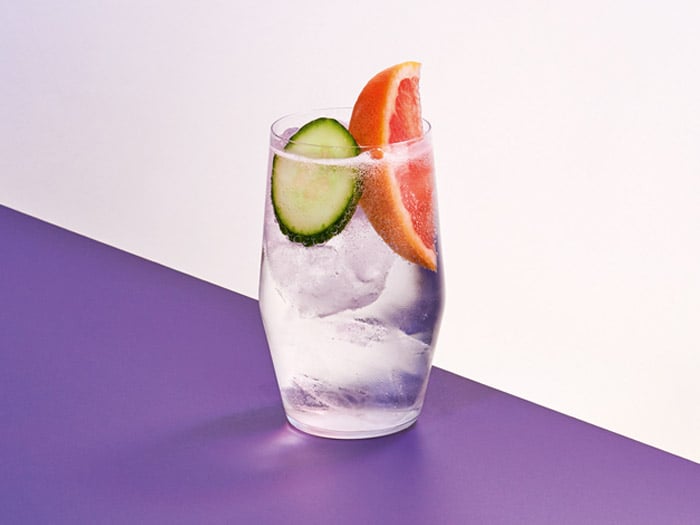 Mr. Kamm's Gin: G&T
What perspective does being a bartender bring to distillation?
It may surprise you, but actually, the most important thing that influenced the way I work now as a distiller and a spirits producer is my art school background. I did five years of sculpture at art school, and it was coming out of college that I fell into bartending. The perspective that gave is one that has given me so much of a foundation when it comes to drinks creation and liquid formulation, more than anything else.
However, having a bartending background is really great as well because you see things slightly differently and you sort of understand how bartender's going to react when they pick up a bottle. Whether it's how they're using it, how they're going to sell it – it's an interesting bit of insight. I'm wouldn't necessarily say it's better than any other way, but there are some people who are coming into the industry who were, let's say they were insurance brokers, and then they start to make gins. From my perspective, I've got the lead on that, just because I know the industry and I've worked in it for years. I've also got a place in the market as well. It's always easier to sell a product when you've got a route to market.
What has the reaction to Mr. Kamm's Gin been like?
The general reaction has been great; I've had some good feedback. Mr. Kamm & Sons is quite distinctive and it's not for everyone, but I like the fact that it polarises. Not that anyone has said that they hate it – they probably wouldn't tell me to my face! But lots of people have spoken to me and said they love the gin and think it's great. I'm pleased that there is an audience for it!
What's next for Kamm & Sons?
I'm not one for having a core brand and then bringing out a lot of different variants; I don't really want to get into that as it isn't for me. I have other ideas for different products, but it's going to be different brands. Maybe I will do a stronger version of Mr. Kamm's Gin, but my other ideas involve new products and different brands – but I can't talk about it yet. It's early days but basically just a few ideas in incubation should we say…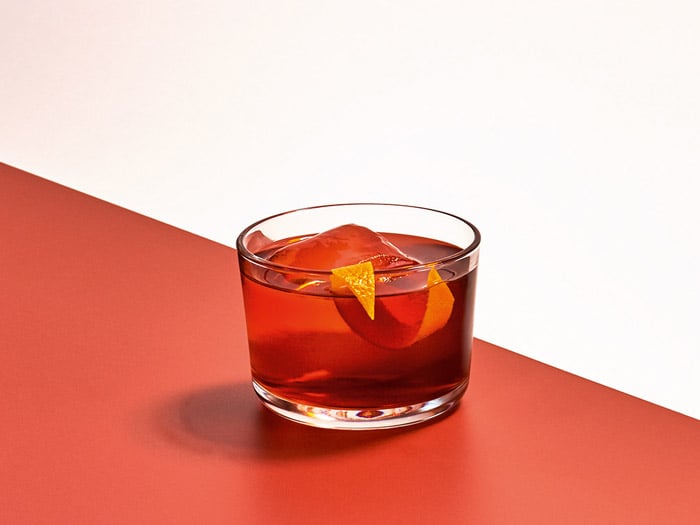 Kamm & Sons Negroni
Finally, what Mr. Kamm's cocktail do you like to serve the most?
It would be tricky to not make a gin and tonic – I know that it's pretty boring, but it's really tasty in a G&T… After that, I would say a Negroni, because it's just awesome. But with Campari, not with Kamm & Sons! People always expect me to make a Kamm's Negroni with Kamm & Sons but I also think that the Negroni is a Campari drink, so that's the bitters that you should use with it. My recipe for the Kamm & Sons Negroni is 25ml Mr. Kamm's Gin, 25ml Campari and 25ml sweet vermouth, which is poured over ice and garnished with orange zest.