Tomatin Distillery recently treated us to not one, but two new limited-edition expressions which both feature an intruiging cask finish. Only one can have the honour of being chosen to be our New Arrival of the Week, however. Meet Tomatin 12 Year Old 2006 Amontillado Sherry Cask Finish!
Highland distillery Tomatin is not just a hot spot for Hollywood film stars and comedians, but it's a Scotch whisky producer that has demonstrated an profiency for creating delightful creative cask-finished expressions. Previous limited editions include a Cabernet Sauvignon finish, a Port wood finish, a Moscatel finish and a Caribbean rum cask finish.
This trend has continued with two new editions, which includes another rum-finished Tomatin single malt. Tomatin 10 Year Old 2009 Caribbean Rum Cask Finish was initially matured in oak for nine years before it was treated to a finish in first-fill Caribbean rum barrels for its final year of ageing. It's quite delightful, but it's not grasped our attention the same way its sister release has.
Tomatin 12 Year Old 2006 Amontillado Sherry Cask Finish spent its first nine years maturing in ex-bourbon oak casks before it enjoyed a leisurely three-year finish in first-fill amontillado sherry butts. It was bottled at 46% ABV without any chill-filtration or additional colour, which is perfectly lovely, with a limited run of just 5,400 bottles, which is less so.
What stands out for us here at MoM Towers, however, is the choice of sherry cask used. As fans of whisky will know all too well, the spirit is typically matured in oloroso or Pedro Ximénez casks, which are dark and full (and in the case of PX, extremely sweet) types of sherry that are widely available and familiar to most of the general public. The same can not be said for amontillado.
A dry style of sherry that originated in the Montilla (amontillado literally means 'in the style of Montilla) region in Spain in the 18th century, amontillado is perhaps best known for its role in a short story by Edgar Allan Poe, The Cask of Amontillado, and for its unusual fusion of two different ageing processes. It starts life as a fino sherry, fortified to around 15% alcohol with a cap of flor yeast limiting its air exposure. However, in order for sherry to be classified as an amontillado, this layer of flor must be broken down in maturation, either by fortifying the wine to at least 16% ABV to kill it off or by letting it naturally disintegrate over a period of time.
This slow and controlled oxidisation through the slightly porous oak gives it a darker colour and richer, nuttier flavour than fino sherry, but not to the same level as oloroso or Pedro Ximénez. A good way to think of it is it has the elegance of a fino but with the richness of an oloroso. This more delicate character meant that amontillado was only appreciated by aficionados and so was mostly consumed locally though the little that was exported was highly-prized (hence Poe's story). To this day its produced at a relatively low volume. This means that casks that previously held the dry sherry can be difficult to source and prove  expensive. Consequently, very few distilleries use amontillado sherry casks, aside from Glenkinchie, which means we have a chance to try something outside the box here.
The result is a big, juicy and fruity dram that's balanced by a herbal and delightfully dark and drying undertone. At 46% ABV, the 12 Year Old 2006 Amontillado Sherry Cask Finish is punchy but not overwhelming and there's enough of the ex-bourbon cask and distillery character present throughout to prevent the finish from making the profile one-dimensional. It is Tomatin, just not as you know it. And it really works.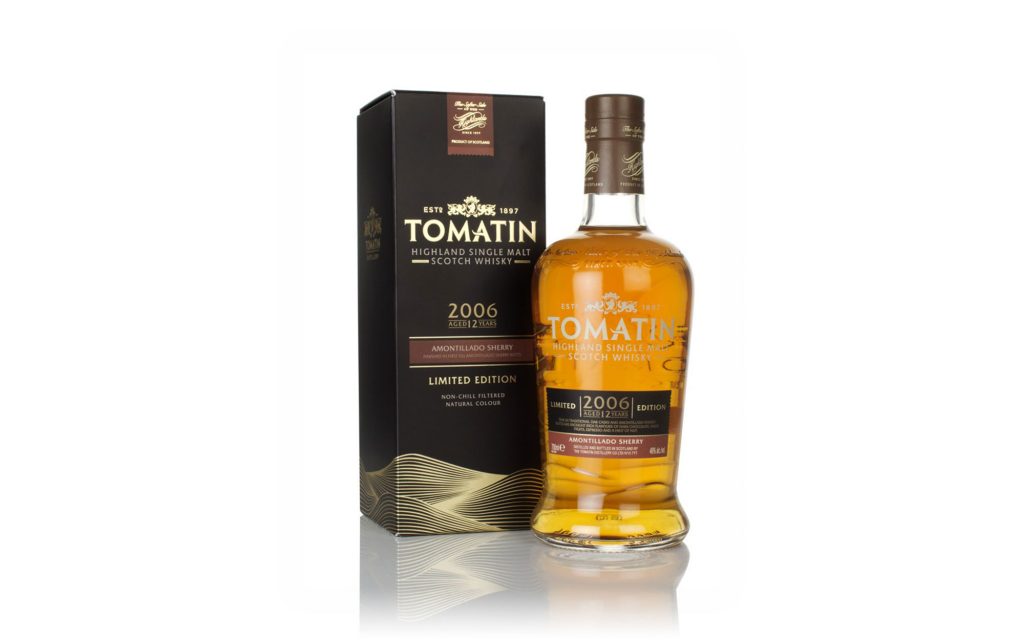 Tomatin 12 Year Old 2006 Amontillado Sherry Cask Finish:
Nose: Chocolate orange and sultana alongside lots of spicy oak and vanilla custard.
Palate: Dusty cocoa, fresh espresso, dried apple, fresh pear and chocolate-covered walnut, with a sweet honeycomb note.
Finish: Barley sugar, orange oil, toasty oak and a peppery finish.