It's finally here – Negroni Week (13-19 September) has officially begun. To celebrate, we've rounded up seven of the best twists out there and asked their creators for the inspiration behind them. And you can get involved too – scroll to the bottom to learn about our Negroni Week competition. 
Count Camillo Negroni or General Pascal Oliver Comte de Negroni? Who invented the classic cocktail, the Negroni? It's a question that has been posed by drinks historians, writers and Master of Malt's own Henry Jeffreys with opposing – or non-committal – views.
What we do know though is that the vibrant, bitter aperitif – classically made using equal measures gin, vermouth and Campari – has been enjoying a prolonged revival in the UK since 2009. Step inside any bar or restaurant in the UK and you'd do well to find one that doesn't serve a Negroni. 
Twelve years since the great Negroni revival and it shows no signs of waning. The Guardian called it "the cocktail of 2021" and you can even buy them ready-made in a bottle, a can or a pouch. And while we love the original, we thought we'd celebrate 2021's Negroni Week, 13-19 September, with some of the best twists on the classic being served in bars across town.
From swapping gin for Tequila, infusing mixes with herbs and giving them a fruity component, we asked the makers and shakers for the story behind their creations. They even gave us the full recipes so you can try your hand at home*.
*Though some of them are pretty involved, so we've divided them up into ones to attempt and ones that should be left to the professionals. 
You've been warned.
Ones to try at home
"Wanky" Negroni, FAM Bar
7.5ml Fords Gin
17.5ml Singani 63
25ml Londinio Aperitivo
12.5ml Punt e Mes
12.5ml Londinio Rosé Vermouth
15ml water
Build and serve over ice with an orange slice garnish.
"I wanted to play on the idea of the multiple ingredient "Wanky" Negroni and create something that actually wasn't that wanky and satisfied both hardcore bitter drinks fans like myself and people just edging into that bitter realm with a twist on a Negroni that will fulfil both varying palates." Tatjana Sendzimir, bar manager.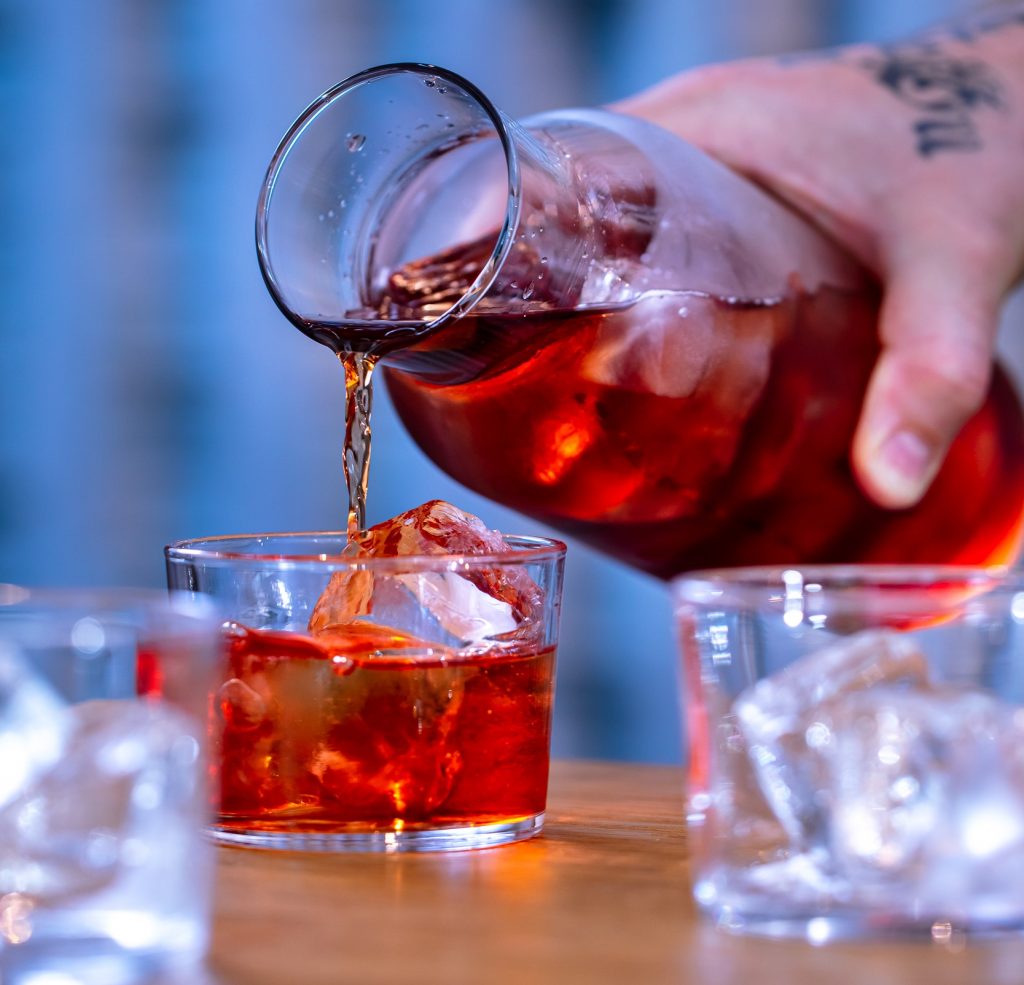 200ml Campari
200ml Martini Rosso
200ml Pago de Tharsys cava (or another sparkling wine)
Combine all ingredients in a carafe with ice and share.
"We love it because it's delicious, and it's a fizzy and low-abv alternative." Monica Berg, bar co-owner.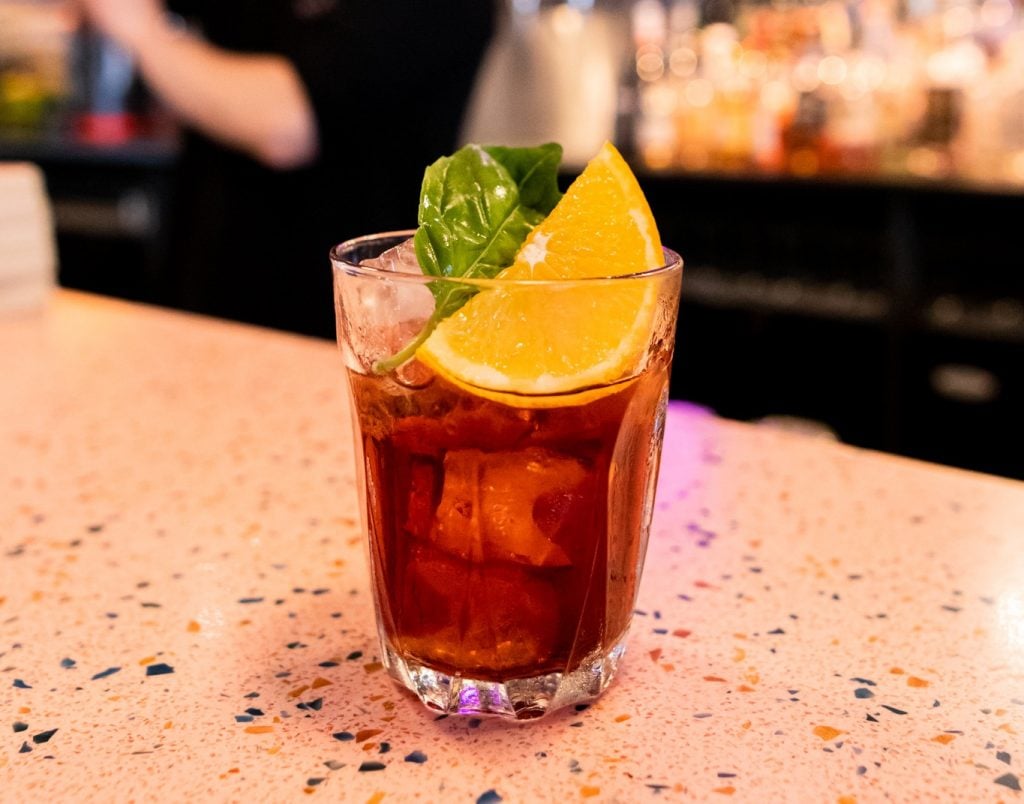 Nebula Negroni, Nebula
25ml East London Liquor Gin
25ml Carpano Bitter
25ml Punt E Mes Sweet Vermouth
Combine ingredients and infuse with basil until you have the flavour you want. You can store it in a bottle. When serving, garnish with orange slice and basil leaf.
"At Nebula, we're proud of our awesome pizzas, so we wanted to pay homage to their Italian birthplace and really cement the link with our Negronis by infusing our blend with dried basil. We use East London Liquor Co gin not just because it's awesome, but because it's made just down the road (neighbourhoods are the future!). We finish our blend with Carpano bitter and the powerfully herbaceous Punt E Mes vermouth, so all things sing together in a herby take on the classic that pairs perfectly with our pizzas." Nate Brown, bar owner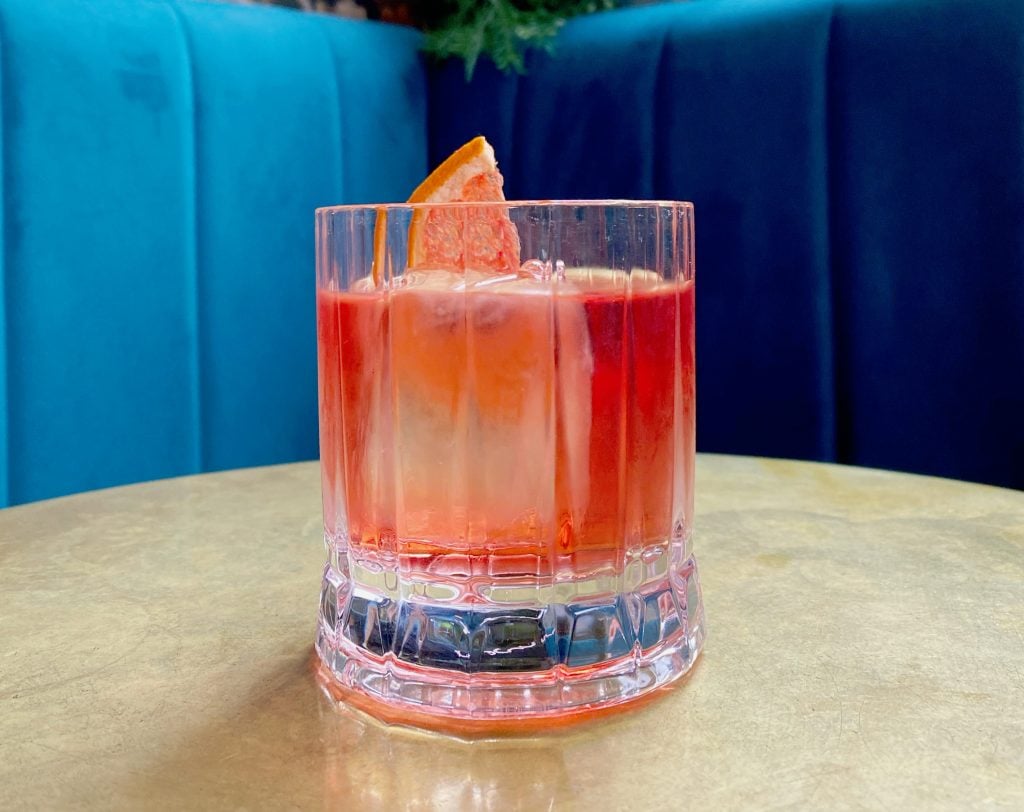 40ml La Vie en Rosé or another Provence rosé
20ml Lillet Rose Vermouth
15ml Campari
Stir down, strain into a rocks glass and garnish with grapefruit. 
"It's a Negroni, in the south of France and it's sunny. I made the drink for a festival in Nice where we needed a bitter drink that had a slightly lower abv yet had the feel of the area. Using a Campari to follow the brief but pull the bitterness for the beverage paired with a Provence rosé allowed for the elegance of the area. Finished off with slight fruity and aroma of Lillet Rose gave a Negroni that you could drink throughout the summer days at a festival." Callum Dunne, bar manager 
Leave it to the professionals: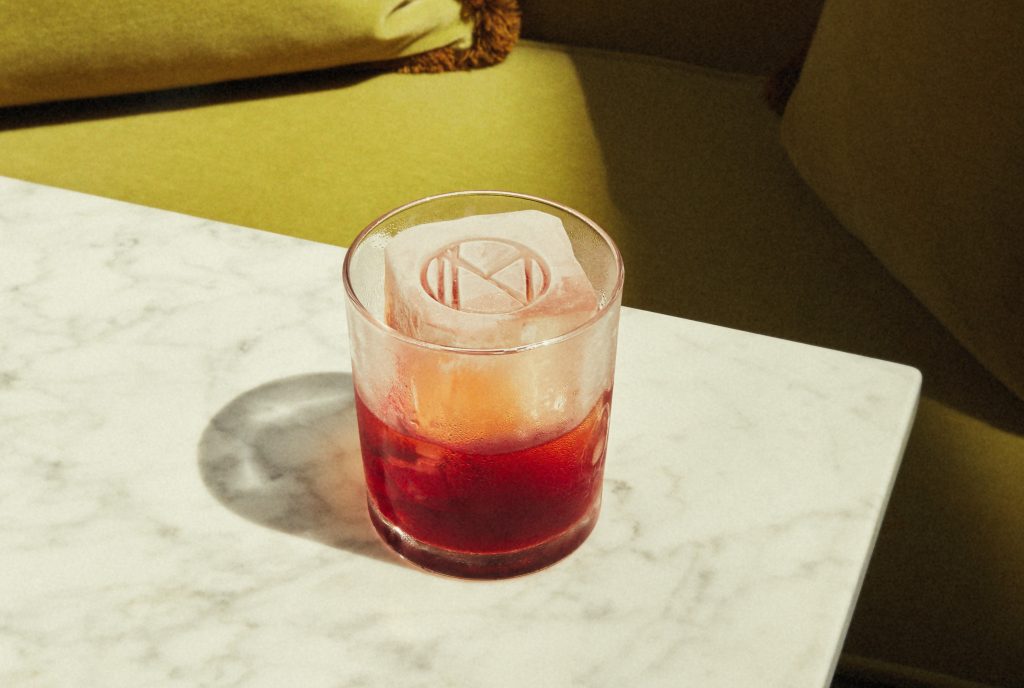 45ml Pandan-infused Tapatio Reposado Tequila
22.5ml Campari
22.5ml Cocchi Vermouth di Torino
15ml coconut water
7.5ml cold-brew coffee
Build in rocks glass with a large ice cube, stir and serve.
"The Pandan Negroni was created after we discovered how delicious Reposado Tequila incorporates with pandan [a herbaceous tropical plant]. The pandan brings out all the green aspects of the Tequila while enhancing the barrel spice notes and softening the acidity. The almond flavour coming from the leaf also plays off the coconut water, which is the only component which dilutes the cocktail, giving it more body and a rounder finish." Pietro Collina, bar director.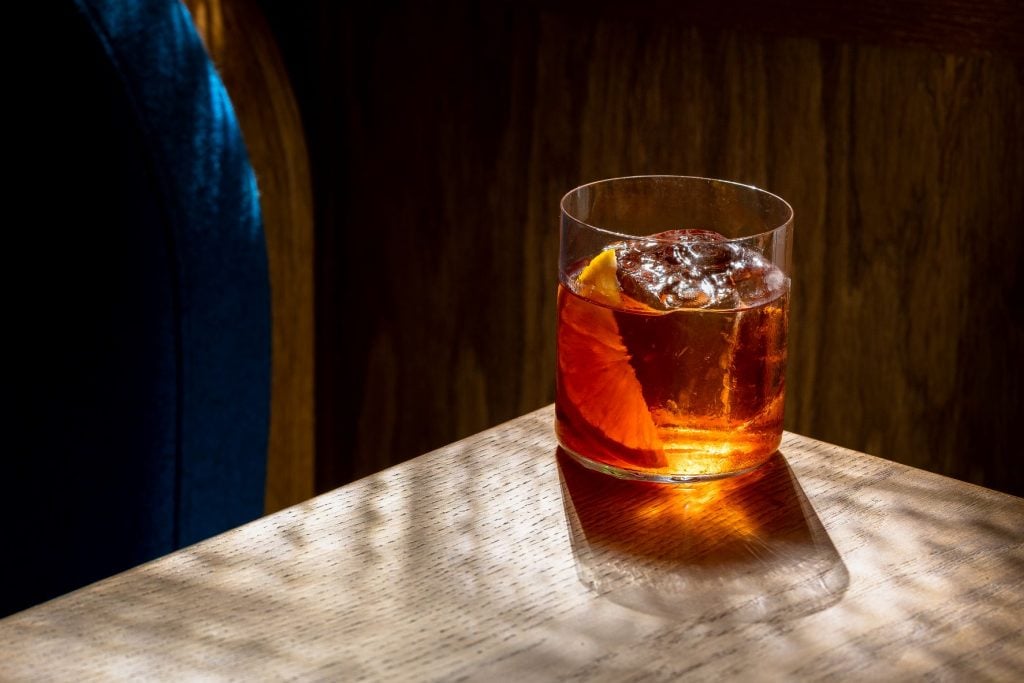 Rhubarb and Tarragon Negroni, Publiq
22.5ml Belvedere Heritage 176 malt spirit
2.5ml Tarragon-infused Sipsmith VJOP
25ml Rhubarb-cooked bitter blend
25ml Vermouth rosso blend
25ml Mineral water
Have all ingredients stored cold in the fridge. Pour all ingredients in a rock glass over an ice block. Garnish with an orange slice.
"When looking for a new flavour for our seasonal Negroni, rhubarb was at the peak of its flavour, with lovely fruity and earthy notes, making it an obvious choice for us. Tarragon, with its fresh menthol and anise aroma, brought freshness to this favourite of the summer." Greg Almeida, bar co-owner.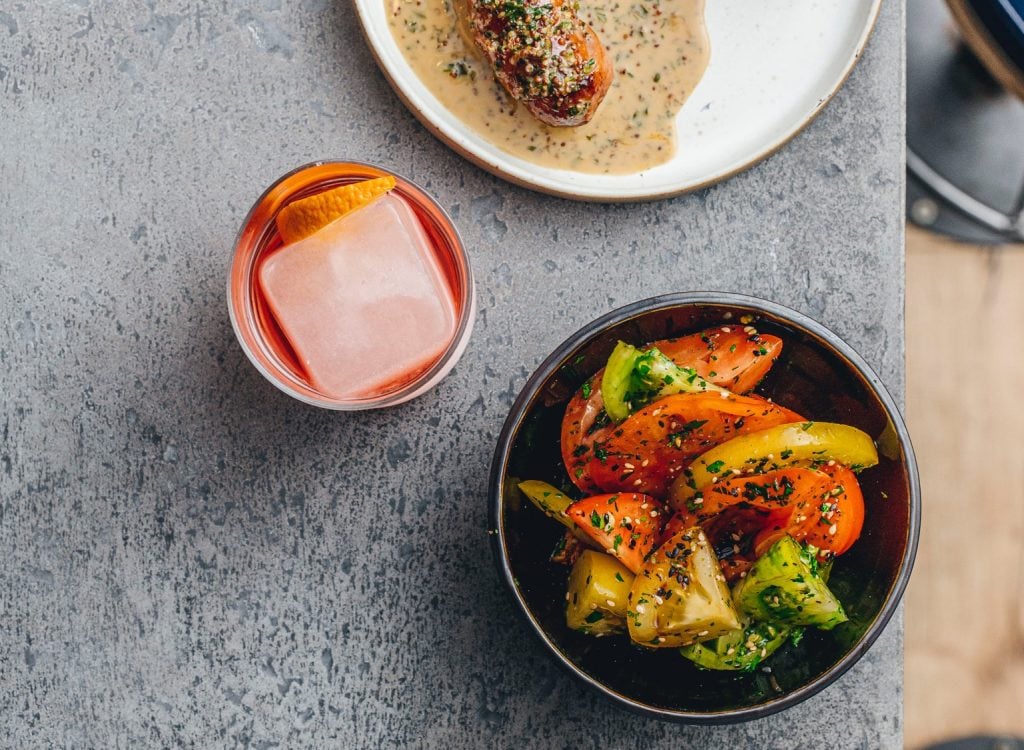 20ml passion fruit vermouth
20ml Victory house gin
12.5ml Campari
2.5ml passion berry vodka
0.08ml MSK passionfruit flavour drops
Stir over ice and strain into a rocks glass with block ice and garnish with an orange wedge.
"We have had a house Negroni on our menu since the day we opened. We decided that we would make a sweet vermouth in house, from a seasonal fruit rather than from grapes. The passion fruit was the latest in the line of fruits we chose to work on, more as a challenge as they don't contain much in the way of juice, and they are high in acid so hard to ferment. We actually ended up soaking the fruits in a mixture of water and sugar, and then letting that ferment. We also made an Oleo Saccharum with sugar and the spare fruit, so that ended up being the sweetness in the vermouth. We also add a passion berry infusion to this Negroni, as it brings some extra complexity and aroma that ties nicely to passionfruit." Alan Sherwood, bar owner.
Show us your Negroni with a twist recipe, for a chance to win a Jaffa Cake Gin Negroni bundle! Post a video or image on your Instagram feed (not Instagram Story), showcasing your creative "Negroni with a twist" cocktail recipe; and include the hashtag #momnegronitwist (so we can locate your entry)!  Comp opens 12:00:00 BST on 13 September 2021 and closes at 23:59:59 BST on 26 September 2021. Full T&Cs below. Open to 18+ or legal drinking age only. The best and most creative entry wins.
View Full Terms and Conditions.