Though longstanding, the relationship between London and gin has not always been the healthiest. While city dwellers have not quite harked back to 18th-century-Gin-Craze level fixation (a relief for everyone, frankly), their reinvigorated thirst for junipery goodness is almost as unquenchable.
Encouraged by this so-called gin renaissance, distillers have been setting up shop in their droves on both sides of the Thames. The big smoke is now home to 24 gin distilleries*, equivalent to one fifth of the total number in England, which is more than existed in the entire country back in the comparatively gin-dry year of 2010.
What's more, over 20 specialist gin bars have opened in London in the last couple of years. No cat-shaped bootleg booze vendors here either, these are the real deal. With so many great (and unlike the 18th century, completely legal) places to imbibe, it's hardly surprising that 28% of London adults said they drank gin in a recent survey – the highest of any region in the UK.
That said, the whole country is clearly fanatical about gin: according to figures from the Wine and Spirit Trade Association (WSTA), we collectively drank our way through 8.3 million bottles in pubs, bars and restaurants in the UK over the last 12 months.
Us Brits are tearing through the stuff at home too – in fact we spent more than £500m on gin in supermarkets and shops in the same period, equivalent to 36.3m bottles. That's 44.6m bottles in total, worth a whopping £1.2bn. When it comes to gin, our pockets go deep.
Protecting the price of British gin
Having said that, no one likes forking out more than necessary for a bottle of the sweet stuff. That's the outlook of 21 British gin distillers, who (in partnership with the WSTA) have called on chancellor of the exchequer Philip Hammond to scrap plans for a 3.4% hike in spirits duty later this month.
Since Hammond increased booze duty by 3.9% just eight months ago in the 2017 Spring Budget – adding 30p to an "average priced" bottle of spirits – he's not proving particularly popular with gin producers at the moment. They warn that driving up the tax once more (this time equivalent to an extra 26p on an average bottle) will stifle the growth of the creative start-ups that have helped to make gin the blinding success it is today, and, in turn drive down demand for the category. They have a point – just look what happened with Scotch whisky.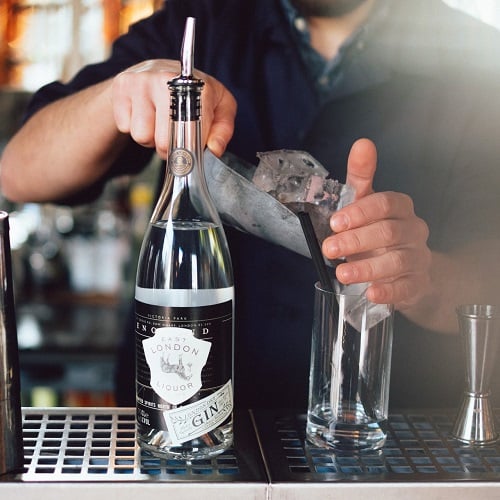 East London Liquor Company: one of London's 24 gin distillers 
Alex Wolpert, founder of Mile End-based East London Liquor Company – one of the 21 participating distillers – labelled the planned spirits duty hike "opportunistic".
"The government knows only too well that alcohol sales increase considerably over the festive period; duty already accounts for approximately 40% of our bottle price," he explained in a statement.
"With the current economic landscape, including the cost of living increasing and wages at an all-time low, the consumer ends up being the one to foot the chancellor's duty increase, perpetuating the problem of the public's expendable income being further reduced."
Whether the government will take heed remains to be seen. For now we can all take comfort in the fact that it tastes about 1,000 times better than it did 300-odd years ago.
*For the curious among you, the full list is as follows: Doghouse Distillery, Old Bakery Gin, Bimber, Boxer Gin, Portobello Star, Sipsmith, Graveney Gin, Four Thieves, Thames Distillers, Beefeater, Half Hitch, Highwayman Gin, Sacred Spirits Company, 58 Distillery, East London Liquor Company, City of London Distillery, Bermondsey Distillery (Jensens), Bump Caves Distillery (The Draft House), The London Distillery Company, Kingston Distillers (Beckett's), Portobello Road Gin, Butler's, Little Bird, and Hayman Distillers.