Exciting new English whisky distillery Spirit of Yorkshire opens to the public this Easter, but they've been quietly working under the radar and laying down casks for the last few months. We headed to the Yorkshire Wolds earlier this week to find out the full details.

Yorkshire. God's own county. Also, now the location of a new independent single malt whisky distillery! Since we visited St George's Distillery back in 2009 a number of projects have popped up all over England, which I'll run through at the end of this post, but today we're getting all excited about Spirit of Yorkshire!

The distillery is located in Hunmanby, which by car is about an hour from York heading towards the coast or a few miles south of Scarborough. They've greatly benefited from the sage guidance of Dr. Jim Swan, who sadly passed away earlier this year, and their mashing and fermentation take place at the nearby Wold Top brewery. So far, so English Penderyn. There is, however, plenty that sets Spirit of Yorkshire apart as a different proposition entirely…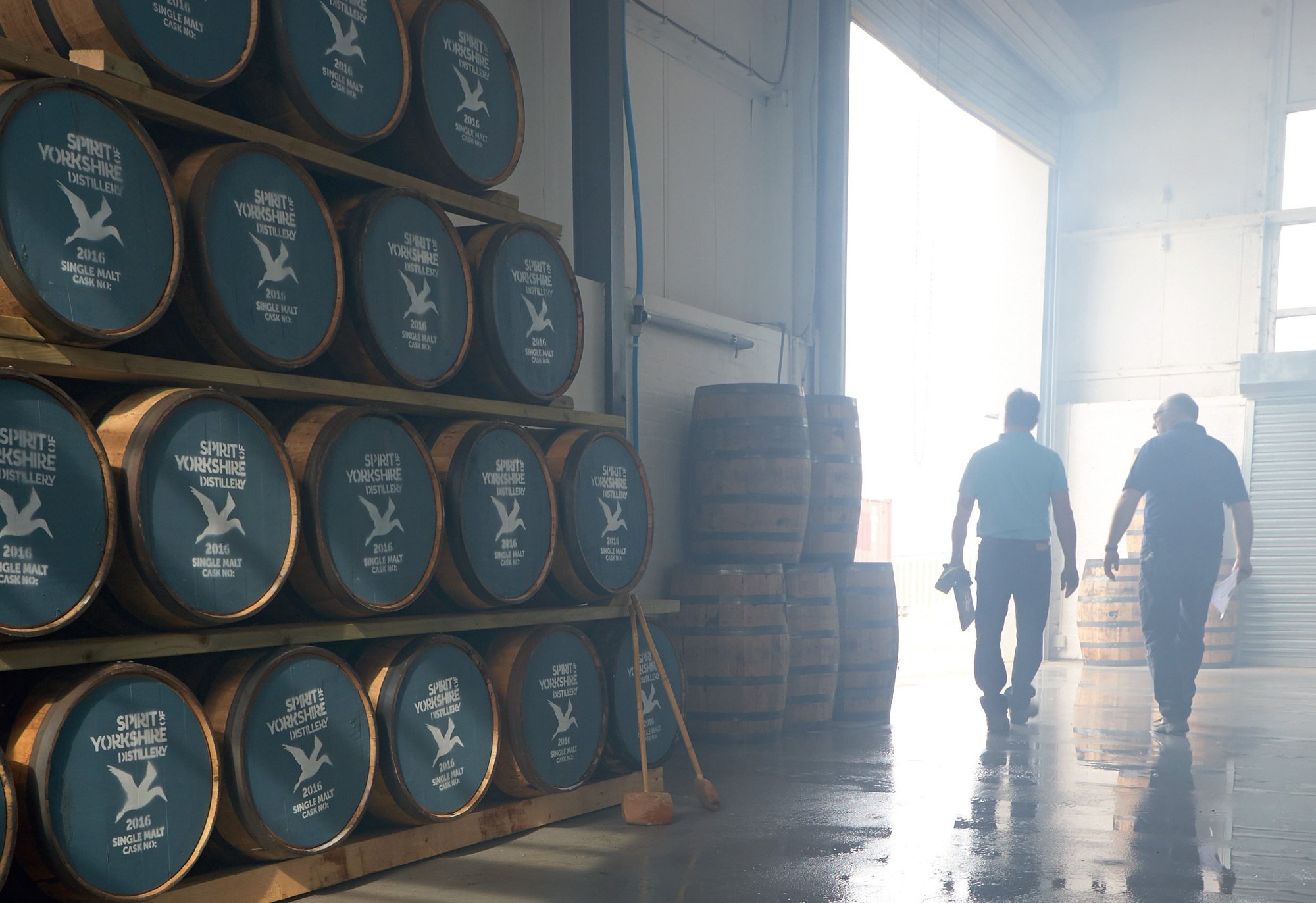 A nice artsy snap of co-founders and distillers Tom Mellor and David Thompson
For a start, this is a field to glass operation with the exception of the malting (which is done in nearby Bridlington). Provenance is king. Co-director Tom Mellor is the farmer, brewer and now distiller growing all of the barley (concerto spring barley) on his 350 acre Wold farm. Yorkshire may not be a county with much distilling history to speak of, but it has a rich brewing tradition and also provides an awful lot of barley for whisky distilleries in Scotland. In fact, the Yorkshire Wolds is said to be the largest malting barley growing area in the UK! With high quality raw materials at hand (Tom's farm also provides a source of spring water from the chalk aquifer below), it made perfect sense to move into distilling alongside longtime friend David Thompson and their wives.
As David says, There's something deeply satisfying about creating a whisky instilled with the spirit of the people and the place we live. From sowing the barley to distilling the New Make Spirit and finally laying the casks down to mature, it's exciting to think that people will enjoy the fruits of our labours in 10, 20 or even 30 years' time.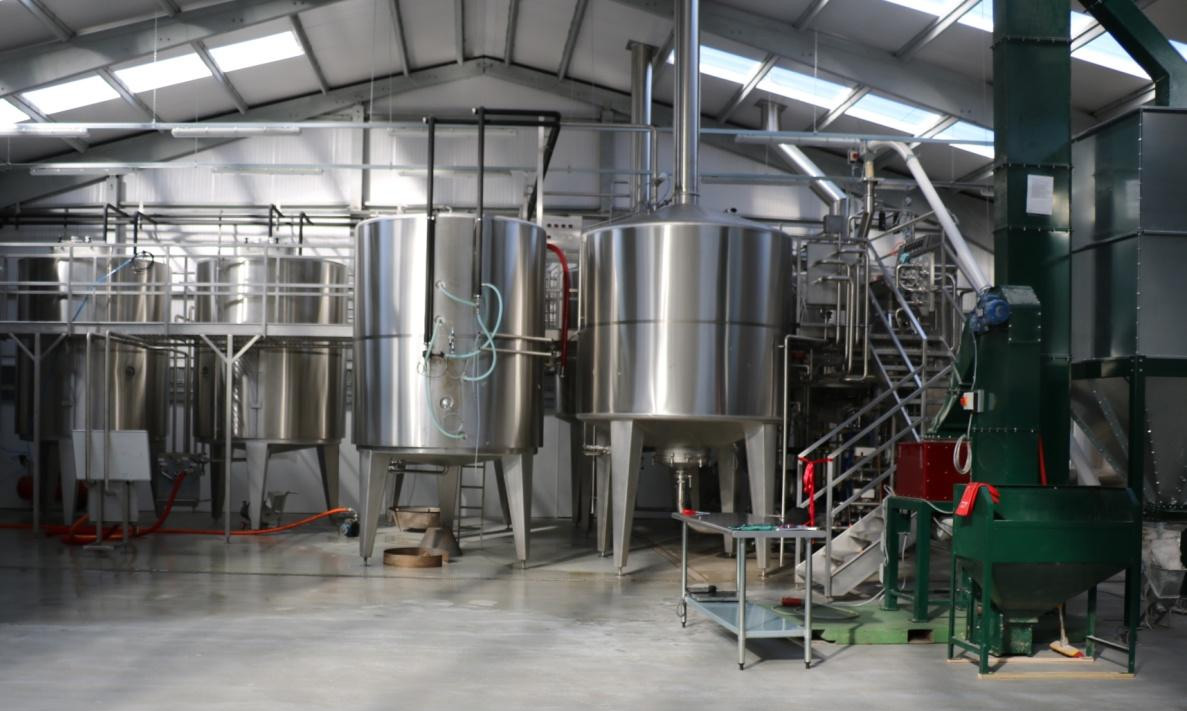 Wold Top Brewery / The first half of the Spirit of Yorkshire distillery!
Distillery Setup
With plans for a future distillery dating back to 2011, the farm brew plant (Wold Top Brewery) was built with whisky as well as beer in mind. Naturally, all this means they also have full control of milling, mashing and fermentation even if it's not on the same site as the stills themselves (a situation that wouldn't be allowed in Scotland). The rakeless mashtun has a single tonne capacity, whilst fermentation times are 75-95 hours with two 5,000 litre washes per day (Mon, Tue, Thu & Fri). These are subsequently tankered the 2.5 miles from the farm to separate washbacks alongside the stills. The reason for the separation is that the farm where the brewery lies is also Tom's home! The distillery (or the second half of it, where the stills are) in Hunmanby, meanwhile, is much more easily accessible and will be open to the public from Easter. Very soon you'll be able to take a tour, enjoy some tasty food and refreshments at the Pot Still Coffee Shop and peruse the distillery shop that's due to stock 20-30 different world whiskies. You can also pop down to the RSPB sanctuary at Bempton Cliffs to see Europe's largest gannet colony, which is where the Spirit of Yorkshire logo comes from.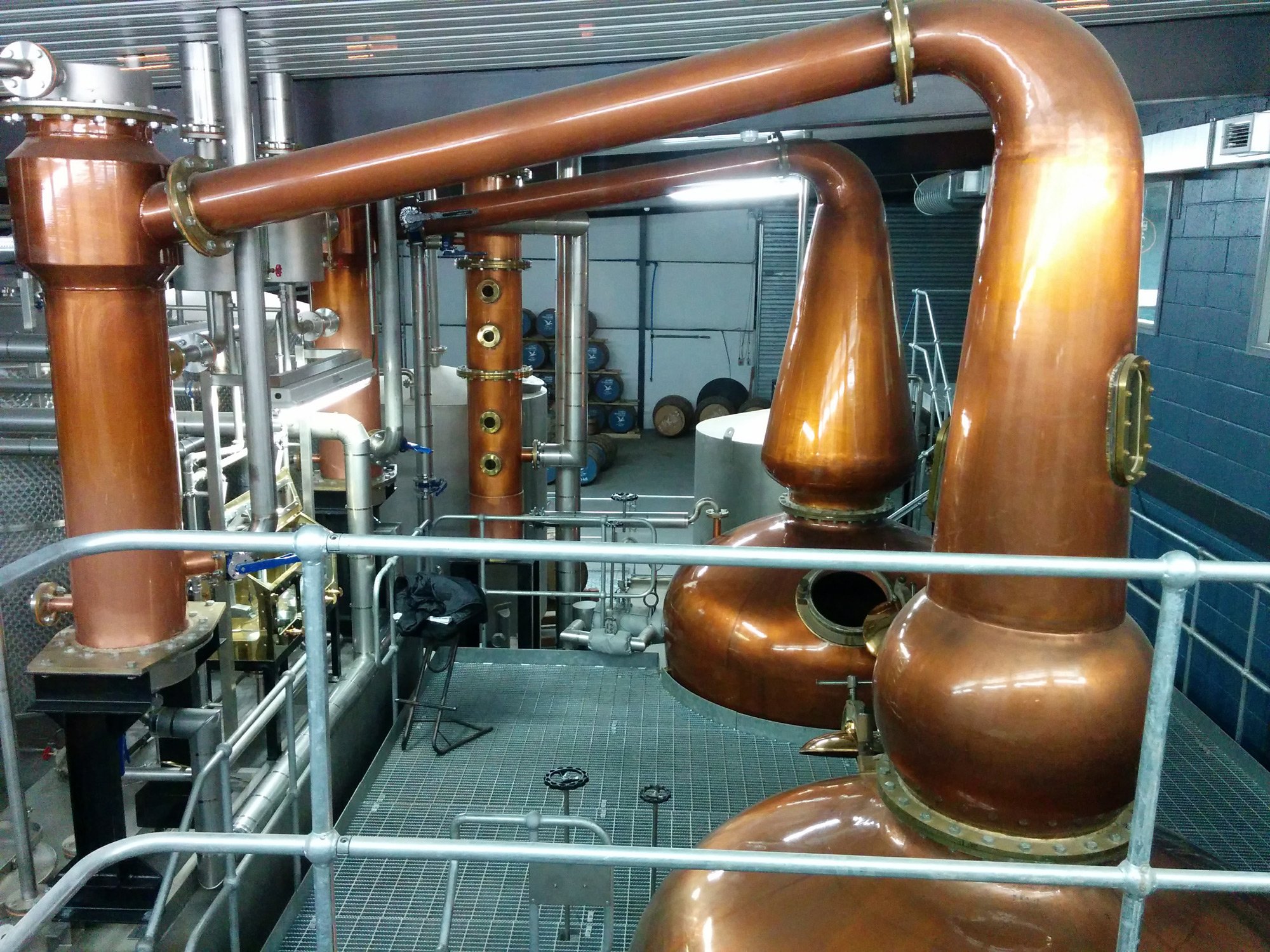 The Spirit of Yorkshire stills.
The Forsyths stills are the second largest whisky stills in England (after The Lakes): a 5,000 litre wash still with a boil ball and a 3,500 litre lantern shaped spirit still (or a reverse Ballindalloch, if you will) with descending lyne arms. To put that into perspective, they're a chunk bigger than those at Kilchoman* or St George's and a little bigger than Edradour, for example. They also have another trick up their sleeves: the spirit still has the option of running spirit vapours through a four plate column leading back to the pot, creating a *huge* amount of reflux. This is perhaps best understood as an enormous super-version of a purifier (which are used to create additional reflux at many distilleries, most famously Ardbeg). We had some fun discussing whether it's actually two-and-a-half times distilled too, although understandably Whisky Director Joe Clark (the very same formerly off of the good peoples at The Whisky Lounge) didn't seem keen to have to explain that to visitors! Currently, they're sending spirit vapour straight to the condenser for six months of the year and through the column for the other six months. The hearts of each are then destined to mature separately, before potentially being brought together at the blending stage in a few years time.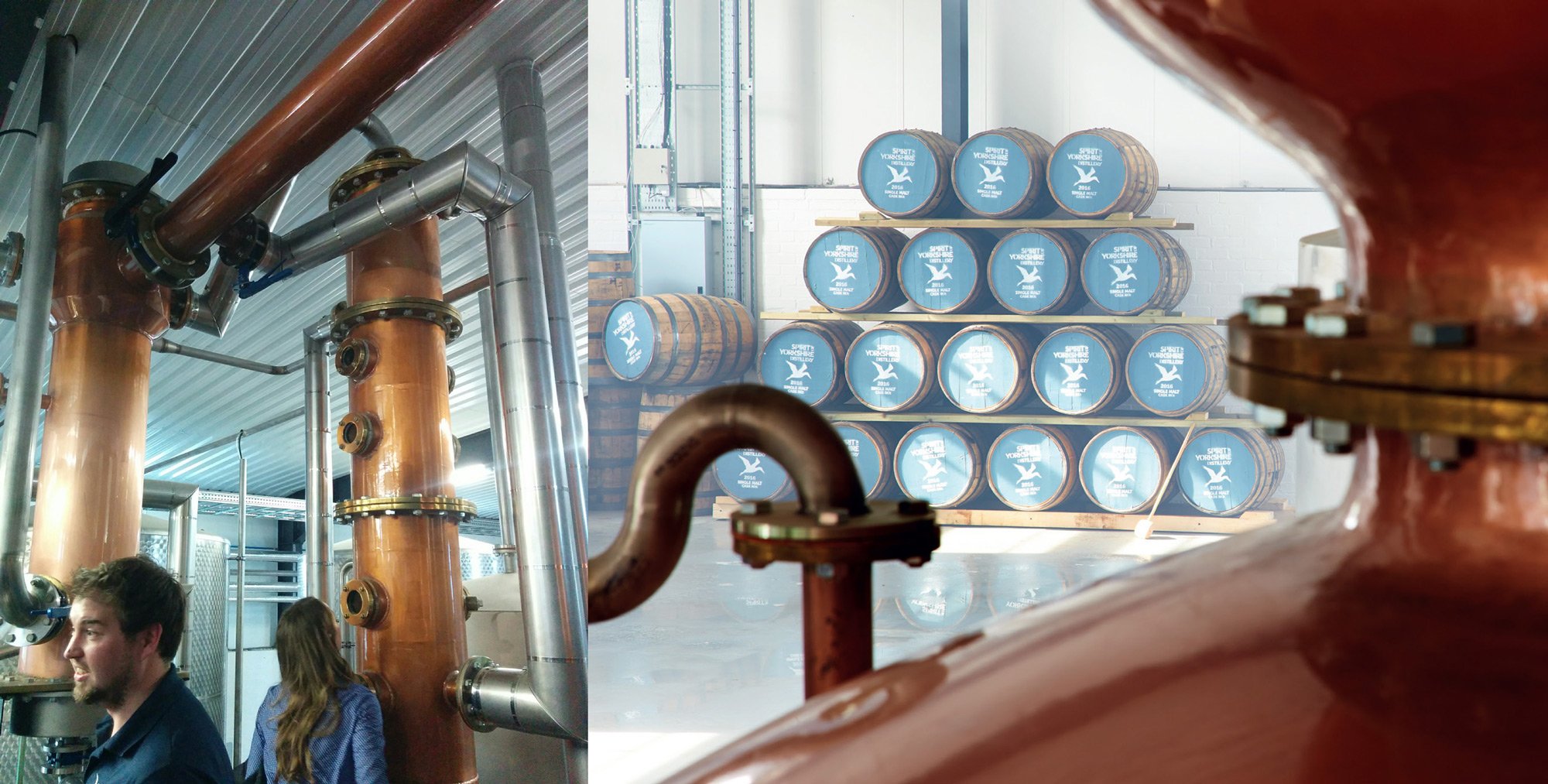 Left: Spirit of Yorkshire can switch between the traditional condenser and their four plate column with one lever
Right: Here you can see the pipe from the column leading back into the spirit still.
Everything here is manual too, with pleasing levers and valves everywhere. Cut points are controlled by getting hands on (and 'noses on'?) in the unlocked spirit safe, which also collects low wines in a separate receiver to foreshots and feints. In terms of capacity, the current schedule allows for around 80,000 litres a year. Theoretically, if every acre of the farm was handed over to barley and the stills were running constantly, that could go up to as much as 450,000 litres of pure alcohol per year.

Maturation
Spirit of Yorkshire have laid down over 300 casks already and offer an Explorers Club for those interested in private cask ownership. All the new make is currently filled at 63.5% abv, with 90% of those casks being first fill ex-bourbon (Old Forester casks to be precise, selected after a trip to Kentucky where they're used for a good 7-8 years). The final 10% of their spirit is being filled into Sherry casks (we saw Oloroso, PX, Fino and even orange infused wine) as well as some STR (stripped, toasted and roasted) red wine casks (favoured by Dr. Jim Swan and also being used over at Cotswolds) à la Kavalan Vinho. They're also working with the only remaining English Master Cooper Alastair Simms to produce around 50 Yorkshire oak casks, having agreed to fell some trees on a local estate.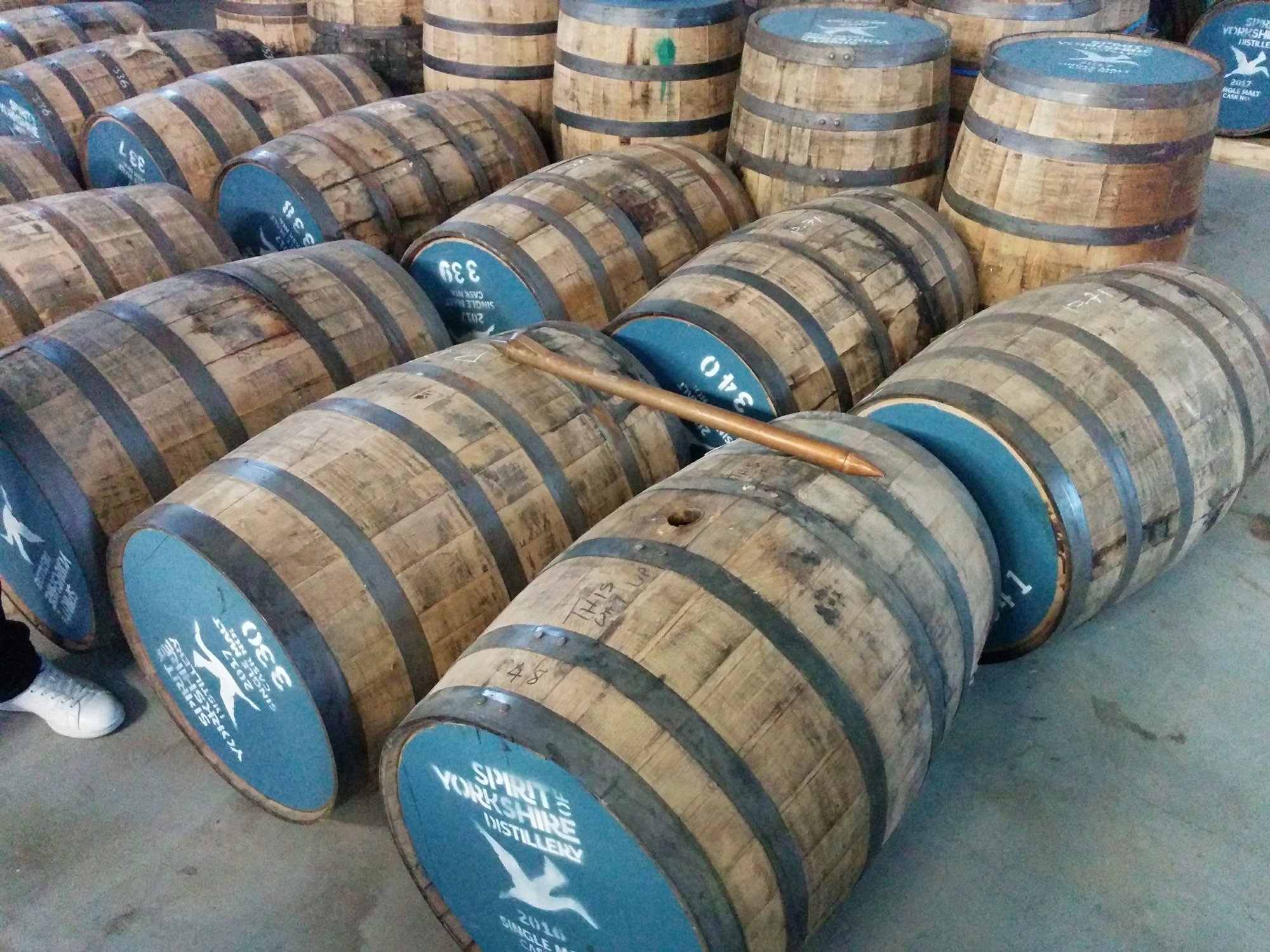 Around 90% of the new make is being filled into first fill bourbon casks.
Tasting the Young Spirits
Tasting Note for Spirit of Yorkshire (with column) American oak orange wine cask filled Sep 2016 (#101) (Think Vino de naranja made with Oloroso and Seville oranges, not the skin contact stuff.)
Caramel and liquorice with some caraway or fennel seed. Marmalade sponge, Ovaltine maltiness, panna cotta, golden syrup, Gold Bears, some bubblegum (well it is very young still!) and Vin Santo. (Tasted before we knew about the unusual cask type, if you were wondering.)
Tasting Note for Spirit of Yorkshire (pot still only) first fill bourbon filled Jul 2016 (#48)
Vanilla sugar, sweet anise and fennel again, and citrus peels (from the spirit now, not the cask!). Some syrupy/Buttercup notes, which I love, moving into nettle territory and more herbal notes too. Really great stuff.
Tasting Note for Spirit of Yorkshire (with column) Fino cask filled Sep 2016 (#106)
Honey and lemon to the fore now with just a hint a balancing salinity. The cereal notes seem to come through more here too with Hobnobs oatiness.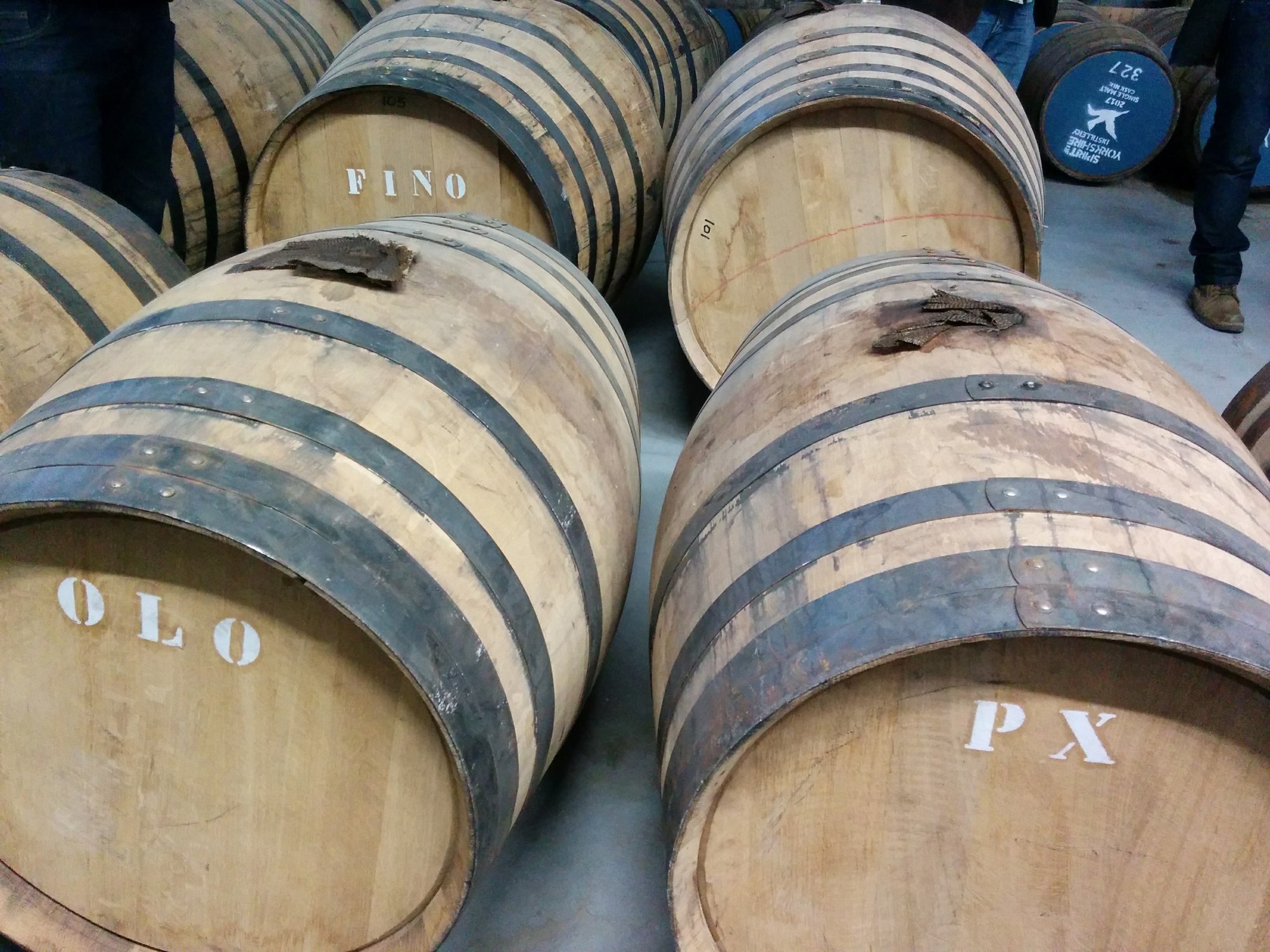 They're also experimenting with Sherry casks and more…
Whilst they've said that they'll only release whisky "when it's ready", it's also part of their plan to make a clean, fruity spirit (think Glenlivet) that will mature quickly without the use of smaller casks. Even with the column, which in theory produces a very light spirit (coming off the still at up to 90% abv), these young 100% malted barley spirits are packed with character, however. The body is impressive, taking water admirably, and there are characteristics that we can't wait to see develop.
That brings us on to what, if anything, Spirit of Yorkshire will be releasing before their first whisky? Unlike many young distilleries in England and elsewhere, they're not producing any vodka, nor gin. They're also not releasing anything made with any spirits bought in from elsewhere. What we may see, however, are some young releases of the spirit produced using the spirit still/column configuration. Look out for this as early as late 2017, whilst we may see their first whisky in late 2019. They'll need to move a few casks – which are all stored on site by the way – to make room for their bottling line first though.

English Whisky Distilleries
So, as promised let's end with a rundown of all the current English whisky distilleries:

St George's Distillery in Norfolk, aka The English Whisky Co., were the first to release English whisky in over a century
Healey's + St. Austell Brewery, aka Hicks & Healey Cornish Whiskey, were actually the first to start distilling whisk(e)y this century
Adnams Distillery, which we visited in 2011 to break the news and in 2013 when they unveiled their first whiskies (you can read more on Sam's Around the World series too)
Chase Distillery in Herefordshire, best known for their potato and apple based vodkas and gins
The London Distillery Company, they of Dodd's and Kew gins
Cotswolds Distillery, also helped by Dr. Jim Swan and made with 100% Cotswolds barley
Bimber Distillery in London
Spirit of Yorkshire (you know, the subject of this whole post…)
Copper Rivet Distillery, aka Masthouse Whisky, in Chatham Dockyard, Kent
Dartmoor Whisky Distillery in Devon, which has a Cognac alembic still
Cooper King Distillery is another in Yorkshire, although inspired by Tasmanian whiskies
That's 14 by our count, and there may be more on the horizon too… Princetown Distillers submitted plans earlier this year for what would be Devon's (and Dartmoor's) second whisky distillery. Interestingly, it seems to have caused uproar from locals for being "too Scottish". Whilst that's primarily an aesthetic concern in a small village that wishes to retain its own local character, you can certainly say that many of those listed above are breaking with tradition, doing things their own way and creating a local product with local ingredients. It will be these distilleries that bring something new to the table and produce whisky with real provenance that you suspect will succeed and give us plenty to look forward to in the next two to five years and well beyond!

Jake


* Another far less important link between Kilchoman and Spirit of Yorkshire relates to the latter's acronym being SOY…