There is an absolutely huge kerfuffle going on in the mainstream press at the moment about the hot new release of the first English whisky in over 100 years from St George's distillery in Norfolk…
We visited the distillery in September and met with Managing Director Andrew Nelstrop. We've got a few juicy exclusives, photos and insights to share with you lucky, lucky people.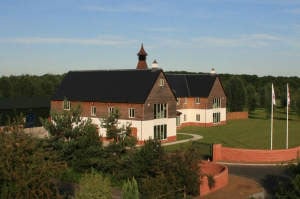 The Distillery and visitors centre. The still room is behind the large window facing the front on the first floor.
We'll start by saying first and foremost that we absolutely adored the spirits we tasted – the complexity and depth of flavour found in the samples we tried with Andrew were stunning, and the dedication to excellence displayed at every step of the distillation and maturation processes were truly a delight to see.  These guys are doing it properly.
The distillery is located in a picturesque village just outside Norwich, and on pulling up to the entrance, we thought we were looking at a rather nice country home rather than a working distillery.  It would doubtless have been incredibly easy (not to mention cheap) to put up a warehouse, get some spirit going, and knock up a chocolate-box visitors centre just round the corner, but they've rolled it all into one very pretty building. This is indicative of the forward planning and confidence in the venture shared by all at the distillery.
The distillation process takes place in one large room, with three modestly sized (by industry standards) washbacks being fed by a single stainless steel and copper mash tun.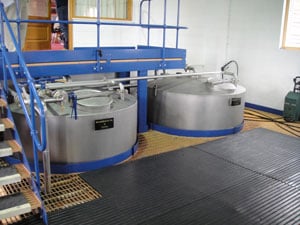 Two of the three washbacks.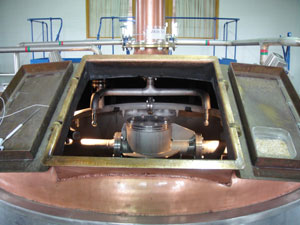 The Mash tun. Shiny.
When fermentation is complete, the wash is transferred to the Wash still (very dinky compared to anything we've seen this side of Edradour), then onto the spirit still.
Inside a still – points available for telling us if it's wash or spirit.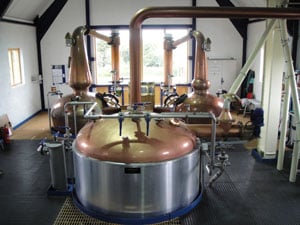 A view of the still room – Mash tun in the foreground, wash still back left, spirit still back right, washbacks are under the photographer's feet.
The spirit comes off the stills and is filled directly into used casks from Jim Beam, imported from the USA without being split down and re-coopered. The casks are stored in sealed containers rather than outdoors exposed to the weather and it's worth noting two things – firstly, the casks stay fresher and retain more of the vanilla-rich bourbon aromas, and secondly, if you get into one of the containers, close the door, and breathe in, you will never want to leave.  In fact, you may have to be physically dragged out and told off by one of your colleagues. Of course, we can't comment on whether or not this happened to us.
Once filled, casks are stored in the on-site warehouse, guarded faithfully by a mythical beast so ferocious that one glimpse of his razor-sharp teeth will cause most men to soil themselves immediately.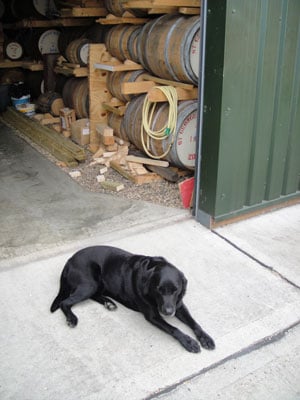 Guard dog. Sleepy, but ready to defend against would be Whisky thieves.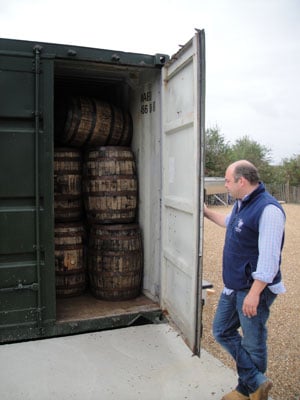 Managing Director Andrew Nelstrop shows us his 'special place'.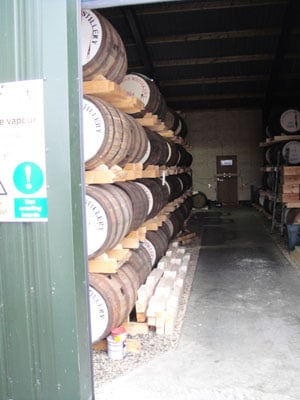 Casks stored on top of one another – unusual, but very effective for easy access.
The casks are stored using traditional wooden dunnage, with a twist – instead of the more traditional alternating pattern, the casks are stored directly on top of each other, providing very quick and easy access to the bung in each barrel. This method of storage will, according to Andrew, become invaluable once casks are being selected on a very frequent basis for bottling. Makes sense when you think about it.
We had the very good fortune of being offered the opportunity to taste samples of 4 exclusive pre-release spirits with Andrew – tasting notes below.
Whilst not averse to considering cask finishing, and alternative maturation casks (alternative to the Bourbon casks that are the English Whisky Company's mainstay), Managing Director Andrew is keen to experiment in the still room before bombarding the whisky with hundreds of finishes and weird and wonderful maturation casks. This seems sensible when considering the youth of the spirit, and the need to establish a 'house style'.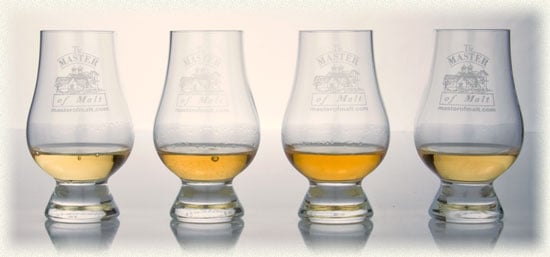 English Whisky.
Chapter 3 – 20 months old (Unpeated)
Nose: Peaches, New-Make, more than a hint of that Jim Beam Bourbon
Palate: Strong barley, hint of coconut perhaps?
Finish: Cocoa and more coconut – it's a bounty bar!!
Overall: Really very good. Delicious. Benefits from the addition of water.
Nose: Fizzy fruity sweets – sherbet lemons and strawberries…
Palate: Clean malt, zingy citrus-fruit – this is shaping up very well indeed.
Finish: Very long, barley-rich, tangy and zingy.
Overall: Really goes to show just what 'young' whiskies can be when they're made right. Another stunner.
Chapter 4 – 01/11/2007 – 25/08/2009 – Peated
Nose: Peat – and not a lot else initially…
Palate: Smooth, well integrated peat (it's still there in force though), very, very fruity.
Finish: Christmas spices, hint of orange zest just at the end?
Overall: Impressive, but not as good as the previous two.
2 ½ year old Heavily Peated 55ppm (out in May 2010)
Nose: Not as heavy as one might think. Peat is there, sure, but it's hidden behind an almost savoury hit on the nose.
Palate: Oily. Big peat blends well with a fruity initial palate..
Finish: Almost a hint of Sherry – although obviously it's never seen a sherry cask… Huge, huge finish. One of the longest and most lingering we've had in a while…
Overall: Top stuff already, and it's got another 8 months to go.
So… onto the questions you've all been waiting to ask…
Yes, we are going to have a (very limited) quantity of the new Chapter 6 whisky, it's due for release next Thursday (17th December) – so should be in soon after.
Yes, it'll be a one bottle per customer limit.
No, we're not going to be taking any reservations – we'll be listing it as soon as the truck pulls up into the yard, and it'll be first-come, first-served.
– The Chaps at Master of Malt.