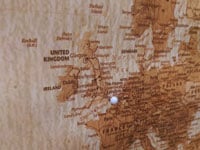 I'm bad at geography. I'm not a proud man, I'll own own up to my faults and I definitely suck at geography. Recently I told a good friend that there couldn't be more than around 70 countries and even bought a map to prove it. Boy was my face red. So now I own a map for the first time in my life, and I figure I should use it to rectify my lack of geographical expertise. How, you ask? Drinks, obviously.
I plan to travel the world, like the great (fictional) Phileas Fogg before me. However, I will be doing so via the medium of delicious spirits and probably Wikipedia to find out a bit more about where said spirits come from. Join me as I set sail on my Around The World In 80 Drams voyage and marvel at how little I know about the planet I've called home for my entire life (I'm smart in other ways, honest!).
For the first week of this adventure, it only makes sense to start in London, considering the name of this series. In Jules Verne's Around The World In 80 Days, Fogg travelled from London to London travelling east all the way around the globe. This was back in the 1800s, when hopping on a commercial jet and self-driving cars made by search engines weren't exactly the most reliable ways of getting around.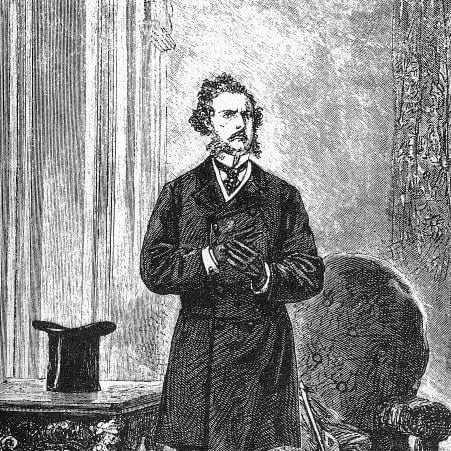 "Passepartout, order me an Uber!"
The drink I chose to kick this all off with is the signature gin from the East London Liquor Company, and seeing as I live just an hour outside of London, I figured I would pay them a visit. Now, I've been to London before. Heck, I was born there. This doesn't mean I'm good at navigating it or know where anything is. Getting off the tube at Mile End, the distillery is around a 10 minute walk, and the area seemed very familiar, but I had no idea why. It was only when I managed to walk past the distillery (it's actually very hard to miss, I'm just a numpty) and arrived at Victoria Park did I realise that I sort of knew where I was. I did a 10K run in the park a few years ago with Jake!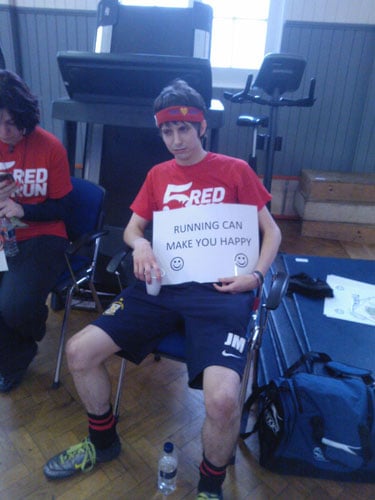 The aftermath of our 10K run.
So I turned around and managed to find Bow Wharf where the ELLC has made its home in a beautiful old building. You walk in and you're greeted by a very handsome bar, well stocked with gins, rums, whiskies and more. Behind the bar, through a wall of glass windows, you can see the distillery's two beautiful Arnold Holstein stills, so you can see the gin you're drinking at the bar being made! After enjoying a fantastic G&T (made with their signature gin, of course), I was kindly allowed to jump on a tour of the distillery with founder Alex Wolpert.
Alex took us around to the stills and told us about what goes into their vodka and three gins. With transparency being key to the company (as exemplified by the big glass wall showing off the stills) the ELLC are very happy to tell you what they make their drinks with – while some might shy away from saying what botanicals go into their gins, they make sure to say what botanicals are used on the bottles. It also helps that they use top ingredients, like a spectacularly creamy British wheat base spirit and fragrant, oily Macedonian juniper berries, among others.
Following that, Alex showed us downstairs where the ELLC have started maturing their rye whisky, made with a mash from local brewery Crate in Hackney Wick. They've got a selection of casks in their cellar, including a handful of bourbon barrels and selection of smaller barrels. It smelled fantastic down there already. Look out for more news on their whisky in three years…
Alex then showed us to their bottle shop, where you can purchase all of their spirits as well as an assortment of drinks from other local distilleries and imported goodies. The tour finished with trying four more gins from different brands, showing off different styles from around the world and closer to home. It's definitely worth a visit to the East London Liquor Company if you're looking to learn about local drinks or just looking for an ace G&T.
Speaking of, let's have a taste of their London Dry Gin, shall we?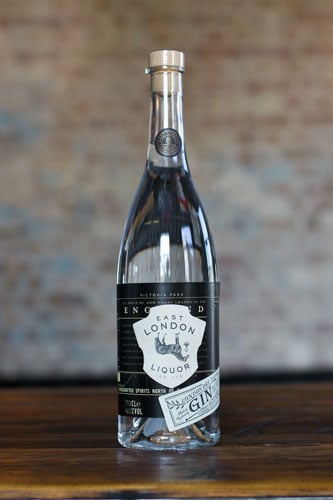 1. London, England – East London Liquor Company London Dry Gin
Nose: Opens with soft lemon drizzle cake and fresh, leafy coriander. This continues with subtly sweet angelica and oodles of rich, oily juniper – interestingly developing hints of olives in oil too!
Palate: Magnificently creamy mouthfeel, complimented by the crisp citrus peels and earthy juniper. The spiciness of the cardamom and cubeb comes through here – it's not in your face, but certainly quite noticeable.
Finish: Continued enjoyable oiliness, with final glimmers of refreshing juniper lasting on the finish.
And so the journey begins! Next week we head to the east coast – sun, sea and superb beer. Need more hints on where we're going? Well, if I travelled by pug, it would take me around 23 hours from the East London Liquor Company to this next stop…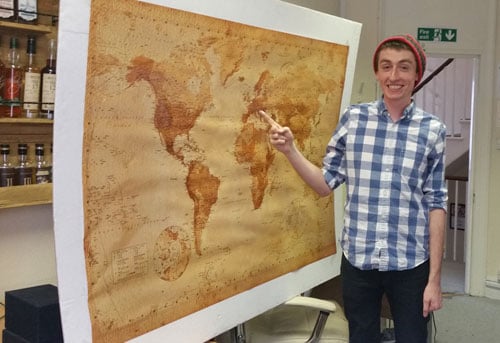 Bon voyage! (Also, not the final place for my map, just figuring out where best to put the massive thing!)
Sam