Did you know almost half of Johnnie Walker's 12-strong blending team are women? This International Women's Day, blender Emma Walker explains her role in the world of whisky production, shares tips for breaking into the industry, and reveals what it's like to work for a business that makes equality a priority…
If there's one spirits firm leading the charge on female representation in the workplace, it's Johnnie Walker owner, Diageo. The business has one of the highest ranked boardrooms in terms of gender parity among FTSE 100 companies; by April, 50% of its board will be women.
Presently, 40% of its global executive team are female, including the president of Diageo North America, the global chief marketing officer and chief financial officer. The firm recently backed advertising movement Free the Bid, and now its agencies and producers are required to put forward at least one female director for every project.
This progressive ethos extends to Johnnie Walker, which (as you'll be more than aware) recently introduced a female version of its iconic Striding Man, called Jane Walker, who features on a special edition bottling of Black Label for Women's History Month. The bottle shape is unchanged. Inside? The same liquid. Jane has adopted the same pose; wears the same walking stick and hat as the original icon. She is, quite literally, a female version of the Striding Man. For these reasons, Jane is a symbol of empowerment and equality.
What's more, for every bottle of Johnnie Walker Black Label The Jane Walker Edition sold, $1 (up to a total of $250,000) will be donated to organisations that champion women. These include She Should Run, which aims to increase the number of women in public office; and Monumental Women, a campaign dedicated to erecting a statue honouring women's history in New York's Central Park.
It's not just about Jane. Women have been integral to the brand since its inception. In fact, John Walker & Sons bought Cardhu distillery from a woman – Elizabeth Cumming – back in 1893 (Cardhu being a key component in Black Label). John Walker's wife Elizabeth was "fundamental" to the conception of his first blended whisky. Fast forward to 2018, and half of the brand's blending team are women. Nosing cask samples, blending prototypes, fine-tuning recipes: it's all in a day's work for Emma Walker…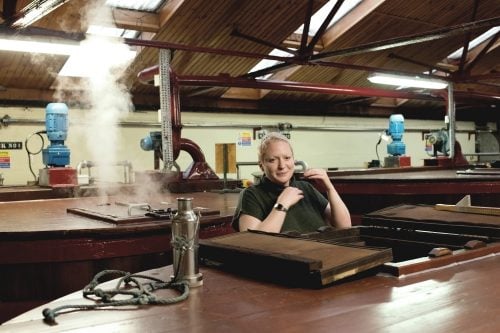 Johnnie Walker blender Emma Walker
My background is in chemistry. [I undertook] a two-year apprenticeship at Imperial Chemical Industries in Teesside; a Masters in Chemistry at Edinburgh University, and a PhD in Organic Chemistry at the University of Sheffield. While working as a process chemist at GlaxoSmithKline in Montrose, I applied for a project scientist role at The Diageo Technical Centre in Menstrie. I was intrigued about working in the drinks industry – I'd never considered this area because I had no experience in it, but I was offered the job and have been working on whisky at Diageo for 10 years. I spent four years in the whisky specialist team, developing my sensory skills and learning about flavour, whisky production and maturation as well as how to blend. I moved to production for three years, first working as a technical specialist at Leven [bottling plant and distillery]. I managed the quality labs for the Sweetened Products Area (SPA) at Leven Spirit Supply and Cameronbridge Distillery, before moving to Knockando Distillery to be a trainee distillery manager. The past three years have been spent back with the whisky specialist team, where I'm responsible for some of our single malt and blended Scotch portfolio, with a focus on Johnnie Walker.
The more I learn about whisky, the more I'm intrigued by it. It's the perfect balance between science and art! My whisky journey began with friends at Edinburgh University, with peated west coast whiskies – Lagavulin 16 Year Old and Talisker 10 Year Old were our favourites. I think more people start with the peaty Scotches than is generally realised, because these whiskies have a definite, understandable flavour. Once I started working at Diageo, my horizons significantly broadened as I learned about whiskies from the four corners of Scotland – both single malts and blended Scotch – and about the diverse range of flavours we can find in whisky, including the underlying, subtle flavours present in smoky whiskies.
No two days are identical, but they always include nosing whisky samples! Typically, I'll have a range of cask samples out for assessment, whether for an innovation project or for managing quality and consistency in Johnnie Walker blends and single malts. Depending on the scope of the project, these will be from different distilleries, cask styles and fill dates. Once assessed, I'll consider what flavour and character I want to achieve with the final blend and how I can theoretically create this with the samples in front of me. I'll blend a number of prototypes on a small scale and assess these with the rest of the team, continuing to tweak and fine-tune the recipe until I'm closer to my target. This will be examined in more detail by the team, including tasting – sometimes homework can be interesting! There's no set number of samples or casks; it depends on the size and scope of the project.
Personally, I haven't been subject to any barriers in the whisky industry. In my time at Diageo, I've had the opportunity to work in Technical within the whisky team and at Leven; in Production, managing the quality labs at Cameronbridge and Leven; and as a trainee malt distillery manager. Throughout this, I never felt that being a woman held me back in any way. The whisky team is gender balanced and everyone in the team is there due to the skills and experience they bring. Women working in whisky blending and quality isn't a new phenomenon – for example, [Diageo master blender] Maureen Robinson has been working in the industry for 41 years, and [Diageo master blender] Caroline Martin for over 30 years! There has been a perception outwith the whisky industry that few women are involved. In my experience this is definitely not the case, and I've been lucky enough to work with some wonderful female colleagues – from technical and engineering apprentices through to senior management.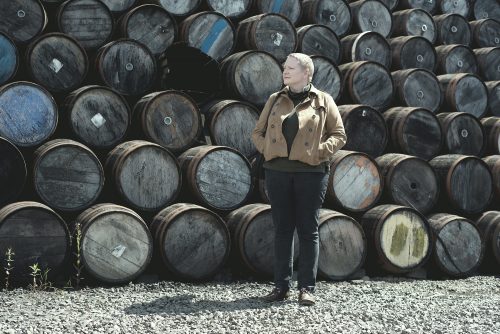 Walker chilling with some casks
There are already some excellent approaches to making the whisky industry more inclusive. In my opinion, talking about flavour is an inclusive approach. Everyone has opinions about flavours – what they like or dislike – and this is a great starting point, whether we're talking about the production decisions made in running a distillery, creating a new blend or developing a new whisky serve.
I'm proud of all of the whiskies we produce and the enjoyment people get from them. I'm extremely proud to have been involved in the creation of Johnnie Walker Blue Label – Ghost & Rare, Brora Edition. It's an amazing blend, bringing together whiskies from three closed distilleries and rare expressions from five operating distilleries across Scotland. It's a wonderfully fruity, sweet, and complex whisky that showcases the individual influence of these eight distilleries – all of which are in Johnnie Walker Blue Label. I'm also very proud of Johnnie Walker Blenders Batch – Red Rye Finish. It's the first bottle that has my signature on the label, which made my parents very proud! This blend really demonstrates the influence maturation in American oak has on Scotch whisky, resulting in a balanced, accessible whisky with sweet toffee notes. Considering how it would be served was a big part of the innovation process. The Blenders Batch series is exciting for the blending team, as it's a great platform to showcase our ongoing experiments and collaborations with colleagues in Technical, Distillation and Maturation.
The most exciting thing about my job are the people I've been lucky enough to meet and work with over the past 10 years from across Scotland and the world. I love talking to people about what they are passionate about and I'm lucky to work in an industry where people love their job and are very proud of the whiskies they help to make. I enjoy continually learning about whisky, acquiring more technical knowledge and developing my understanding of flavour and blending and how to talk about this.
I always look for balance in a dram – balance of flavours, as well as between the distillery character and maturation. This is the same, whether drinking a wonderfully balanced and complex blended Scotch, a sweet, dense grain whisky, a lovely peaty dram or a complex, rich whisky matured in European oak.
For anyone – men or women – trying to get into the whisky industry, my advice would be to come to the industry with an open mind and bring your ideas. The whisky industry is a very welcoming and innovative environment, and new voices and new ideas are highly valued, adding to the traditions and history. Whisky has a spectrum of flavours and styles and this is reflected in the people who work within the industry. Keep an eye out for any jobs advertised in the whisky industry. I know a number of people in different parts of the business who started as summer tour guides at a distillery, learned on the job, networked and built up skills in other areas. Assess your current skills against the job specifications, highlight personal development areas and to discover what transferable skills you have. There are a lot of different types of roles across the industry – science and engineering is useful for technical and production roles, but there are always exceptions. Responsibly, try as many different whiskies as you can! Enjoy them with friends, join a whisky tasting club, try different whisky cocktails and serves, go to whisky shows and talk to people about whisky. Look up the tasting notes for different whiskies and talk about the flavours you find to develop your personal whisky vocabulary.