The rumours are true! Diageo has introduced a female counterpart to Johnnie Walker's iconic Striding Man with a special edition Jane Walker bottling…
Whispers of a Jane Walker whisky have been circulating since the US presidential election in 2016, but until now they've remained just that. Well, speculate no longer: Jane Walker has landed, perched atop a limited edition run of the Johnnie Walker brand's 12 year old Black Label blended whisky.
The Striding Man may have represented the brand for more than a century, but that's not to discount the significant role women have played in the brand's long and storied history. John Walker & Sons bought the Cardhu distillery from owner Elizabeth Cumming back in 1893, and this key single malt makes up the heart of Black Label. Elizabeth Walker, wife of founder John Walker, was "fundamental" to the creation of the first blended whisky, and helped to manage the first Walker grocery shop.
Diageo is well-known for championing female representation in the workplace, and Johnnie Walker is no exception. Today almost half of the brand's 12 blenders are women, with female leaders in the marketing and executive teams, too.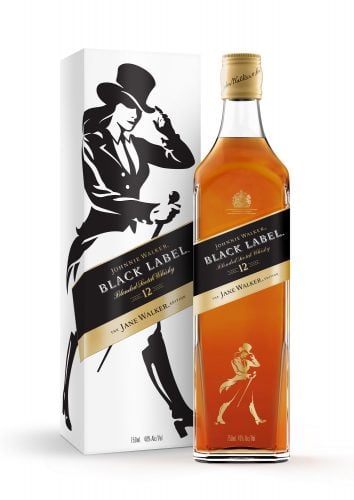 Johnnie Walker Black Label The Jane Walker Edition
Back to Jane Walker. The special edition bottling has been timed to correspond with Women's History Month and International Women's Day celebrations on 8 March, and as such, $1 of every bottle of Johnnie Walker Black Label The Jane Walker Edition sold (up to a total of $250,000) will be donated to organisations that champion women.
Beneficiaries include She Should Run, which inspires women to run for public office; and Monumental Women, a campaign to honour America's female suffragists with a monument in New York's Central Park, where there are currently 23 statues of historic figures, all men.
"Important conversations about gender continue to be at the forefront of culture and we strongly believe there is no better time than now to introduce our Jane Walker icon and contribute to pioneering organisations that share our mission," said Stephanie Jacoby, vice President of Johnnie Walker. "We are proud to toast the many achievements of women and everyone on the journey towards progress in gender equality."
Keen to find out more? Visit WalkWithJane.com, check out the brand's social media channels, and follow #WalkWithJane.