Who said spirits are just for drinking? Get your aprons on because we're cooking up a storm… with whisky, rum and all kinds of other spirits. Careful now. So whether you like it sweet, savoury or spicy, we've got a great boozy recipe for you.
We're sure most of you have experimented with using alcohol in cooking before, probably reducing wine in a sauce or dousing stews with beer. But spirits can be used to great effect too, as we found out when we made the below recipes. Cooking with whisky isn't as scary as it sounds. A drop of something delicious can transform a dish, and you'll still have plenty left in your bottle to go with your meal or enjoy later.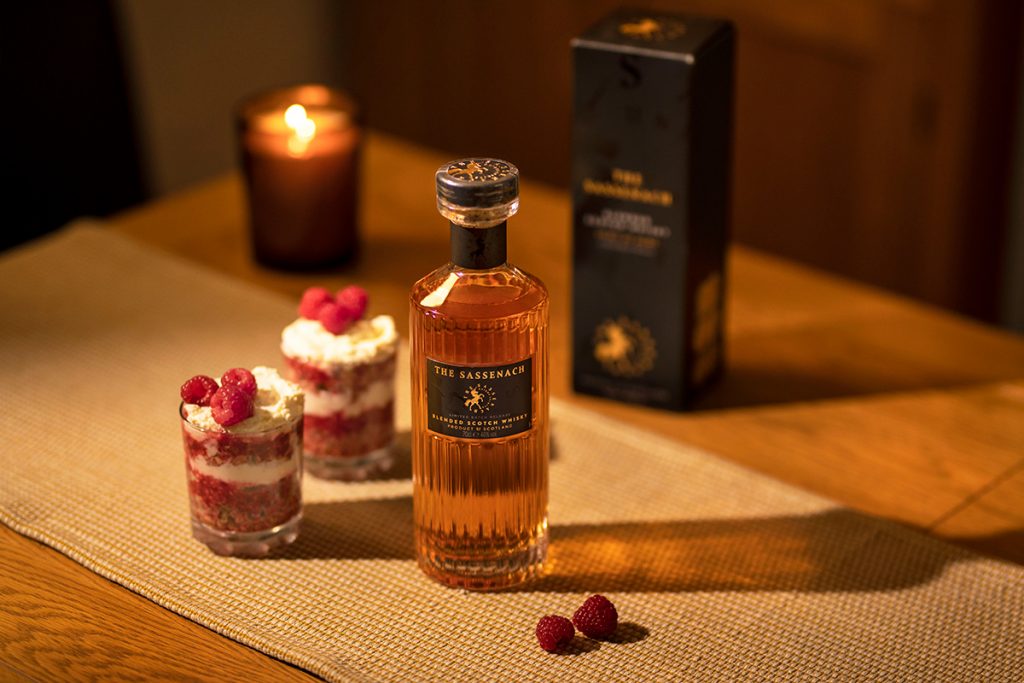 Meal: Cranachan
Sassenach creator and star of Outlander Sam Heughan actually made this traditional Scottish dessert himself using his own whisky, so we thought we'd take a leaf out of his hunky book and whip up one ourselves. It's so freaking good.
100g oatmeal
300g raspberries
1 tsp caster sugar
300ml double cream
2 tbsp honey
5 tbsp Sassenach
Lightly toast the oats in a pan, being careful not to let them burn, then allow to cool. Soak the oats in 2 tbsp of Sassenach while you prepare the other ingredients. 
Keep some raspberries to the side to garnish. Crush the remaining raspberries in a bowl and add the caster sugar, 1 tbsp of honey, and 1 tbsp of Sassenach.
Whip the cream in a bowl until it begins to thicken, then add the remaining 1 tbsp honey and 2 tbsp Sassenach. Continue to whip until stiff peaks form.
We opted for a layered approach to look like Sam Heughan's — a layer of oats, then the raspberries, then the cream. Repeat and garnish with the raspberries we set aside earlier.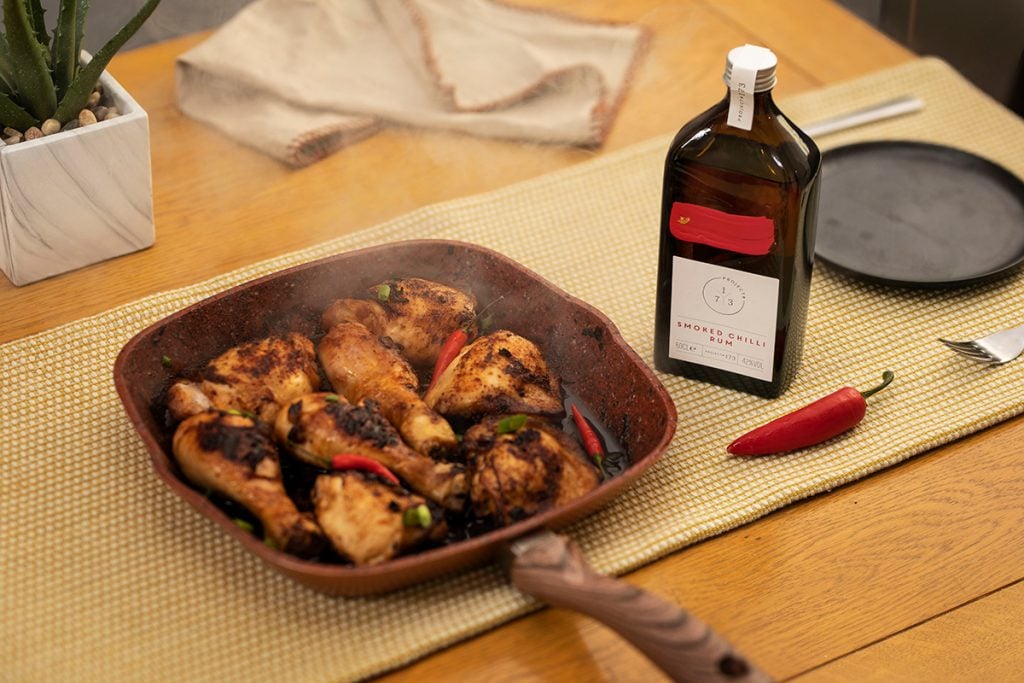 Meal: Rum-marinated chicken
An easy-to-make dish with big flavours helped by a glug of Project 173 Smoked Chilli Rum. It's key that you sear this chicken and don't be afraid to add more spicy rum if you're feeling brave…
50ml Project 173 Smoked Chilli Rum
2 tbsp honey
2 tbsp soy sauce
1 chopped red chilli
3-4 garlic cloves, chopped
2 spring onions, chopped
1 tbsp olive oil
1 tsp each: sea salt, black pepper, garlic powder, smoked paprika
Bone-in, skin-on chicken thighs & drumsticks
Spring onions, to garnish
Combine all ingredients and pour over the chicken in an airtight container. Chill overnight.
Preheat the oven to 180C. Heat some oil in an oven-safe griddle pan over medium/high heat. Sear the chicken until a golden brown crust forms, then transfer to the oven and cook for 15-18 minutes. Garnish with chopped spring onions (and extra chilli, if you can handle it!).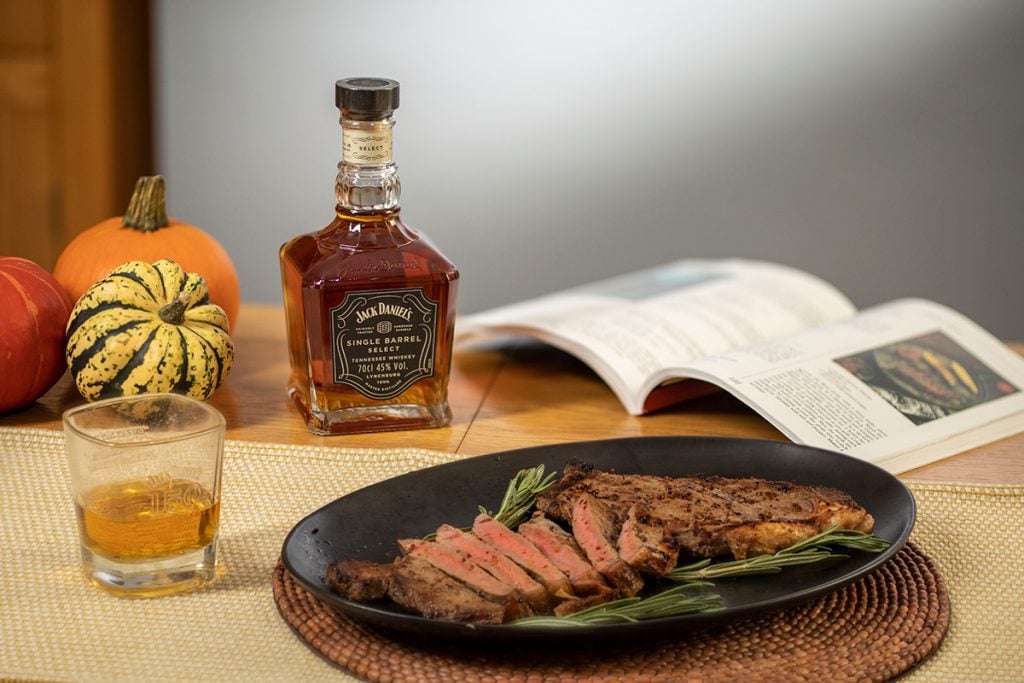 Meal: Whiskey-marinated steak
Jack Daniel's has a long-standing relationship with food and even has its own brand of sauces that we're sure lots of you have tried. But you can make your own steak marinade at home in a few simple steps and it will knock your socks off.
50ml Jack Daniel's Single Barrel
2 tbsp soy sauce
1 tbsp wholegrain mustard
2 garlic cloves, chopped
1 tbsp demerara sugar
1 tbsp olive oil
Salt and pepper to taste
2 good quality steaks
Coat the steaks in the marinade, cover and chill overnight. Heat some olive oil in a pan until very hot (but not smoking); sear the steak for 2-3 minutes on each side for medium rare. When you flip the steaks, add some of the leftover marinade to the pan and baste. Leave to rest for 5 minutes before serving.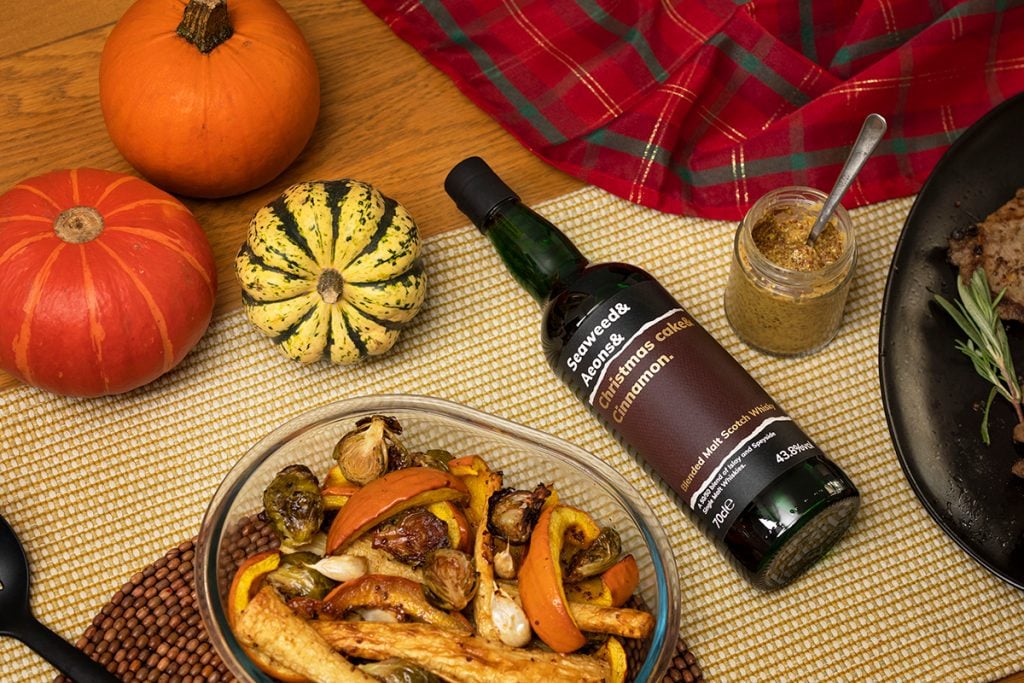 Meal: Whisky & honey roasted vegetables
Just a hint of smoky whisky in this sauce mixture adds a really pleasant depth to a hearty dish that's ideal as we come into the winter months.
1 small cooking pumpkin
Parsnips
Brussels sprouts
2 heads of garlic
Sauce mixture:
2 tbsp Seaweed & Aeons & Christmas Cake & Cinnamon
2 tbsp olive oil
2 tbsp honey
1 tbsp wholegrain mustard
Method:
Preheat the oven to 180C. Chop the pumpkin, parsnips, and sprouts and place them into a roasting dish. Drizzle over the sauce mixture and toss to coat. Roast in the oven for 35-40 minutes, turning the veg halfway.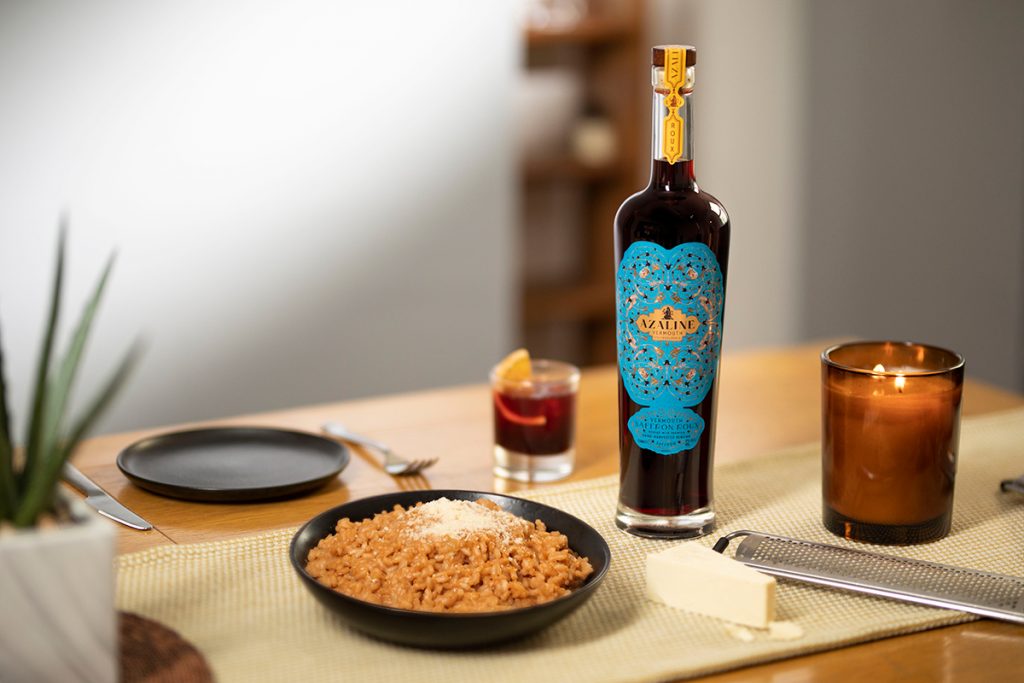 Meal: Risotto
This is a simple, beginner risotto recipe that delivers big comforting cheesy goodness and just a hint of saffron-infused sweetness from Azaline Vermouth.
2 pints stock (chicken or vegetable)
1 large onion, diced
3 cloves of garlic, chopped
2 tbsp olive oil
70g butter, plus 1 extra knob for frying
400g arborio rice
1 wine glass of Azaline Vermouth
100g parmesan
Method:
Heat the olive oil & knob of butter in a pan; add the onion and garlic and gently cook until soft. Be careful not to add colour! Once the onion is soft and squidgy, turn up the heat and add the rice.
Lightly toast the rice until it begins to look translucent, then add the Azaline and keep stirring until absorbed.
Add a ladleful of stock and a pinch of salt.
Turn the heat down to a simmer; keep adding ladles of stock one at a time until they absorb.
After about 15 minutes start tasting to see if the rice is cooked; keep adding stock until it is al dente.
Once cooked, take off the heat and add the remaining butter and parmesan. Cover the pan and leave to stand for 2 minutes.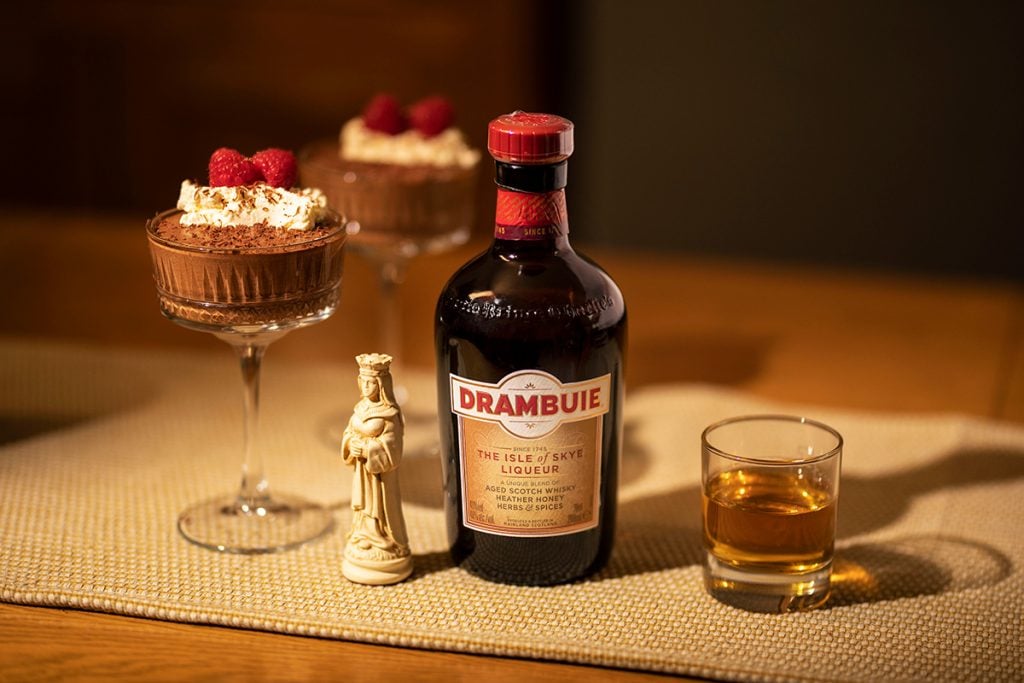 Meal: 'The Queen's Favourite' chocolate mousse
The late Queen's former personal chef, Darren McGrady, claimed that Her Majesty was partial to a boozy chocolate mousse made with Drambuie. So this is the brand's recipe, fit for a Queen.
170g dark chocolate
284ml double cream
5 eggs separated
1 tsp coffee
2 tbsp Drambuie Honeyed Liqueur
1 tbsp boiling water
Melt the 170g of dark chocolate taking care not to overheat it in a large bowl over boiling water.
Separate the eggs and whisk the yolks into the melted chocolate and then add the coffee, Drambuie and mix well.
Whip the cream until stiff and the peaks hold.
Whisk the remaining 5 egg whites until stiff and the peaks hold.
Fold the cream with a metal spoon into the chocolate mixture followed by the whipped egg whites.
Keep folding until there are no white specks of cream or egg white and then pour into a decorative serving dish.
Put the mousse into the refrigerator for at least three hours to allow the chocolate to set.
Decorate with whipped cream and chocolate curls and enjoy!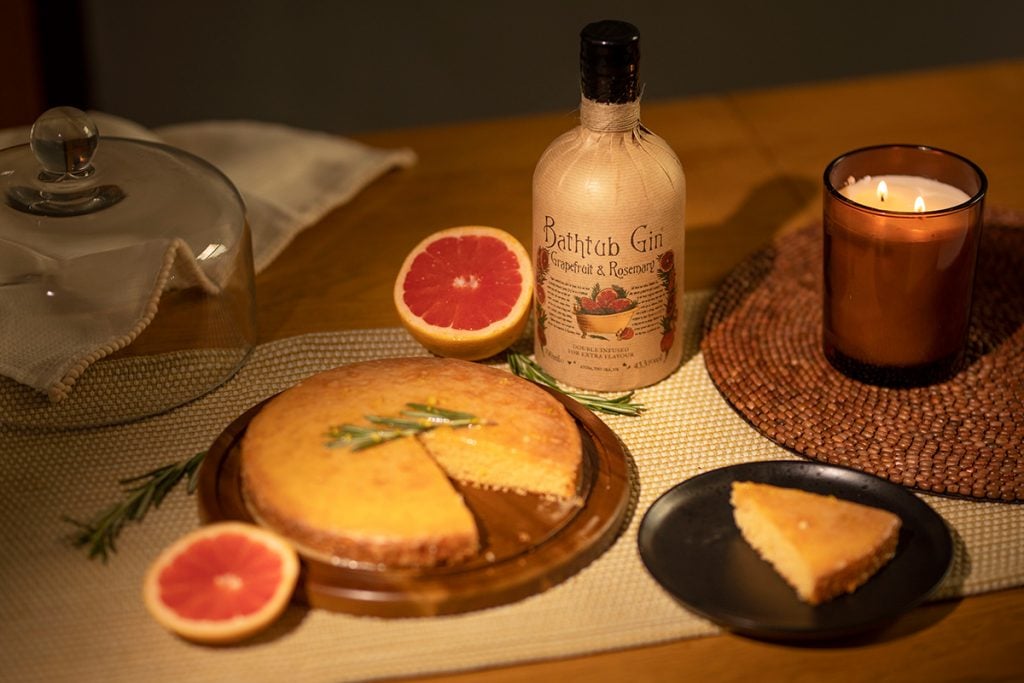 Meal: Grapefruit & vanilla sponge cake with a gin glaze
Everyone loves cake and cake of the sponge variety has the bonus of being tasty and super easy to make. Plus it's a blank canvas for flavour, and in this case, we decided to treat it to a glaze that includes Bathtub Grapefruit & Rosemary.
For the cake
200g self-raising flour
200g butter
150g caster sugar
3 large eggs
1tsp vanilla extract
4 tbsp milk
Grapefruit zest
For the glaze:
50ml Bathtub Grapefruit & Rosemary
2 tbsp grapefruit juice
150g icing sugar
Grapefruit zest
Chopped rosemary
Cream sugar and butter together until light and fluffy.
Add the eggs one at a time and mix until combined, then add vanilla extract and grapefruit zest.
Fold the flour into the wet mixture; lastly, add milk and mix until well combined.
Divide the batter between two greased eight-inch round cake tins and bake for 18-22 minutes at 180C (or until a skewer comes out clean).
To make the glaze:
Mix the gin, juice, and icing sugar together until smooth, then stir in zest & rosemary.
Pour over cakes once cooled.