There's never been a better time to order (or indeed make) a cocktail sans booze. With some careful tinkering and a little insider know-how, you can rehash your favourite classics into satisfying low-no tipples – or try something totally new. Continuing our Sober October coverage, we share the recipes for 10 no/ low cocktails, with expert-backed tips on how to make them shine…
The quality of no-low cocktails has improved vastly over the last few years. And you'll never guess who's driving it – yep, us drinkers. "In our Non-Alcoholic Drinks: A Growth Story whitepaper, we reported that this growth is driven largely by clear consumer demand – 61% of consumers reported they want better choice when it comes to non-alcoholic drinks," says Gareth Bath, managing director at Diageo's independent drinks accelerator Distill Ventures.
The demand for no-and-low alcohol alternatives is booming, agrees Tom Warner, co-founder of Warner's Distillery in Northamptonshire. The team recently launched their 0% Botanic Garden Spirits range with two bottlings – Pink Berry and Juniper Double Dry – sourcing 90% of the ingredients from their farm distillery. "Nearly half of all adults are looking to cut back on their alcohol intake and one in ten of 18 to 24 year olds claiming to be teetotaling," he says. "Consumers don't want to compromise on flavour – and they shouldn't have to."
Indeed, we're making more considered choices than ever when it comes to the contents of our glasses, and want the same cocktail fanfare regardless of whether our liquid contains alcohol. And bartenders have responded. "It's about better hospitality," says James Morgan, co-founder of Nine Elms – an alcohol-free tipple designed to complement food. "Good mixologists are wanting to provide better experiences for all of their guests. In the past, choosing a booze-free option relegated you to the bottom of the priority list. Thankfully those days are now behind us."
As a society, there's a clear trend towards mindfulness, self-care and sustainability – of the self, and the environment – that has contributed to our increasing proclivity towards alcohol-free spirits. "People are more conscious about their own well-being as well as that of the planet," says Ennio Pucciarelli, head sommelier at Aquavit London. "They're increasingly looking for natural, organic, non-chemical products that are good for the environment and for their own health – and the industry has responded."
With that being said, we still want to have a good time. "People still want to go out with their friends or for dinner and socialise and be 'part of the fun', and why shouldn't they be able to do this with a delicious, non-alcoholic drink in hand?," asks  Filippo Carnevale, head sommelier at Xier | XR in London. "Tastes have evolved beyond simple sodas and sweet juices, and customers expect options now when it comes to no-low alcohol drinks and cocktails."
No longer relegated to the back end of menus, "just as much time and effort goes into the creation of no-and-low cocktails as it does to other stronger creations," Bath says. "This has opened up enormous opportunities for drinks founders and venues to develop sophisticated, complex, high quality liquids that sit perfectly naturally alongside their alcoholic equivalents."
Which is precisely why we asked brand owners, bartenders and industry experts for their tips on crafting a first class no-low serve. Here's what they suggested:
1) Focus on flavour
Focus on flavour, says Howard Davies, co-founder of Salcombe Distilling Company, which recently launched its first non-alcoholic spirit, New London Light – a blend of 18 botanicals. "Consider the two or three flavours you want coming through the cocktail and make sure it really does deliver on these," he says. "In the absence of the 'crutch' of alcohol it is doubly important that tangible, stunning flavour comes through."
Aim for a balance of complexity and harmony, suggests James Morgan, co-founder of Nine Elms – an alcohol-free tipple designed to complement food. "Start with one or two core base notes and layer interest with complementary and contrasting flavours and textures."
2) Don't just replace booze
"The main point of difference is to not fall into the mindset of just 'replacing' booze," says Nik Hannigan, global ambassador for Fluère Drinks, which makes a range of distilled non-alcoholic spirits including Smoked Agave, a mezcal alternative, and Spiced Cane Dark Roast, made from pure sugar cane molasses. "Appreciate the non-alcoholic spirit as its own flavour, and create a delicious drink based on the merits of the non alcoholic spirit."
It's a sentiment with which Rudi Carraro, global ambassador for Amaro Montenegro – an Italian bitter liqueur flavoured with 40 botanicals – agrees. "It's becoming ever-evident that stronger cocktails are not as popular as they were a few years ago," he says. "Don't try to exactly replicate the style and the flavour profile of a 'full abv drink'. Focus on creating a new combination of flavours and styles that have a 'wow' effect."
3) Use quality ingredients
Use high quality, fresh ingredients – just like you would with any other cocktail, says Clare Gibson, marketing director at Intercontinental Brands, which owns distilled non-alcoholic spirit Amplify. "There are a number of great-tasting non-alcoholic spirits on the market, so start by picking your 'base spirit' and go from there," she says. "Find out the botanical mix or flavour profile of your chosen non-alcoholic spirit to work out what additional flavours would work well."
4) Think about mouthfeel
"It's important to think about texture when choosing ingredients, as less alcohol means thinner liquid and mouthfeel," says Eric Sampers, co-founder of Illogical Drinks (and former Beefeater Gin brand director). He's just launched Mary, a low-abv (6%) botanical spirit made with sustainably-sourced plants. "There are many amazing liquids that can be mixed with no-low spirits, for example kombucha or other fermented liquids, which will add spiciness."
5) Use quality glassware and ice
Never underestimate the power of good glassware, says Carnevale. "It can really help elevate any drink, as can straws – metal or bamboo are best as the most sustainable – and good ice cubes," he says. "It sounds a simple thing, but having good, solid, large ice cubes will create a better finish for your drink than small, chipped pieces of ice."
And Gibson agrees. "It's important that the experience is the same as that of the ritual of having a cocktail," she says. "Make sure you are serving in the right glassware – whether that is a Martini, a Highball, or an Old Fashioned glass, for example. Then add a bit of theatre with garnishes and drinks accessories like straws."
6) Keep things simple
You don't have to completely reinvent the wheel, says Davies. "Cocktails have been developed over hundreds of years, culminating in a broad selection of amazing classics that we are lucky enough to benefit from," he explains. "Just because we want to create a great no-low cocktail doesn't mean we should throw away the hard work and expertise that has been built up over time." It might be as simple as switching the ratios of the drink – for example, pairing one part non-alc spirit with just two parts tonic in a G&T (rather than the usual three).
7) Don't shake sparkling…
…Unless you want your kitchen to be coated in cocktail fizz. "Do not shake anything sparkling," warns Carnevale. "The bubbles will release lots of pressure which may cause an 'explosive' cocktail," he says. "I'd also say don't go over the top with sugary juices and syrups – they can be overpowering and give an unpleasant texture to the drink. Acidity is the key to find balance."
8) Experiment with fresh produce
Fresh fruit and herbs are key to giving your drinks a handcrafted feel, says Carnevale. "Citrus like lemons, lime and grapefruit are cocktail staples because they give an otherwise bland beverage the zing it needs," he says. "Punch up the flavour of a sparkling drink with a squeeze of juice or zest of the fruit. Berries are ideal for muddling and can give a sweet note to your serves. If you're feeling adventurous, add in fresh herbs like mint, basil or rosemary to add complexity that will take your alcohol-free drinks to the next level."
9) Don't be shy about experimenting
"In my opinion there are no rules," says Pucciarelli. "You can be really creative with no-low cocktails, and it can be quite surprising the flavours that work together. Follow your tastes, recognise what you're in the mood for, and have fun experimenting. Don't be afraid to try adding savoury ingredients, such as spices and herbs – they can really elevate your finished beverage."
10) And finally…
Whatever you do, don't use the m-word. "Don't call them mocktails," says Morgan. "Real people want real drinks."
Ready to flex your new skills? We've picked out a selection of delectable no-and-low serves to try out at home. Drop us a comment and let you know how you get on. Shakers at the ready…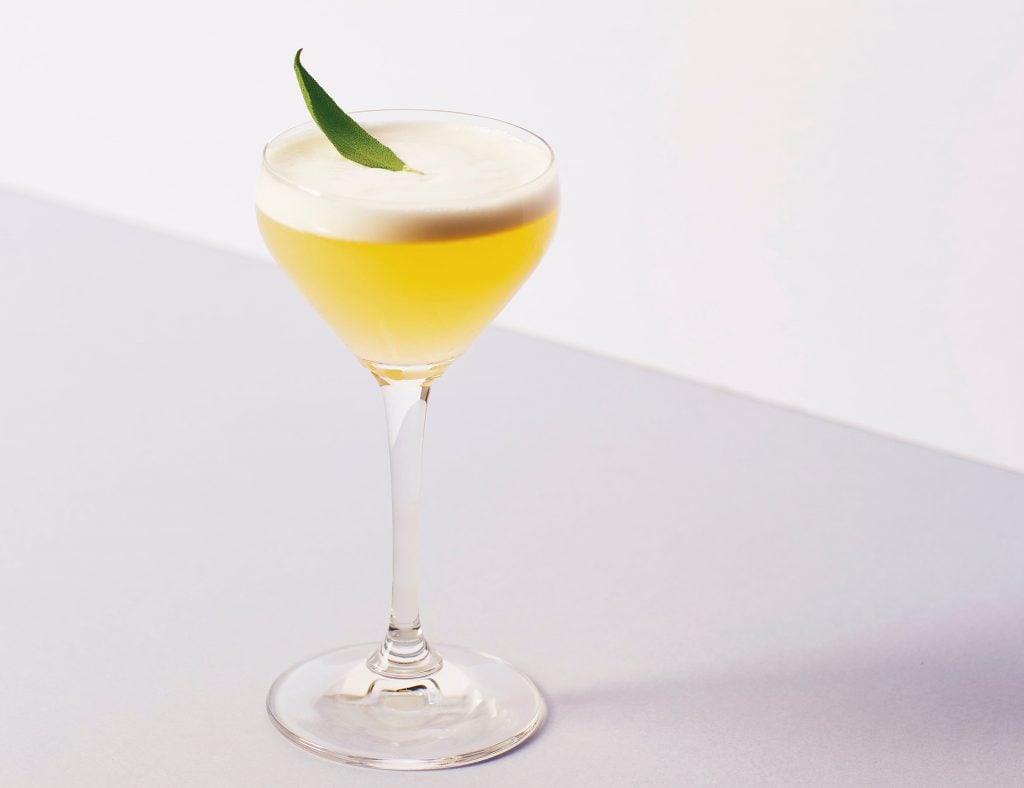 Shore Elevation
50ml New London Light
25ml chilled strong green tea
25ml sage syrup*
25ml lemon juice
15ml aquafaba (chickpea juice)

Fill a Nick and Nora glass with ice to chill and set to one side.  Add the New London Light, green tea, sage syrup, lemon juice and aquafaba to a Boston shaker with plenty of ice and shake for 15 seconds. Remove the ice from the Nick and Nora glass. Double strain the mixture into the glass. Garnish with sage 
*To make the sage syrup, mix together 1 cup of hot water, one cup of sugar and 3 sage leaves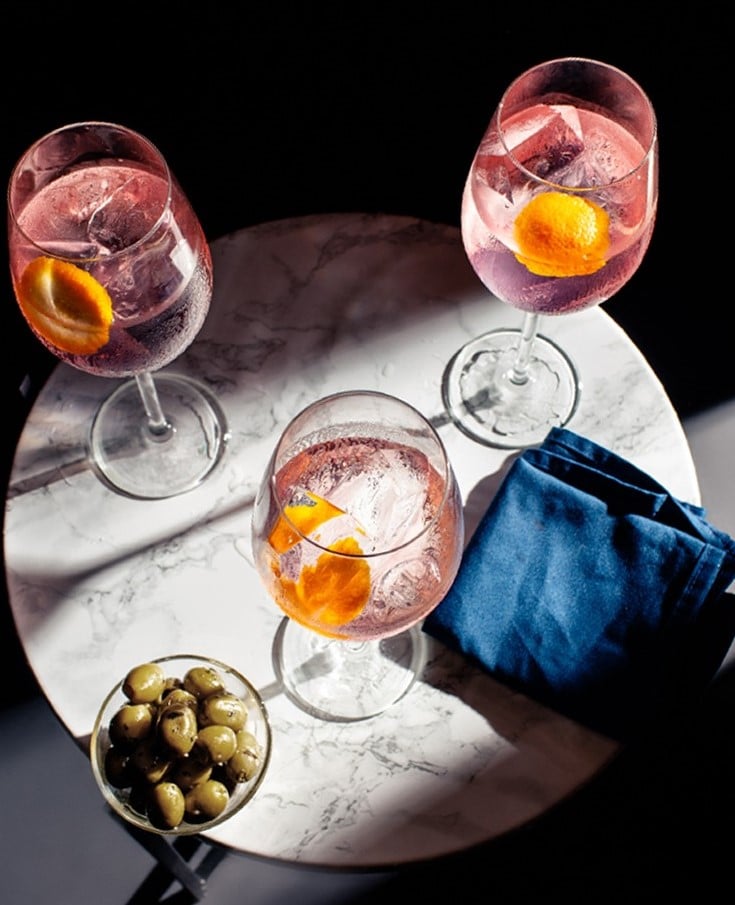 Think Pink 
45ml Fluère Raspberry
90ml Fentimans Rose Lemonade
Put a lot of ice in the glass. Pour Fentimans Rose Lemonade into the glass. Pour Fluère Raspberry into the glass. Stir gently. Garnish with an orange zest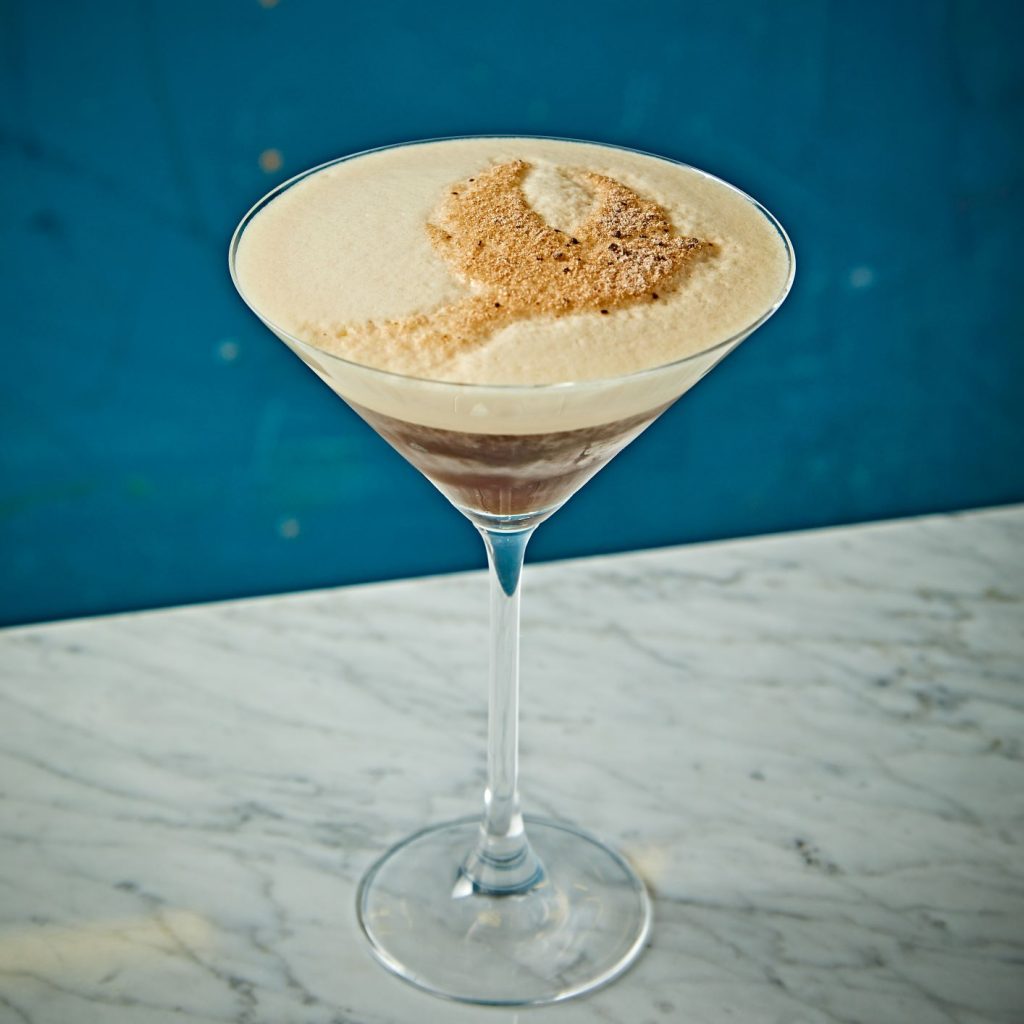 Espresso Up
50ml Amplify distilled non-alcoholic spirit
15ml honey syrup*
60ml cold brew coffee
Pinch of salt
Shake all ingredients hard with ice, double strain into coupe glass and garnish with grated orange zest. 
*To make the honey syrup, dissolve equal amounts by weight of acacia honey with hot water and stir until dissolved. Allow to cool and refrigerate before use.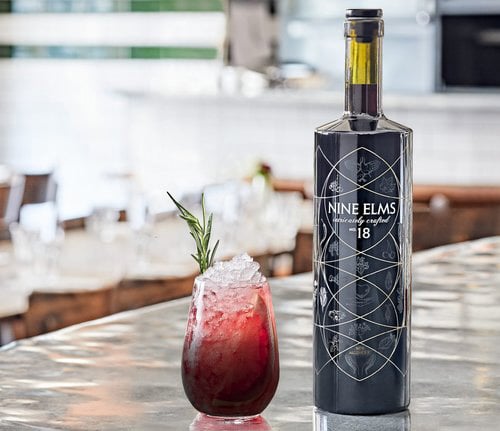 The Olson 
75ml Nine Elms No.18
10ml cold brewed coffee
75ml Fever Tree Light Tonic
Measure the Nine Elms No.18 and cold brewed coffee into an ice filled highball or rocks glass. Give it a gentle stir then add the rosemary sprig and grapefruit twist. Top with the tonic.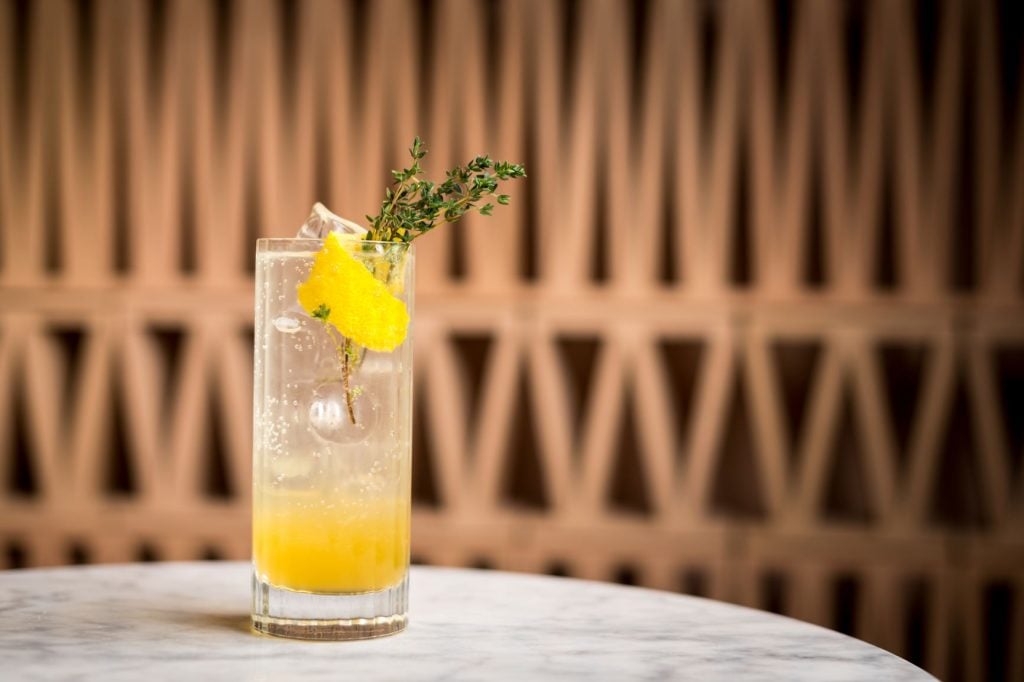 Elderflower Presse (b
y Shaman Coffee at the Leman Locke, London)
50ml Everleaf
30ml elderflower cordial
20ml fresh lemon soda
Add ingredients to highball. Add ice cubes and stir. Top up with soda. Garnish with lemon zest and long thyme sprig.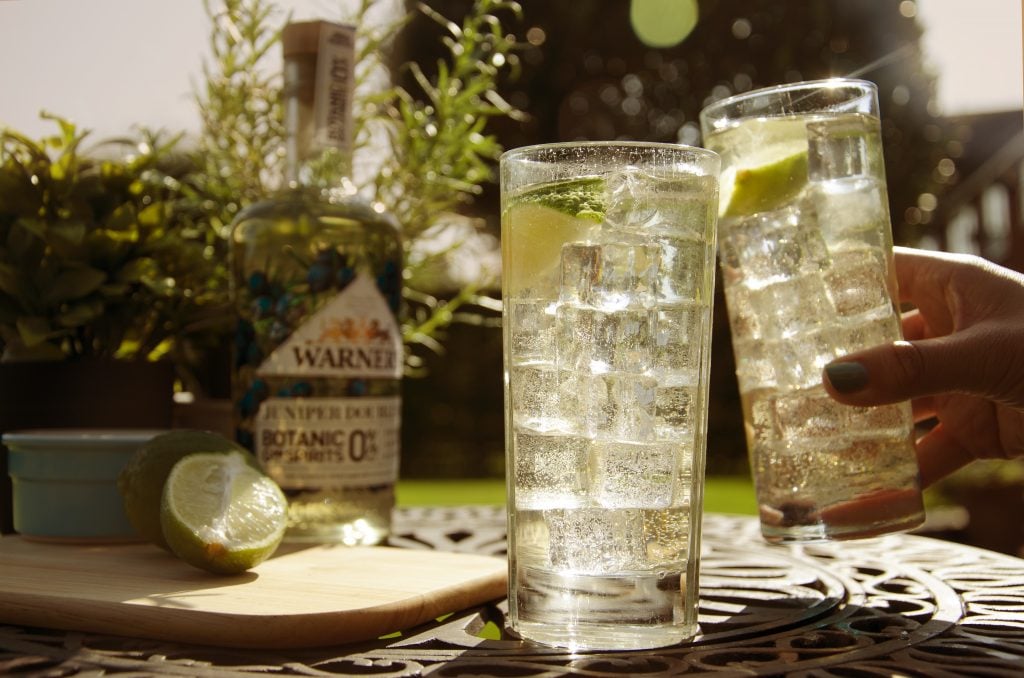 Spiced Fizzero
40ml Warner's 0% Juniper Double Dry
15ml lime juice
10ml sugar syrup
Ginger ale to top
Pour all ingredients over ice in the glass, top with ginger ale and stir slowly. Serve with a lime wedge and cinnamon stick.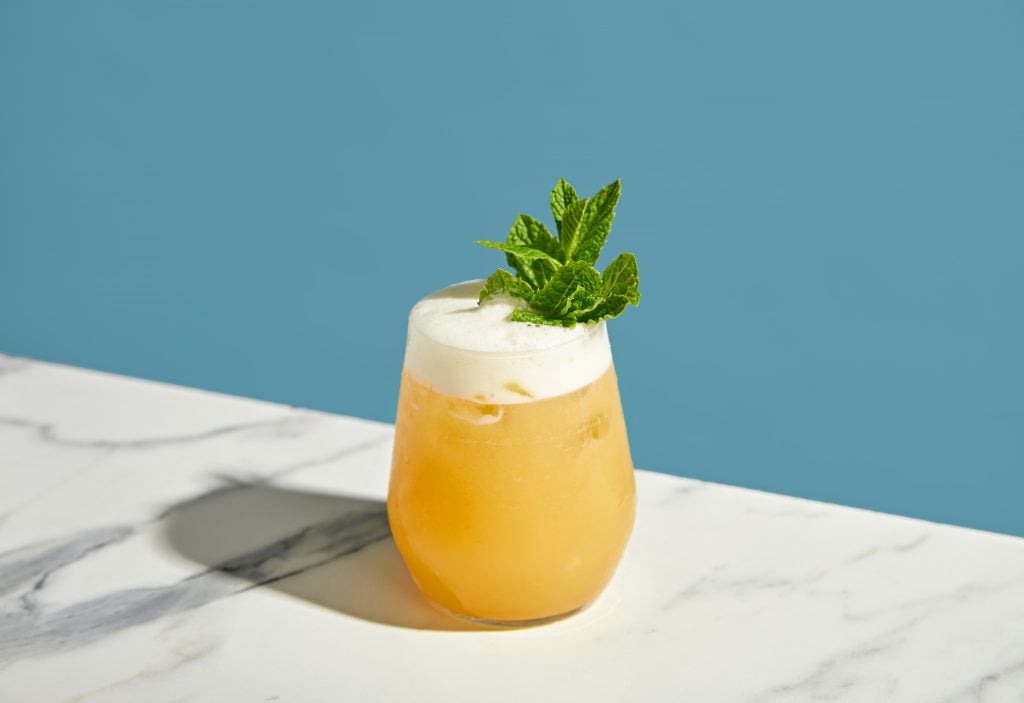 Turmeric Rocks
70ml Amplify
1ml freshly pressed turmeric juice*
3ml cucumber juice
15ml sugar syrup
Half a passion fruit, mint sprig garnish
Shake all ingredients hard with ice and strain into a rocks glass filled with cubed ice. Garnish with a mint sprig.
*To make your turmeric and cucumber juice, place the turmeric root and cucumber through a juicer and refrigerate.