Today we're fiddling about with the classic Martini by swapping out the usual vermouth for an unusual type of sherry called a Palo Cortado. The results are dynamite!
We took our pleasures where we could during lockdown. Mainly at home, it had to be said. One such was the so-called Quarantini, getting creative with cocktails to while away those long summer evenings in the garden. Today's Cocktail of the Week was one of my more successful experiments. It's a play on the classic Dry Martini, which despite being such a simple cocktail is almost infinitely adaptable. You can play around with different types of gin or vermouth. As we've mentioned before, a barrel-aged gin is a cracking fit with an oak aged-vermouth like Noilly Prat. There's ratios, you can make it super macho Hemingway style with barely any vermouth, or half and half to make a daytime sipper. You can add pickled onions, lemon peel or olive brine. You can even serve the whole thing on the rocks, though whether this is still a Martini or not is up for debate. 
A few years ago I had a Martini at Bar Termini in Soho that was made with Marsala instead of vermouth with some almond bitters, and the taste lodged in my subconscious. Until the other night when I was sipping a glass of sherry and had a sudden thought that it might go well with gin as that Marsala did. The sherry in question was a Palo Cortado which like most sherries is bone dry but it does have a certain sweet taste and body that you don't get in a Fino or an Amontillado.
The Palo Cortado gets its name from the mark, 'cortado', made on the barrel. It starts life as a Fino, ageing under a layer of yeast, but something mysterious happens to the barrel and the yeast dies so the wine carries on ageing with oxygen contact, like an Oloroso. Or so the story goes. Ben Howkins in his book Sherry: Maligned, Misunderstood, Magnificent writes: "Palo Cortado is traditionally the mystery sherry. It was very rare. But seems to be less rare nowadays. It is claimed by some that its characteristics 'just happen' in a kind of divine intervention."
I'm afraid that I'm going to spoil the mystery somewhat by telling you how some bodegas deliberately manufacture their Palo Cortado. They start out with the best grape must that would normally be used to make a Fino (Olorosos use pressing juice containing tannins which makes them taste more robust and stop a flor from growing on top). The cellar master lets the flor form and then after some ageing, he adds alcohol which kills the yeast cells and the wine goes on ageing with oxygen contact. The result is a Palo Cortado. However it is made, it's a wine that combines the elegance of an Amontillado with the body of an Oloroso. If all this is too confusing for you, there's a good sherry explainer here.
So, I was sipping my Palo Cortado the other night and thought that with its dry but sweet taste, it might work instead of vermouth in a Martini. I like my Martinis very wet so I'm always on the lookout for different vermouths. After a bit of fiddling around, I came up with the perfect ratio, three parts of gin to one part sherry. It still needed a little something bitter so I added a spoonful of dry sherry vermouth. Bang! So delicious. I am sure many bartenders have mixed Palo Cortado into a Martini before, but I've never seen it. You could garnish with a piece of orange peel but it's not essential.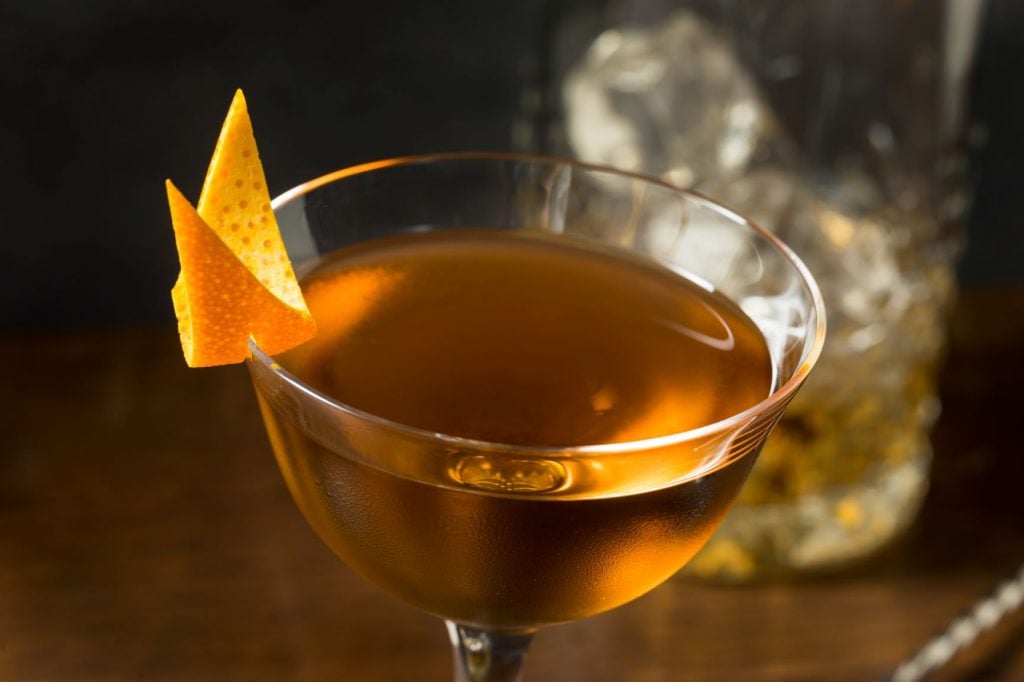 So there we have it, that's the Palo Cortado Martini, or the Cortadini. Maybe it needs a different name.
90ml Ealing Gin
30ml Romate Regente Palo Cortado sherry
1 tablespoon of Gonzalez Byass extra dry vermouth
Add ingredients to an ice-filled shaker, stir for around 30 seconds and strain into chilled coupette. Garnish with a piece of orange peel.