Angus Lugsdin, co-founder of Salcombe Distillery, tells us about collaborations with top chefs and prestigious wineries, why he doesn't want to just make a regional gin, and explains how to differentiate yourself in a crowded marketplace.
Lugsdin's background was in oil and gas exploration, but inspired by childhood holidays in Salcombe on the south Devon coast, he set up Salcombe Distillery in 2014 with friend Howard Davies. It began distilling in 2016.
Not an unusual trajectory but what differentiates Salcombe from rivals is just how successful it has been. Lugsdin told me, "in our first full year we won double gold at San Francisco, gold at the World Gin Awards and one of the highest ever recorded scores at the Beverage Tasting Institute in the US, with 96 out of 100." Not bad for a pair who'd never distilled before.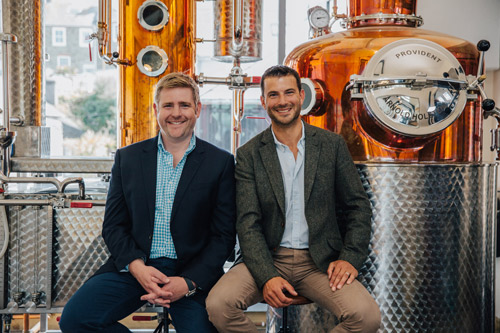 Angus Lugsdin and Howard Davies!
The gin committee
"We set out with the aim to create one of the world's best London Dry Gins," Lugsdin told me. They set up a "gin committee" and tested dozens of recipes. The result was the award-winning Start Point, named after a local landmark. In equipping the distillery they enlisted the help of gin consultant Jamie Baxter, who has worked with such big names as William Chase and the City of London Distillery.
Lugsdin told me a little about the production process, "we have our 450 litre Holstein still and we use English wheat spirit. All our water is sourced from Dartmoor National Park, so it's naturally soft. We have 13 botanicals in Start Point, including three fresh organic unwaxed citrus peels which are red grapefruit, lemon and lime which we have to peel every morning just prior to distillation just so we capture the best of those essential oils. And then we've got a very traditional Macedonian juniper base for that good kick of juniper. An English coriander seed that's grown for us gives a fantastic lemon-warming brightness to the gin."

Salcombe Gin Start Point – available on masterofmalt.com
Not just for locals
I asked Lugsdin how they differentiate themselves in what is an increasingly crowded market: "Salcombe is a well-known sailing destination, we thought it was a brilliant fit for gin." And they have a onsite school where you can learn how to make gin which is a great promotional tool, "they [visitors to the gin school] become mini brand ambassadors for Salcombe Gin." But he doesn't just want to make a regional gin, "we're very much focussed on making it a national brand, and we've started exporting."
Lugsdin doesn't think that all the competition will be around for the long term, "we'll see a few of these lesser-known brands that haven't got the marketing money behind them and that are just contract distilled, I think they'll fall away. And then I think you'll see some of the bigger companies, as we've already seen, starting to acquire (small distillers), obviously Sipsmiths was one of the early to go." He was less than complimentary about some rivals, "a lot of the gins on the marketplace now are nothing more than flavoured vodkas where the juniper is taking very much a backseat. And really, if the juniper is taking a backseat then is it really gin?"
World-renowned chefs and iconic winemakers
Start Point is their flagship but they also make some more esoteric gins, collaborations with "world-renowned chefs and iconic winemakers," as Lugsdin puts it. These are inspired by the Salcombe Fruiters, sailing vessels based in the town that brought fruit and spices from Spain, the Azores, and as far as the West Indies in the 19th century.
The first is made in conjunction with Michelin-starred chef and Saturday Kitchen-regular Michael Caines. It's named Arabella after a Salcombe Fruiter, and appropriately it majors on the lemons. Lugsdin told me that Caines "wanted to go with something quite fresh with lemons, so we were using lemon thyme and lemon verbena and hibiscus, adding lots and lots of layers of aroma and flavour but still keeping it very crisp and dry and classic."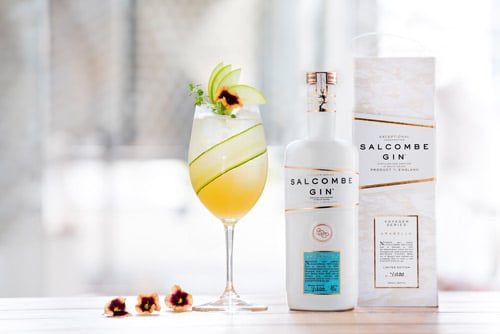 Salcombe Gin Arabella – also available on masterofmalt.com
Then there's Mischief, named after another sailing vessel, created with restaurateur Mark Hix: "we developed a gin with ten key botanicals, to celebrate the tenth anniversary of the Hix Restaurant Group, which was this year," Lugsdin said. The ten include sea buckthorn and samphire, "it has a lovely subtle anise kind of perfumed note."
Then there are a couple of seriously fancy wine collaborations. Lugsdin said, "we know from the cargo records that the Salcombe Fruiters were carrying citrus fruit up from Cadiz and in addition to that they were carrying casks of sherry." This led to a collaboration called Finisterre with one of the finest producers in Jerez, Bodegas Tradicion. They aged the gin in an 80 year old American oak cask that once held fino sherry. Lugsdin said, "I wanted something really kind of dry with a slight saline attributes to it."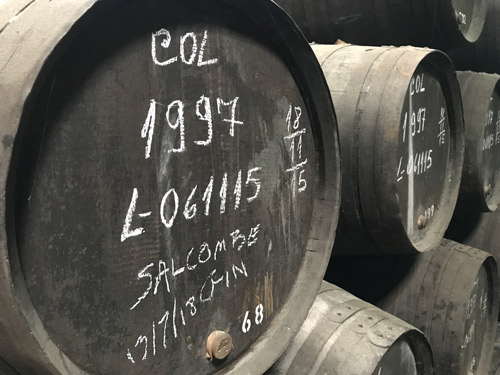 Slumbering casks of Salcombe Gin
The latest collaboration comes out this month and sounds particularly delicious. It's a sloe gin aged in an old port barrel. Naturally they've done it in some style by teaming up with Dirk Niepoort, one of Portugal's best producers. "We wanted to really elevate sloe gin and take it to a place it's never been before," Lugsdin told me, "so we developed a whole new base gin recipe based on the residual sugar content of the fruit and using orange peel and bitter almonds and also some of the sloes. And then we macerated the sloes and damsons in that base gin, and added it to an 80 years old American oak port pipe. It's even got that amazing brick red tinge that you expect from a really good tawny port." It's called Guiding Star and sounds perfect for Christmas. At 40% it's a proper gin rather than a liqueur. They don't do thing by halves at Salcombe.